LEARN CHINESE ONLINE FREE – HOW?
Learning Chinese for free, yes it is possible !
If you already know us at LTL, you know we always go above and beyond. Not only do we have top quality lessons and create great content daily, but we can also teach you Chinese for free.
We already have dozens of video lessons available on our Facebook page and we now offer you to take 3 FREE HOURS of any language course available on Flexi Classes.
There is no catch. If we say these hours are free, well…they are!
Read further to see how to claim them.
Our free online classes will be available no matter where you are based in the world, as lessons on Flexi Classes are available 24/7 thanks to our fantastic team of teachers based around the world.
⭐️ Languages available on Flexi Classes: Mandarin, Shanghainese, Vietnamese. COMING SOON: Japanese & Korean.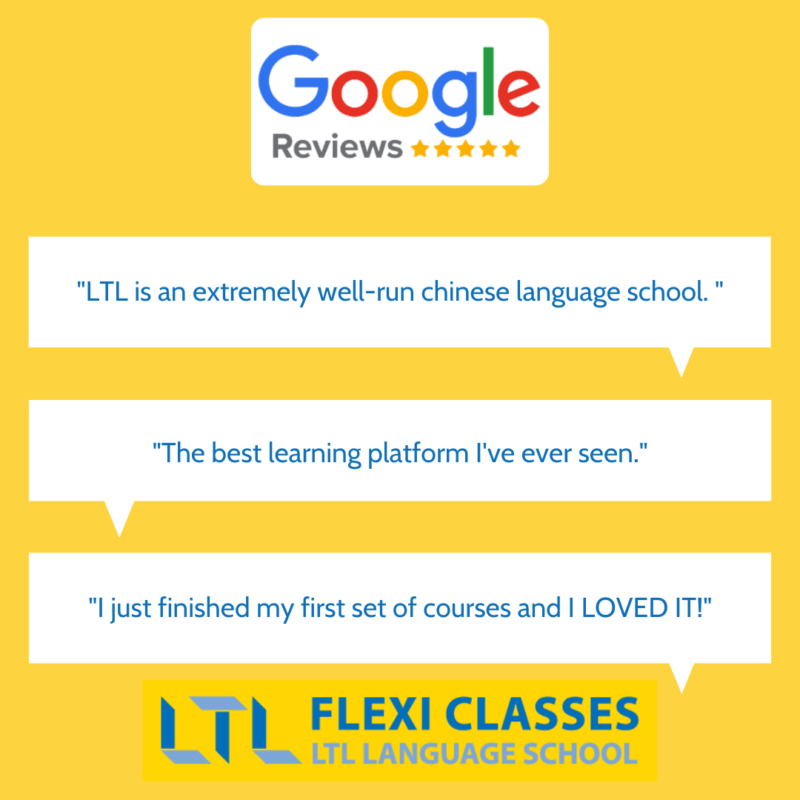 EVERYONE IS WELCOME
It Won't Last Long – Don't miss a great chance to improve your Chinese, for absolutely nothing! But it won't last long!
Expert Teachers – Just because it's free, doesn't mean it lacks quality. All our teachers are 100% certified and professional.

COMPLETELY FREE CHINESE CLASSES
Chat to Us – Got questions? No problem. Speak to us, you are all absolutely welcome to be a part of this special offer.
Times and Dates – Flexi Classes are available 24/7, you can get your 3 Free Hours whenever you want.
LEARN CHINESE ONLINE FREE – 3 HOURS ON FLEXI
STEP 1
The whole sign up process only takes a few minutes.
Click the button below to sign up.
Fill in your details, then select the Program "Tester 3 Lessons".
STEP 2
Enter the promo code – 3HRSFREE
This code will give you 3 credits and one month subscription for free. You will need a credit card to sign up but won't be charged.
You can cancel or update you subscription under "My Credits" any time, free of charge.
STEP 3
Now, book a class!
The final invoice will be of zero. You can now log in your account and start booking your classes.
The 3 free credits are already on your account, use them to book classes in any language.
---
IMPORTANT DETAILS
You will need a credit card to sign up on Flexi Classes, but you WILL NOT be charged. This is just a necessary step to create your account, once registered you can remove your credit card, cancel or change your subscription under "My Credits".
The promo code cannot be entered later on. It only works once when you sign up. Make sure you don't forget to enter it.
You have to complete the registration in one go once you entered your email. Do not refresh the page or use the "back" buttons as there is only once the option to enter the code.
Please make sure you come for your classes. Flexi Classes are taught by real live teachers. Currently our classes are very small with often just one student in it. So if you do not turn up without cancelling, a teacher will sit an hour alone in front of their computer waiting. Cancelling a class is very easy, and can be done in just one click.
---
PREVIOUS FREE FACEBOOK LESSONS
FREQUENTLY ASKED QUESTIONS
I am a complete beginner – can I partake?

Absolutely, no matter where you are in the world, your age, or nationality, you are welcome to claim your free online classes and join us on Flexi Classes.
How about the time zones?

Lessons on Flexi Classes are offered 24/7 thanks to our team of teachers based all around the world.

We will always have a class for your, no matter how busy you are.
How long are the free classes?

Each free classes last for roughly 60 minutes.

With our promo code, you can get 3 hours on Flexi Classes for free.
What days of the week do you offer free classes?

Flexi Classes run from Monday to Sunday, all day all night! Our platform offers classes 24/7, so we'll always have a class for you.
How long will you offer Free Online Chinese Classes?

This is a limited time offer, so better claim your free hours now!
I am an advanced learner, can I join?

You can but please keep in mind that group classes are for levels total beginners to HSK4.

HSK5 and HSK6 are only available with individual classes.
How to get the 3 free hours?

You will need to sign up to Flexi Classes and enter a promo code. Be careful though, the promo code can only be entered once, so make sure to enter it when requested.
What if I want more regular classes?

You can join one of our Online Programs for a more structured course and fixed time lessons.

You can also update your subscription under "My Credits" on Flexi Classes and go with a subscription offering more credits per month.