China Travel Guides: China High-Speed Rail
China High-Speed Rail – The Complete Guide with LTL
Whilst Chinese sleeper trains are great for long distances, and the sleeper bus option great for the wallet, a ride on the China high-speed rail will be unlike any train journey you've had before (unless you've travelled to Japan.)
Before we get started though, we HIGHLY RECOMMEND you watch this video. It paints an incredible picture of how Chinese High Speed Rail has grown in the space of 10 short years!
Pretty incredible and powerful stuff, right?
China is a big country, after all. The high-speed rail network in China connects big towns from all 4 corners of the country, connecting families, friends, and businesses.
A ride on China high-speed rail won't be cheap – but it's one to tick off your list at least once during your time studying, travelling or working in China.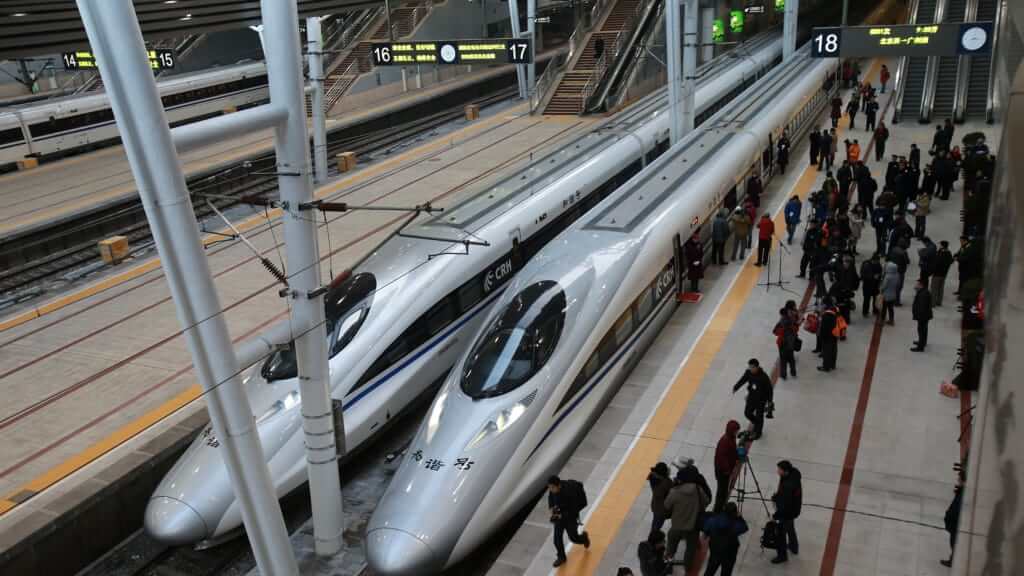 China High-Speed Rail: High-speed rail in China
Official definition of high-speed rail in China:
Newly-built passenger-dedicated rail lines designed for electrical multiple unit (EMU) train sets traveling at not less than 250 km/h (155 mph) (including lines with reserved capacity for upgrade to the 250 km/h standard), on which initial service operate at not less than 200 km/h (124 mph).
The China high-speed rail (also known as HRS) is the world's largest high-speed rail network, and the most extensively used.
It stretches throughout the country, going through 30 out of the 33 provinces that make up China. The total length is 27,000km (17,000 miles) which makes up for about two-thirds of the world's high-speed rail network. And it just keeps growing!
Chinese Sleeper Train 🚃 What Do I Need To Know (in 2022)
Traversing China on by train? Should I go soft sleeper, on the Chinese sleeper train or go for a hard seat? Should I take the fast train?
China High-Speed Rail: Types of High-Speed Rail in China
High-speed rail service in Chinese: gaotie 高铁
There are 3 different classes of the Chinese bullet train. C-Class, G-Class, and D-Class.
C-Class China High-Speed Rail
This service, operating above 250km/h is considered a HRS. These are intercity train services, operating for example between Beijing – Tianjin. This line was designed with a speed of 350km/h and sees on average speeds of 226km/h.
G-Class China High-Speed Rail
'G' for… Gaotie! One of the most common types of high-speed rail in China, this service runs at a minimum of 250km/h on average. It usually runs on lines with designed speeds of 350 km/h and averages around 300km/h depending on the line. Pretty speedy…!
D-Class China High-Speed Rail
'D' for..- Dongche 动车, another term used to refer to a type of high-speed rail in China. These services run at lower speeds and run either on the high-speed or non-high speed track.
China High-Speed Rail: How Fast is the Chinese Bullet train?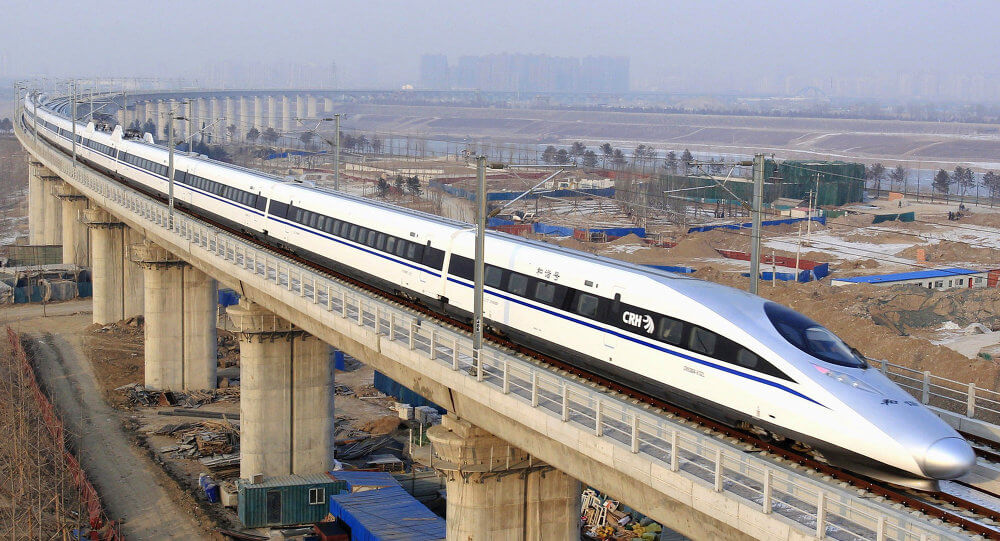 China high-speed rail speeds can reach 300 km/h (186 mph), or a top speed of 350 km/h (217 mph).
The fastest China high-speed rail train service is the Shanghai – Maglev Train. This is measured by peak operational speed. This train service can reach a massive 431 km/h (268 mph). However, the small length of the track means that the average speed of the train only makes it to 245.5 km/h (152.5 mph).
China High-Speed Rail: Travel by Chinese bullet train
Why should I travel by China high-speed rail?
There's only one thing that should put you off travelling the HRS rather than a slower train or bus, and that's the price. The Gaotie is not cheap, but it's often worth it.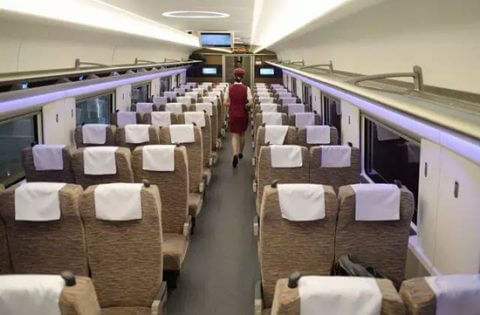 Fast
Not sure if this has been mentioned yet… But yes, they're pretty speedy. The world's fastest, in fact. So unless a flight is on the cards, it's going to be the quickest way to get you from A to B. Plus, it's fun travelling at such speeds, and surprisingly not as rollercoaster-like as you would expect with incredibly smooth trains running up and down the nation every hour of every day.\
Convenient
Visiting 30 out of China's 33 provinces… You can't get much more convenient. In comparison to a flight, the railways are usually much closer to the city meaning that you don't have to travel as far out to get to the station. That being said, however, Beijing West and Beijing South train stations operate the high-speed rail in Beijing and they're a pain to get to…
Comfortable – There are a few classes to choose from, but even at second class, the cheapest class, it's pretty darn comfortable. There's a large amount of space – much more than on an aeroplane, and you can walk around freely. Smokers should be warned that unlike on the slow trains, smoking is not allowed on the high-speed rail. Join the large group of Chinese males that will be standing at the door coming into a station to get a quick 30 second puff if needed!
Punctual – Unlike other train services in China, which, to be fair, aren't delayed all that often anyway, it is almost unheard of for a bullet train to be delayed. This is what my Chinese boss and colleagues were convincing me of, anyway, as we waited 3 hours for our delayed departure to Qingdao…
China High-Speed Rail: Where can I go?
Keep in mind (if you watched the above video you'll already know this) – but China's High Speed Rail Network in 2008, consisted of just TWO LINES!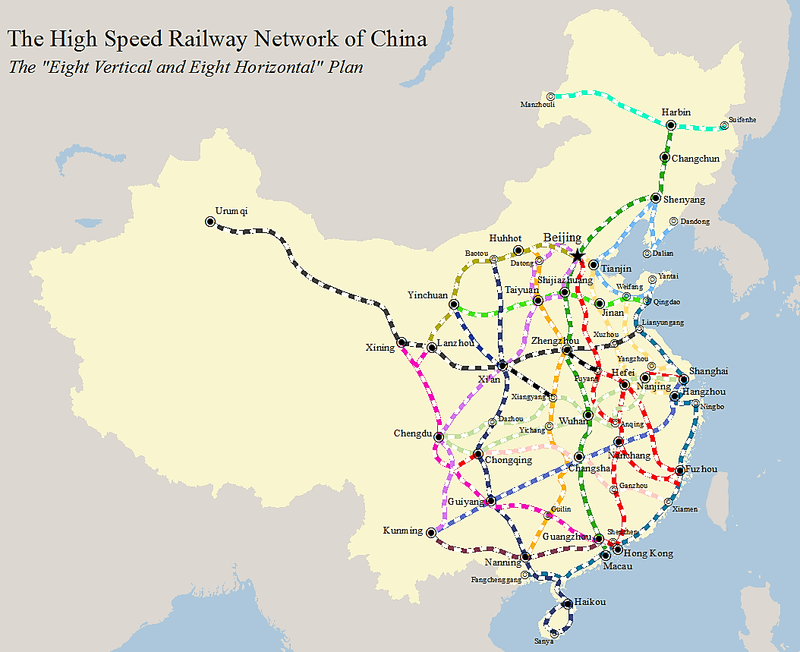 The production and the building of the China high-speed rail over the past few decades in China has seen it growing rapidly, with the newest line opening in 2018 from Beijing to Hong Kong. This takes a short and pleasant 9 hours, and the fares are as follows;
Business Class Seat – CNY 3,369
First Class Seat – CNY 1,724
Second Class Seat – CNY 1,077
The network is constantly expanding and improving. You can go to 30 out of China's 33 provinces on the fast train – not leaving much else to explore!
Although, if you do all of your travel by fast train, you'll probably be out of pocket pretty soon…
China High-Speed Rail: The "Eight Verticals"
Coastal passageway
Beijing–Shanghai passageway
Beijing–Hong Kong (Taipei) passageway
Harbin–Hong Kong (Macau) Passageway
Hohhot–Nanning passageway
Beijing–Kunming passageway
Baotou (Yinchuan)–Hainan passageway
Lanzhou (Xining)–Guangzhou passageway
China High-Speed Rail: The "Eight Horizontals"
Suifenhe–Manzhouli passageway
Beijing–Lanzhou passageway
Qingdao–Yinchuan passageway
Eurasia Continental Bridge passageway
Yangtze River passageway
Shanghai–Kunming passageway
Xiamen–Chongqing passageway
Guangzhou–Kunming passageway
World's longest line: Beijing – Guangzhou
The world's fastest line: Beijing – Shanghai
World's first commercial magnetic levitation line: Shanghai Maglev
How to book a China high speed train ticket?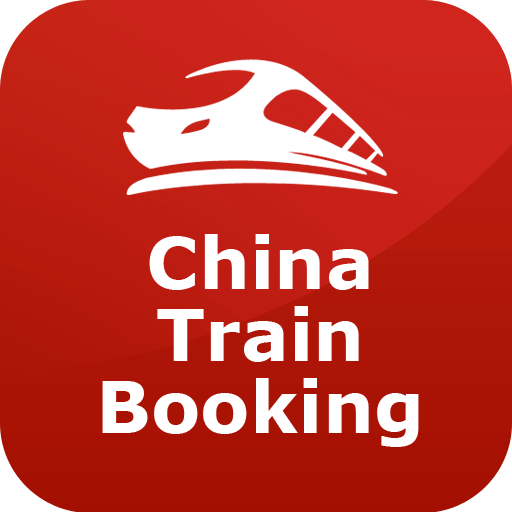 To book China high speed train tickets conveniently and using your phone, we recommend to use an app called China Train Booking (iOS and Android are both available).
It allows you to check trains timetable and book your tickets online in a very simple way.
After you book successfully, you will receive your pickup codes to collect tickets at your departure railway station.
For more convenience, the China Train Booking app provides delivery service that allows you to receive train tickets at your hotel or personal address in China in 2 days!
Having your tickets in hand before travel date will save you a lot of time for queuing up at a ticket collection window at a railway station.
Free downloads here: iOS and Android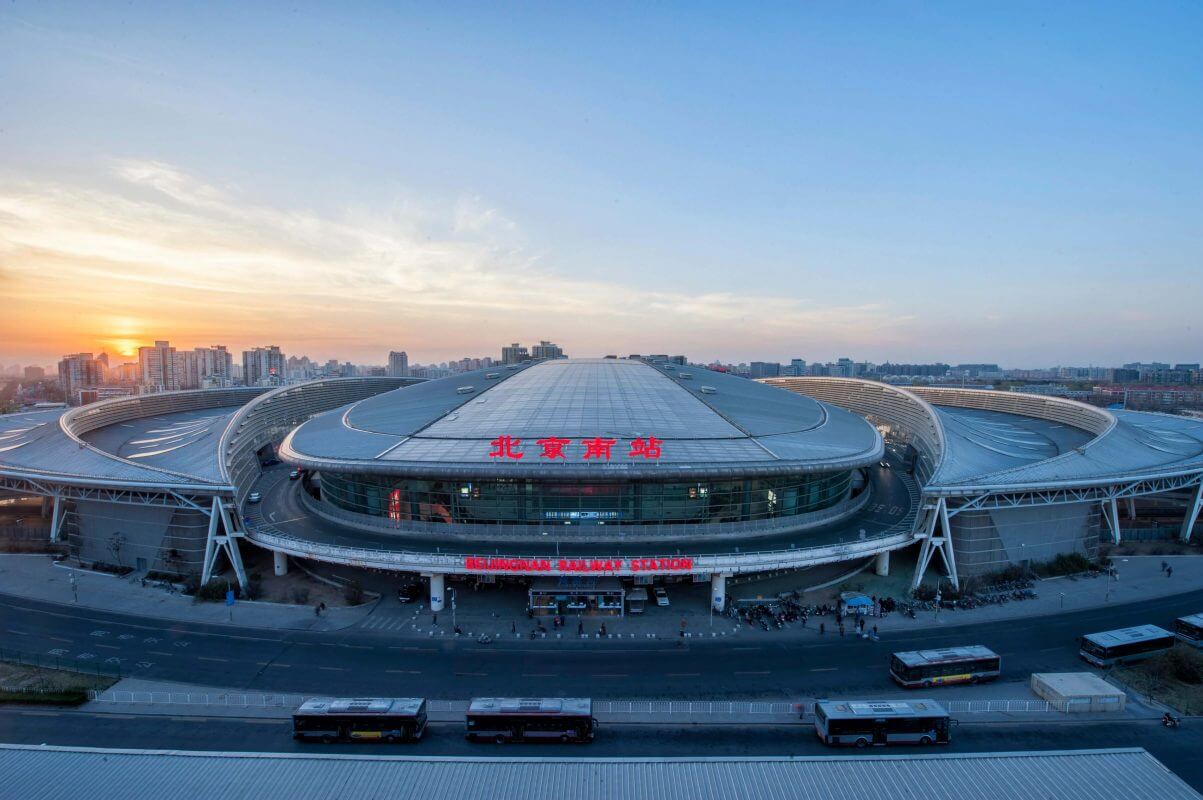 China High Speed Rail FAQ's
Is the China High Speed Rail system extensive?
Yes it is! The total length is 27,000km (17,000 miles) which makes up for about two-thirds of the world's high-speed rail network. And it just keeps growing!
How fast do Chinese bullet trains travel?
China high-speed rail speeds can reach 300 km/h (186 mph), or a top speed of 350 km/h (217 mph).
What is the worlds fastest train line?
The Shanghai Maglev is the fastest train in the world reaching a maximum speed of 267.8 mph.
Want more from LTL?
If you wish to hear more from LTL Mandarin School why not join our mailing list. We give plenty of handy information on learning Chinese, useful apps to learn the language and everything going on at our LTL schools! Sign up below and become part of our ever growing community!