Chinese Sleeper Train 🚃 What Do I Need To Know (in 2022)
Chinese Sleeper Train // The Truth Behind Transport in China
Travelling China by train? Should I go for the soft sleeper on the Chinese sleeper train or a hard seat? Should I take the fast train? Here is your complete guide to the Chinese Sleeper Train.
China is a big country. There is no question about that!
Depending on which country you are coming from, you may be surprised to hear many people saying '7 hours away on the train? Oh, that's not far!'. Coming from England, this definitely shocked me…
Because of how big China is, train travel is an almost necessity if you want to get out of one city and into the next.
There is an abundance of different types of trains, but mainly they divide into the fast train, the sleeper train and the slow train.
Chinese trains are not the easiest to navigate, but follow our few key steps and you may find yourself enjoying those long hours on your Chinese sleeper train!
Chinese Sleeper Trains – Types of Sleeper Train

Chinese Sleeper Trains – Why The Sleeper Train?

Chinese Sleeper Trains – How Can I Prepare?

Chinese Sleeper Trains – How Can I Book?

Chinese Sleeper Trains – FAQ's
Types of Chinese Sleeper Train
Depending on which compartment you're in – soft sleeper, hard sleeper, or in the seating/standing area, the cabins will look very different.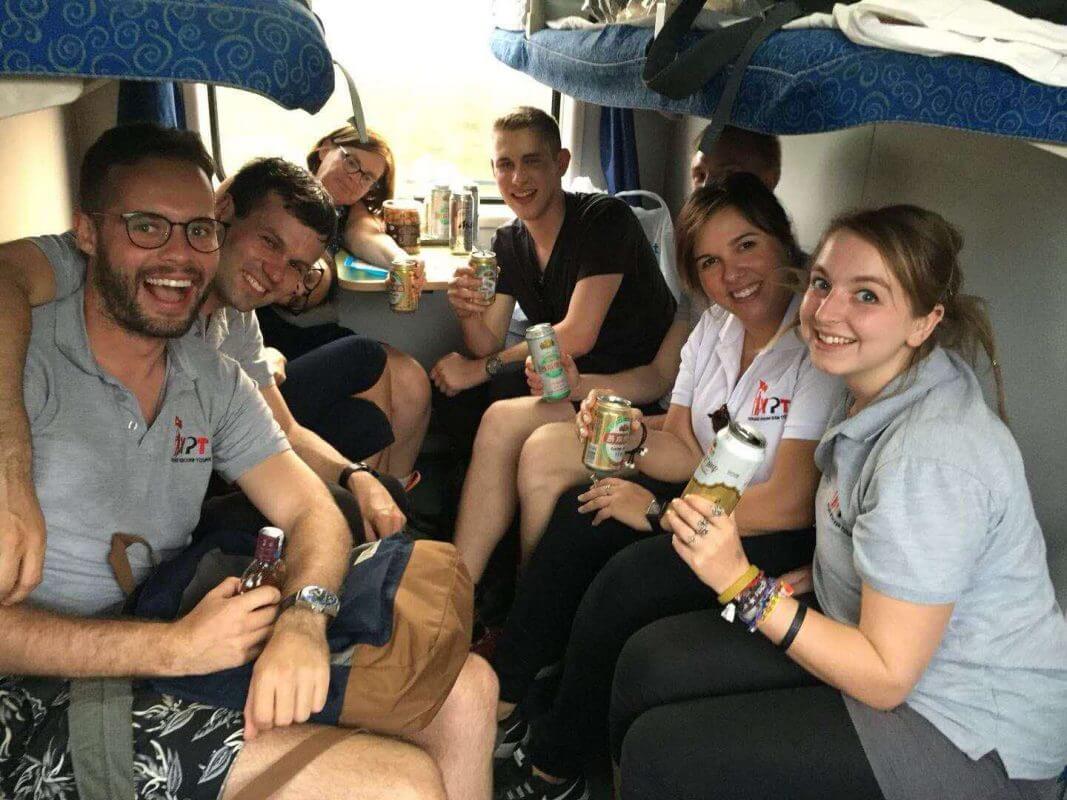 The beds in both hard and soft sleeper are the same.
They are a tad small and narrow but perfectly fine. Free clean linen and bed sheets are provided for each bed!
Generally people are incredibly polite and considerate on the train.
Lights usually go off around 10pm and after this passengers are silent and go to sleep, usually (although you may have the odd person talking loudly on their phone…)!
Make sure to respect your environment and remember that others are trying to sleep around you too!
If you want to have a few drinks head to the restaurant cart – but be aware this closes early-ish and unless you're still buying drinks and not being too loud, they will kick you out.
Throughout the whole train at the entrance to every cabin there will be a hot water tap (safe to drink), a toilet (usually Chinese style), and a hand washing area.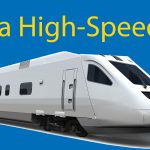 The Most Advanced and Fastest Growing Rail Network in the World || China's High-Speed Rail
Chinese High Speed Rail is like no other. Its growth since 2008 is truly astonishing. Come and see why it's the world's best.
软卧 (Ruǎn wò) – Soft Sleeper carriage
This is the "most luxurious" of tickets you can buy on a long distance slow sleeper train.
You will be in a cabin with 4 beds, a private door, some luggage space, a water canister and a window. You will also have a plug socket in your room.
Depending on how busy the train is and if it is sold out or not, you may have the room to yourself, or you may be sharing with three others.
The soft sleeper carriage is usually located just next to the restaurant carriage.
硬卧 (Yìng wò) – Hard sleeper carriage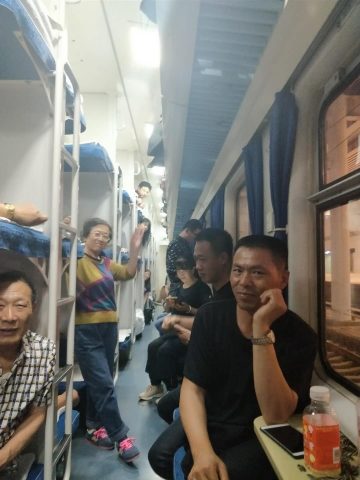 With a hard sleeper ticket you will be in an area with 6 beds. You will either be top, middle, or bottom bunk.
In one carriage there are around 5/6 bed sections, meaning in one carriage there will be around 30+ people.
There are usually only two plug sockets (if any) per carriage.
If you have the bottom bunk, you'll be sharing with everyone else from your area for the majority of the journey.
It's fine – just chill with the locals and be friendly!
Real quick before you read on. Check out these unbelievable facts about China's rail network.
硬座 (Yìng zuò) – Hard seat/Standing carriage
Depending on how long you're staying on the train, you may not want to be in this area.
It's perfectly fine for a few hours, but overnight I would definitely recommend getting yourself a bed!
It is an area similar to many other trains.
You will be in a seated section with 6 seats – 3 either side and a small table in the middle.
Those with standing tickets will just simply be… standing!
Why Should I Take a Chinese Sleeper Train?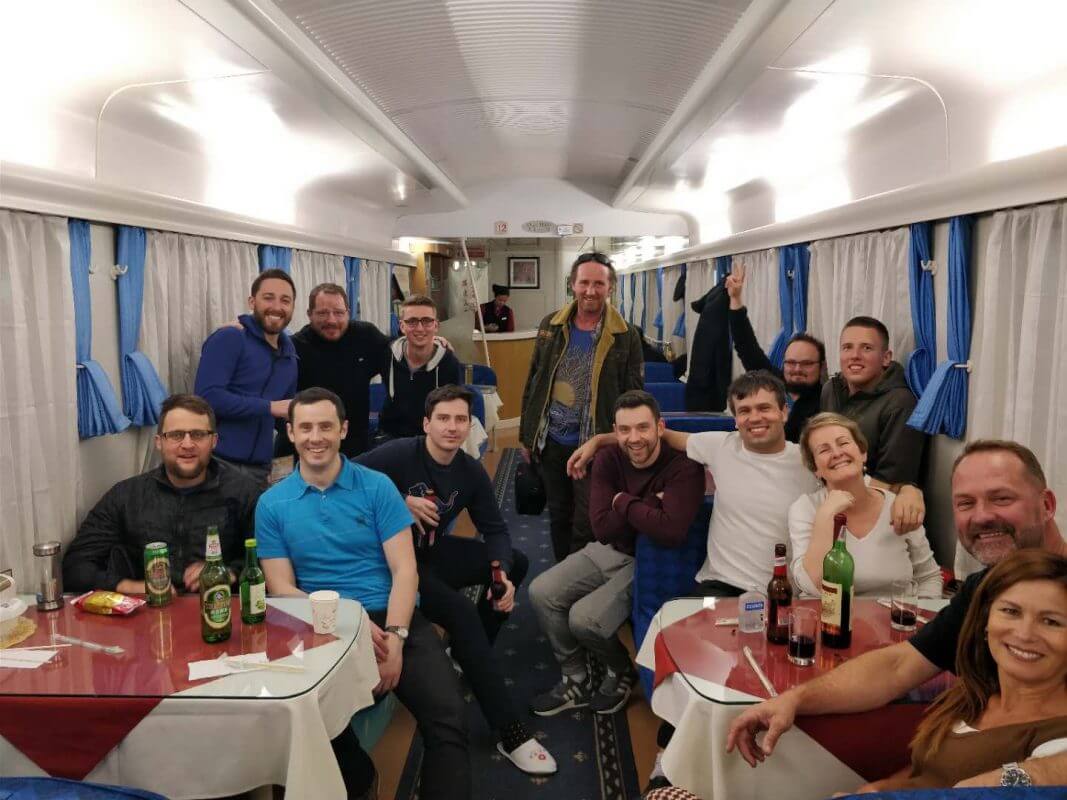 Apart from the obvious option that Chinese sleeper trains are a lot cheaper than flying (for the most part), they're also a great way to see the country as you cruise slowly through vast expanses of land you would otherwise never have seen.
Pass through many cities, some populated and some abandoned, whilst chilling with your Chinese neighbours – maybe enjoying a game of cards or a sip of Baijiu.
They're fun, safe, and something different to do – and a great way to travel around China!
How Can I Prepare For a Chinese Sleeper Train?
After you have been on a sleeper train more than 3 or 4 times, you will start to get your own routine going on how you cope with the many hours, how you keep busy, and what you bring with you.
For basics to bring with you, here is a list:
Wet Wipes
Ear Plugs
Eye Mask
Toilet Paper
Headphones
Phone Charger (cable and plug)
Portable Charger
Slippers
A change of clothes (either to sleep in or wear the next day)
A mug to put hot water in (and any tea you want to add)
Snacks/cup noodles
Cash – they may not accept WeChat pay!
… and of course your Chinese Language study books!
I find it best to prepare a lot of things to keep you busy, also. This depends on what you are interested in. One of my favourite Chinese Apps is IQIYI.
This is a similar APP to Netflix, but, in my opinion, better.
It allows you to download different books, films, and dramas at high speeds and choose your quality.
It is a life-saver for passing those long hours on the Chinese sleeper train!
You may also want to bring a book, or also a Chinese phrase book!
The chances are that you will be the only foreigner in your cabin – or even on the train.
You will be stared at, and many Chinese people will want to talk to you. Use this opportunity to practice your Chinese!
If you are hungry or just need a change of scenery, you can head to the restaurant cart for a "not-too-bad train dinner" and some beers.
How Can I Book a Chinese Sleeper Train?
Chinese trains are not the easiest to organize.
The ticket booking system is difficult, and sometimes train times are not clear and it is not clear what is and isn't available.
Basically, just like many things in China, it may add a bit of mafan* to your daily life – unless your Chinese is super good.
*USEFUL WORD ALERT – 麻烦 Máfan (troublesome)
You first need to decide on your date and time of the train. Then decide your type of ticket.
Hard sleeper, soft sleeper, hard seat, or *standing. Depending on the distance, you'll probably want at least a hard sleeper.
软卧票 – Soft sleeper ticket

硬卧票 – Hard sleeper ticket

硬座票 – Hard seat ticket

站票 – Standing ticket
There are two main ways to book your train ticket for your Chinese train.
There is also other options, including using Chinese booking systems that don't charge as much as Trip.com.
However, you may need the aid of a Chinese friend to help you with the somewhat complicated booking system.
1. Trip.com (formerly known as CTrip)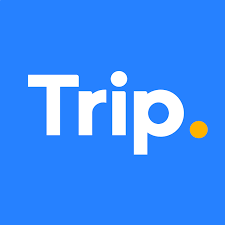 This is the most simple and easy option.
With a great website and a very user friendly, English app, you can't go wrong with Trip.com when booking train tickets.
You can even book flights and hotels on here. You can also use WeChat or Alipay to pay for your tickets!
Simply choose your train and time, select which train ticket you want, put in your name and passport details aaaand bingo! You've bought your ticket for your train.
You will then receive a code, and you can pick up your train ticket at the train station before departure. (Make sure you leave plenty of time for this!)
The only downside to Trip.com is that you will pay for this extra convenience. In my opinion, it's worth it.
2. Going to a Chinese train station
If you trust your Chinese skills enough then head to the train station to book your ticket.
TOP TIP – You will need your passport and money.
Make sure to buy your train ticket early in advance, especially before major Chinese holidays. The rest works in a similar way to using Trip.com.
*Bonus Tip!
If there are no tickets left and you find yourself on an 18hr journey with a standing ticket (yes, this happened to me) – do not fear!
There is a way out (and trust me, you will want it!) But you are going to have to be very Chinese about it.
The slow train is divided into two areas by the restaurant carriage. One side is hard seat and standing, the other side are the sleeper cabins.
If you don't have a sleeper ticket, you won't be allowed into the other side. So, how do you get there?
You will have to get an onboard ticket upgrade.
How do you get this?
Head to the front of the seating area towards the conductors office where there will most likely be many Chinese people crowded around.
Write your name onto a waiting list and every time the train stops, head to the conductors cabin again and wait to see if there is space in the sleeper cabins.
You may have to repeat this several times over a few hours until your name is called… But believe me, it's worth it. You'll then buy a ticket upgrade and bam! You're free.
Have you taken the Chinese sleeper train before? Any horror stories? Did you make any friends or practice your Chinese? Tell us below!
Chinese Sleeper Trains – FAQ's
How do you say Soft Sleeper in Chinese?

Soft Sleeper in Chinese is 软卧 – Ruǎn wò
How do you say Hard Sleeper in Chinese?

Hard Sleeper in Chinese is 硬卧 – Yìng wò
Can I get a train from Beijing to Hong Kong?

You can yes and this only takes about 9 hours.

However, this is not a sleeper train. The train runs during the day and is almost 3 times longer than flying.

The cost would also be more expensive than a standard sleeper train, but the sleeper route currently does not exist.
How can I book a sleeper train ticket?

The best way would be to use the website trip.com.

Simply choose your train and time, select which train ticket you want, put in your name and passport details and bingo! You've bought your ticket for your train.
Are Sleeper Trains cheaper than Fast Trains?

Yes sleeper trains will provide some of the best value for money mainly because the speed is slower, the time on train is longer and the facilities aren't quite as smart as the new high-speed trains
What is the difference between hard and soft sleepers?

A Chinese soft sleeper compartment is equipped with 4 berths. A Chinese hard sleeper compartment has 6 berths.

Of course, the style of the beds is different also with the hard sleeper being more uncomfortable but cheaper.
Want more from LTL?
If you wish to hear more from LTL Mandarin School why not join our mailing list.
We give plenty of handy information on learning Chinese, useful apps to learn the language and everything going on at our LTL schools! Sign up below and become part of our ever growing community!
Fancy learning Chinese Online before coming to China, we are just the people!