Language Reactor for Netflix ⭐️ Your Next Favourite Learning Tool
Language Reactor for Netflix – The Best Chrome Extension for Language Studies
FALL 2021 UPDATE – Language Learning with Netflix is now Language Reactor!

Are you learning Chinese and always trying to find new ways to make it fun and interesting?

Are you a Netflix fan?
Keep reading here people, we have the BEST ever learning tool for you!
Have you heard of 'Language Reactor'?

*Previously known as Language Learning with Netflix
It is not an app, neither a website, but rather a Google Chrome extension that will change your life and make your language learning a lot more fun and effective.
Chapter #1 – What is Language Reactor?

Chapter #2 – How Does Language Reactor Work?

Chapter #3 – How to Download Language Reactor?

Chapter #4 – Should YOU Download It?

Chapter #5 – FAQs
---
But before we start:
If you prefer watching to reading, or you just want to see LR in action… grab a cuppa (and a biscuit), pop your feet up and let Max take you through this great new tool.

He shows us how to install LR, how to use it, and what can be done using LR.
Want to learn Chinese Online free? We offer free classes!! 100% FREE!!
What is Language Reactor?
Let's start off with a short definition first:
What is an extension?
An extension is a small software program embedded into a browser to customise and enhance the user experience.

Here we are talking about a Google Chrome extension, so it will only work on your Chrome browser.

If you don't have Chrome, we recommend you download it online which takes seconds (just Google, Download Chrome)
NOTE – Language Reactor is soon to be available on Firefox and Edge.
Language Reactor, is an extension allowing you to learn new vocabulary and break down sentences while watching your favourite movies/series on Netflix, YouTube and Turtle TV. It translates in real time – the same as Weibo International for Chinese social media.
You will love using it, especially if you are learning one, or two, or more languages!
Language Reactor was created by David Wilkinson and Ognjen Apic, two independent developers.
They started working on the project a few years ago, and launched it in December 2019. Needless to say that it was instantly a HUGE success!
KEEP IN MIND – This is not an official Netflix or YouTube extension but an independent one created by passionate language learners for language learners all over the world, helping us get new fun ways of studying.
DID YOU KNOW? – Language Reactor works with more than 30 languages!
You can find all of their languages in their Netflix catalogue, listing all movies/series available in your selected Netflix country. Same goes for their YouTube catalogue.
Here's our list of Chinese movies on Netflix you can watch right now!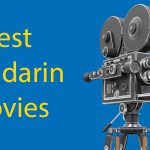 10 Best Mandarin Movies of All Time (2023 Update)
Discover the Best Mandarin Movies. In a world of endless superhero movies and repetetive reboots, it's time to try something new. Let's delve into the world of Mandarin language movies.
How does Language Reactor Work?
Language Reactor is a learning tool embedded in your Netflix, allowing you to watch foreign movies with two subtitles, one in the original language and the other one in your chosen language.
Let's say you are French and watch a Chinese movie, then you will have both subtitles in Chinese (the original language) on top and French (your chosen language) at the bottom.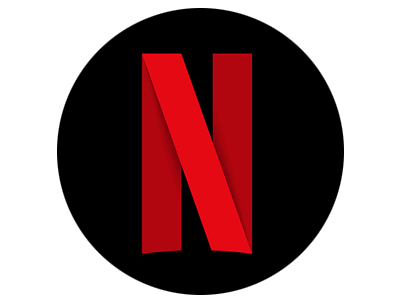 👉 UPDATE Fall 2021 – If you downloaded the extension before its change of name, the tool might not be working anymore. No worries, go on your Chrome browser > Extensions > Manage extensions > Enable Language Reactor.
Let me show you how it works:
The following screenshots are from a Chinese TV show on Netflix named 流星花园 (liúxīng huāyuán), "Meteor Garden" in English.
It is a famous 2018 show based on the famous Japanese manga, "Boys Over Flowers" or 花より男子 Hana Yori Dango in its original title.
First of all, the thing you have to know about Language Reactor, is that you can enable and disable the tool as many times as you want.
The tool doesn't have to be active all the time, you really just choose when you want to activate the double subtitles or just want to watch your show without it.
On the top right of your screen, click on the three lines icon to show every single subtitle.
On there, you will be able to hear them as many times as you'd like by clicking on the play ⏯ button, and go back to the scene of each subtitle to hear the character pronounce them by clicking on the whole sentence.
On the right bottom side of your screen, click the little arrow to show the subtitles and be able to highlight words to see the translation.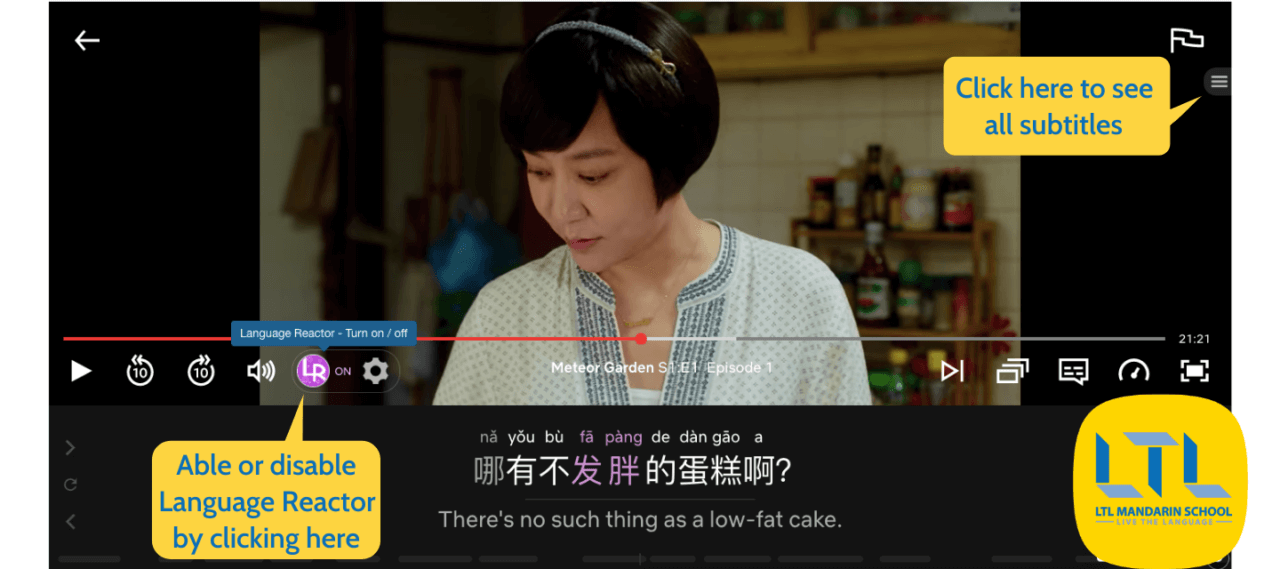 Once you've done all this (well, three clicks really) your screen will look like the one below.
Having the subtitles showing like this allows you to highlight words and find out their translation.
You can also listen to the pronunciation, get examples on how to use them and even links to external dictionaries.
Having activated the 'pro' mode, you will be able to save words and sentences in your favourites, along with many other features.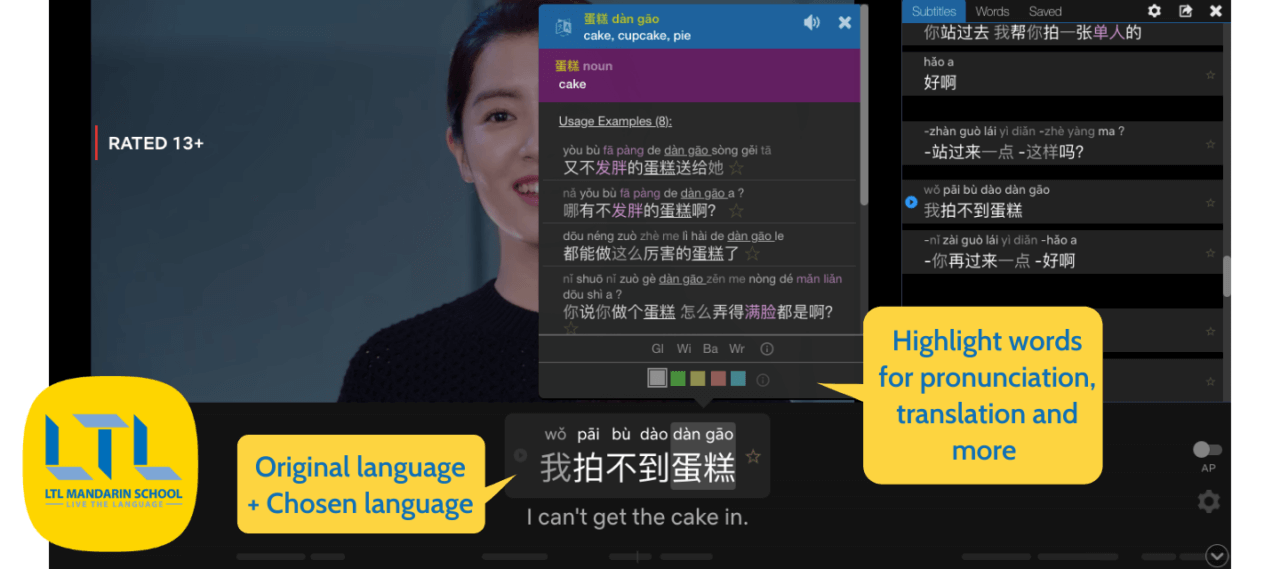 If you wish to change your chosen language mid-movie it is possible by clicking on the "settings" button on the right bottom side of your screen.
But what is the 'auto-pause' button right next to it?
It's in fact another great feature of Language Reactor. Once enabled, it automatically pauses the screen to let you read and highlight words.

You can then press the spacebar on your keyboard when you're done to keep watching.
Ok, back to our settings button.
On the left side of the screen, you'll find numerous keyboard shortcuts to help you navigate faster. The repeat and play/pause button are my favorites!
You'll first see on the right side your chosen Netflix audio and subtitle languages, that you can easily change in the Netflix settings.
You can then select the Language Reactor translation language by scrolling down the choices. Don't forget to tick 'show human translation' for the subtitles to show.
It is also possible to change the playback speed, and tick different other boxes depending on your preferred choices and user experience.
Once everything is set, the only thing to do is enjoy and learn!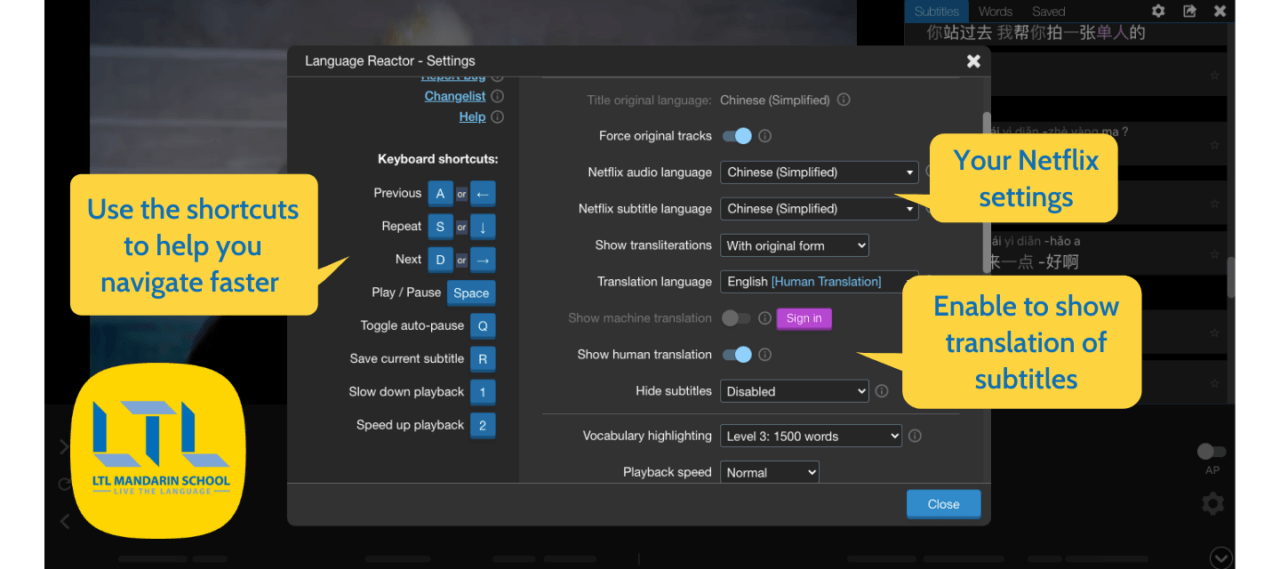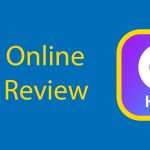 SuperTest HSK Review (Formerly HSK Online) // Our Complete Guide
The Complete Guide to SuperTest HSK To Download or Not To Download 🤔 SuperTest (HSK Study and Exam) Review: 9/10An invaluable companion for HSK studies. I wish all exams had an app tailored to them like the SuperTest app. If…
How to Download Language Reactor?
There is nothing easier.
Search for 'Language Reactor' on Google or click here to go directly to the download page.

You'll still find it under Language Learning with Netflix, but you'll be redirected to the new website

Click on "add to Chrome" and it will take only a few seconds to install in your Chrome browser.
You'll also be redirected to Language Reactor official website with instructions on how to use the extension.
Should you Download it? 🤔
If you enjoy watching Netflix, are learning a foreign language but are bored of study manuals and apps, then Language Reactor might just be your next favourite learning tool.
But still, if you are not convinced, let me give you a couple of reasons.
First of all, it is FREE. And we LOVE free learning materials, right?
You can of course upgrade to 'Pro Mode' to get more features (I am thinking saving favourite words).
But the basic version is really enough to get you started, especially if you don't mind writing down vocabulary on a notebook.
Also it is quick to download, easy to use, and you can activate/deactivate the tool WHENEVER, WHILE watching!
Did I also mentioned how easy it is to highlight words to find out their translation and pronunciation? And that there is over 30 languages available so you can absolutely learn ANY language you want?
Yes I am a big fan.
The only downside I noticed so far is that the extension is only available on Chrome as well as on desktop and doesn't work on mobile or tablet.
BUT, let's not forget that Language Reactor was launched as Language Learning with Netflix at the end of 2019 only.
With it being such a success so far, we can imagine that the developers will find new ways to improve the user experience and make it available on other platforms and browsers as well.
Go download it right now, have a try and come back to us with what you think! Also if you like learning Chinese at home, go check our Online Chinese Classes too!
Oh, and one last thing, have you check the YouTube version, Language Reactor for YouTube? It's worth checking out!
---
Language Reactor for Netflix – FAQs
What is Language Reactor?

Language Reactor, previously known as Language Learning with Netflix or LLN for short, is a free Google Chrome extension.

It allows you to learn languages on Netflix, YouTube and some other platforms by providing subtitles in two languages, translations, examples of the use of words and a lot more!

It is a tool you can enable/disable at any time during watching, so no need to be scared to added functions on your Netflix/YouTube.
How to download Language Reactor?

You can download Language Reactor by searching Language Reactor' on Google or clicking here to go directly to the Google download page.

The setup is very easy and only takes a few seconds.
Why use Language Reactor for Netflix?

You can use Language Reactor on Netflix to study your target language in a new fun way, putting apps and school manuals aside for a bit.

We all have different ways to learn. Some people can learn with school manuals only, writing vocabulary down again and again. Others will need to diversify their study materials to keep an interest in the language or learn best by listening.

Language Reactor is just another fun way of enjoying movies/series while learning languages and developing the reading and listening aspects of a language.
How to use Language Reactor for Netflix?

Download the extension, set it up, open your Netflix and start watching your favorite show. Able the Language Reactor extension at the bottom left of your screen, select you target language in the settings and here you go!

But you can also refer to our blog for a more detailed step by step tutorial with pictures.
How to unsubscribe from the Pro Mode of Language Reactor?
Want more from LTL?
If you wish to hear more from LTL Mandarin School why not join our mailing list.
We give plenty of handy information on learning Chinese, useful apps to learn the language and everything going on at our LTL schools!
FANCY LEARNING ONLINE? Get yourself some free Chinese classes on us!
Sign up below and become part of our ever growing community!