Skritter Review (for 2023) // Should I Download It?
Skritter Review // Learn Chinese (and Japanese) Characters On Your Phone
Skritter Review: 8/10
The perfect app for those learning Japanese and Chinese!
Skritter is a hugely popular app to learn Chinese characters so today we wanted to provide you with an updated Skritter Review (for 2023) after the app underwent some rather radical changes in the past months.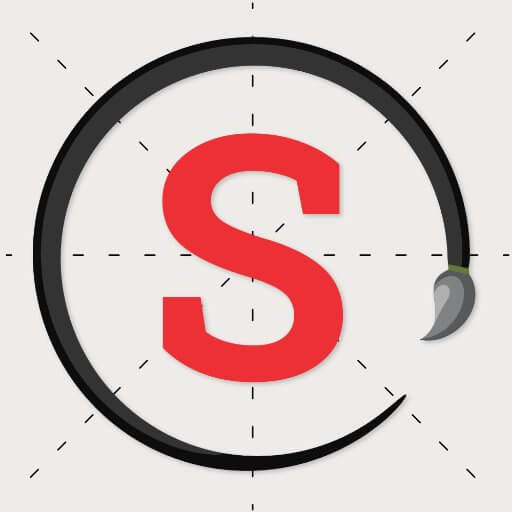 Skritter is an app focused on learning Chinese (and Japanese characters).
This isn't the app to use for speaking, or reading longer extracts of text, but focused around the construction of Chinese characters and how to write them.
It's worth noting that, as with all language learning apps, they generally focus on one or two areas of the language which can be:
Listening
Reading
Writing
Speaking
I tend the find the ones that try to do everything can falter, whereas the apps that focus extensively on one of the above, provide more in depth and ultimately better results.
This is why Skritter is an app I've really grown to love over the last few weeks.
I've actually been aware of Skritter for many years, but never really given it the time of day it deserves. However, I wanted to change that.
I arranged a call with the founder and CEO of Skritter, Jake, after numerous exchanges on Instagram and after hearing of a huge update to their software I thought now was the time to delve in.
As I'm learning Chinese and Japanese simultaneously, this seemed like the perfect time to get my hands dirty and provide you with the complete Skritter review.
So grab a cuppa (and a biscuit), sit back and enjoy our in-depth look at Skritter, and how you can use it to help aid your Chinese and Japanese studies.
Skritter Review // Key Info

Skritter Review // Pros & Cons

Skritter Review // Cost

Skritter Review // What is Skritter?

Skritter Review // Skritter Decks

Skritter Review // Mobile & Desktop

Skritter Review // The Lessons

Skritter Review // What We Like

Skritter Review // What Could Be Improved

Skritter Review // Should You Download Skritter?

Skritter Review // Where to Download

Skritter Review // FAQs
---
Skritter Review // Key Info
| | |
| --- | --- |
| Name | Skritter |
| Website | https://skritter.com/ |
| Description | "Skritter gives you immediate stroke-level feedback and helps you review hard characters more often. Studying, your way." (Skritter) |
| Languages | 2 (Japanese & Chinese) |
| Price | $15.99 – $99.99 |
Skritter Review // Pros & Cons
| Skritter Pros | Skritter Cons |
| --- | --- |
| 1. Clear on what it offers and the experience is a simple one. | 1. Relatively pricey. |
| 2. Casual Usage. | 2. Limited learning on free version. |
| 3. Video Lessons. | 3. Algorithm for errors could be improved! |
Skritter Review // Cost
| Skritter Subscription | Cost (USD) |
| --- | --- |
| 1 month | $15.99 |
| 6 months | $59.99 |
| 1 year | $99.99 |
Skritter Review // What is Skritter?
In Skritter's words:
"We built Skritter for anyone curious about learning Chinese and Japanese language and culture and want to do so as quickly and efficiently as possible. Whether you are studying for fun or in an academic setting, Skritter is designed to help you reach your language learning goals. Learn 10 characters, or 10,000…the choice is entirely up to you!"

Source here
It's a Spaced Repetition Software (often shortened to SRS) that allows the user to absorb as many characters in Chinese or Japanese as they wish.
Skritter focuses heavily on handwriting and the building blocks of the characters.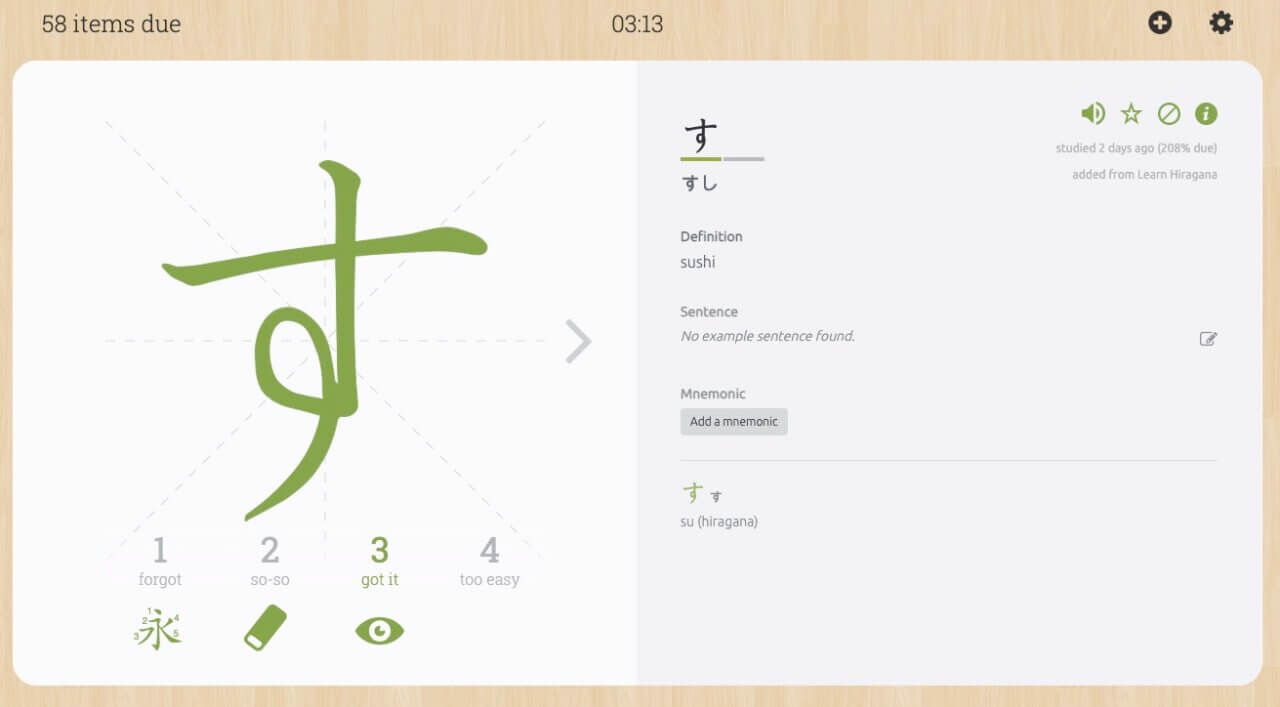 Chinese and Japanese, whilst they look utterly intimidating at first glance, are actually very shrewdly built pictograms that all convey a sense of meaning when you discover the elements of them.
Skritter does a good job of teaching us that.
Inside Skritter, you can download decks and day by day, you can study and review these decks.
As time goes by the idea is they become engrained and embedded into your mind.
The key with an app like Skritter, as with any SRS, is consistency.
Learn for a week and then drop it for two… you're destined to fail. This is all about little progress, every day.
Even 5-10 minutes a day can make all the difference long term.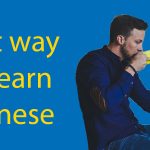 Mastering Mandarin || 9 Proven Ways To Learn Chinese FAST⚡️
What is the Best Way to Learn Chinese as fast as possible? Here are 9 killer tips for (2020-21). We have access to more resources than ever before.
Skritter Review // Skritter Decks
One thing to really like about Skritter is the huge number of decks available in their library.
A deck is essentially a set of flashcards which you learn.
FOR EXAMPLE:
In my Skritter Japanese App, I am using the Learn Hiragana and Learn Katakana Decks (these are 2 of the 3 Japanese Alphabets)
In my Skritter Chinese App, I am playing with the Skritter Character Course and HSK Decks.
There is a large library of decks which you can browse through.
Skritter also seems to have developed a number of collaborations with many (text)books so there's a chance the book you are using to study with is also listed as a deck, meaning you can revise the words you've been studying in your classes.
I also like the fact they bring you topics very much making the headlines in recent times which include:
Analysing Mark Zuckerburg's Chinese
This all makes for an app of great longevity – it isn't just about learning the HSK and then binning the app off – this is something that can be used for all manner of topics.
Jake from Skritter told me they are always enhancing their decks and looking to expand further which is great to see!
Skritter Review // Mobile & Desktop
A feature I always look for when reviewing apps is whether they offer functionality on Desktop as well as Mobile.
The world as we know it is becoming more and more Mobile by the year… but that doesn't mean Desktops should be ignored.
In fact, when I can, I personally prefer learning on a Desktop, with a bigger screen that perhaps allows more functionality and more space.
Skritter ticks that box but there is one caveat to this.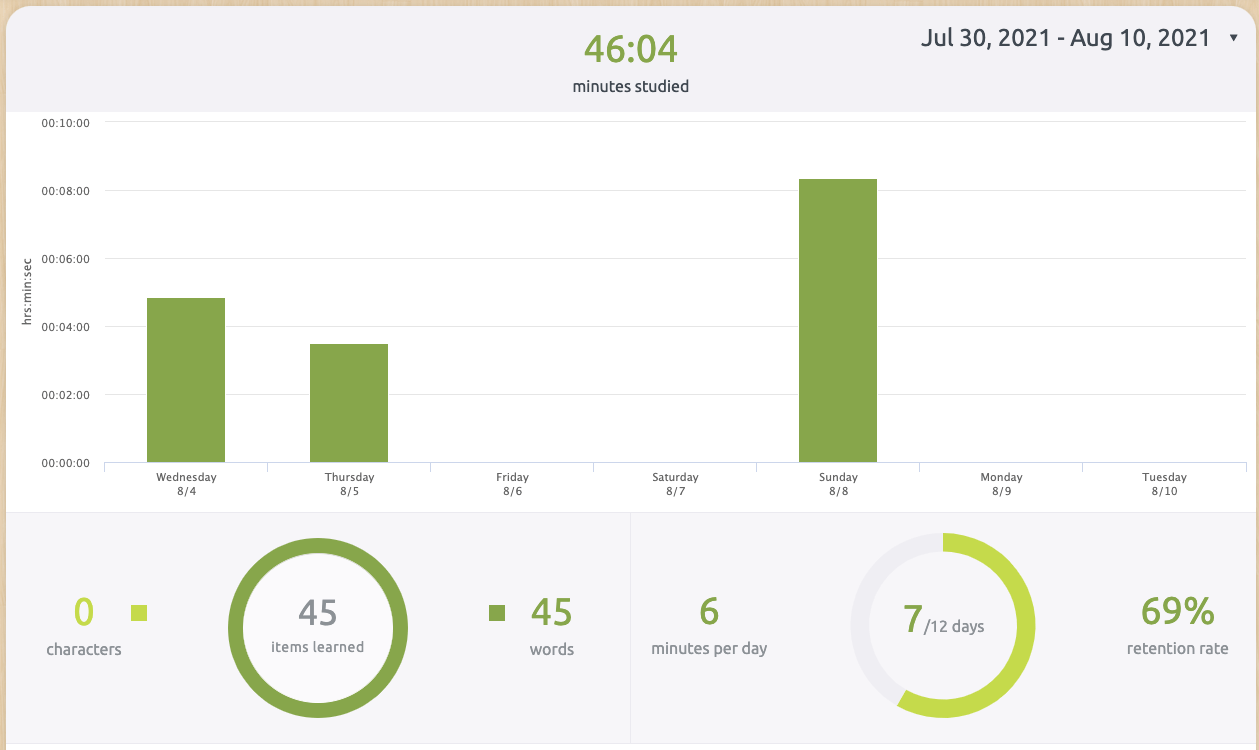 Skritter is an app focused on writing and therefore I found it much harder to use on Desktop with a mouse than using my finger on my phone.
Skritter was of course designed to be a mobile app whereby you use your finger to write characters in Chinese and Japanese.
I like the fact they've certainly not disregarded desktop – in fact, there are some fancy-looking stats to enjoy on Desktop, something which I always enjoy being a fan of numbers!

However, when it comes to lessons, stick to mobile in my opinion.
Skritter Review // The Lessons
Lessons on Skritter follow a similar pattern. The app is all about remembering how to draw characters and recognise them but there is an element of personalisation you can add to the lessons which I thought was a very smart addition.
Before I get onto that, you can study two types of lessons on Skritter:
'Learn' is effectively new words for you. Items in each deck you are yet to study.
'Review' of course refers to consolidating everything you've learnt so far.
You will see on the Home Page of your Skritter DUE CARDS with a number in brackets.
This is essentially the number of characters you need to review before they disappear from your short-term memory.
The more decks you add, the bigger those numbers become.
Learn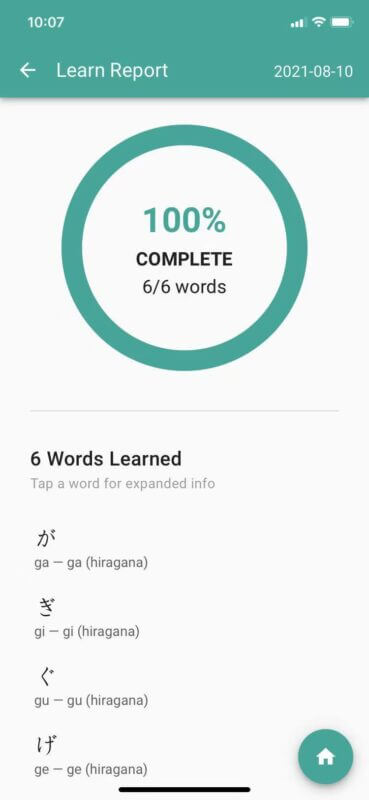 When you learn words for the first time, you are taken through a number of stages.
NOTE – If, by chance you already know the word you can simply "mark as learned" and move onto the next one easily enough.
Firstly we are introduced to the word and it's sound/pronunciation.
You are then asked how to pronounce it (Japanese) or it's definition (Chinese) and then shown how to write it, stroke by stroke, in Chinese and Japanese.
You then have to write the character two more times, once with the character showing and then finally with a blank canvas to see how well you remembered it.
Then onwards you go to the next word, and so on.
In Chinese, you'll also be asked to write the tone (Japanese does not include tones).
Review
Time to make sure you don't forget those characters, this is where you'll spend most of your time.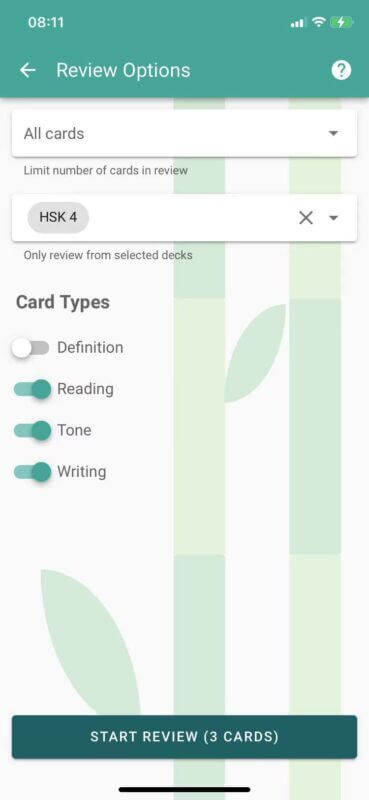 I mentioned earlier about customisation, and this is a feature I like a lot.
With Skritter, as you've seen, each word is broken down into sections:
Definition
Tone (in Chinese only)
How to write
How to say it
And so on.
With the review you can choose how you want to shape the lesson.
Do you just want to focus on reviewing the tones, or do you want to focus on the definition and how to write it.
You can choose at the start of every revision session, as you can see in the image.
You can also choose how many cards to review and which decks they come from, meaning you can focus on those weaknesses, whether they be a certain deck, or a certain facet of learning (tones or pronunciation).
A smart feature that makes every session different, if you so wish!
Skritter Review // What We Like
Skritter is clear in what it offers and the experience is a simple one.
It doesn't take long to get signed up and it does what you want it to do.
They don't try and reinvent the wheel, but provide a very useful language-learning tool.
You won't be improving your speaking, you won't be sentence mining and you won't be meeting other native speakers.
However, you will understand the make-up of Chinese and Japanese characters and, if you use the app as often as every day, you will make very strong progress.
Skritter is good in the sense you can use it casually, sitting down watching a movie for example. You don't need 100% full engagement at all times – although of course, that does no harm either!
I enjoyed just subconsciously making shapes on my screen and learning new characters in both Chinese and Japanese.
Another thing I also enjoyed was the video lessons that appear in some of the decks. These lessons give you an introduction into what you are about to learn. These are very neatly put together and super smart addition to their repertoire.
Here is one of the intro videos for the Skritter Chinese Character course…
Skritter Review // What Could Be Improved
In truth, not a lot. But there are always opportunities to make something better so here are my thoughts.
First and foremost I think the price will play a big role for many.
15USD a month, whilst not breaking the bank, will put a fair percentage of people off.
People these days are always on the lookout for freebies and very cheap ways to learn – and Skritter doesn't really fall into that category.
Will a casual learner pay 15 USD every month? Most likely not. You need to be a hardened learner in most instances.
You can also sign up for longer, which leads to bigger discounts:
Monthly Cost | 14.99USD
Half Yearly Cost | 59.99USD
Yearly Cost | 99.99USD
One thing I personally enjoyed about studying with Duolingo was the motivational notifications you would receive on your phone.
Whilst these can also pass off as just plain annoying, if you are in the right frame of mind they are super useful.
EXAMPLE – I completed a 300+ day streak on Duolingo and a lot I feel was down to these push notifcations on my phone.
They never felt intrusive, just friendly, well-written for me, and personal.
With Skritter I've not completed a 3-day streak yet… jumping in and out.
Perhaps some gentle nudges would help get me using the app even more.
One final thing I find is that an app like Hack Chinese is slightly smarter in dealing with your errors.
When I get something wrong on Hack, its algorithm makes sure I see the characters at exactly the right time in the future… so much so, that I find they eventually just stick, like magic.
From my experience with Skritter so far, it feels slightly less advanced in this sense.
It's not a bad thing, and not wholly noticeable, but as I have roughly around 4/5,000 characters swirling around in my brain now… I become more aware of something like this.
Skritter Review // Should You Download Skritter?
It's a resounding yes in my opinion.
I feel a little foolish for not taking up Skritter earlier on in my Chinese learning journey.
It's been right under my nose for years and I'm glad to have finally gotten into using it.
My next challenge is to build up a nice streak, akin to my Duolingo one… and I feel it can help propel my Chinese further, and kick start my journey learning Japanese.
Skritter Review // Should You Download Skritter?
DOWNLOAD – You can download Skritter for Apple or for Android
BONUS – if you fancy getting 15% OFF Skritter, we can help you out, by clicking the link below…
Skritter Review // FAQs
What is Skritter?

Skritter is a Character Teaching App where you can learn Chinese and Japanese using SRS.

SRS means Spaced Repetition System and a popular and ultimately very smart way to learn a language.
Can I get a discount on Skritter?

With LTL you can yes!

LTL and Skritter have partnered up to offer you 15% off Skritter subscriptions which can be obtained from here.
How much does Skritter cost?

Skritter is free but to unlock more features you would need to pay for a Monthly Subscription which is $14.99, with discounts for longer pe
Can I sign up to a lifetime package with Skritter?

There are three types of subscription with Skritter which are:

Monthly Cost | 14.99USD

Half Yearly Cost | 59.99USD

Yearly Cost | 99.99USD
Will I get flient in Chinese using Skritter?
Where can I download Skritter?
Can I improve my speaking with Skritter?

No, Skritter is focused on writing and understand Chinese and Japanese characters
Can I learn Japanese on Skritter?

Yes, Skritter has an app dedicated to Chinese and another (almost exactly the same) for Japanese.
Want more from LTL?
Want to learn Chinese from the comfort of you own home? Then our 24/7 Online Chinese lessons might be the thing for you.
We offer a 7 day free trial to all new online students where you can study Mandarin 24/7.
Come and check it out free of charge and see what you think!
If you wish to hear more from LTL Mandarin School why not join our mailing list.