Peanut Allergies in China ⚠️ 5 Danger Zones
Peanut Allergy in China ⚠️ Danger Zones You Must Be Aware Of
How is it possible to live with a Peanut Allergy in China? Can it even be done?
Allergies are never easy, but it is possible to live in China with a peanut allergy
Having a peanut allergy in a country with a totally different food culture and language?
Definitely not easy. But, enemies of Jimmy Carter's favourite legume, never fear!
Navigating the challenge of peanut allergies in China is manageable with just a little extra preparation and research.
Here's five danger zones you need to avoid:
Peanut Allergy in China || Soy Milk

Peanut Allergy in China || Snack Foods

Peanut Allergy in China || Bars

Peanut Allergy in China || Hot Pot

Peanut Allergy in China || Malatang

Peanut Allergy in China || FAQs
Peanut Allergy Danger Zone #1
Soy milk (豆奶 or 豆浆)
Given that Greater Chinese Cuisine is the origin of nearly every soy product in the world, it should be unsurprising to learn that China's soy milk comes in a wide range of flavors.
Black sesame soy milk, tea-infused soymilk, freshly ground, or cheap and made from a powder, the options abound!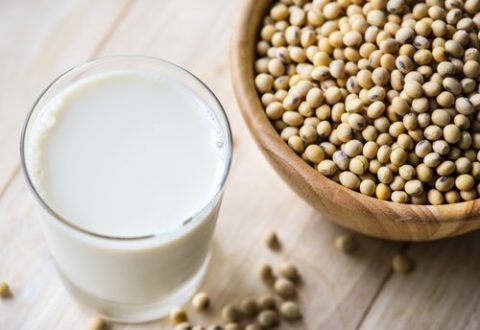 Many of these options are completely safe for people with peanut allergies. But, some options are made with a blend of peanuts and other nuts.
For people with peanut allergies, it is a good idea to learn the character 花生 early so that you can scan the ingredients list of products like soy milk.
If you aren't yet confident in your reading skills, ask a friend or simply skip soy milk altogether and try one of the great other options available like milk tea or sour plum juice.
Peanut Allergy Danger Zone #2
Snack foods (零食)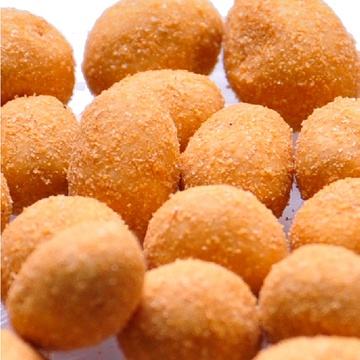 There are a few bags of fried puffs that don't immediately appear to be a peanut allergy danger zone to those who have not yet learned to read Chinese characters, but are actually crunchy coated peanuts.
Not exactly ideal snack food for someone with peanut allergies who just wanted an impulsive, fried mid-day pick-me-up.
The smiling crispy exterior hides a deadly, peanut interior. Allergic to peanuts but still want junk food?
Potato chips from internationally recognizable brands should be safe. Many snack foods have some English on them as well.
Stick to these until your Chinese literacy improves or bring a friend along to verify that you're making a safe choice.
Peanut Allergy Danger Zone #3
Bars (酒吧)
If you go to a traditional Chinese bar, there's a high chance you'll run into another danger zone for people with peanut allergies in China: peanuts.
Peanuts are a common snack at local bars.
Even if you are not eating them, be aware that there may still be crumbs on table or peanuts on the floor.
In larger cities with more international bars and better hygiene standards, this is less of a concern.
That being said, it is good to be aware of this danger zone, especially if you are keen to explore bars less frequented by foreign travellers.
Sticking to your normal drink order, eating beforehand, and quickly scanning the hygiene of floors and tables when you enter should be enough to keep your Friday nights full of fun and free of trips to the hospital.
Peanut Allergy Danger Zone #4
Hot Pot (火锅)
Ask anyone who has spent a month or more living in China about hot pot and you are bound to hear profusive praise for this communal meal.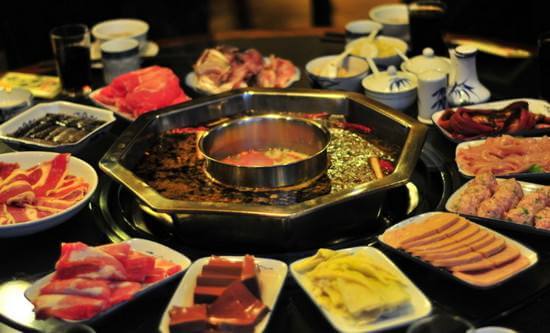 A hot pot meal consists of a communal broth, available in spicy and non-spicy flavors, that you and your companions use to boil raw vegetables, meats, noodles, and more.
Part of the fun is the chance to create your own dipping sauce at a station with options such as soy sauce, vinegar, oyster sauce, beef sauce, and more.
This station is the danger zone for people with peanut allergies in China. Some of these sauces contain peanuts and peanuts are often available as a mix-in.
If the sauce bar seems a bit risky, you can ask the waiter or waitress to bring you a bowl of sauce from the kitchen to avoid contamination.
Sesame sauces are often flavored with peanuts, so it is best to stay away from them as well.
Peanut Allergy Danger Zone #5
Malatang (麻辣烫)
Malatang is a hard to translate food that can be found in cities across China. It looks like this: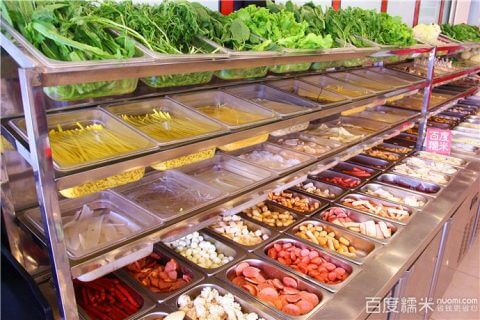 When you enter a malatang restaurant, you select your foods off a shelf and place them in a basket.
The restaurant then boils these in a broth and adds toppings such as chilli oil, sesame sauce, cilantro, and, you guessed it, peanuts.
Generally speaking, simply telling the malatang place that you do not want peanuts is enough.
There is a small risk of cross-contamination, so selecting a place that looks like it has a good level of hygiene or where you can watch the cooking process is recommended if you want to be extra cautious.
Don't know how to tell waiters and waitresses about your peanut allergies? Check out: How to talk about allergies in Chinese)
So many peanut allergy danger zones, is China safe for me?
The fact that you are reading this article is a good sign: you are doing your research and going in prepared!
China is not a particularly unfriendly place for someone with peanut allergies; the trick is to know how to look out for foods with peanuts, just like you do at home!
Having peanut allergies in China is not only manageable, it actually has a silver lining.
Asking restaurants about whether or not their food is safe for people with peanut allergies is a great opportunity to start practicing your listening and speaking from Day 1!
You will quickly become the master of this simple conversation and be not only well-fed, but also well on your way to speaking Chinese!
Allergies in China || FAQs
Is Chinese food cooked in Peanut Oil?

There are a number of restaurants in China which do cook their food in peanut oil. The reason for this is because the peanut oil performs well at higher temperatures.
Is Peanut Oil safe for someone with a Peanut Allergy?

Highly refined peanut oil is widely considered to be safe for those with a peanut allergy.

This is mainly because the processing separates the protein from the oil. 
Do all bars offer peanuts as a snack?

Some will, some will not. It's wholly dependant on the bar.
Is Peanut Butter popular in China?

Not hugely. Toast is a common breakfast in the west but not so much in China. Peanut butter can be purchased at large supermarkets but it's not something commonly consumed in China, despite the fact it can be found.
How do you say Peanut in Chinese?
How do you say "I have a Peanut Allergy" in Chinese?

"我对花生过敏" wǒ duì huā shēng guòmǐn
Want more from LTL?
Want to learn Chinese from the comfort of you own home? Then our 24/7 Online Chinese lessons might be the thing for you.
We offer a 7 day free trial to all new online students where you can study Mandarin 24/7.
Come and check it out free of charge and see what you think!
If you wish to hear more from LTL Mandarin School why not join our mailing list.