Traditional Food in China 🥟 The Top 10 You Simply MUST Try
The Very Best Traditional Chinese Foods To Gorge On
One of the best things about living in, or visiting the middle kingdom is the traditional food in China.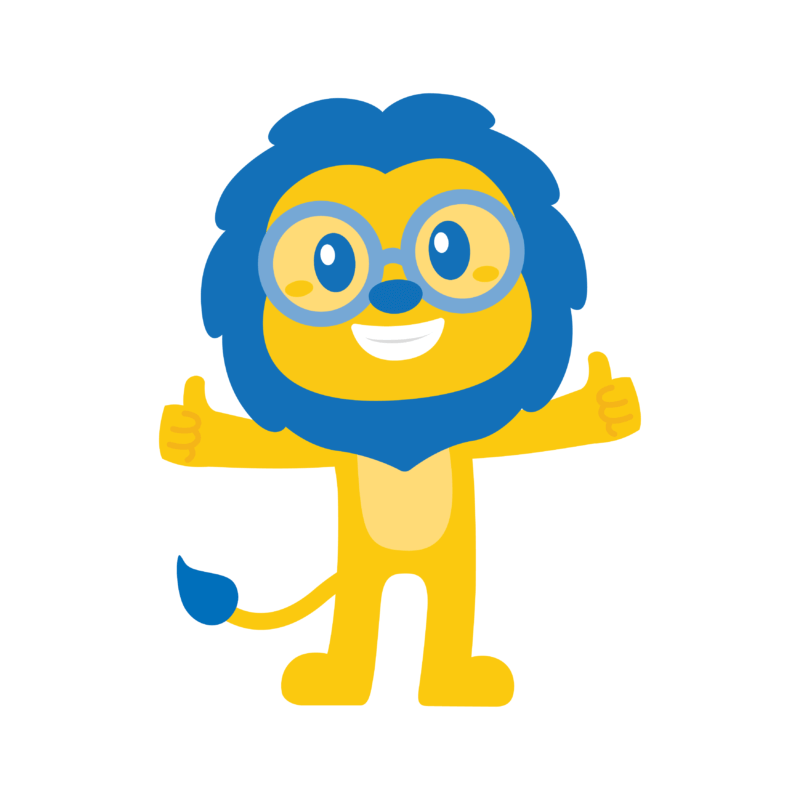 Traditional Chinese food is without doubt one of the most exciting and diverse cuisines in the world.
But be aware…
If you think you know your Chinese from your local takeaway back home, think again because it's like nothing you've had before.
It's possible to write thousands of words and endless blogs relating to traditional food in China so we'll keep this one short and snappy by picking our favourite traditional foods in China which you MUST try when coming here.
DID YOU KNOW – It's worth noting that every province and region in China has its own specialities.
Two of the more popular elements of Chinese cuisine are rice and noodles. Noodles are more commonly eaten in the North of China and rice in the South.
Each area will have their own variations of these dishes which is what makes traditional Chinese food so diverse and unique.
Before getting into our top Chinese dishes, here's a video of one of our students trying some traditional Chinese cuisine in Chengde, where our Immersion program is held:
Traditional Food in China #1 – Peking Duck/Beijing Duck 北京烤鸭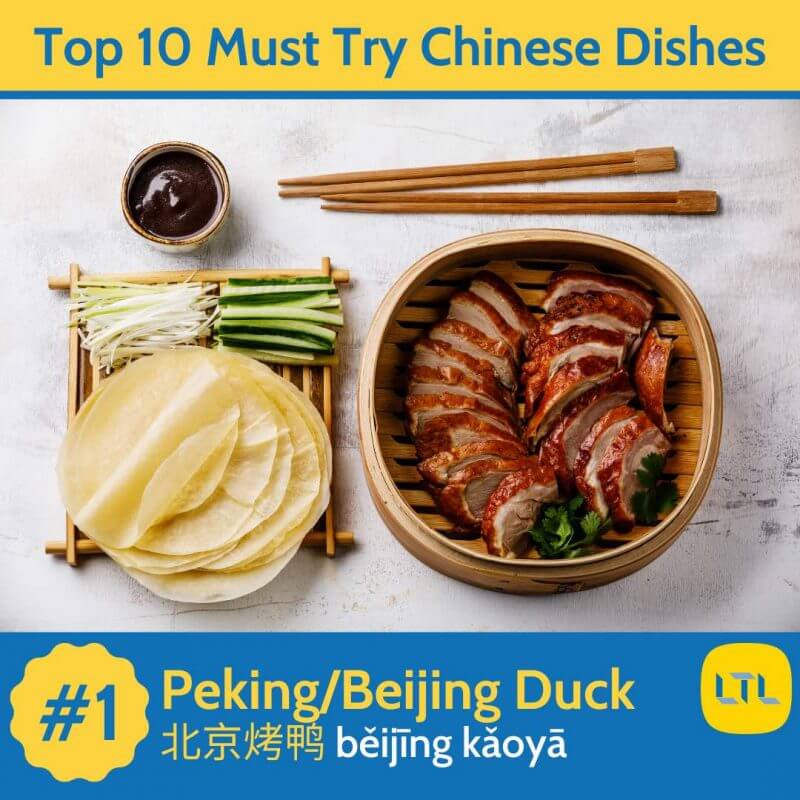 Beijing (or Peking) Duck is a dish that is synonymous with the city of Beijing and is a huge hit with foreigners and locals alike.
When you think traditional food in China you think Roast Duck!
Generally many western Chinese takeaways offer Beijing duck with small pancakes on their menus but the quality doesn't come anywhere near the real thing.
Beijing Duck is so much more than just Duck.
The skin, served with sugar, melts in your mouth.
The little sides of cucumber, spring onion (alongside various other surprises). The variety of different sauces you can enjoy in your Duck Pancake such as Sweet Bean and Plum flavours.
Every restaurant has their own little variations to this classic dish and you'll be hard pressed to go wrong.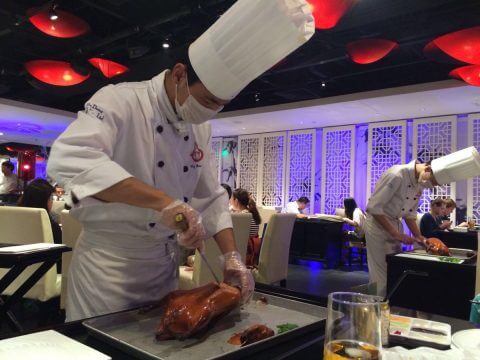 You can enjoy Beijing Duck on the cheap, or if you want to splash out at a more fancy restaurant, you have the option at the likes of Dadong Duck and Quanjude – two of the more famous Chinese Beijing Duck restaurants.
The latter was actually formed in Beijing way back in 1864!
The more high end options will also give you the experience of enjoying the duck being prepared and served in front of your very eyes, a quite unique experience to whet the appetite.
You are served with a plate (or more if the group is larger) of duck, the duck skin either accompanies the meat or is served on another plate.
Pancakes are brought alongside; the idea is to fill these small sized pancakes with duck and anything else you are served.
Generally cucumber and spring onion are bankers, from there you may enjoy thinly sliced shallots or lettuce for example alongside other treats that enhance the experience.
The great thing is that, despite the name tying the dish to Beijing, Peking Duck restaurants can be found throughout China and it's generally just as good no matter where you travel. It's a must try.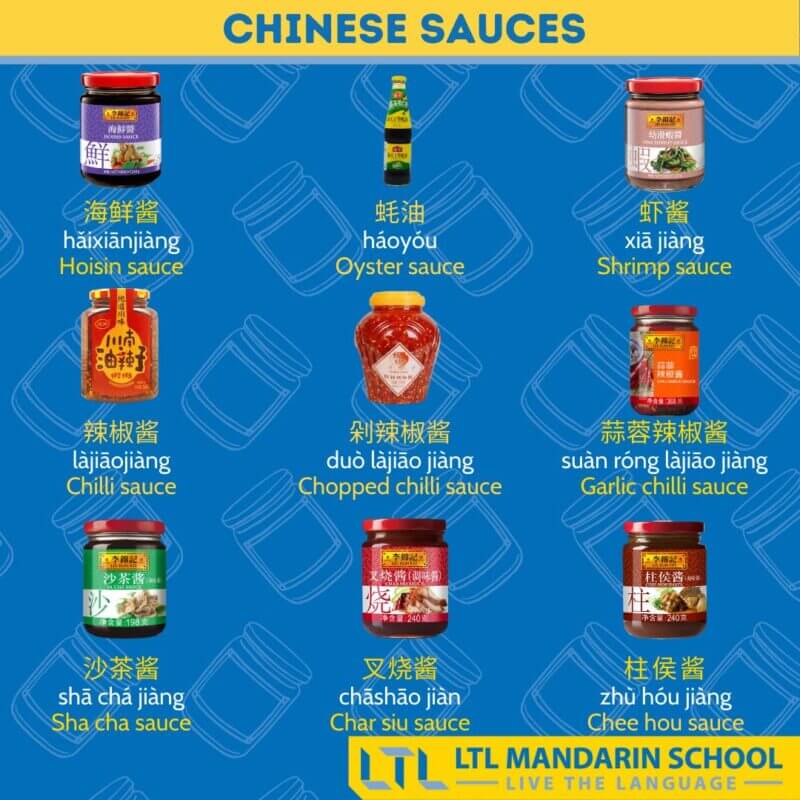 Traditional Food in China #2 – Hot Pot 火锅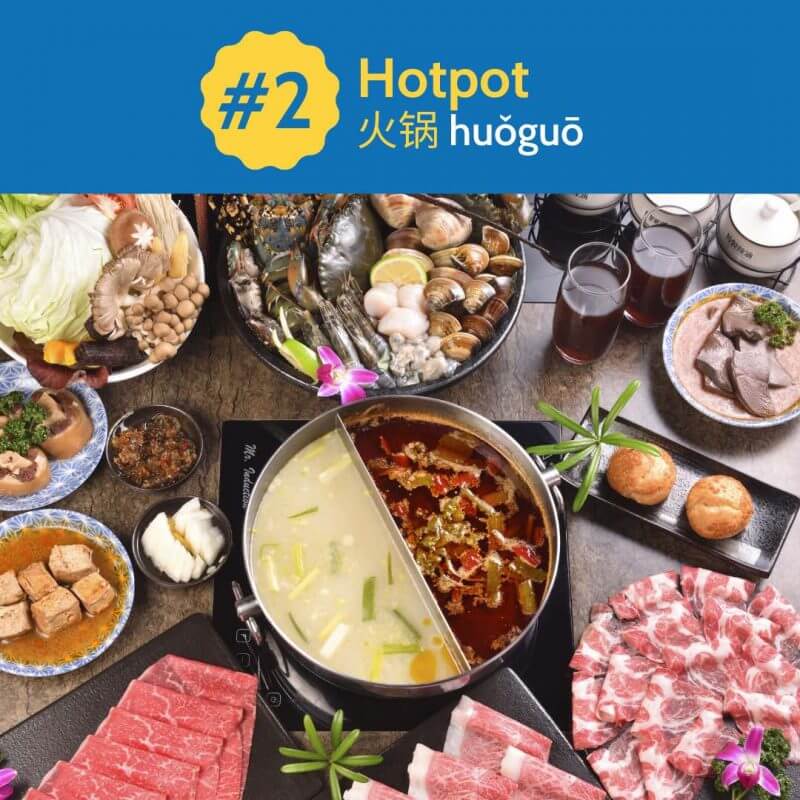 Ah, glorious hotpot, a perfect winter warmer (especially if you are based in the North of China, but honestly popular throughout the whole year!)
Mainland China, as with Duck, offers a diverse group of Hotpot's with one of the more popular being Chongqing Hotpot, which is all about the spice (麻辣火锅).
Differences in hotpot generally lie in the sauces and the meats.
Each region or province will have their own favourites.
Hotpot is known to be fairly spicy (although this can of course be avoided), hence why Chongqing and Sichuan tend to lead the way when it comes to hotpot.
If you are coming to China for the first time then you simply must visit Hai Di Lao Huo Guo 海底捞火锅.
Hai Di Lao is famed for it's Hot Pot and it's easy to see why given their Tripadvisor Reviews (and our word of course)!
The service is quite possibly the most impressive you'll come across, despite a generally poor grasp on English, they do absolutely everything, and more, to make your experience there the best possible.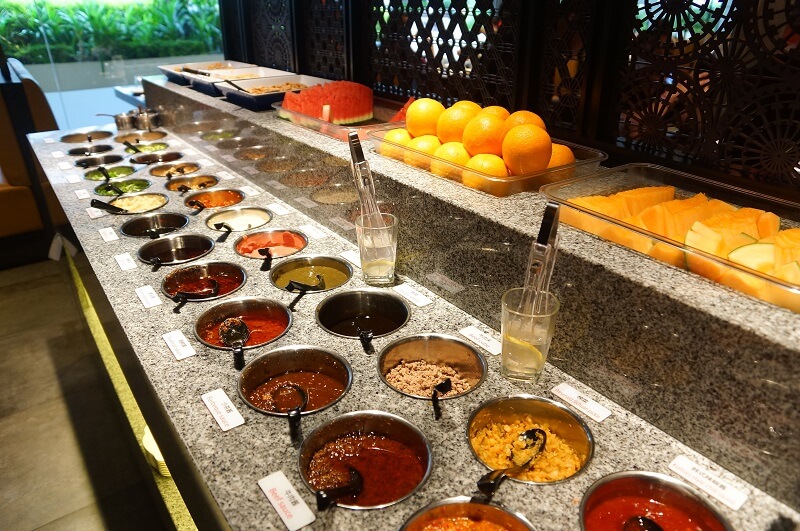 USEFUL TIP – Everything is very fast paced there but with good reason. Hai Di Lao gets very busy, very fast so make a reservation if you go there. If you don't, at peak times your wait could exceed an hour.
You will be handed aprons on arrival to keep that white top of yours clean, and an iPad menu which also has English options.
Staff will always be on hand to recommend.
First you order the soup for your pot. If your group has different taste buds, you can split the pot into two, perhaps one on the spicy side, and one on the more milder side.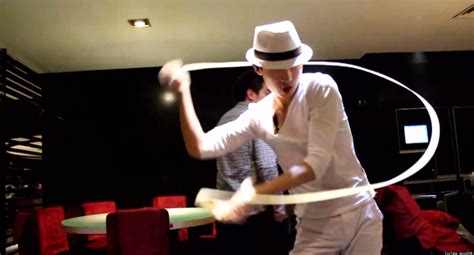 After ordering a load of meats and vegetables, you can then go and visit the 'sauce bar'.
Here you can make a small bowl of absolutely anything.
Flavours include vinegar, BBQ sauce, spicy oils, finely cut herbs and meats, sesames and pastes.
Really, it's just a case of throwing some things in a bowl and tasting the flavours!
There is also some fruits available (watermelon and orange namely) just in case you went too spicy and need to give your mouth some recovery.
There is one thing in particular we recommend you order and that's the "dancing noodles" (烩面).
We won't give too much away, although our picture here might give you an idea what treat lies in store for you.
It's certainly something you won't forget.
Food service is rapid and you can spend hours here drinking, eating and socialising with your nearest and dearest.
It's really so much more than just a food experience, but the food is divine. Traditional food in China at it's finest.
Traditional Food in China #3 – Dumplings 饺子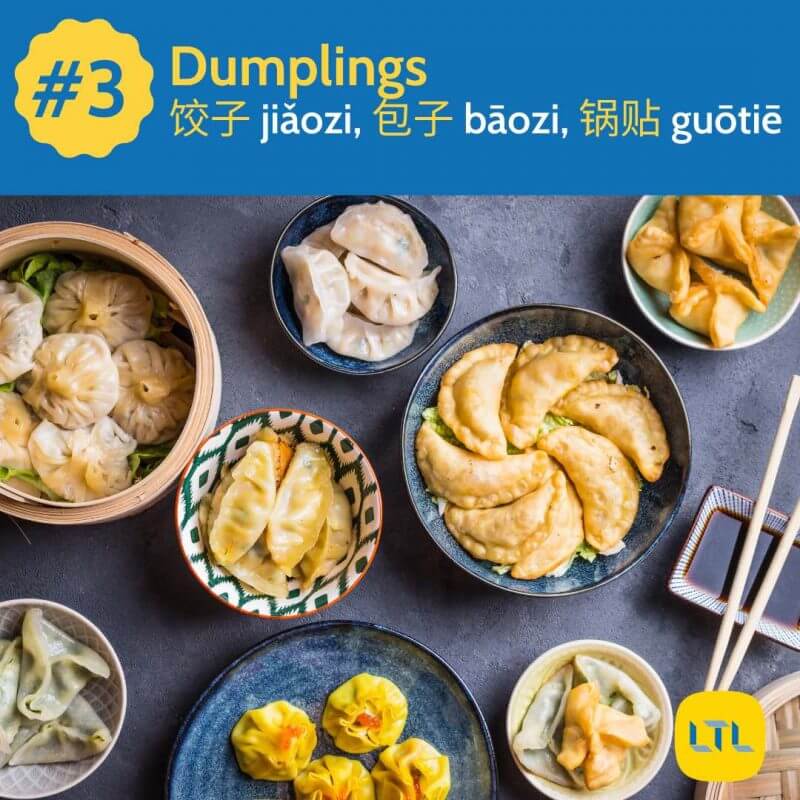 Ah Dumplings. Fried, boiled, veggie or meaty… there really is a dumpling for everybody!
饺子 can be eaten for breakfast, lunch or dinner and are a great meal to share.
Dip them in Soy Sauce or Vinegar with Garlic to enhance the flavour further and you have a recipe for success.
As with many other Chinese staples, there are many variations of dumplings but the great thing is they cater for all tastes.
Dumplings are also great fun to make at home as well.
If you have any Chinese friends, spend a Sunday afternoon preparing and making your own over a few drinks.
The dough of the dumpling can be based on either bread, flour or potatoes.
The filling can vary from almost anything. Different meats, fish, cheese, vegetables or even sweets and fruits.
DID YOU KNOW – Dumplings can be baked, boiled, fried, simmered or steamed, proving their versatility as a dish. Everyone has their own preference. Try a few, and see which one gets you going the most.
There are actually a huge number of variations of dumplings, let's introduce you to a few below.
Each have their own different attributes and quirks.
Jiǎozi 饺子 – Crescent-shaped dumplings as shown above. Either boiled or steamed.
Guōtiē 锅贴 – Fried jiaozi.
Bāozi 包子 – Large steamed buns.
Xiǎo lóng bāo 小笼包 – Smooth and translucent steamed buns which are smaller than the aforementioned Baozi.
Shāomài 烧卖 – Unsealed dumplings. The filling shows through the top.
Dim Sum (Diǎn xīn 點心) – Cantonese style.
In terms of where to go to get dumplings…
…you are spoilt for choice because you can stumble across them pretty much anywhere.
Look out for the symbols for dumplings – 饺子 at restaurants and in menus.
They will never set you back too much.
In many smaller Chinese eateries you can enjoy dumplings for about a single US Dollar. Not bad for a food experience so very good!
Traditional Food in China #4 – Hóngshāo ròu 红烧肉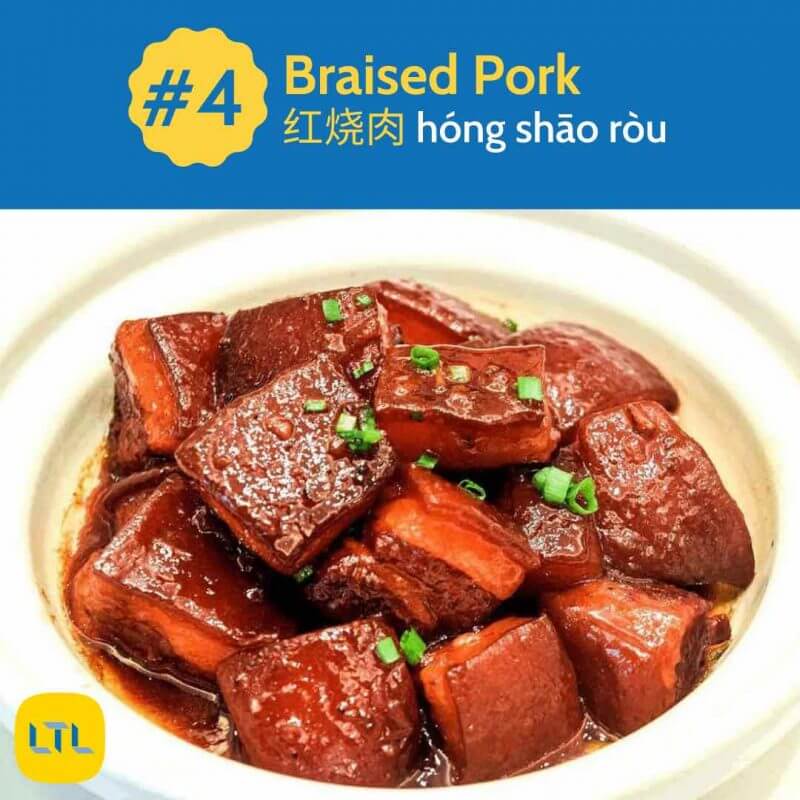 This is a little more specific than the above but it's flavour is so good and popularity is so large we had to include it in our top traditional Chinese foods!
Hong Shao Rou translates to Red Braised Pork Belly.
It's a famous dish from Shanghai and is hugely popular.
It's cooked with a combination of ginger, aromatic spices, garlic, chilli peppers, soy sauce, rice wine and sugar.
Plenty of flavours to tickle the taste buds!
As with many other Chinese dishes there are plenty of variations throughout Mainland China and Taiwan, however, one that is particularly famous is the Hunanese version…
Why you ask?
毛氏紅燒肉 Máo shì Hóng Shāo Ròu is commonly regarded as one of Chairman Mao's favourite dishes.
This dish has a truly gorgeous flavour and can be enjoyed in many Hunan restaurants across China.
Traditional Food in China #5 – Biang Biang Mian 油泼扯面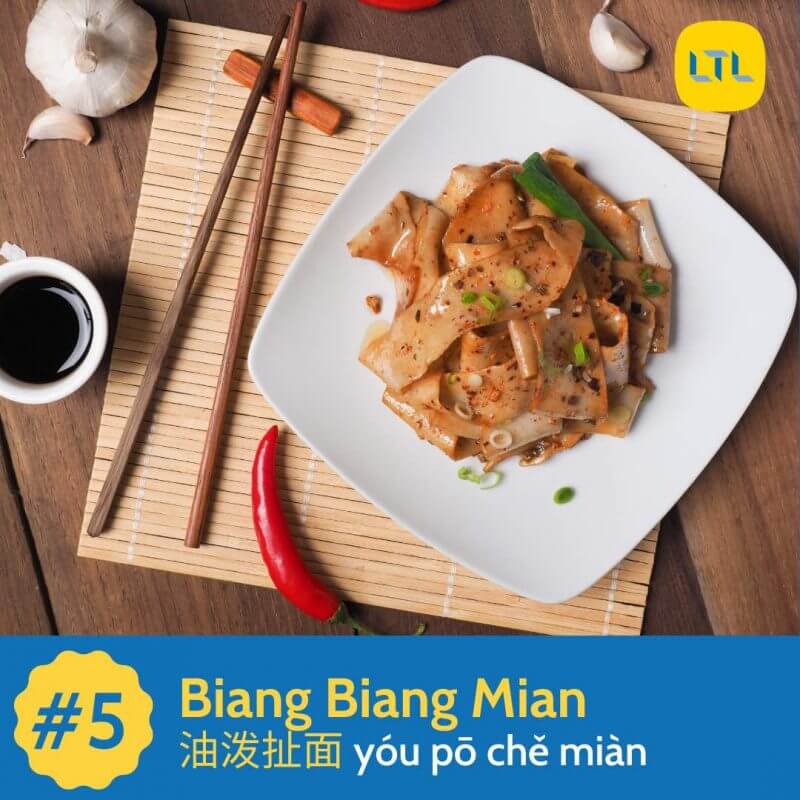 Now this is an absolute gem we cannot get enough of.
Biang Biang Mian also holds hall of fame status in China because the symbol for Biang is so complex, that most restaurants omit the Chinese character and replace it with the pinyin in their menus.
Let's introduce you to the symbol before we introduce you to the food itself, and a little bit of useful information.
USEFUL TIP – Actually before we do it's worth noting that Biang Biang Mian has an alternate name which is a little easier on the eye but maybe doesn't roll off the tongue as easy as the above – yóu pō chě miàn 油泼扯面. Either or, they both relate to the same, wonderful dish.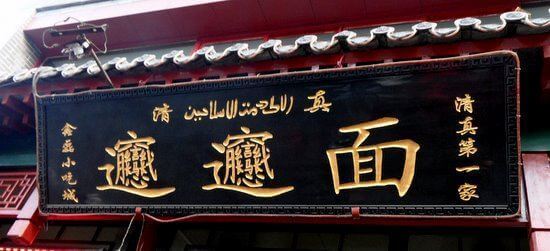 The symbol for Biang is so complex that it cannot be typed on a computer.
It'd just be a mash up characters that is virtually incomprehensible.
So instead, here is a look at the symbol in more detail.

As with all Chinese characters, you'll see it breaks down into a host of other radicals and symbols that make this one monster of a character!
Now, the sharp eyed ones of you will be able to notice the subtle differences below.
The character is the same, the meaning is the same but one has the cheek to be known as the "simplified" version, the other is the traditional character for Biang.
The traditional character boasts a ridiculous 58 strokes, and the simplified one a mere 43.
Typically the name of the dish includes two of the same character so to simply write the name of the dish you have to manage over 100 strokes!
You can see why restaurants list the dish as BIANG BIANG 面!
COOL BLOG ALERT – want to discover some more stupidly complex Chinese characters, check out the link!
What about Biang Biang Mian itself?
We went off on a tangent there but it's hard not to when Chinese culture smacks you in the face with something so intriguing!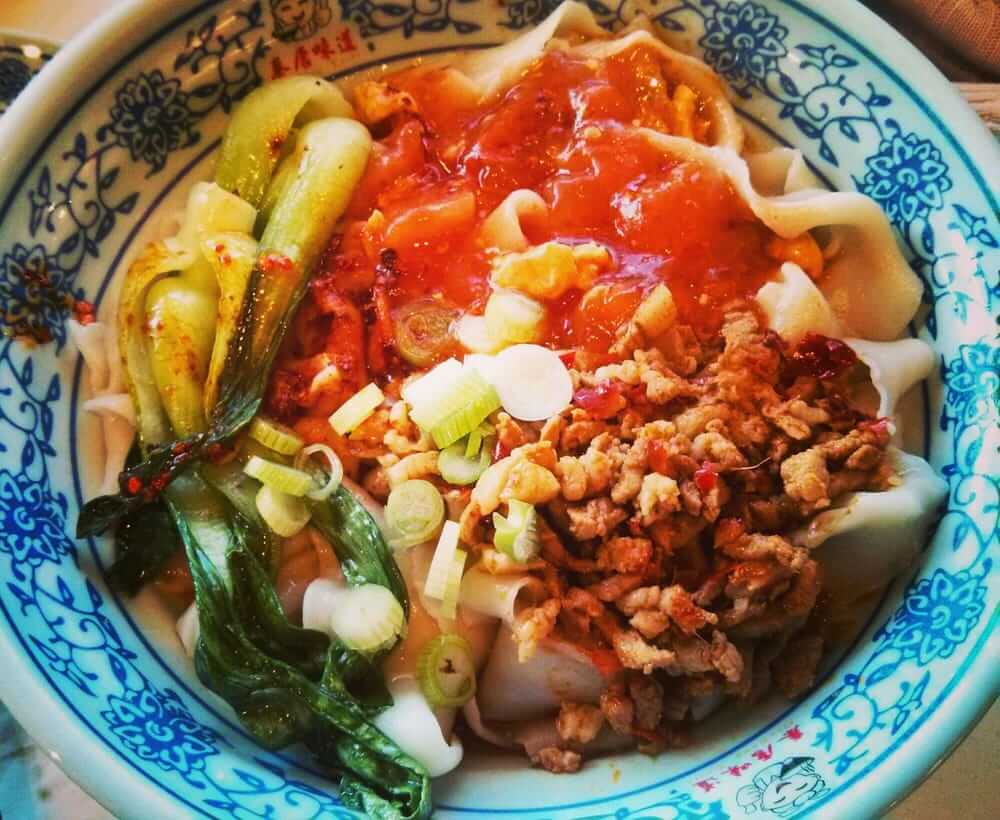 Ok so the food itself really is so good they named it twice.
It comes from the Xi'an region of China (home to the famous Terracotta Warriors) and is usually served in a big bowl covered with lots of little treats that you are supposed to mix into the noodles.
These treats include egg, meat, tomato, small diced potato and much more.
The noodles are the layer below this and they sit in a little pool of oily sauce.
Mix it all together and you get a wonderful mixture of flavours that send your taste buds wild.
You also have the option to spice it up, if you so wish.
It's very rare you meet a person who doesn't like this dish and it's an absolute must try if coming to China – even better, if you are going to be visiting Xi'an.
It's also worth noting the noodles, they are almost "belt-like". Thick and long, they tend to catch attention when foreigners first get stuck into this dish.
Traditional Food in China #6 – Chaun'r 串儿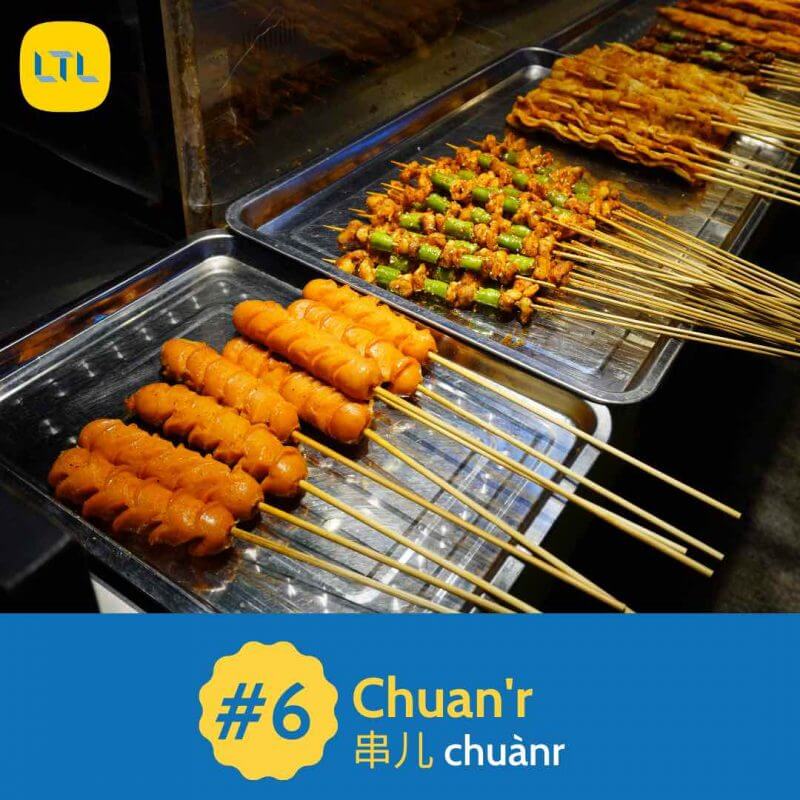 My word the great Chinese food just keeps on coming!

This is a good one…
In fact, 串儿 is so good we've even made a video and a blog about the skewers of goodness.
So rather than rabble on about it, watch the video blog, and take a look at our blog on 串儿.
Can you take a guess from the style of the character what 串 is? Looks very much like a kebab skewer doesn't it?
That's exactly what it is, a skewer. Who said Chinese was hard to learn?
SIX DISHES DOWN – What's your favourite Chinese dish? Tell us what you think below and drop us a comment ✌️
Traditional Food in China #7 – Kung Pao Chicken 宫保鸡丁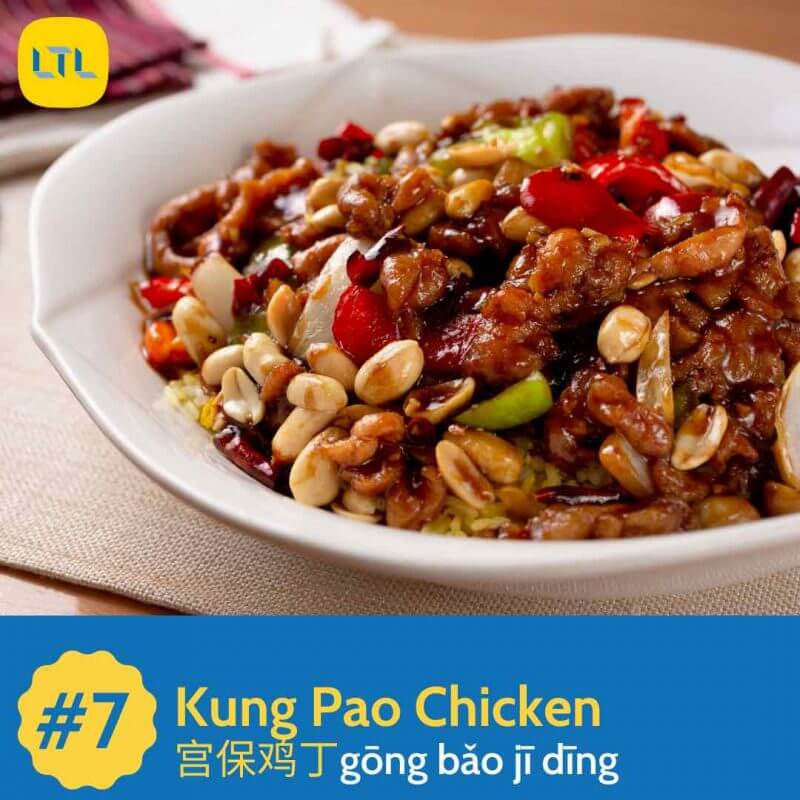 Kung Pao chicken (also transcribed as Gong Bao or Kung Po) is a famous, spicy Sichuan-style specialty dish.
It is very popular among both the Chinese, as well as foreigners.
The main ingredients are diced chicken, dried chilli and fried peanuts.
Since the dish originated in Sichuan province, the original version of the recipe calls for Sichuan peppercorns.
You can find different (less spicy) versions of this dish all over China, but it has also become a staple of Westernized Chinese cuisine.
Out of all the dishes here, this is probably the only one where you'll be able to get something relatively similar in your Chinese restaurants at home.
See it as the SWEET AND SOUR CHICKEN/PORK dish at your local.
You should try making it at home!
How you ask?
Don't you worry, we already made a blog for that!
Traditional Food in China #8 – Má pó dòufu 麻婆豆腐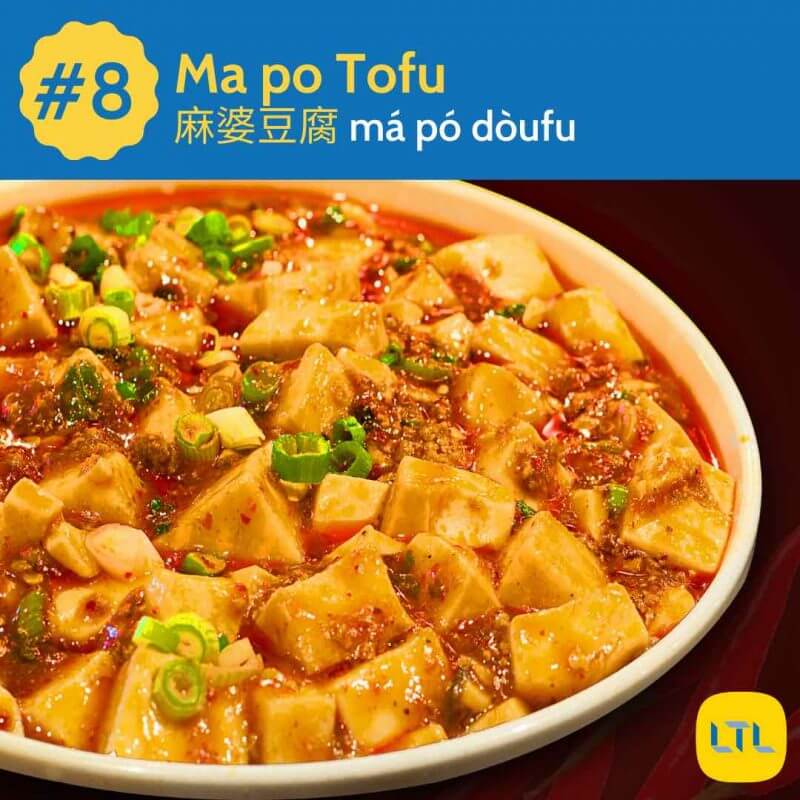 Ma Po Tofu is truly one of the most famous dishes of Chinese cuisine.
It also originated in Sichuan province (Sichuan is the place of fine food).
What does Wikipedia say about this dish?
It states that the dish "consists of tofu set in a spicy sauce, typically a thin, oily, and bright red suspension, based on douban (fermented broadbean and chili paste) and douchi (fermented black beans), along with minced meat, traditionally beef."

Link here
Variations exist with other ingredients such as water chestnuts, onions and other vegetables.
One account indicates that the dish existed as early as 1862, in a suburb of the sub-provincial city of Chengdu, the capital of Sichuan province.
The character la (麻) signifies this dish is at least a bit spicy and the recipe calls for Sichuan peppercorns and chili oil.
DID YOU KNOW – This popular and comforting Sichuan dish pairs excellently with rice.
This dish is also a vegetarian's dream! People think living in China as a veggies is really not possible, but it is… and if you don't believe us check out Hannah and Evelyn's story in China!
Traditional Food in China #9 – Táng cù zhūròu 糖醋猪肉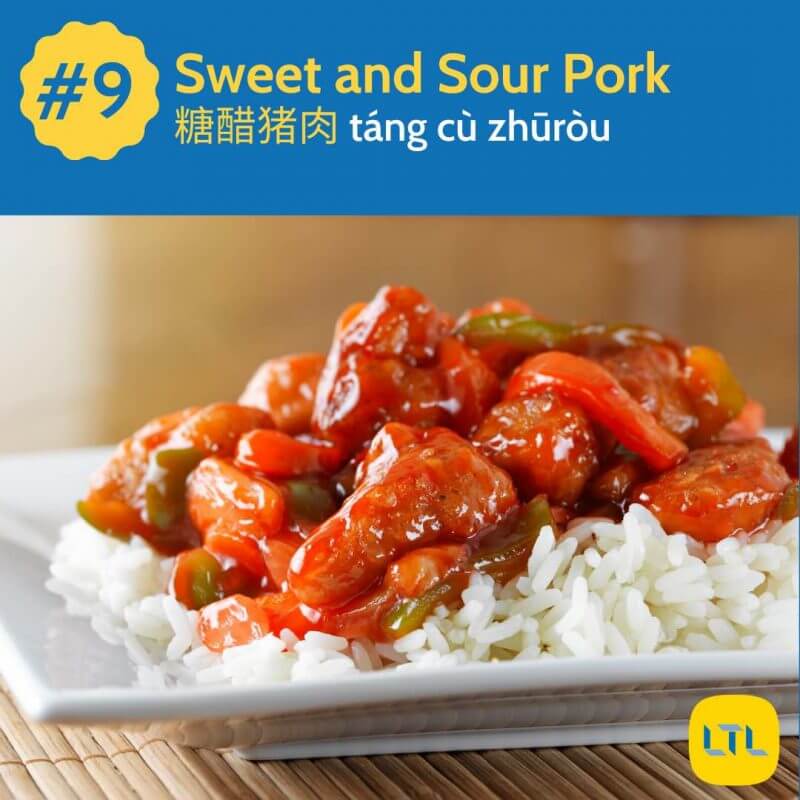 More sweet and sour goodness here.
糖醋猪肉 is not too dissimilar from entry number 7.
This kind of dish has many names throughout China which also include 咕噜肉 Gūlū ròu.
In fact when I lived in Shenyang (in the north-east of China) they have a slightly alternate version of this known as dōngběi guō bāo ròu 东北鍋包肉.
The 东北 meaning north-eastern and the guō bāo ròu being the actual name of the dish.
It was one of the first dishes I fell in love with in China itself.
All around China there are genuinely hundreds of variants so this entry is more a shout-out to that sweet, sour and pork combination!
All those classic Chinese flavours come into this kind of dish.
Vinegar, garlic, scallions, ginger – super strong and powerful flavours that leave the taste buds on your tongue dancing with glee!
HAVE YOU SEEN OUR FREE CHEAT SHEET – have you seen our amazing Chinese menu cheat-sheet!? We know ordering food in China can feel intimidating when the menu makes no sense so that inspired us to do this…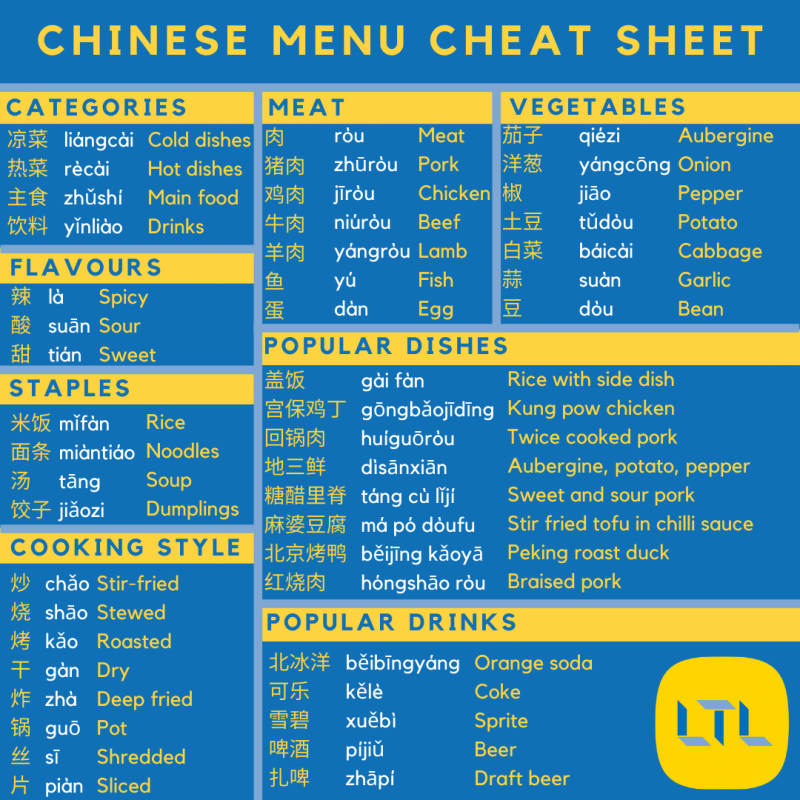 Feel free to save it, download it and share it so when you go to order food from a menu in China, you are clued up and one step ahead of the rest!
Traditional Food in China #10 – Lánzhōu lāmiàn 兰州拉面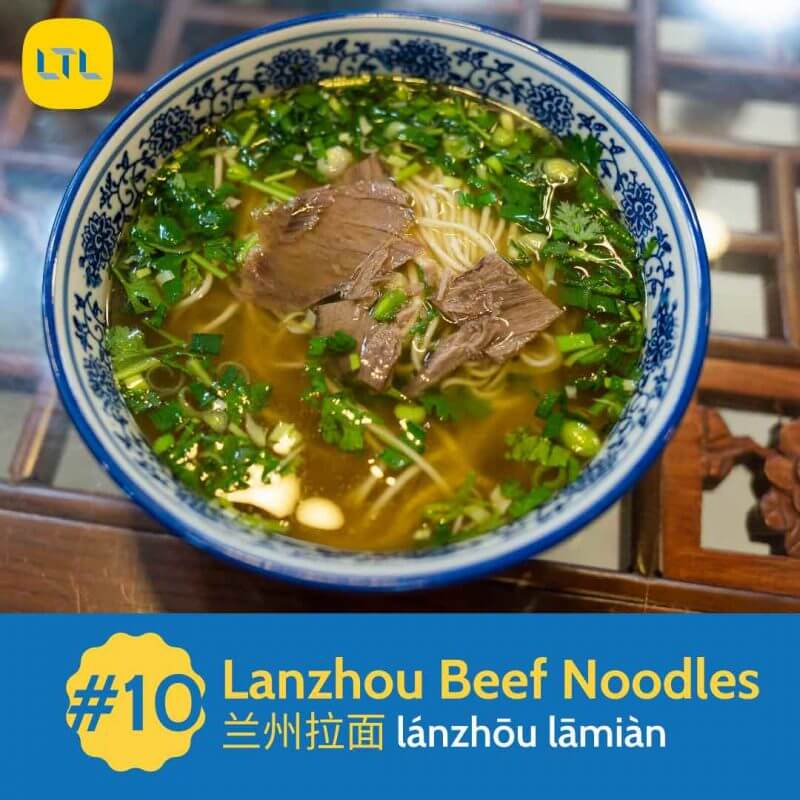 I hold my hands up, in the original article I omitted the wonderful Lanzhou Noodles and I hang my head in shame.
I found it difficult where to draw the line.
I'd already included 7 dishes and written over 2,000 words.
I had to draw the line somewhere, but I drew it too soon. Forgive me please!
Lanzhou Beef Noodles are a classic – and one I've consumed more times than I can count.
Hailing from, shockingly, Lanzhou, the capital of Gansu province, this would be the most famous dish from the province.
A big bowl, a meaty broth, handmade noodles, scallions and any other local treats to garnish.
The dish is simple but perfected. Prepared in front of your eyes in seconds if you visit the local eateries, this is packed full of flavour and leaves you rolling out the restaurant ready for a nap!
More For Foodies
So there you have it – some amazing dishes you simply have to try when coming to China.
We haven't stopped there though! Going to Taiwan or want to find out some of the best local Taiwanese dishes?
Visit our Taiwan blog and find out the best Taiwanese traditional foods!
Likewise for vegans and vegetarians we've also got you covered.
Worried about eating in China and how you'll get by?
No need, China has some GREAT Vegan food – find out the best ones. And if you're a tofu fan, don't forget to get out our blog all about tofu and how it is made.
It's easy to worry about eating in a foreign country when you have an allergy such as a peanut allergy?
And if you're coming to try foods, be brave and taste some interesting dishes you've never heard before. You might discover a new found love, such as spicy rabbit head!
Just in case you're missing Western food, don't forget to check out our post comparing Chinese KFC vs McDonald's or our video on ordering a Subway Sandwich in Chinese which includes a cheeky bonus hack…
And there's even more!! Have you ever discovered the incredible and fresh food of Japan and Vietnam? Probably some of our favourites outside of China!
We covered 6 amazing Vietnamese Street Foods here – 3 from the north, and 3 from the south. We've also covered Korean cuisine and the top 10 dishes that must be sampled.

Finally, to top it all off here are the best Japanese foods to binge on when travelling to Japan. It's not all about Sushi!
OK, that's enough food talk for today… Hope you're hungry!
Food in China – FAQ's
Do different regions in China have different food?

Chinese cuisine is hugely diverse because many regions have their own kind of dish/ingredient they are famed for.

For example, spicy lovers would love to indulge in Sichuan (or what you will see in western restaurants referred to as Szechuan) cuisine.

Beijing has the world renowned Peking Duck, Shanghai is famed for it's wonderful little Xiaolongbao… the list is endless.
At Chinese restaurants do you order your own dish or share with others?

The restaurant culture in China is very different to the west.

Rather than ordering a dish each, the whole table orders a large number of dishes for everyone to feast on.

No one ever goes hungry!
Do restaurants in China have English menus?

This is dependant on where you go, but restaurants will only have Chinese menus.

The small little side street restaurants (normally home to the best Chinese food of all) will have zero English and normally only Chinese characters, not even pinyin.

More westernized restaurants (for example located in Malls or foreign hotspots) would usually always have an English option and even English speaking staff so it really does depend where you venture to for your food.
Can I use a knife and fork instead of chopsticks in China?

This will depend where you eat.

Normally if you eat Chinese cuisine you'll be given chopsticks and only given a knife or fork in a foreign chain restaurant.

Some restaurants, if you ask, will provide you with a knife and fork but many will not have any at all, especially the smaller restaurants.
Are dumplings eaten much in China?

Dumplings are one of China's most popular and diverse dishes.

They come in all kinds of shapes, sizes and even colour.

Fried, boiled, steamed. Meat, veggie, fish. Small, large, soupy.

One of China's great culinary delights are the many forms of dumpling you can enjoy.
Are rice and noodles staple foods in China?

Rice and noodles are eaten all over China, every day.

It's widely known that rice is more popular in the south, and noodles more popular in the north.

That said, both are consumed by the bucket load every single day.
Is the food at my local takeaway similar to food in China?

Generally the classics at your takeaway (Sweet and Sour Pork, Chicken Chow Mein, Shrimp Crackers etc) are nothing like the culinary experience you get in China.

Sure, you'll see things like this in China but the cuisine here is far more diverse than your local Chinese takeaway may appear.
Want more from LTL?
If you wish to hear more from LTL Mandarin School why not join our mailing list.
We give plenty of handy information on learning Chinese, useful apps to learn the language and everything going on at our LTL schools!
Ready to start learning Chinese? Why not give our online Chinese classes a go?
Sign up below and become part of our ever growing community!