Best Mandarin Movies to Learn Chinese (2022 Update)
Our Complete Guide 🎦 The 9 Best Mandarin Movies to Learn Chinese
Watching movies can be a great way to learn and practice a language. Mandarin Chinese is, of course, no exception. So today we discover the best Mandarin movies of all time.
In the west, Cantonese (Hong Kong) cinema is better-known than Mandarin-language films.
However, there are still plenty of worthwhile Mandarin language movies to watch and enjoy.
From artsy indie flicks to big-budget comedies, and everything in between, here is a list of some of my personal favourite Mandarin language movies.
Suzhou River (2000) 苏州河 (Sūzhōu Hé)

Crouching Tiger, Hidden Dragon (2000) 卧虎藏龙 (Wò hǔ cáng lóng)

Beijing Bicycle (2001) 十七岁的单车 (Shí Qī Suì de Dānchē)

Let the Bullets Fly (2010) 让子弹飞 (Ràng Zǐ Dàn Fēi)

Blind Shaft (2003) 盲井 (Mángjǐng)

Monster Hunt 1 and 2 (2015) 捉妖记 (Zhuō Yāo Jì)

Farewell My Concubine (1993) 霸王别姬 (Bàwáng Bié Jī)

The Wedding Banquet (1993) 喜宴 (Xǐyàn)

Lost in Thailand (2012) 人再囧途之泰囧 (Rén Zài Jiǒng Tú zhī Tài Jiŏng)
Suzhou River (2000) 苏州河 (Sūzhōu Hé)
Suzhou Creek tells the intertwined love story of four people, an anonymous videographer, his girlfriend Meimei who works in a seedy dive bar, Mardar a small-time crook and motorcycle courier, and Moudan, the daughter of a local crime lord.
The story is set against the gritty Suzhou Creek area in Shanghai, which at the time of filming was a seedy, dirty area where people at the edge of society conflated.
Today that area is full of trendy cafes and expensive Swiss watch shops.
The strength of this movie is in its stunning yet gritty visuals, and how a fairly standard story of lost love is presented and told.
Suzhou River has become one of my personal favourite movies in any language, partially because I lived in that area for 2 years.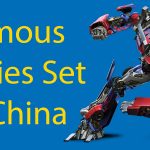 Famous Movies Set in China – Must See Movies
8 Incredibly Famous Filming Locations In China You Need To Visit Thanks very much to David Wang from OkDealTravel for this excellent guest post. Enjoy! Have you ever noticed that there are so many scenes and elements of Chinese features…
This movie was however too much for Chinese censors who banned it from being shown in China, and banned director,Lou Ye from making movies for five years.
Crouching Tiger, Hidden Dragon (2000) 卧虎藏龙 (Wò hǔ cáng lóng)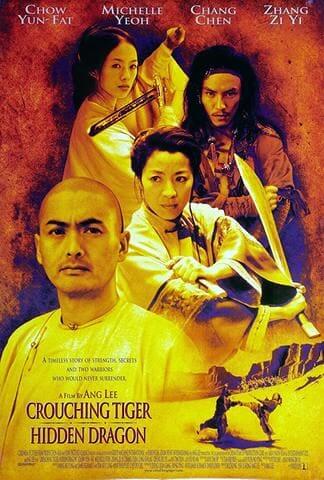 Probably the best known Chinese language movie outside of China.
A lot has been already said and written about this movie.
The story is actually based on a wuxia novel by the same name.
Crouching Tiger, Hidden Dragon follows a 19th century Qing dynasty warrior who gives his sword, The Green Destiny, to his lover, to keep safe.
The sword, however, gets stolen and then the quest to retrieve it is on.
If you haven't seen Crouching Tiger, Hidden Dragon yet, then watch it immediately, it's a fantastic blend of drama and martial arts, and was rightly very highly regarded internationally.
However, a small caveat, if you are a Mandarin language purist, you might be bothered by the fact that all of the four leading actors speak with different Mandarin accents (Beijing, Cantonese, Taiwanese, and Malaysian).
No matter the accents, it's still one of the best Mandarin movies there is, and well worth a watch, or a re-watch.
Beijing Bicycle (2001) 十七岁的单车 (Shí Qī Suì de Dānchē)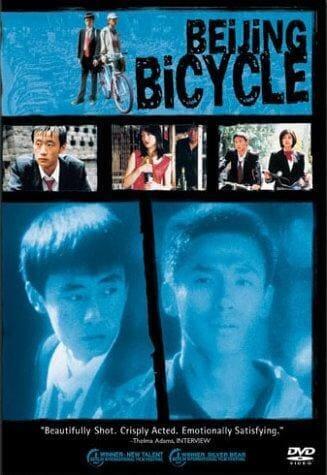 Guei is a hard working country boy who, one day saves up enough money to buy a bicycle so he can ride to work. Soon after, the bike gets stolen.
At the same time, on the other side of Beijing, Jian, a young, poor, city boy has a new bicycle which he uses to win over his crush, Xiao.
Guei's search for his bicycle leads him to Jian, and a series of fights over the bike ensures.
In this movie, the bike is of course much more than a simple item, it is more akin to something of a symbol of love for the two boys.
Li Bin, and Cui Lin the actors who play the two boys do an amazing job and create two authentic, memorable characters, the hard working Guei, and the immature Jian.
The understated film score is also a treat for the ears. One criticism is that the pacing can feel a bit slow at times, but the brilliant actors, great soundtrack, and beautiful visuals, all make for a very good movie.
Let the Bullets Fly (2010) 让子弹飞 (Ràng Zǐ Dàn Fēi)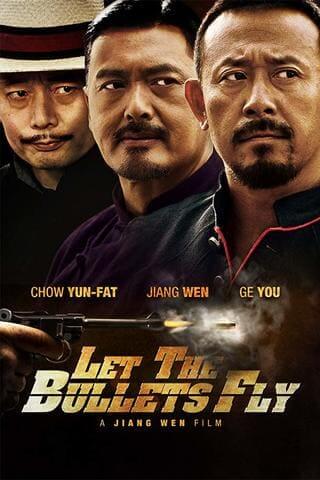 Let the Bullets Fly is an action comedy starring Chow Yun-fat, of Crouching Tiger Hidden Dragon Fame.
The story is simple enough, "Pocky" Zhang Mazi is a bandit who poses as a governor of a small town in Sichuan.
This doesn't go down well with a local mobster who is not willing to share his turf.
A series of increasingly elaborate and deadly games ensure between the two of them.
Let the Bullets Fly, is equal parts hilarious and violent, and is a great movie to watch to learn Chinese.
The humor actually translates very well across international borders, and that makes it a very fun way to pick up some Mandarin and some laughs.
WANT TO FIND OUT MORE ABOUT THIS MOVIE – we wrote a review about it here.
Blind Shaft (2003) 盲井 (Mángjǐng)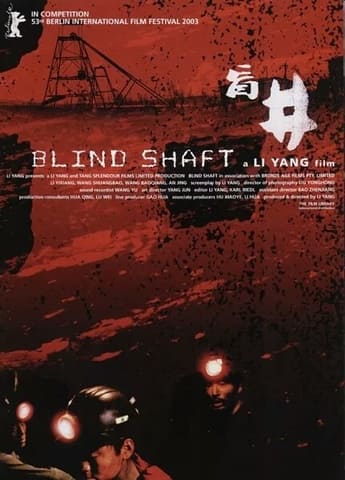 And back to gritty early 2000's Chinese cinema.
Blind Shaft tells the story of a group of miners who want to earn some easy money.
To do that, they kill a fellow miner, pass the death off as an accident, and pretending they were his family, they take the insurance settlement and run away to a different town.
Wanting to replicate the scheme again, they target a naive teenage boy as their new victim.
However, their plan is put in jeopardy when one of the miners developed a friendship with the teenage boy.
This is a movie about social problems, rising wealth, and greed but also about human emotions and relationships set against the background of the dark, dangerous, mines in rural China.
The filmmaker, Li Yang, was not only harassed on location while making Blind Shaft, but the movie itself was banned from being released in China.
The ban was lifted, and Li Yang created a follow-up movie called Blind Mountain (2007) which was made in the same realistic style as Blind Shaft and covers a lot of similar themes.
Monster Hunt (2015) 捉妖记 (Zhuō Yāo Jì), and Monster Hunt 2 (2018) 捉妖记2 (Zhuō yāo jì 2)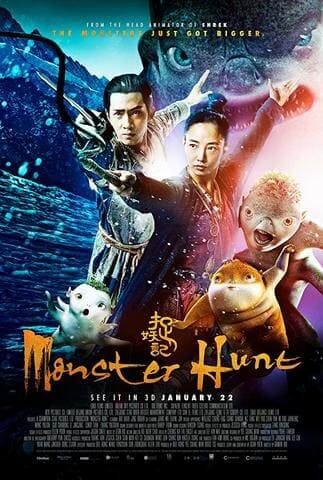 Something for the younger viewers, Monster Hunt is a 3D animated fantasy adventure film which at the time of release was the most commercially successful Chinese movie (it has since been overtaken by The Mermaid in 2016).
Monster Hunt is set in ancient China when monsters and humans lived side by side.
But after humans drove the monsters out, and a devastating civil war between the monsters, an evil monster minister took over the power in the Monster Kingdom.
Wuba, a new-born half-human half-monster baby is the last hope to create peace between humans and monsters.
The plot isn't the strong point of this movie. However, the dazzling martial arts displays and the humor are more than enough to keep you entertained.
Monster Hunt is without a doubt geared toward younger viewers, but adults should be able to enjoy it as well.
The 2018 sequel Monster Hunt 2, follows Wuba's travels through the monster kingdom and all the perils that might entail.
Farewell My Concubine (1993) 霸王别姬 (Bàwáng Bié Jī)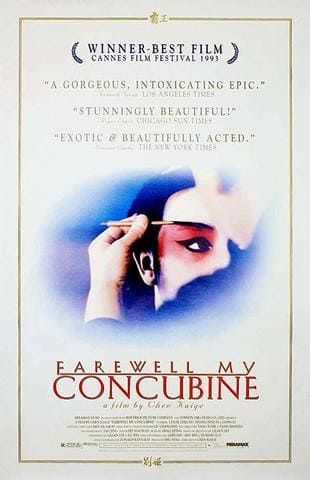 Farewell My Concubine is a Hong Kong made, Mandarin language movie, based on a novel by Lillian Lee.
Farewell My Concubine tells the story of two male stars of a Beijing opera troupe, and the woman who comes between them.
Farewell My Concubine is set in the mid-1800s and tells a wider story about the political instability in China at the time, and how that affects individuals, families, and groups.
In many ways Farewell My Concubine is the movie which put Mandarin language movie on the map internationally, before Crouching Tiger, Hidden Dragon seven years later.
Farewell My Concubine offers great acting and spectacular visuals in a vibrant, historical setting.
The running time is almost three hours! So make sure you are in for the long haul if you want to watch this movie.
FANCY FINDING OUT MORE – We also wrote a review about this movie on our ltl-online-school.com website. Check it out if you like the look of the movie.
The Wedding Banquet (1993) 喜宴 (Xǐyàn)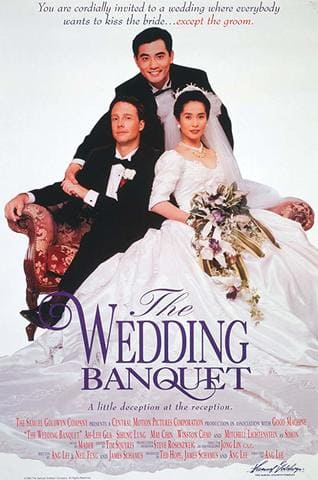 Ang Lee's (of The Hulk, and The Life of Pi fame) second movie tells the story about Wai-Tung Gao a gay Taiwanese immigrant living in Manhattan who marries a mainland Chinese woman so she can get a green card.
Things, however, become complicated when his parents arrive in the US to help prepare for the wedding, and the lengths Wai-Tung Gao has to go to keep the truth away from his American boyfriend, Simon.
While this might sound like a standard romantic comedy, the strength of The Wedding Banquet is how well developed the characters are, and how much you end up caring about them.
It also helps that it's an actually well scripted, funny movie that doesn't go for cheap laughs, or for cheap drama.
Ang Lee really showed his versatility as a director with this hugely enjoyable movie.
Note though, that this isn't a pure Mandarin-language film, there is some English spoken, as the film is set in New York.
Lost in Thailand (2012) 人再囧途之泰囧 (Rén Zài Jiǒng Tú zhī Tài Jiŏng)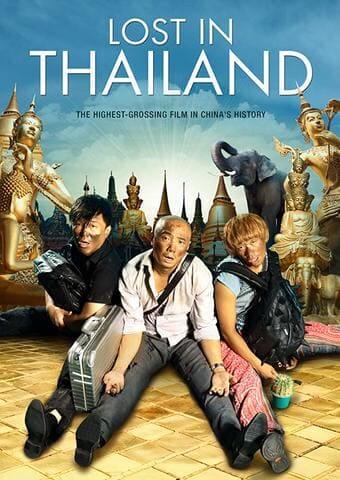 Two rival scientists, Xu, and Bo go to Thailand to try to find their boss at some Buddhist temple so they can be the first to patent and sell a new revolutionary chemical additive.
On the plane to Bangkok, Xu meets Wang, a pancake salesman from Beijing who is an inexperienced traveller going to Thailand to fulfil a list of dreams.
Through a series of funny events, Xu and Wang end up teaming up as they try to get find Xu's boss somewhere in Thailand.
Lost in Thailand wins you over with it's fast paced, high energy humor, and it also helps that both Xu and Wang have great chemistry together on screen.
The plot is simple, but that works very well in a comedy like this.
Lost in Thailand also pushed the boundaries when it came to sexual innuendo in a Chinese movie, and is more "naughty" than you might expect.
Lost in Thailand, is funny, easy to follow, and a great way as an introduction to Chinese language movies.
Mandarin Movies – Conclusion
So there you have it. Some the best Mandarin movies you could wish to watch!
This was of course not meant to be an exhaustive list of every single Chinese movie, rather this should be seen as a jumping off point into the world of Chinese cinema.
Do you agree, or disagree with my choices?

Do you have any other favourite Chinese movies?

Please let us know in the comments below!
And for more movie related content…
Plus, we've got more Chinese movies here, or you can check out some of our favourite movie quotes in Chinese below.
Best Mandarin Movies – FAQ's
How do you say Movie in Chinese?
How do you say Cinema in Chinese?
Can I watch Chinese Movies Online?
How do you say Actor/Actress in Chinese?
How do you say Director in Chinese?
Want more from LTL?
If you wish to hear more from LTL Mandarin School why not join our mailing list.
We give plenty of handy information on learning Chinese, useful apps to learn the language and everything going on at our LTL schools! Sign up below and become part of our ever growing community!