32 Items to Buy (in 2022) to Make Your Language Learning More Comfortable
Study Essentials from Amazon // 32 Products to Spice Up Your Study Space
If there's one thing we've all learned these past two years, it is that we should NOT neglect our study/work environment if we want to keep healthy and sane.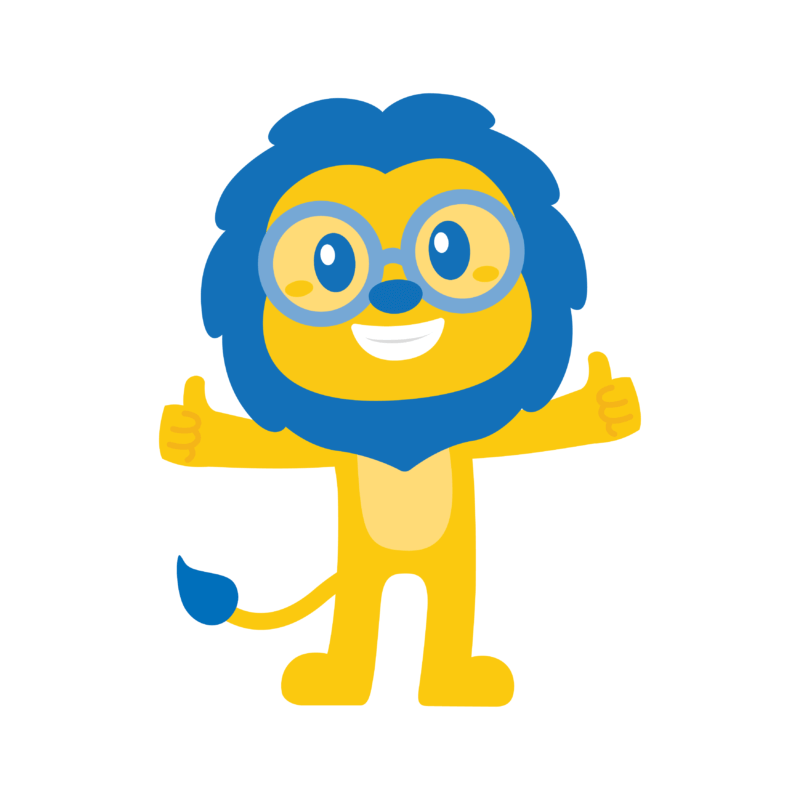 The past couple years have all been about learning how to study/work from home, how to organise our space and find a new routine that keeps us on track and most importantly, motivated!
With a number of the LTL team having to work remotely as well, we've got plenty of cool items to share with you, that were actually efficient for us and could be for you too.
This list of study essentials from Amazon can work for both study and work environments.
Also be sure to check the very last chapter for some great products to help learn Chinese specifically.
Let's go!
Study Essentials from Amazon | Organising Your Desk Like a Pro

Study Essentials from Amazon | Super Cute Items to Help You Study

Study Essentials from Amazon | Chinese Learning Items

Study Essentials from Amazon | LTL's Deals

Study Essentials from Amazon | FREE Bonus – LifeAt

Study Essentials from Amazon | FAQ's
All of these Amazon articles were individually selected (and mostly bought!) by our team at LTL and even though we do not have any partnership with any of the sellers, LTL may collect a share of sales from the links on this page if you decide to shop them. Don't worry though, this will have no impact on the final price of your shopping.
Organising Your Desk Like a Pro
Add a little bit of fun to your desk set up with this retro inspired keyboard.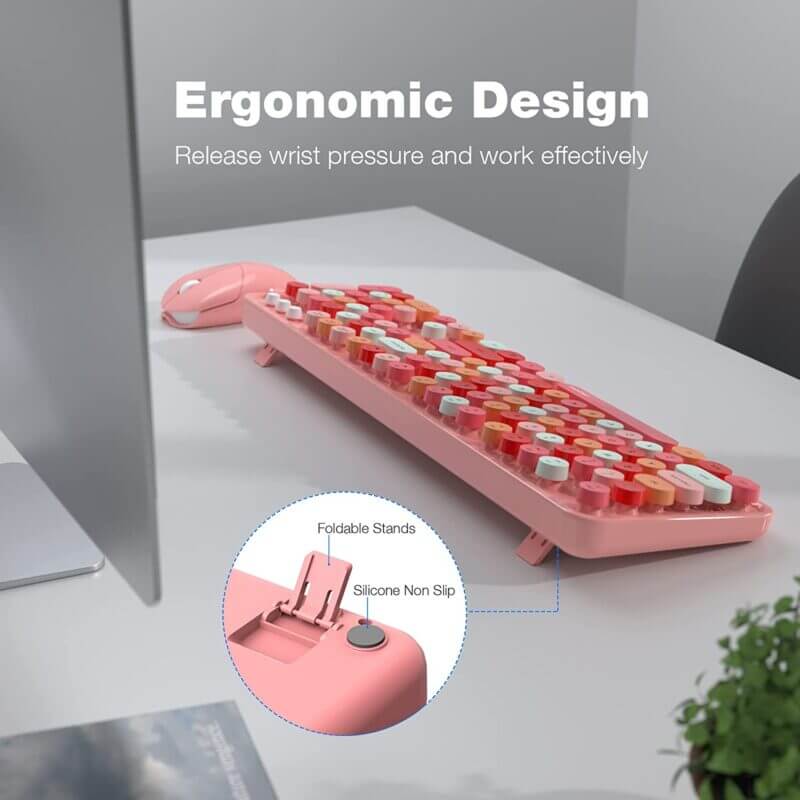 More details from Amazon:
A retro typewriter full size keyboard and a cool shaped precision mouse
The receiver connects with the combo by only sharing one USB port
Suitable for Windows 98 / Me / 2000 / XP / Vista / Win 7 / Win8 / Win10 / Vista Mac OS or latest
Purchase from Amazon for $43.99 (available in 6 colours).
If your back hurts, take a look at your posture whilst working or studying on your laptop, it's probably not a good one! An elevated laptop will help your posture, and thus lessen your chances of back pain.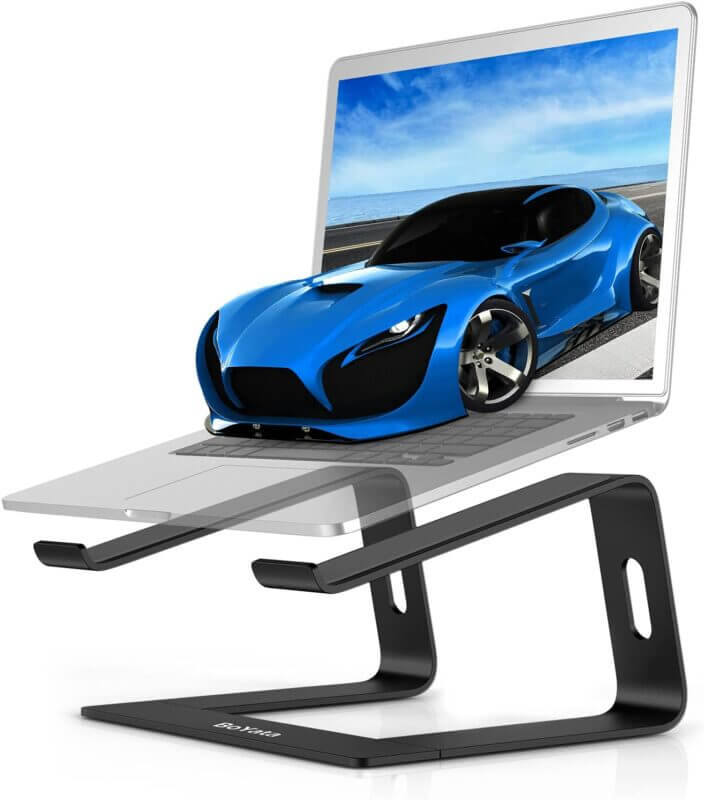 More details from Amazon:
The Boyata laptop stand elevates your laptop to a comfortable eye level and prevents you from hunching over your screen, which reduces neck and shoulder pain
Keeps your laptop cool
The stand can be disassembled into small pieces and is more convenient to take away
Purchase from Amazon for $19.99 (available in 8 colours).
We're also thinking about your phone! Better put it on this stand rather than randomly thrown on the desk.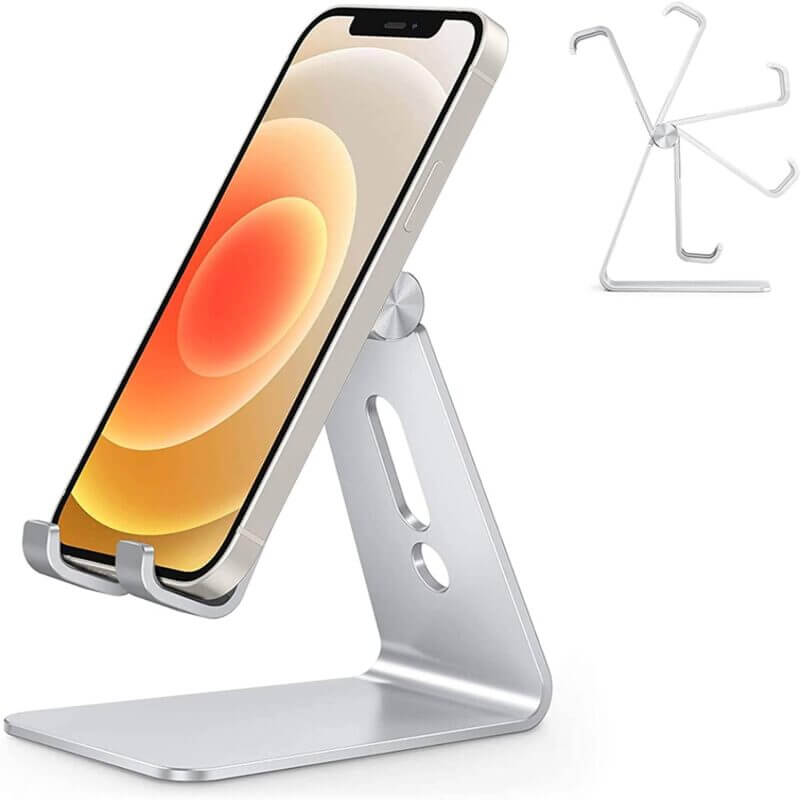 More details from Amazon:
Multiple angles can be adjusted (270 degree rotating)
It is equipped with larger silicone pads to protect your device from slipping or scratching
The hook is long enough to hold your device (all size cell phones) with heavy cases on
Purchase from Amazon for $12.99 (available in 7 colours).
Not only will this pad prevent ugly coffee mug stains, but it will make your desk look TIDY!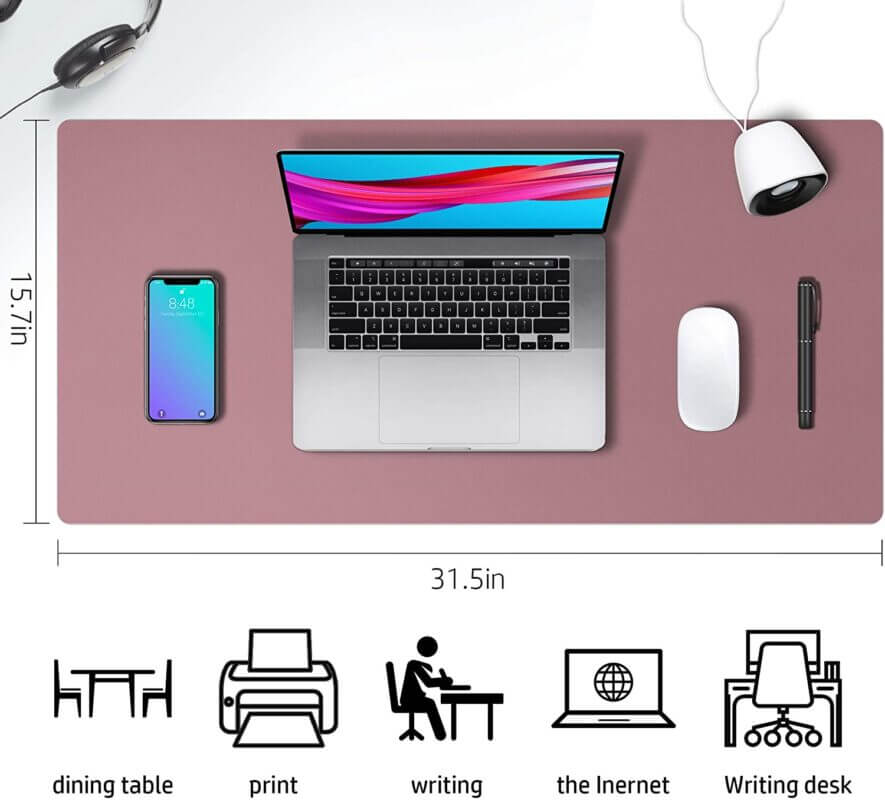 More details from Amazon:
Protects your desk from scratches, stains, spills, heat and scuffs, spilled water, drinks, ink and the other liquid
Its comfortable and smooth surface can work as a mouse pad, desk mat, desk blotters and writing pad
Purchase from Amazon for $13.99 (available in 15 colours and 3 sizes).
Power outlets are always in the way, and never fit where we want them too! This one allows for more flexibility, and is very stylish too.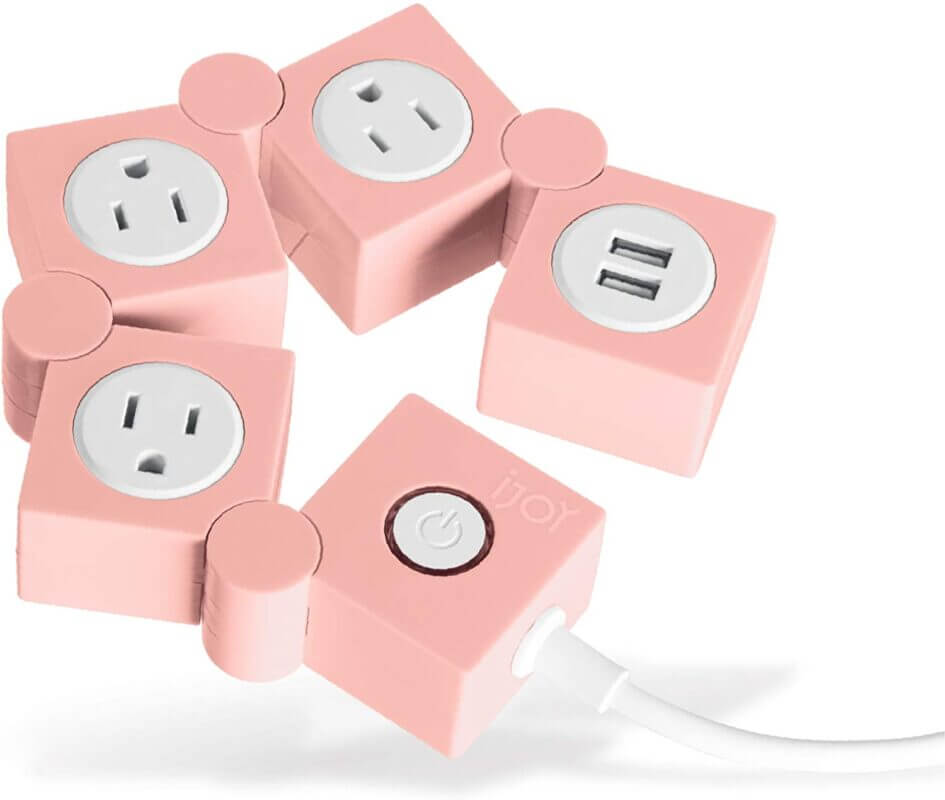 More details from Amazon:
The folding design enables this home essential power strip to roll up and easily fit in your office or back pack.
This design allows for any size plug or cable to charge while not covering or blocking the outlet next to it.
3 AC Outlets and 2 USB Charging Ports with 5 Ft Extension Cord
Purchase from Amazon for $21.99 (available in 3 colours).
Who hates all those messy cables on the desk? Having trouble finding the one we desperately need before our laptop dies? It's not going to be a problem anymore.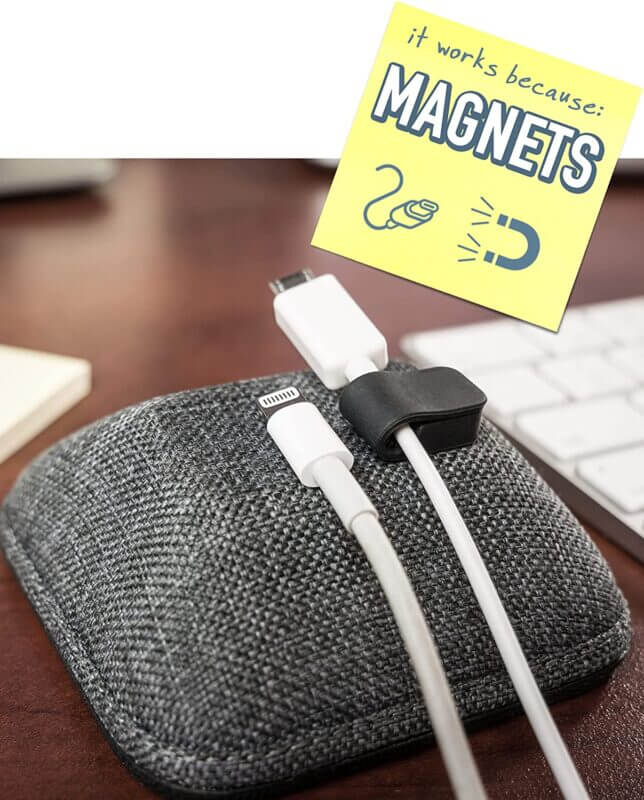 Details from Amazon:
Neatly hold cables on your desk or nightstand – Or wherever cables need sorting
3 magnetic cable collars are included
Compact and stable
Works with all cables and chargers
Purchase from Amazon for $19.99 (available in 3 colours).
A neat place to create your inspiration board, add photos that motivate and any piece of decoration that makes you feel good!
Details from Amazon:
Simple and elegant Wall Grid Pane
Great for hanging photos, postcards, artwork, calendars etc
5 metal Clips, 3 S hooks, 4 Nails & 4 plastic hanging buckles + 4 screws are offered to fix them to the wall
Purchase on Amazon for $21.00 (available in Gold and Rose Gold)
There is no better way to get your desk and study space neatly organised whilst looking super pretty.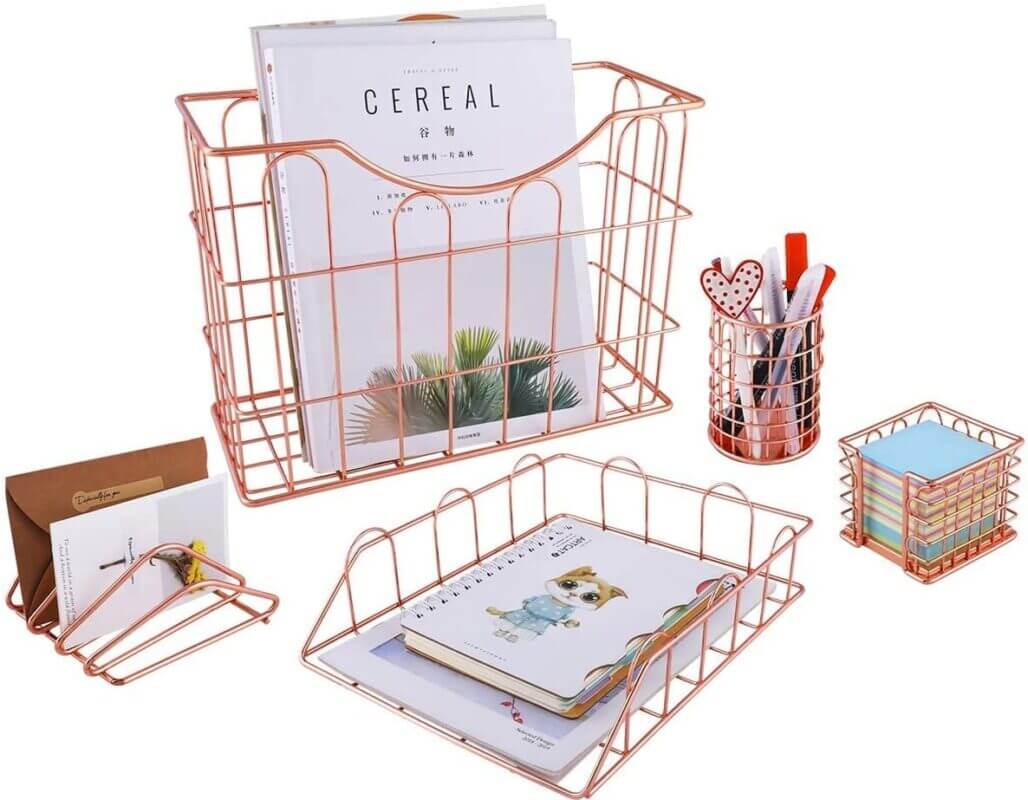 Details from Amazon:
Package: 1 pencil cup, 1 letter sorter, 1 letter tray, 1 hanging file organiser and 1 sticky note holder
Smooth streamlined design, electroplating processes to prevent corrosion
Perfect for organising papers, files, mails, letters, folders and pen at home or in the office
Purchase on Amazon for $23.99 (available in Rose Gold, Gold and Black)
If you're throwing your laptop in your backpack when you're on the go, you never quite know the damage you are doing to it. Let's take more care with this sleeve.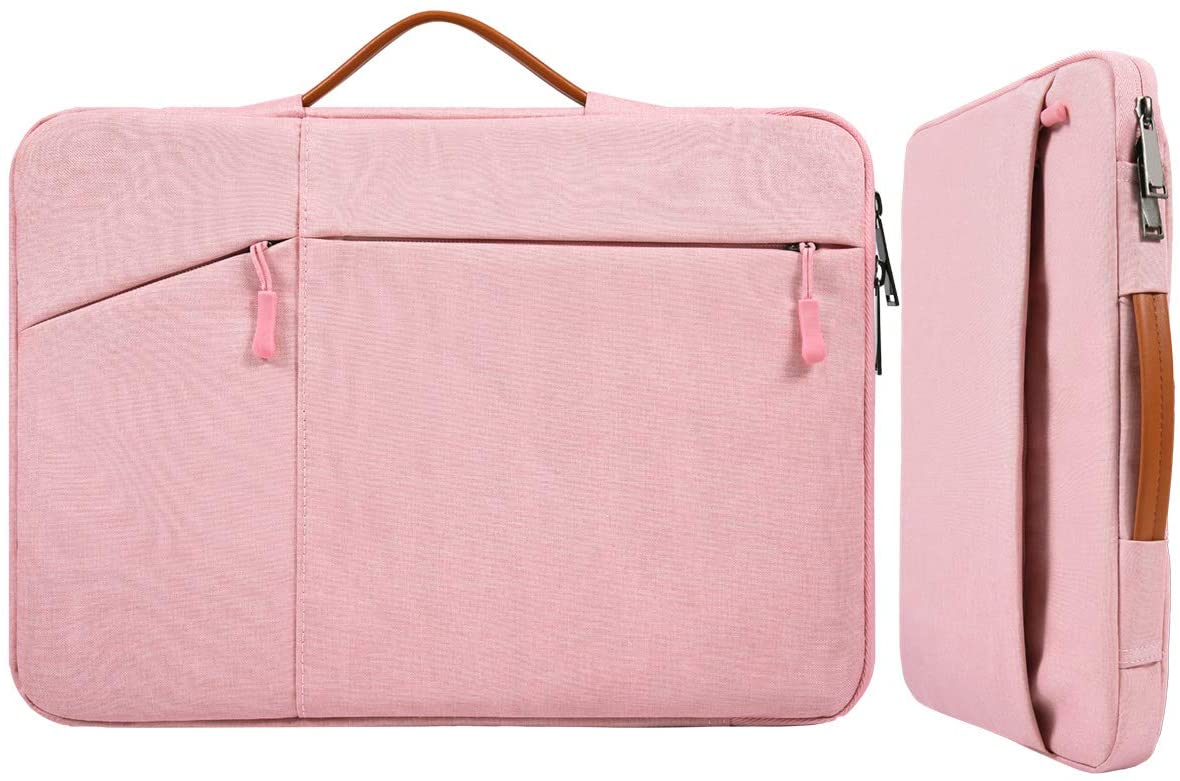 Details from Amazon:
The waterproof 14-15 inch laptop sleeve precisely fits most 14 to 15.4 inches laptops or tablets
This laptop bag not only has a main compartment to store your laptop, but also provides multi outer storage pockets
Comes with a handle which is made of premium micro-fibre for convenient carrying
Shockproof and waterproof
Purchase on Amazon from $14.99 (available in 4 colours and 5 sizes)
Super Cute Items to Help You Study
Control the temperature of your coffee and avoid endless trips to the microwave that make you lose focus.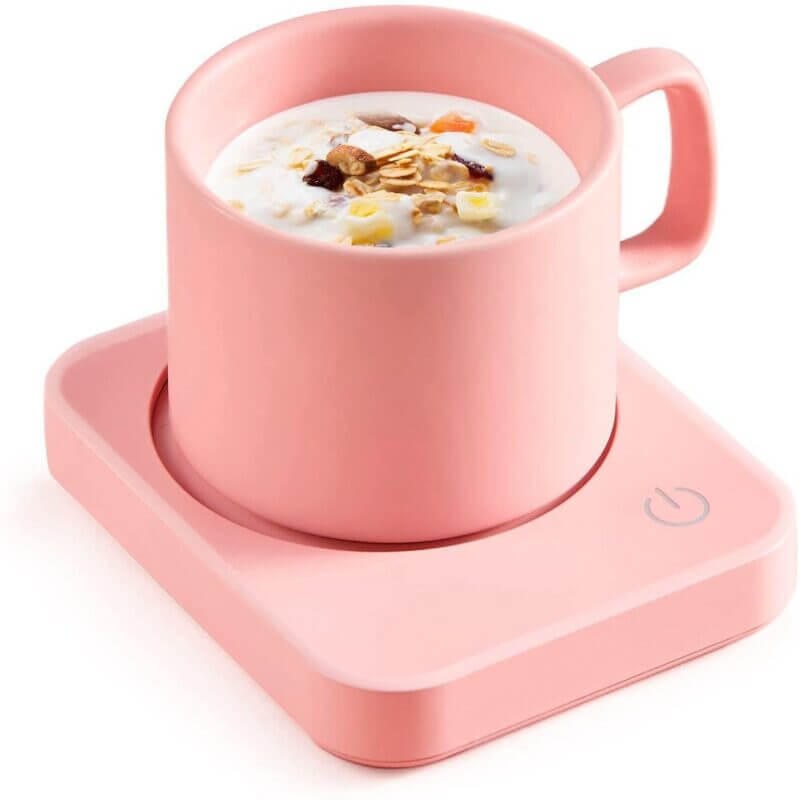 Details from Amazon:
Adjustable Three-Temperature Setting
Automatic Shut-off & Smart Safety Feature
Splash-proof & Large Heating Plate
Easy-to-Clean & Portable-to-Carry
Purchase on Amazon from $23.99 (available in 6 colours)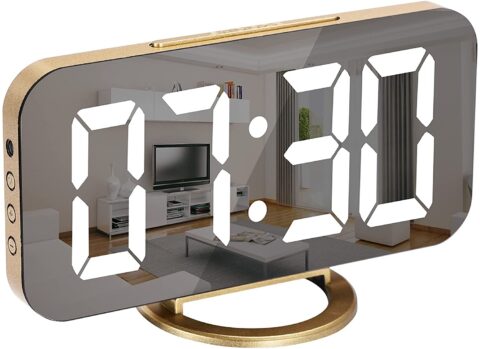 We've all seen this one at some point on TikTok (or do I spend too much time there)? This very chic alarm clock will make you want to wake up and study.
Details from Amazon:
Combines makeup mirror, alarm clock and time display function
3-level brightness setting

Memory function & dual USB ports

Snooze button included
Purchase on Amazon for $23.95 (available in 8 colours)
I am in great fear of losing one (or both) of my airpods, as I have the bad habit of forgetting where I put them! If I look for a Pokeball though, that's another story..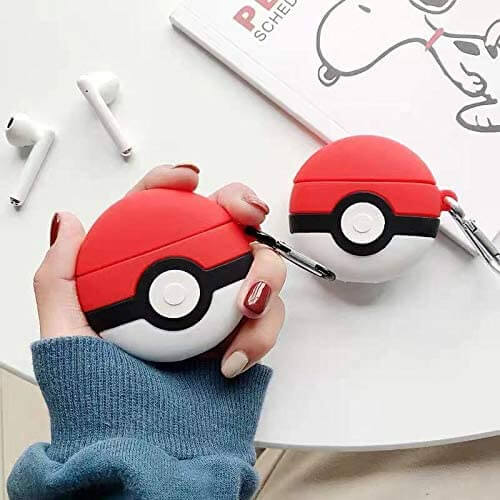 Details from Amazon:
Shockproof and scratch-proof
Super easy to clean
Made from high quality durable Silicone
You'll be sure to get high compliments from your friends!
Purchase on Amazon for $8.99 (available for Airpods 1-2, Airpods 3 and Airpods Pro)
Never lose focus again, and plan for weeks ahead. Maybe one to attach to the cute gold Wire Grid seen above?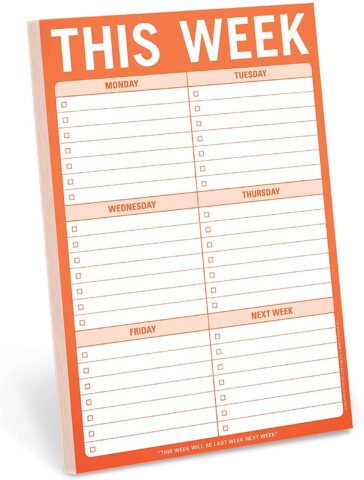 Details from Amazon:
Get a jump on next week's tasks as you maximize efficiency over and over again
6 x 9-Inch pad with 60 sheets
Purchase on Amazon from $9.00 (available in 6 colours)
For all the boba fans out here!
Details from Amazon:
The top can be pulled up or slid down to adjust the height of the pencil bag
Can used as a cosmetic bag, makeup cup, make up brush holder or purse
Telescopic bag. Size: 7 x 5.1 x 2.36 in.
Purchase on Amazon for $7.99 (available in 8 colours)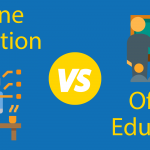 Online vs Offline Learning 🙇🏼‍♀️ What's Best?
Online vs Offline Learning – Find out what's best according to your situation and your individual needs. Do you research, take your time, decide!
Beautiful quotes on hand to give that little push of inspiration and motivation we all need.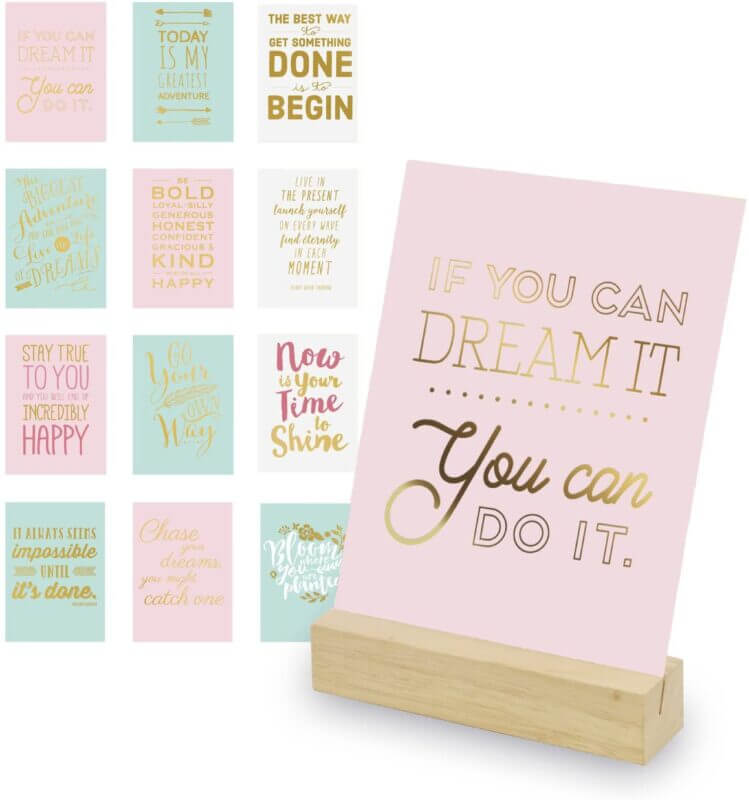 Details from Amazon:
The set includes 12 unique inspiring art cards
The stand block is made of natural wood and has a 1/2 inch slit at an angle so you can insert and display your cards with ease
Manufactured by Eccolo a family owned business based in Brooklyn, New York
Purchase on Amazon from $14.99 (3 series available)
Because there is never enough CUTENESS in this world!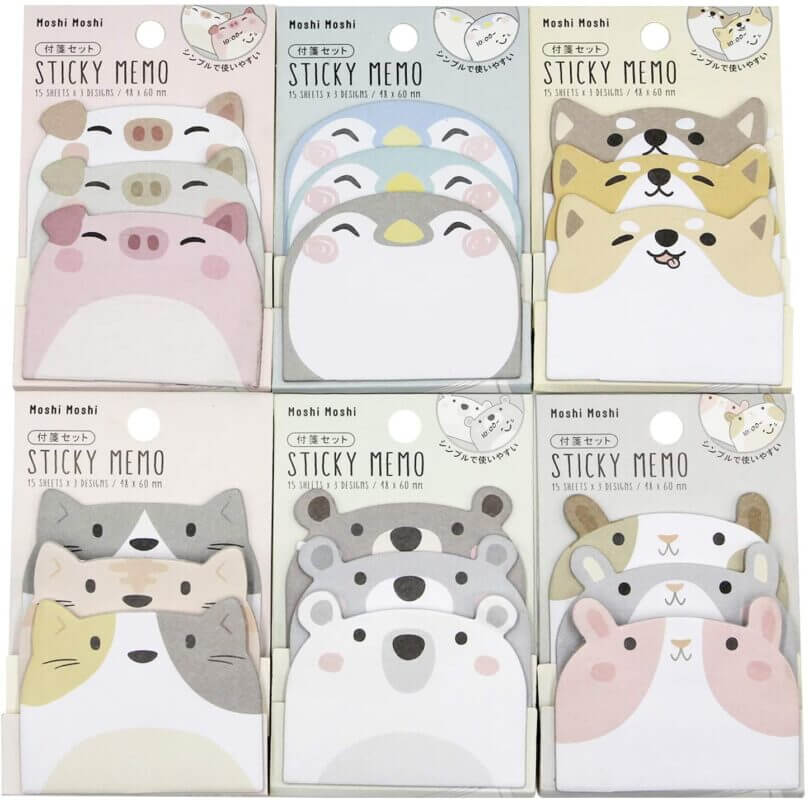 Details from Amazon:
Creative and beautiful sticky notes make your life happier
Easy to peel and use, can be removed without damaging the pages or leaving traces
The size of cardboard is approx.3.9″(L)*2.6″(W), 45 sheets per pad, 6 pads
Purchase on Amazon from $11.12 (available in 6 colours)
Yes, boba again… but this time as a plushie!!
Details from Amazon:
The chubby cylindrical design is perfect for hugging and pinching
Ensure a certain level of security, not loneliness
Suitable for children and adults
Purchase on Amazon from $11.99 (5 styles available in 3 sizes)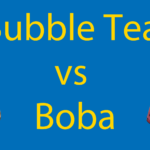 Bubble Tea vs Boba 🤔 Is There a Difference? Boba Explained Plus Cheat Sheet
Any boba or bubble tea fans out there may have asked themselves bubble tea vs boba, what's the difference? Check out this guide to answer all your questions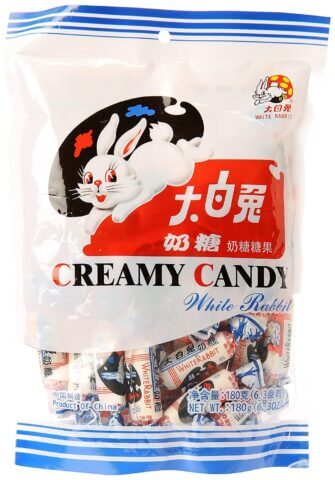 Do we really need to introduce these sweets?
A super popular choice all around the world, because we all deserve a treat once in a while after a tough study session.
The great White Rabbit is available to purchase on Amazon!
Details from Amazon:
White Rabbit Creamy Candy
Size: 6.3 oz (180 gram) x 1 bag
Allergen Information: Contains Milk
Purchase on Amazon from $7.50
Chinese Learning Specific Items
The best pen to write super smooth Chinese characters.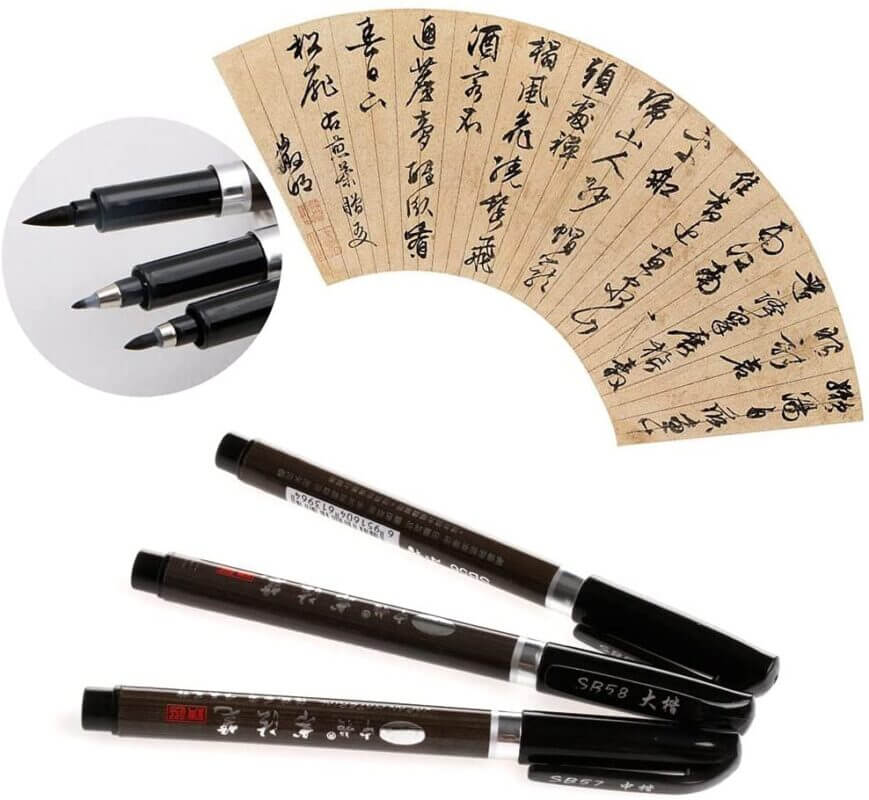 Details from Amazon:
Purchase on Amazon from $7.99
Now that you have your pens, it's time to practice: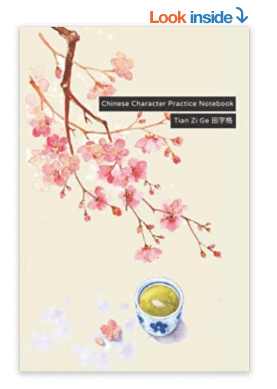 Details from Amazon:
Standard size of 6×9″ (15,23 x 22,86cm) with 120 pages
Tian Zi Ge 田字格 grid format with 13 x 10 cells per page
Suitable for Simplified & Traditional Chinese characters
Purchase on Amazon for $5.99 (check the author page for more designs)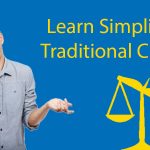 Simplified or Traditional Chinese? Which One Is Right For Me in 2022?
Simplified Chinese vs Traditional Chinese 🤔 This will depend on your goals and where you want to study or live. Let's help you decide.
Practice your Chinese Calligraphy skills without ink, only water!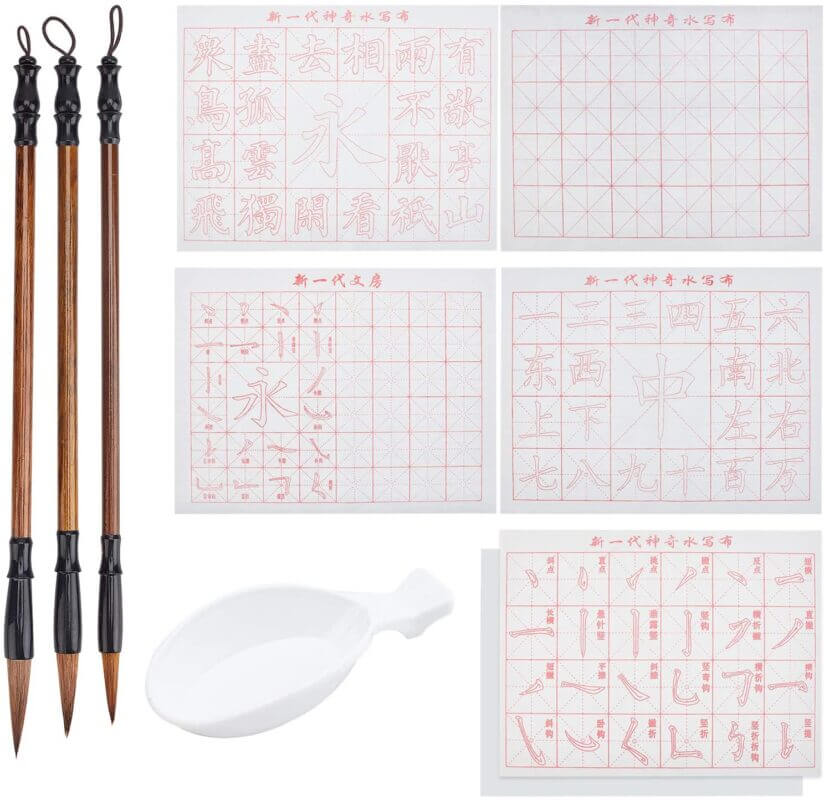 Details from Amazon:
Includes: 6pcs Chinese writing magic cloth, 3pcs calligraphy brushes pen and 1pc spoon shape ink tray container
You don't need ink, you just need to write with water, and you don't have to worry about messy ink anymore
Suitable for writing, painting, hook line, comics, art and design, etc, and can be used with xuan paper
Purchase on Amazon for $17.29
You probably already know about Chineasy, as they are big in the Chinese learning community. Check out their best-seller flashcards set to help you learn your first Chinese characters:
Details from Amazon:
"Chineasy(TM) has broken down this collection of characters into their most basic and recurring forms, allowing students to learn fewer and simpler radicals that we have termed 'building blocks'."
Purchase on Amazon for $19.64 (check the author page for more products)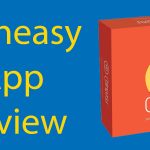 Learning Chinese on your Phone // Chineasy Cards Review
Chineasy Cards 💡 Rated and Reviewed by LTL Mandarin School Learning Chinese is so much more than sitting in a classroom and taking notes. We are in the age of the smartphone and we can access anything at our fingertips…
This is actually one of our best ways to learn and retain Chinese vocabulary: place stickers around your place or office so you're always faced with these new words!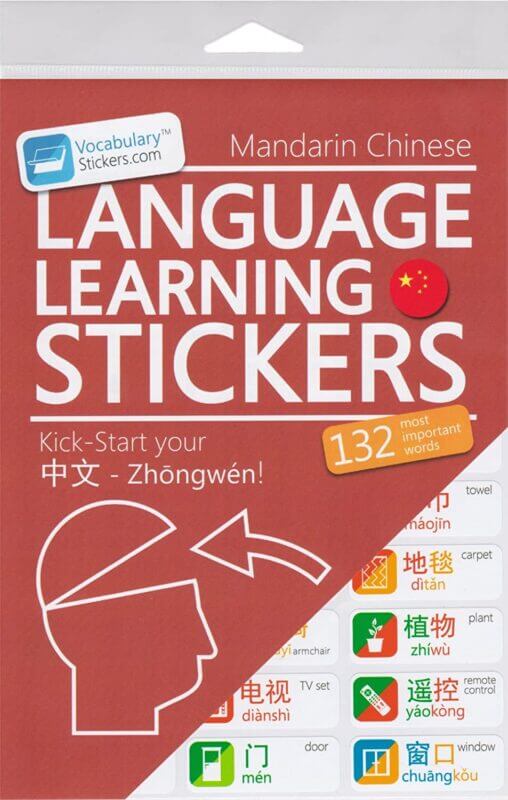 Details from Amazon:
Each sticker includes one Mandarin Chinese keyword (in simplified characters), an icon, pinyin transcription, and is colour-coded for the different Chinese tones
Format: 1.8 x 0.6 in, on 4 sheets
132 stickers
Purchase on Amazon for $11.95
HSK Books 1 to 6
Even though the HSK is changing, these HSK books are still a very good resource to learn the language and are used by many language schools.
---
Did you find something you liked on this list?
Let us know in the comments below!
But we're not done yet…
Let's get off Amazon for a bit to provide you with more Chinese learning resources of our own selection.
LTL's Deals
Did you know we partnered with many different Apps to offer our readers special discounts?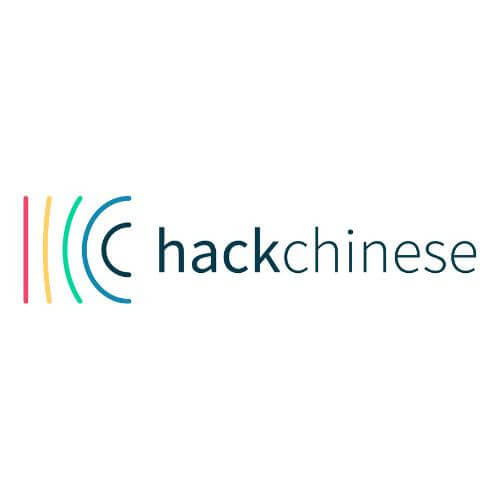 Some of our best deals include 20% off Lingodeer, 15% off Skritter, 15% off Hack Chinese and even 90% off Mondly… Check them all here.
We excel at providing our audience with fresh and relevant content on a daily basis, but we wanted to go a little bit further and get you resources to physically bring home!
We created many posters ready for you to print, download and use as you wish.
Place them on the wall desk to your desk, in your home office or anywhere you spend time in.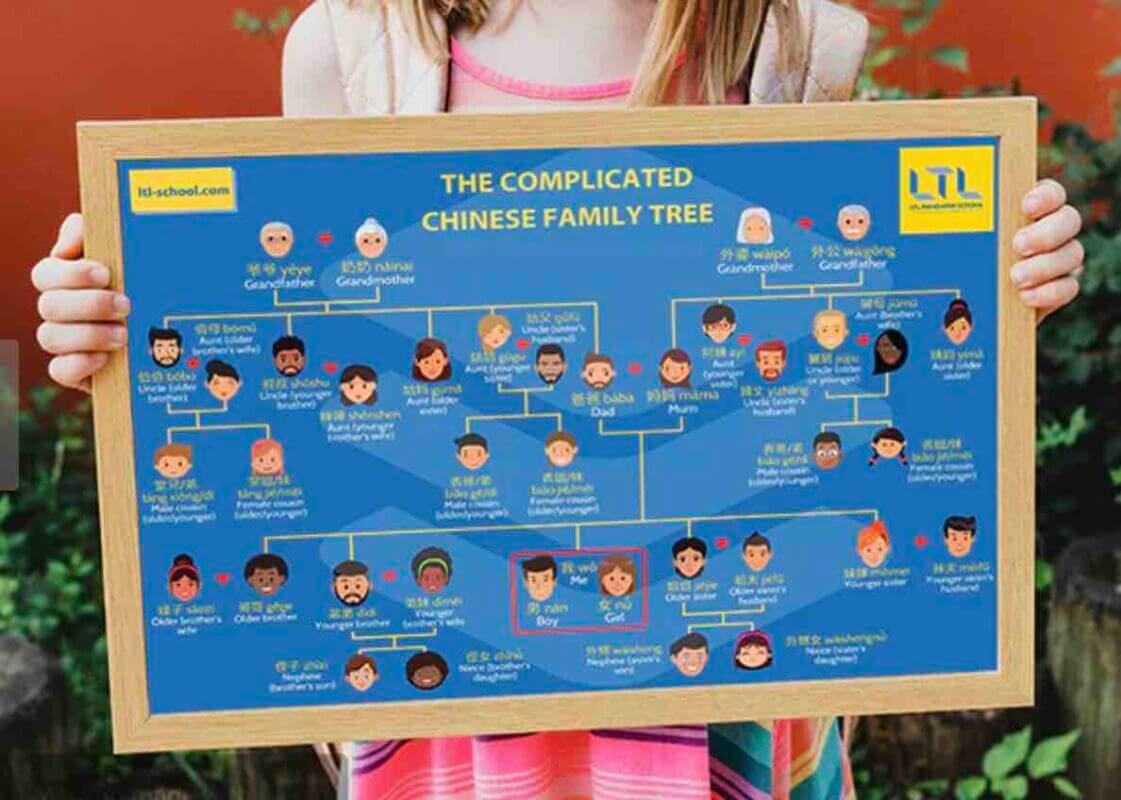 Check out our shop here for more posters. We regularly upload new posters, so make sure to visit again.
LTL Flexi Classes
Last but not least, have you ever thought about taking online classes with a professional teacher?
Studying on one's own has some limits, and learning with a structured course with native teachers is definitely the way to go for faster progress.
In 2020 we developed Flexi Classes, an online teaching platform allowing students to join online classes 24/7 with the full flexibility of choosing when to study, and what.
We'd be very happy to discuss with you more about your study project and our online lessons, so please feel free to drop us a message anytime!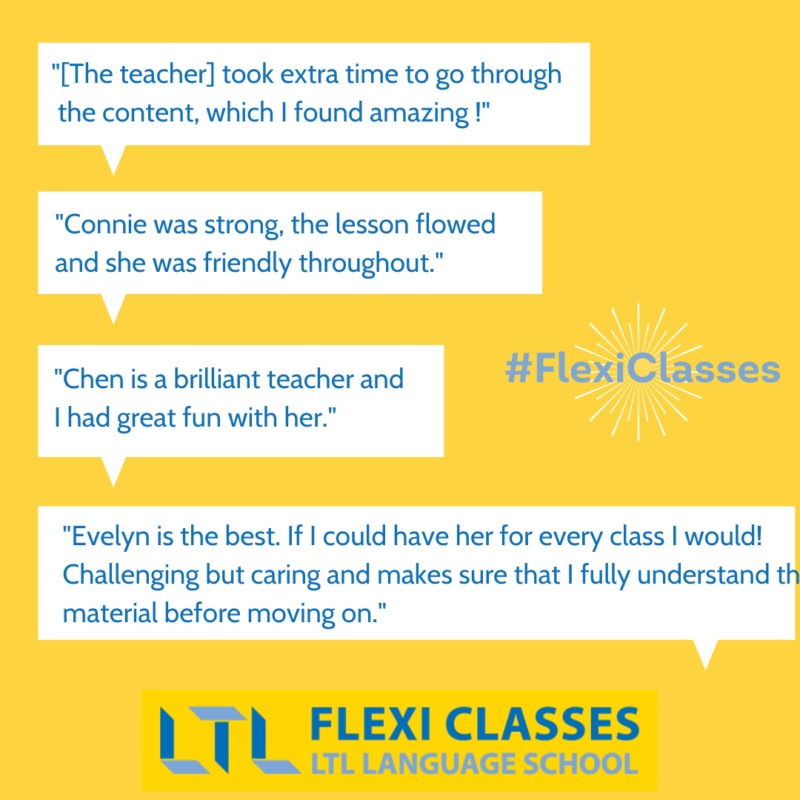 Hey, this is Marine speaking. I found this little gem via Instagram and absolutely need to share it with you.
LifeAt is a fantastic website that provides you with virtual workspaces you can personalise as you wish.
I discovered the team at the very beginning of the workspaces development, and I am thrilled to see how far they have come, and how much recognition they are getting.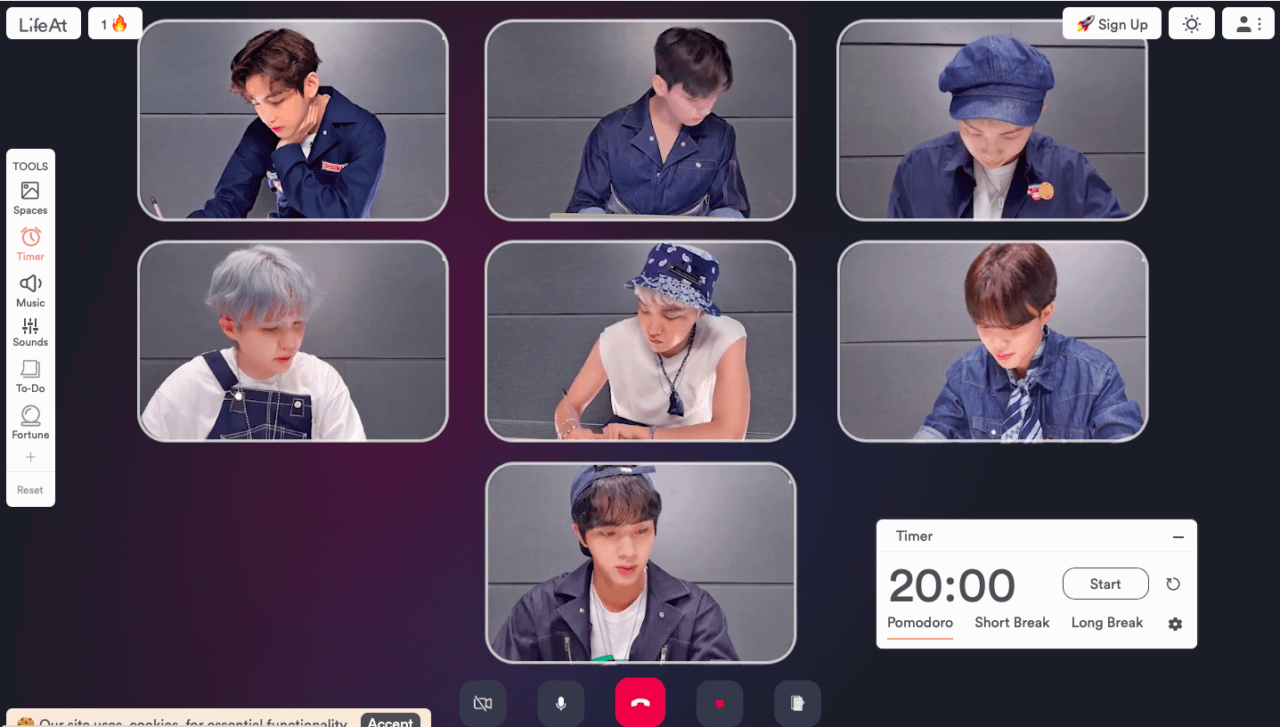 Features:
17 spaces categories (including Nature, City, Pets, Kpop… yes I am working with BTS so what?)
Pomodoro timer
To-do lists
Music playlists
and more!
As a small team, they take all suggestions very seriously on their Discord and constantly add new features and workspaces.
It is completely free, so make sure to go and have a look. Let me know what you think!
---
Study Essentials from Amazon – FAQ's
What is better Online learning or Offline learning?

This question is difficult to answer, as everyone's situation is different and one might prefer a type of learning rather than the other according to their needs and availabilities.

If you can't travel, have a job or need to stay home for any reason, an online course will be a great option as it is more flexible and convenient than offline learning.

Check out this article we wrote about Online vs Offline Education, where we analyse both options to help you decide what's best for your situation.
How to study online?

There are many ways you can study online. Let's say, you want to learn a new language. 

First of all, and the most efficient way to do it, is to book an online course with a teacher. This way you will have a very structured education as well as all the learning materials needed. 

You can then also download some apps, watch movies, TV shows, listen to songs, find some free classes on learning groups on socials, find a language partner on specialised websites, find free virtual resources to self study at home, and so much more!
How to keep being motivated to learn/work from home?

That's not an easy question to answer, as it all depends on the person! Certain things will work for some people, but won't for others.

What we'll say though, is that you should follow some basic rules that could help make things a bit easier:

1- Create a routine. Wake up and go to bed at the same hours, take time to get ready in the morning, eat breakfast, don't forget to take a break for lunch as well.

2- Take breaks. Yes, you are allowed to take breaks! And we're not talking about bathroom breaks. Take 10 minutes to call a loved-one, pet your cat, go on a walk for fresh air..

3- Drink water. We very often don't drink enough water, or just forget to do so.

4- If possible, create a separate space for your study/work place. Being home can be very distracting, and we need a clear work/life separation.
Will buying new stuff make me learn better?

Your capacity to learn and retain knowledge has very little to do with buying new things.

Sure, being in a nice environment and feeling comfortable could help enter a "study mode" at home, but you don't need to be surrounded with fancy items to do so.

To learn better and make the most of your study sessions, make sure to get enough sleep the night before, be in a quiet environment without distractions, put your phone in silent mode and start.

Even if you are not motivated yet, start with a simple task. The rest will follow.
What are some products I can buy on Amazon that LTL recommend?

We definitely recommend buying items YOU find useful and that could be a great addition to your study environment.

The laptop stand will help with your posture, and as people that spend a lot of time on the computer, we got one for each of our team members.

The adjustable phone stand is also very useful and makes the desk look tidier.

As big coffee and tea drinkers, the mug warmer is a must have!

We also are big fans of the ink pens for Chinese characters, and the vocabulary stickers.
Do you have any LTL merchandise?
Want more from LTL?
Want to learn Chinese from the comfort of you own home? Then our 24/7 Online Chinese lessons might be the thing for you.
We offer a 7 day free trial to all new online students where you can study Mandarin 24/7.
Come and check it out free of charge and see what you think!
If you wish to hear more from LTL Mandarin School why not join our mailing list.