ChineseSkill App // Rated and Reviewed
ChineseSkill (Yay or Nay) // Rated and Reviewed by LTL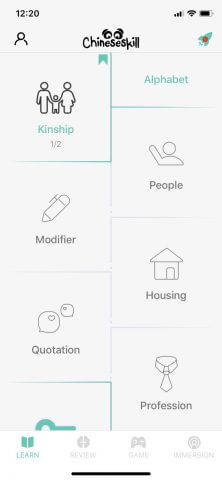 ChineseSkill was an app that passed us by at LTL Mandarin School before, perhaps drawn to the bigger hitters like Duolingo and Hello Chinese.
How wrong we were to overlook it.
ChineseSkill actually has a touch of Duolingo to it, but it seems to go further with the ability to play Chinese learning games, listen to actual conversations and review all the work you've done before.
A slick user interface combined with everything you need up to a HSK 4 level, where the app thens struggles to cater for the advanced learner as many of their competitors do.
ChineseSkill boasts many varied sections which we feel gives it a nice little edge on some of its competitors.
ChineseSkill – The Interface
Simplicity at its finest.
They've taken elements of the Duolingo design and made it their own.
The main screen (the LEARN tab) starts with the most basic lessons at the top and allows you to scroll all the way through different topics, scattered with tests, until reaching your goal.
There are some interesting topics included also which veer from the usual basics – the Great Wall, Law and Internet were three that caught our immediate eye.
It's easy to get around and you don't have to go through in a set order, pick your favourites, or perhaps even your weakest areas and jump right in. With some apps you are restricted to going through lessons in their order which can take the fun away from using them sometimes. Thankfully not with ChineseSkill.
You have a bar across the bottom which takes you to the main parts of the app:
LEARN – the home-screen typically
REVIEW – as it says on the tin
GAME – different drills designed to be a little more fun and interactive
IMMERSION – listen to conversation covering a whole host of topics
You can easily locate your account on the top left by finding the person icon and the rocket on the top right takes you to the language option and allows you to switch from HSK1/2 to HSK3/4 (the premium part of the app).
They've also incorporated the panda (cleverly) as their feature animal and he pops up each time you get an answer right.
The games though is really where the app comes to life. A sharp, bright array of colours and smart design. There are some very shrewd ideas packed into this area which we'll come onto later but the look and feel of them are fantastic.
ChineseSkill – The Main Lessons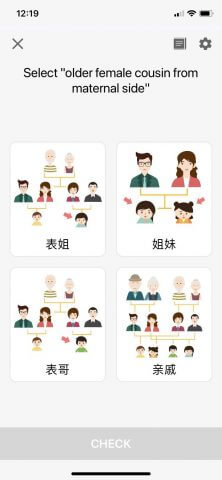 Getting into the lessons themselves are also a smooth process.
The light coloured background means the app allows itself ample chance to include tidy illustrations and it never feels too cluttered or crowded. They seem to have gotten the balance pretty much spot on.
Lessons are split into categories as with most apps and you work your way through them, down the page. Inside the lessons there is a mixture of exercises which include:
Multiple Choice with Pictures
Listening
Speaking
Fix the incorrect sentence
As with many Chinese apps, repetition is key so you'll be tested on certain important vocabulary a few times before the end of each lesson.
Lessons take no more than a few minutes each so you can get through a fair few in half and hour, and if you only have a quick 5 minute break, you should be able to complete one in that time, making the app great for commutes on public transport, relaxing at home, or on your lunch break for example.
ChineseSkill – Review Section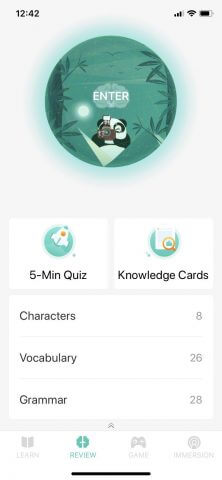 Across the bottom of the page next to the LEARN button is a REVIEW button (featuring our friend Mr Panda again of course).
REVIEW is split into two sections:
5 minute quiz – great for quickfire reviewing if you are short for time or just want to squeeze in a quick bit of Chinese.
Knowledge cards – these quickly teach you various points regarding Chinese grammar. You can swipe through the cards which also show you examples as you go.
After these main two features comes another very useful idea. The bottom half of the page is split into:
These areas give you a summary of all the things you've covered so far. Effectively a one-stop place to access everything you should've taken in thus far.
Of course, none of us have the ability to remember everything at first glance so referring to the REVIEW section is a great way to drill home those characters and words that slipped through the radar for you.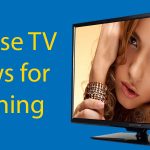 14 Chinese TV Shows for Practicing Your Chinese (in 2022)
Chinese TV Shows to Learn Chinese (for 2022) When it comes to learning Chinese, Chinese TV shows is a huge resource. How many times have you complained that you can read or write Chinese okay (which is no small feat!),…
ChineseSkill – Games
The part of the app that sets it ahead from its competitors.
This is a super idea that can kill hours of time, prove actually very fun, and get you ahead faster than before. Sometimes using these learning apps can feel a bit repetitive and a bit cumbersome after spending multiple days in a row on them.
The games that ChineseSkill have come up with really stop that.
The six different games are:
HSK PRO – Not really a game in theory but a place that covers all HSK vocab for the HSK-er's out there. This covers every word and character up to the holy grail – passing HSK6.
CHARACTER DRILL – A chance to write the characters and learn stroke order – something similar to what Skritter provide.
PINYIN DRILL – Nice interface with this game thanks to the chirpy birds and blue skies. A bit more "game-y" than the previous two as you actually receive a score and a time limit. The idea is to complete the word by adding the relevant initials and finals. You'll receive a number of answers and you have to pick the correct missing one.
TONE DRILL – Fantastic if you are finding it difficult to remember the tones of each word. Let us advise you if you think you can blag your way around not knowing the tones, do not! Tones will come back and bite you in the backside if you don't nail them early on. This game is a wonderful way to drill them home. You have to write the tone of each word as you go.
GRAMMAR DOCTOR – Chinese grammar is not as hard as people think, but there are still rules to adhere to. The GRAMMAR DOCTOR gives you sentences and you have to tell whether it is correct or incorrect. Again, very useful for ironing out those minor errors you always struggle with.
VOCAB BUILDER – Again, a slick and unique interface with this game. You are given a choice of two words and a character starts to fall down from the top of your screen. You have to guess the right word before it's too late. Good fun and a little bit of pressure also!
In all, they've nailed it with the games. What we are seeing is that ChineseSkill have managed to achieve a beautiful balance of serious learning, with easy-going and relaxed games that give you the chance to learn in a more informal manner.
To top it off there is also an ESSENTIAL PHRASEBOOK which gives you useful vocab relating to topics like:
Health
Shopping
Entertainment
Sightseeing
Although not games, it's another feature well worth using for specialised situations.
Pleco Review // The Essential Download for Mandarin Students (2022 Update)
Pleco Review // Your Definitive Guide Pleco is one of the most famous names in the world of Chinese Language Learning. I am sure most students learning Chinese will have heard of Pleco. Today we discuss why Pleco is such…
ChineseSkill – Immersion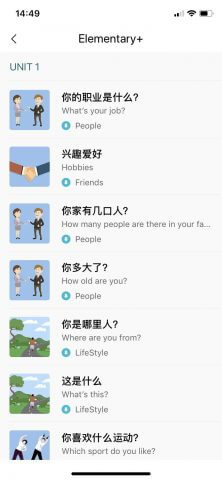 As if ChineseSkill couldn't be anymore comprehensive already they went one step further with their Immersion section.
Immersion is a term banded around a lot in language learning, and we are all too familiar with the process being Immersion experts at LTL.
In saying that, we believe the usage of the word Immersion here is a little off, yet still understand why they've used it.
Using something like LISTENING would easily suffice here and does what it says on the tin.
Given those clues, the Immersion section is effectively a listening area where you can sit and take in various common conversations between two people.
In total there are 12 units, each getting progressively more complex, and each Unit has a number of varied conversations which range from:
Making an appointment
Please fasten your seatbelts
When do you return to New York
Checking in your luggage
Please sign here
Using these common conversations is a smart idea, after-all these are situations all of us in China will find ourselves in.
ChineseSkill – The Verdict
ChineseSkill is genuinely one of the most complete apps we've had the pleasure of using.
Many apps focus on just one area of learning Chinese – Skritter for writing, Chineasy Cards using Flashcards etc. Then the age old issue with apps that focus on all areas is that they only touch on them rather than delve deeper.
Not so with ChineseSkill. It's comprehensive HSK lists, vocab sheets, flashcards, games and listening exercises all hit great depths and it really is an app that offers something for everyone.
Where it might fall short is their ability to support an advanced user, but except that, it's difficult to find many flaws.
Want to download ChineseSkill?
ChineseSkill is available on Apple Store and Google Play stores.
WHAT ABOUT CHINESESKILL'S SISTER APP – Lingodeer not only teaches CHinese but a host of other languages. Check out our Lingodeer Review here.
ChineseSkill – FAQ's
Is ChineseSkill good for learning Chinese?

We believe so yes. ChineseSkill is one of the more complete language learning apps on the market.
How can I download ChineseSkill?

ChineseSkill is available on Apple Store and Google Play stores.

Download Chinese Skill for Apple Store

Download Chinese Skill for Google Play
How can I learn Chinese using ChineseSkill?

There are many features in the app that can be exploited.

HSK sheets, vocab lists, flashcards, games and also listening exercises means there is something for everyone.
Are ChineseSkill and Lingodeer connected?

Yes they are developed by the same group.

Whereas ChineseSkill focuses on just Chinese, Lingodeer goes further and offers multiple languages.
Want more from LTL?
If you wish to hear more from LTL Mandarin School why not join our mailing list.
We give plenty of handy information on learning Chinese, useful apps to learn the language and everything going on at our LTL schools!
Sign up below and become part of our ever growing community!