Learning Chinese on your Phone 🤩 Tinycards Review (2021 Update)
Tinycards Review – What's The Truth, Should I Download It?
After publishing our review on the Chinese version of Duolingo we've decided to take a look at their sister app – Tinycards.
The app is based on the idea of using visual flashcards to memorize all kinds of different things.
This method is seemingly increasingly popular with learners and the versatility they offer makes this app intriguing before we've even taken a look.
It's worth noting this app is not designed specifically for Mandarin learners. Actually you have the ability to study a number of topics.
For example, an area of interest on a personal level is world capitals. A simple search of "World Capital Cities" on the homepage brings a list of flashcards created by different users.
From here I can select a group of flashcards and I'm immediately learning about World Capital cities.
This is a simple example; obviously for the purpose of ourselves we want to look at Chinese Language learning flashcards and the app boasts a large number of options. Anything from Frog Anatomy, The Periodic Table, Flag Semaphore and US State Abbreviations – it's all covered!
Tinycards Review – How It Works

Tinycards Review – Studying With Tinycards

Tinycards Review – Is It Worth The Download?

Tinycards Review – FAQ's
How Does Tinycards Work?
As mentioned above, Tinycards is designed for the visual learner.
Flashcards are a very powerful learning tool these days. The great thing about flash cards is anyone can create, make and design their own.
You can stick them around your home, office, bedroom – wherever of convenience.
The idea is, by viewing these cards numerous times in one day the content of the card sticks in your head. It works very well.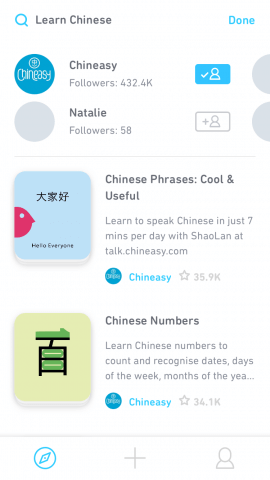 Obviously the great thing about Tinycards, before you've even began, you know what you get.
The ability to carry a huge number of flashcards in your pocket, wherever you are in the world.
I'd say it's a very useful tool to use on a commute if you take a bus or train. Again, talking from experience of 20 minutes to and from work, I can take in information every day despite the busy nature of my job.
This is invaluable on a personal level. 40 minutes everyday.
If I have some spare time in a coffee shop alone, I can top that up to an hour. It all helps when learning, every little window you get, make the most of it.
Anyway, enough about flashcards and a little more about how Tinycards works. The app is incredibly simple and, as it's older brother Duolingo, navigates very well.
You are faced with three menus at the bottom and a search bar at the top. The bottom menu includes:
Discover – A place to discover new and relevant decks of flashcards for you to study.
Add – This is an area where you can create a deck of cards for other people. I've not done this yet myself personally as I am busy studying! However, this allows anyone to create a deck thus giving the user a huge number of options regarding certain topics. In terms of learning Mandarin, you are not short of options.
Profile – Quite simply shows the users you follow and who follows you.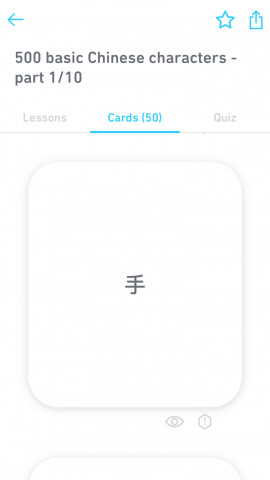 The search bar is the first area I (and I imagine most others) are drawn to. Straight away you can type in your keyword, let's say "Learn Chinese" and you can get learning straight away by choosing a deck you feel best matched to you.
We can be a lot more specific as well, let's say we want to learn Fruit and Vegetables in Chinese, no problem. Sports in Chinese, also fine and so on.
I've been a big fan of the Chineasy decks myself, they have some very useful character learning decks. A recent favourite being the "500 basic Chinese characters".
They are split into ten sections, each section has 50 characters.
By repeating and studying, you'll take in a lot of characters at a quicker speed than you imagine.
On the face of it, 500 characters seems a lot, I can assure you, it isn't half as daunting when you get stuck into it.
You are not just limited to using Chineasy, this is just a current preference. Many users create their own decks and you can play around with as many as you wish. You may enjoy the format of some users better than others.
Remember, they are all created by the person so there would be a small chance that errors are included on the cards so play around with a few decks and get a feel for the users you prefer the most.
I'd recommend then following these users so you have a base to go to regarding your favourite users and their decks.
Studying on Tinycards
When you have selected the deck you wish to study you are given a brief introduction to the deck and three further tabs: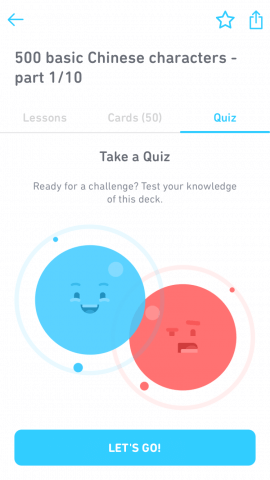 Lessons – This shows you the number of overall lessons you'll have to complete. This varies depending on the number of flashcards per deck. Some may only have 2 or 3, others may have more than 20. You'll need to complete the earlier levels to unlock the following levels. Each level will show you a number of flashcards with content, one by one. After viewing the cards a few times you'll then have to answer. Going back to the World Capitals example. I am faced with a card showing Washington DC. I tap the card to reveal the answer is the U.S.A. Next I see the card showing Canada, I tap the card and I see Ottawa. You normally need to answer the cards around 5-7 times before the level is over.
Cards – This is an area that shows ALL the flashcards from the deck. If you don't wish to split into lessons you can just view all cards. This is quite useful in deciding whether you feel the deck is right for you. Some decks, having checked the flashcards, I figured were a little too easy for me, so I'd skip to another one.
Quiz – This, I think, is designed to summarise your knowledge at the end. Every card in the deck (all lessons included) are shown. Your job is to answer them, rather than learn them. Ideally, you complete all the lessons, have the knowledge and you take the quiz, hopefully achieving a high score. Again, if you want to skip the lessons and just go straight to the quiz you have the option to do so. I wouldn't recommend this myself simply because the point of learning Flashcards is repetition. You need to do the same thing again and again or it'll go in one ear, and out the next straight away.
Is it Worth the Download?
Being a visual learner I'm a real fan of Tinycards, it's hard to find too many flaws with it considering it's such a simple app idea.
It's easy to follow, designed very simplistically and does what it says on the tin.
If I'm looking for a negative I find sometimes, many of the decks are repetitive or of poorer quality (maybe some have the wrong pinyin, or don't even include the Chinese character which is surely essential).
However, this is actually nothing to do with the makers of the app but the users who upload the decks.
The best way to avenge this is by finding a user you are comfortable with and following them and their decks. In time you can build up a handy portfolio.
A good way to gain trust for a user is by seeing how many followers they have. If they have just a few, compared to someone with thousands, it might be worth your while following the crowd.
Is it worth the download – absolutely yes. If you don't like to learn visually then there are many other Chinese language learning apps out there for you which we've already reviewed.
Or if you're interested in learning Chinese from the comfort of your own home check out our online Chinese class options.
Tinycards Rating – 9/10
Tinycards – FAQ's
What is Tinycards?
Can I learn Chinese using Tinycards?

Yes, Tinycards has a number of decks covering a huge range of topics including Mandarin.
Can I down load Tinycards for iPhone?

Yes. Tinycards is available to download from the Apple App Store.
Want more from LTL?
If you wish to hear more from LTL Mandarin School why not join our mailing list.
We give plenty of handy information on learning Chinese, useful apps to learn the language and everything going on at our LTL schools!
Sign up below and become part of our ever growing community!