Slow Chinese Review // Mastering Modern Mandarin with this Magnificent Membership
Slow Chinese Review || What's It All About? (2023 Update)
Slow Chinese Review: 9.5/10
An incredible membership service that everyone should add to their Chinese learning apps and resources as it's one-of-a-kind and will teach you things no one else does. The only downside? Absolute beginners are a bit left out.
We do enjoy shouting from the rooftops about our favourite language learning resources so it's time to get that megaphone at the ready again 📣 because today we provide you with the ultimate Slow Chinese Review.
First things first, Slow Chinese is not an app, but a membership service.
Andrew Methven is the brains behind the service and he provides a quite magnificent weekly Saturday email to his free subscribers that provides readers with content that I genuinely do not find anywhere else.
The depth he goes into and the quality of content – it's as strong as it gets.

On that topic, it is worth noting a lot of the content covered is more advanced. So this would not be an ideal tool for beginners.
Anyway, aside from this excellent weekly read we get to our inboxes, Slow Chinese have recently launched a membership service to gain access to even more content.
We'll piece the jigsaw together and tell you everything you need to about about Slow Chinese in this review.
If you crave Chinese content, you're going to be impressed.
WEBSITE LINK – Check out the Slow Chinese website here.
Slow Chinese Review | Key Info

Slow Chinese Review | Pros & Cons

Slow Chinese Review | Price of Membership

Slow Chinese Review | What is Slow Chinese?

Slow Chinese Review | Free vs Paid

Slow Chinese Review | Where Else Can I Find Slow Chinese?

Slow Chinese Review | Any Negatives?

Slow Chinese Review | The Conclusion.

Slow Chinese Review | FAQs
---
Slow Chinese Review | Key Info
| | |
| --- | --- |
| Name | Slow Chinese |
| Website | https://www.slowchinese.net/ |
| Description | "Slow Chinese 每周漫闻 is a weekly newsletter to help you learn, use, and understand modern Chinese language the way people speak it today." (Slow Chinese) |
| Languages | 1 (Mandarin) |
| Price | 15 USD / 120 USD |
Slow Chinese Review | Pros & Cons
| Slow Chinese Pros | Slow Chinese Cons |
| --- | --- |
| Very good insight into both the Chinese language and Chinese culture. | Not great for absolute beginners. |
| Unique content like no where else. | |
| Free version incldues incredibly in-depth email. | |
Slow Chinese Review | Price
Slow Chinese offers two different styles of membership, monthly or annual.
The prices for the Slow Chinese subscription are as follows:
| Monthly Membership | Annual Membership |
| --- | --- |
| 15 USD | 120 USD |
The annual membership saves you 60USD in total (33%)
Slow Chinese Review | What is Slow Chinese?
Slow Chinese isn't something you download, but a service you can subscribe too (either free or paid).
In their words…
Slow Chinese 每周漫闻 is a weekly newsletter to help you learn, use, and understand modern Chinese language the way people speak it today.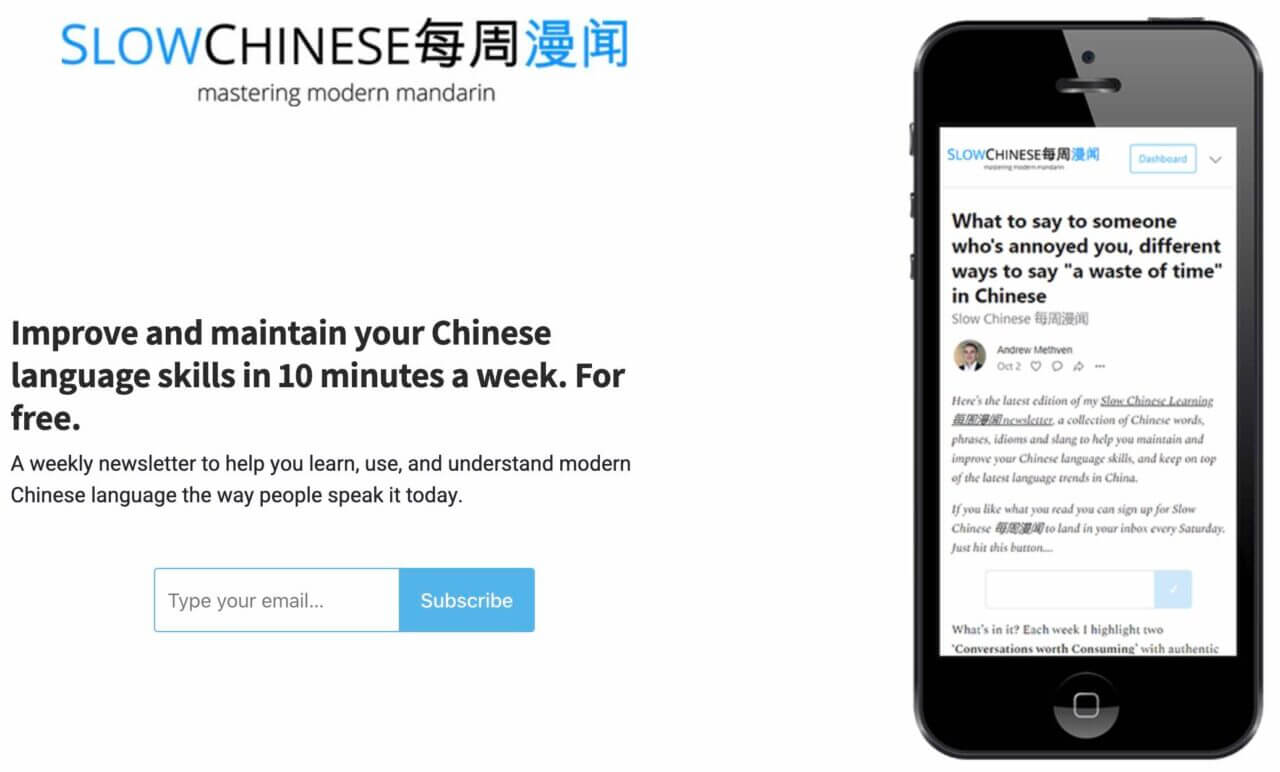 The content is incredibly niche and typically focuses on current affairs in China and throughout the world.
You'll be learning incredibly relevant words, idioms and sentences that you will likely never see in any Mandarin textbook.
DID YOU KNOW | We loved Slow Chinese's content so much, it inspired us to pick our favourite slang phrases in Mandarin and create this article.

It includes stuff like this…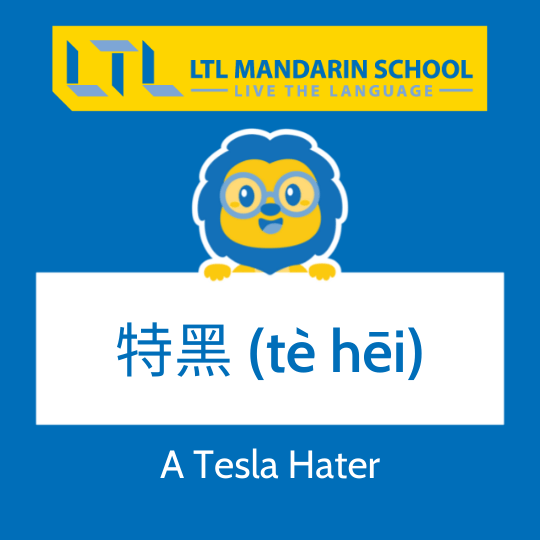 If you like what you see so far, you can subscribe to Slow Chinese here.
Slow Chinese Review | Free vs Paid
Slow Chinese Free Version
The breakdown of free vs paid is quite simple.
The free membership gives you access to the weekly Saturday email.
Now whilst this doesn't sound like much, when you see the content of the email, and the depth that Andrew goes into, you'll soon realise this is a superb addition to your language learning portfolio – and it's FREE!
Here's a sneak peak into one of the recent Slow Chinese emails.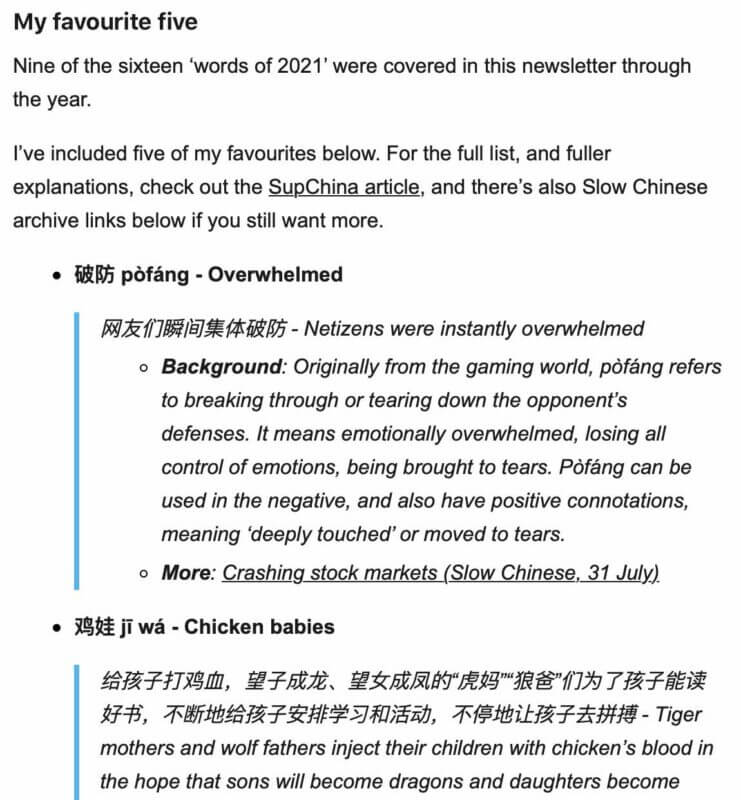 Do bear in mind this is a very small snippet of a very long email that talks about the top words in China for 2021.
Some very cool content is included.
You can access all previous emails as well so no matter when you sign up, you can still take a look at all the previous content in the archive.
Slow Chinese Paid Version
This is where is gets interesting!
Joining the Slow Chinese community opens a whole world of new doors.
Rather than us putting all of this down on paper, we'll let Andrew guide you through Slow Chinese himself with this introductory video he created.
In case you didn't sit through the whole video here are the key points:
The Slow Chinese membership is run through Notion (a very cool tool in it's own right by the way).
The homepage is split into sections which are:
Vocabulary Archive – every word that has featured in every newsletter (including meaning, pinyin and example sentence)
Newsletters and Downloads – all previous newsletters that have been sent out to members. Audio files and Pleco integrations are also available
Video Resources – Andrew publishes videos in this section which, in his words "are designed to help members make better use of this resource"
Andrew is always looking to expand the capabilities of Slow Chinese as well.
He has a coming soon section which also shows the road map for any future projects he has in mind.
If you are serious about making good progress with your Mandarin, we'd wholeheartedly recommend taking up the Annual membership in order to really make the most of the platform.
The saving of almost a third on the monthly membership is sizeable – essentially giving you 4 free months in comparison to the monthly membership.
Pleco Review // THE Essential Download for Mandarin Students (2023 Update)
Your Honest Pleco Review (The Definitive Guide & Why You Can't Live Without It) Pleco is the best Chinese language dictionary. But actually… it's so much more than just that. Ease of Use – 95%Value for Money – 100%Overall -…
Slow Chinese Review | Where Else Can I Find Slow Chinese?
Slow Chinese are also available to follow on LinkedIn, YouTube and Instagram as well.
It's worth noting Andrew has only recently launched both of these channels and therefore does not have a wealth of content published yet.
That will change in the near future we've no doubt.
The Instagram channel boasts a beautiful, clean and consistent layout and focuses each post on single phrases.

There are many, many language learning accounts that just do the same thing, posting the same content, over and over.
Whilst Slow Chinese's word of the day posts are hardly ground-breaking in terms of the idea, it's the content that once again sets them apart.
You can follow the Slow Chinese YouTube and Instagram with these links:
Slow Chinese Review | Any Negatives?
To be honest – probably not.
The only constructive thing we can really find is the fact that Slow Chinese is certainly a membership not aimed at beginners, or lower-intermediate students.
That of course rules out a big percentage of the market.
Slow Chinese Review | Conclusion.
Andrew has a strong level of Chinese and it reflects with Slow Chinese.
Whilst the market certainly lacks apps and programs aimed at advanced students, maybe Slow Chinese could also grab some more basic examples for beginner level students in future content?
Otherwise, Slow Chinese is a quite superb addition to anyone's language learning portfolio and for me, it's an absolute must.
Well done Andrew! We are looking forward to seeing Slow Chinese grow further in years to come.
Slow Chinese // FAQs
What is Slow Chinese?

Slow Chinese is a weekly newsletter sent out by founder Andrew Methven.

Within the email many topics about current affairs are covered.

Slow Chinese also has an additional premium service where more resources are included.
How much does Slow Chinese cost?

Slow Chinese costs either 15USD for a month, or 120USD for the year.

The yearly price saves you a total of 33% in total (60USD).
Is Slow Chinese free?

The weekly newsletter is free yes, but there is also a paid element to Slow Chinese which gives access to more materials.
Do I need to download Slow Chinese?

No, Slow Chinese is a weekly delivered email.

The paid subscription is run through Notion, which he will invite you to upon sign up.
Want more from LTL?
Want to learn Chinese from the comfort of you own home? Then our 24/7 Online Chinese lessons might be the thing for you.
We offer a 7 day free trial to all new online students where you can study Mandarin 24/7.
Come and check it out free of charge and see what you think!
If you wish to hear more from LTL Mandarin School why not join our mailing list.