Du Chinese 📱 Rated and Reviewed (for 2022)
Du Chinese Rated and Reviewed
Du Chinese (which translates to Read Chinese) does exactly what it says on the tin.
The app's name is read Chinese and that's exactly what you get. This isn't an app to practice writing your Chinese characters, this isn't an app to practice your speaking, this app is all about reading Chinese.
The app is smartly broken down into 6 levels starting from elementary and working your way up to master.
Every so often content is released for a level allowing you to read a new article.
The articles are bite-sized, meaning you don't have to dedicate a load of time to it, if you don't have time of course.
OK, let's get going…
Du Chinese – The Good and The Bad
| The Good | The Bad |
| --- | --- |
| So simple to use | Not enough content (especially for the more advanced levels) |
| Content highly relevant to Chinese culture and life in China | Need to pay to enjoy full benefits of content |
| Turn Pinyin on or off depending on your preference | Lessons are no longer than a few pages |
| Save words you don't know to review later as a flashcard | |
| Split clearly into ability | |
| Short enough to study on the move, detailed enough to learn plenty | |
How Does Du Chinese Work?
There's really not much to get your head around here. Upon downloading the app, pick the level you think you're at, choose an article and get reading!
The beauty of the app is its simplicity.
It doesn't get much easier to learn Chinese than using Du Chinese.
Upon selecting an article you'll see a screen with Chinese characters. But the screen can be modified to make the experience a little easier if there are some characters/sentences you do not know the meaning of.
For example (as shown in the image)…
Not sure on a character? Click and hold the character and in the top bar you will see the Pinyin, Hanzi and a translation into English.
Think you know a character but just cannot remember how to say it? Use the Play/TAP button at the bottom middle of the screen and the voice software in-built into the app will read it out to you.
Want to simply know the Pinyin pronunciation for a character? Again, head to the bottom of the screen and the 2nd button from the right will show the Pinyin, along with the tone.

FYI – The HSK button will show the level for each word, which is a great feature I will talk more about later.
Will My Chinese Improve Using Du Chinese?
In a word, yes!
Du Chinese gives you exposure to a whole variety of sentence structures, vocabulary and situations which you come across daily, if you live in China.
The ability to be able to save words and even four letter idioms is such a fantastic feature because it allows that word/idiom to become a flashcard which you can review over and over and over again until it's finally stuck.
For me, this factor alone is worth the download because it's opened my mind to a whole new level of vocabulary in Chinese.
COOL FEATURE – Another thing that I like is the fact that it underlines most words with a colour, this colour relates to it's HSK level. At the time of writing I am personally studying for HSK 4 so any colour below that, I'd hope to know the character/word. If I didn't, I'd review it further until I was happy with it.

On the contrary, if the character was HSK 5-6 I'd know I was getting ahead of the game by cramming in some extra vocab that I perhaps "shouldn't know" just yet!
Whether it's purely vocab you want to improve on, or useful day to day sentences, the app does both and you can generally get out of it exactly what you want.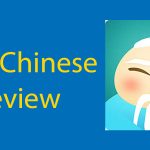 HelloChinese📱Our Honest Review on the App (for 2022)
HelloChinese Review – Hello Chinese is one of the most popular apps to learn Chinese on your phone. We review this Chinese learning app and rate it.
The Du Chinese Flashcards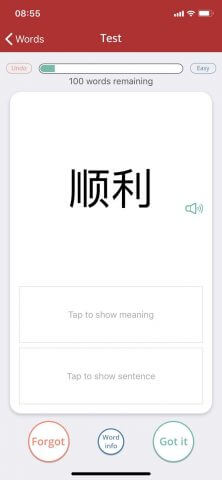 This is a feature that's so obvious yet so, so powerful.
How often do we, as Chinese language learners, see a character, teach it to ourselves, and then within 15 minutes forget it.
Chances are we probably aren't going out of our way to find it and memorise it again.
There are learning apps solely dedicated to flashcards like Chineasy Cards for example. But what if we want to make our own deck of Flashcards as we go?
You can do just that with Du Chinese!
Reading the text and not sure on that word? Click it, then swipe up to save it.
Before you know it you'll have a list of characters / words / idioms building up that you can go and review / test yourself at any time.
I'm at a stage now where I am reading an article and even the words I feel I semi- know, I add to my list of flashcards in a bid to consolidate them.
The word in the image to the right was one of those words. I now know this word is 顺利 (shùnlì) which means to go smoothly/without a hitch. This is due to consistent memorisation.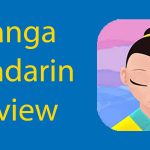 Learning Chinese on your Phone – Manga Mandarin Review
Learn Mandarin with Chinese Comics – Manga Mandarin Our latest review has been kindly written for us by Nicholas Dahlhoff from All Language Resources. Manga Mandarin uses comics as a way to teach Chinese. With various comics at different difficulty…
You'll see below the word that you can reveal its meaning by clicking on the 'tap to show meaning' button, and reveal a sentence to see how the word fits into the context of a sentence, which is always taken from another Du Chinese article.
And in true Tinder style, you can swipe left if you aren't quite there with the word yet, and right if you are happy that you know it!
Is Du Chinese Free or Paid?
It's both, giving you the freedom to do as you please.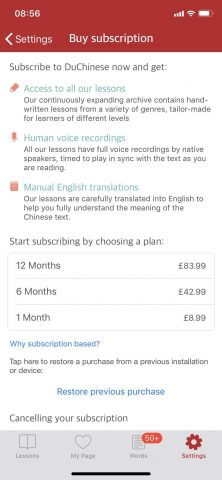 Of course, by signing up for a paid subscription with Du Chinese you are given access to everything.
With the free version you have access to a more limited number of articles.
That said, when using the articles, you can use all the features as you'd be able to on the paid version.
You can pick and choose your lessons based on topic and I find that they tend to teach you about Chinese culture too which is quite cool.
I've been studying an article called "Ways of Saying Happy New Year" which gives you a brief insight into Chinese New Year Culture.
I used the free version of the app for about 2-3 months but realised I really was using the app daily on my short commute to work and when relaxing in the evenings.
Due to this I took the plunge and made a 6 month payment.
If you want improvement in your Chinese, I advise you do the same!
ONE WORD OF WARNING – If you want fresh content all the time, this app might frustrate you and we recommend you giving The Chairman's Bao a go also. That said, you really should try Du Chinese!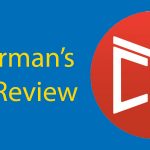 The Chairman's Bao App Review – Updated for 2020
The Chairman's Bao – The Definitive Review Welcome to our review for Chinese language learning app, The Chairmans Bao. Summary: A simplified Chinese news site, specifically aimed at Mandarin learners. Content: A large variety of different news articles about China, updated regularly,…
To Conclude – Should I Download Du Chinese?
It's a no brainer. Absolutely
Du Chinese is simplicity at its finest, yet it has the ability to teach you so much Chinese.
Whether you opt for the free version or the paid version of the app it's well worth your time. The wealth of topics covered at different levels and the ability to turn the app into your own flashcard app makes it so versatile and appealing to Chinese language learners of all levels.
Du Chinese Rating – 9/10
Du Chinese – FAQ's
What is Du Chinese?

Du Chinese is a Chinese language learning app.

The app's name is read Chinese and that's exactly what you get.

This isn't an app to practice writing your Chinese characters, this isn't an app to practice your speaking, this app is all about reading Chinese.
Can I become fluent in Mandarin using just Du Chinese?

Whilst Du Chinese can really help your Chinese reading ability, when it comes to speaking it probably won't provide as much help.

It should be used a resource alongside other apps and Chinese lessons.
Does Du Chinese include flashcards?

Yes, when you read an article on Du Chinese you can save words as you go along.

These words store into a series of flashcards which you can test yourself with over and over again until you feel confident with it.
Want more from LTL?
If you wish to hear more from LTL Mandarin School why not join our mailing list.
We give plenty of handy information on learning Chinese, useful apps to learn the language and everything going on at our LTL schools!
Sign up below and become part of our ever growing community!