Best Places to Visit in China … for Scenery
Best Places to Visit in China … for Scenery
Studying in Beijing or Shanghai and want to take a break?
Or just travelling around China?
There are so many things to see and do in China, we thought we'd help you out by compiling a list of the best places to visit in China. This article has some great recommendations of places to visit for great scenery.
Best Places to Visit in China || Guilin/Yangshuo, Guangxi

Best Places to Visit in China || Zhangye Danxia, Gansu

Best Places to Visit in China || Zhangjiajie, Hunan

Best Places to Visit in China || Yuanyang Rice Terraces, Yunnan

Best Places to Visit in China || Changbaishan, Jilin
China's Geography
When people think of China, they think of just that: people. So logically the image conjured in their mind is of a place filled with people, gigantic metropolises where these people live.
Getting around you really need to navigate 人山人海 (Rénshānrénhǎi – 'people mountain people sea'). And in an East Coast city, sometimes that feels just about right.
However, along with being home to more than 1.3 billion people, China's territory covers a vast area. In total China's area is more than 9.597 million km², making it the fourth largest country by land after only Russia, Canada and the US. As a result, its landscape is geographically diverse; desert, wetlands, mountains, coastline, you name it.
In the satellite and climate maps below you can see how different China's geography is, from the green and humid in the South East, to the brown and dry in the North Western areas.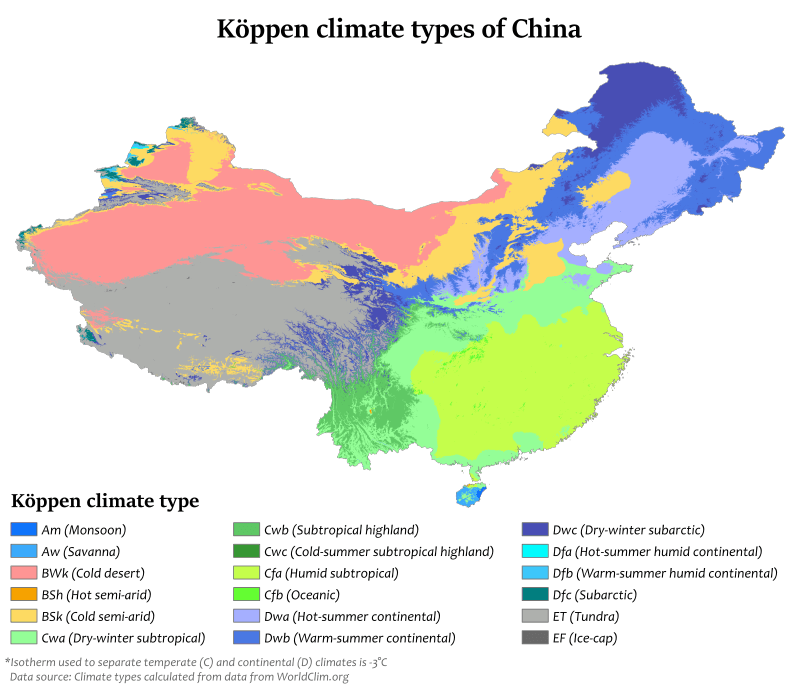 China has a lot of really interesting and beautiful scenery as a result of this geographic diversity.
So we've put together the list of recommendations below for some of the best places to visit in China to experience these landscapes.
Some of these places are extremely popular with Western and Chinese tourists alike, so even in these places of exquisite beauty, you might have to walk a little bit further to feel alone with nature.
1. Best Places to Visit in China
Guilin & Yangshuo, Guangxi Province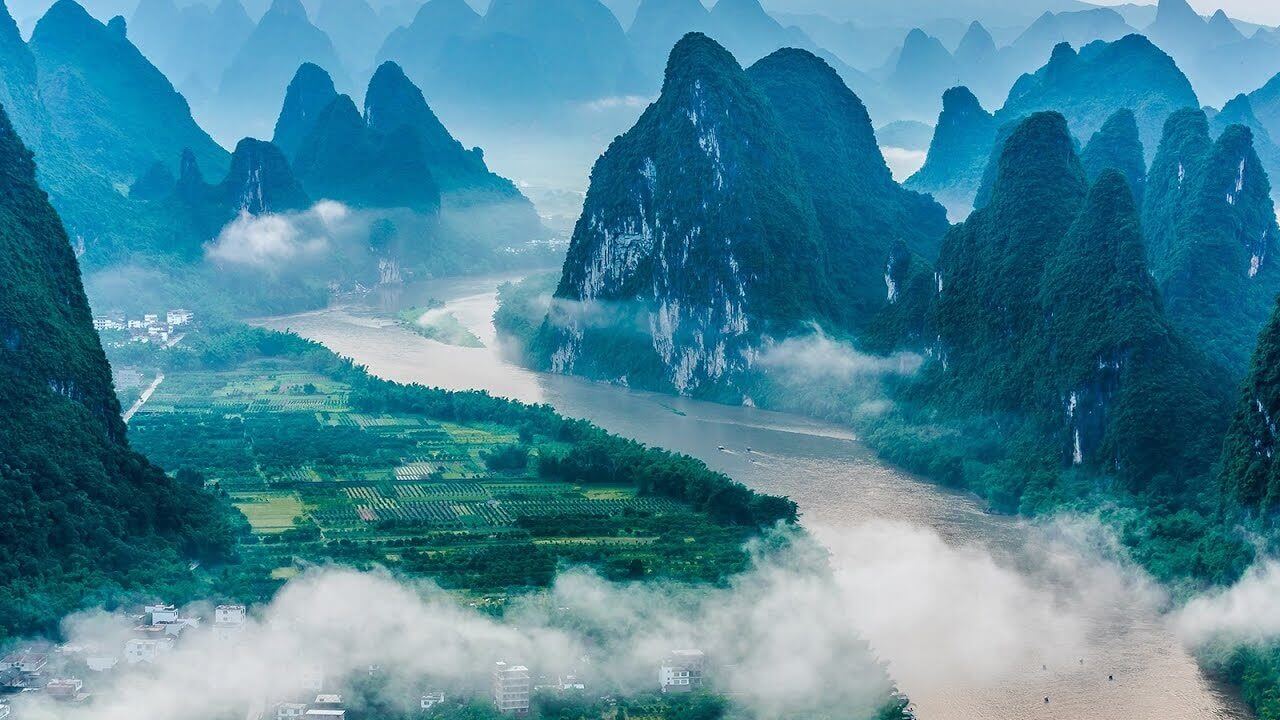 Guilin (桂林) is a must-see for those visiting China. It comes up in lists of the best places to visit in China for all sorts of reasons, but the number 1 reason has to be for its beautiful scenery.
The city in Southern China known for its scenic landscape of limestone karst hills which run though the city and the surrounding countryside.
The Li River (漓江) winds its way between these curiously-shaped mountains, making plenty of opportunities for snapping a photo or two. The most popular spot is probably at Xingping town (兴坪镇), a short bus journey from backpacker haven, Yangshuo (阳朔). This particular place is well known as the scene featured on the back of the 20 Yuan note. Lots of tourists take photos holding the note up to the real scenery.
Around 100km from Guilin, there are also the beautiful Longji Rice Terraces (龙胜梯田). In English this means Dragon's Backbone.
The terraces are named due to their appearance; the peak of mountains resembles the backbone, and the layered terraces are like the scales.
Getting there:
Guilin is accessible by train, bus or plane depending on whereabouts in China you are coming from. There are several trains a day from Beijing and Shanghai, a mixture of 'fast' and slow type trains.
For adventurous souls who have the time to spend, sleeper trains can be an experience. From Guilin you can take a bus to get to Yangshuo, or even take a boat down the Li River.
2. Best Places to Visit in China
Zhangye Danxia, Gansu Province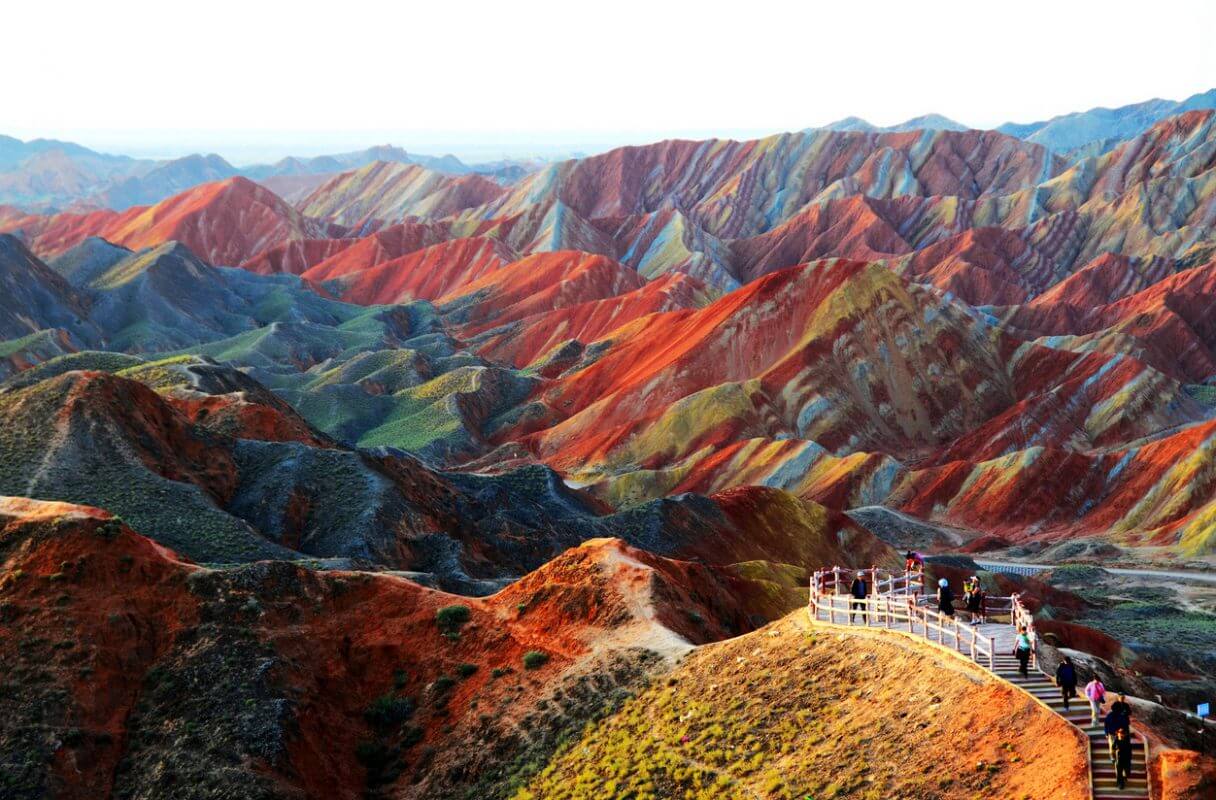 Number two on our list of the best places to visit in China for scenery is much less visited by Western tourists than Guilin.
These colourful rock formations are located just outside of Zhangye city in China's North Western province Gansu. (The Zhangye National Geopark (张掖国家地质公园) is appropriately nicknamed the 'Rainbow Mountains' or 'Stripe-y Mountains' due to their strips of colour.
Thanks to Mountain Leon for the photo.
The park itself covers 322 km² and is a popular spot for visitors. Hiking across mountains is prohibited to prevent damage rock formations, so visitors stick to the paths to view the scenery.
TOP TIP || to take a great photo without any other people getting in the way, you just need to walk slightly further to the edges at each of the long platforms
The best time of day to visit is either very early when the sun is rising, or in the late afternoon/evening when it is setting.
There's also an 'Ice-Ditch' Danxia (冰沟丹霞) park very nearby.
Rather than colourful rock formations, the former ice-ditch has left rocks in some interesting shapes, which the park authorities have named and written stories about: a camel, brothers having a swig of baijiu, lovers, you name it.
Rock formations aside, there's still plenty to keep you entertained in and around Zhangye including: a big reclining Buddha (the largest 'wooden' reclining Buddha in Asia, not that I know of any larger wooden reclining Buddha's outside of Asia), a wetlands park and museum, Buddhist caves and temples carved into the hillside (马蹄寺 – Mati Si), and the Pingshan Grand Canyon (平山湖大峡谷 ), which is surprisingly low on the tourist count and also pretty photogenic.
Getting there:
The Zhangye Danxia National Geological Park can be easily reached in a day trip from Zhangye city. Local hostels and travel agencies offer tours/shared transport packages to the park.
Zhangye itself is located on a main train route through Gansu, with fast trains available to Lanzhou, Xi'an or further North West through Gansu and into Xinjiang.
To get to Beijing from here it might be easier connect via train or plane from either Lanzhou or Xi'an, as the direct train links are few and slow.
3.Best Places to Visit in China
Zhangjiajie, Hunan Province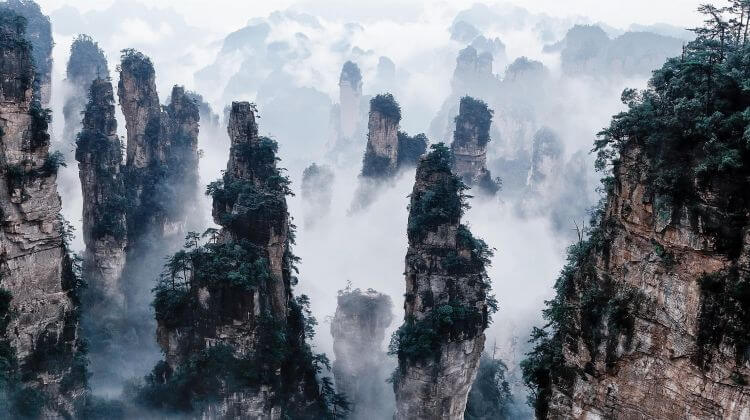 When people talk about Zhangjiajie (张家界), they're usually referring to UNESCO Heritage Site Wulingyuan (武陵源) scenic area. It has become known as the scenery which inspired the landscape in the 2009 film Avatar.
Although director James Cameron denies this, it seems to have been a successful marketing technique for the getting people talking about the park.
The dramatic terrain of many ravines and gorges with beautiful streams, lakes and waterfalls is made up of over 3,000 sandstone pillars.
There are also two natural bridges inside the scenic area, as well and the world's highest and longest glass bridge – scary!
Buses take visitors to different areas inside the park, but there's still quite a lot of scope for walking and skipping the crowds. We'd recommend spending at least a few days here to get to see around the huge area.
Getting there:
Zhangjiajie Hehua Airport is around 4km from the centre of Zhangjiajie city. There are usually direct flights from large cities such as Beijing and Shanghai.
It is also possible to take a train to Zhangjiajie city, but be prepared for a 20+ hour journey on a sleeper train. From Zhangjiajie city it is around a 45 minute journey by bus to the Wulingyuan scenic area. The bus run every 10 minutes in the day time to cater for the many visitors.
4. Best Places to Visit in China
Yuanyang Rice Terraces, Yunnan Province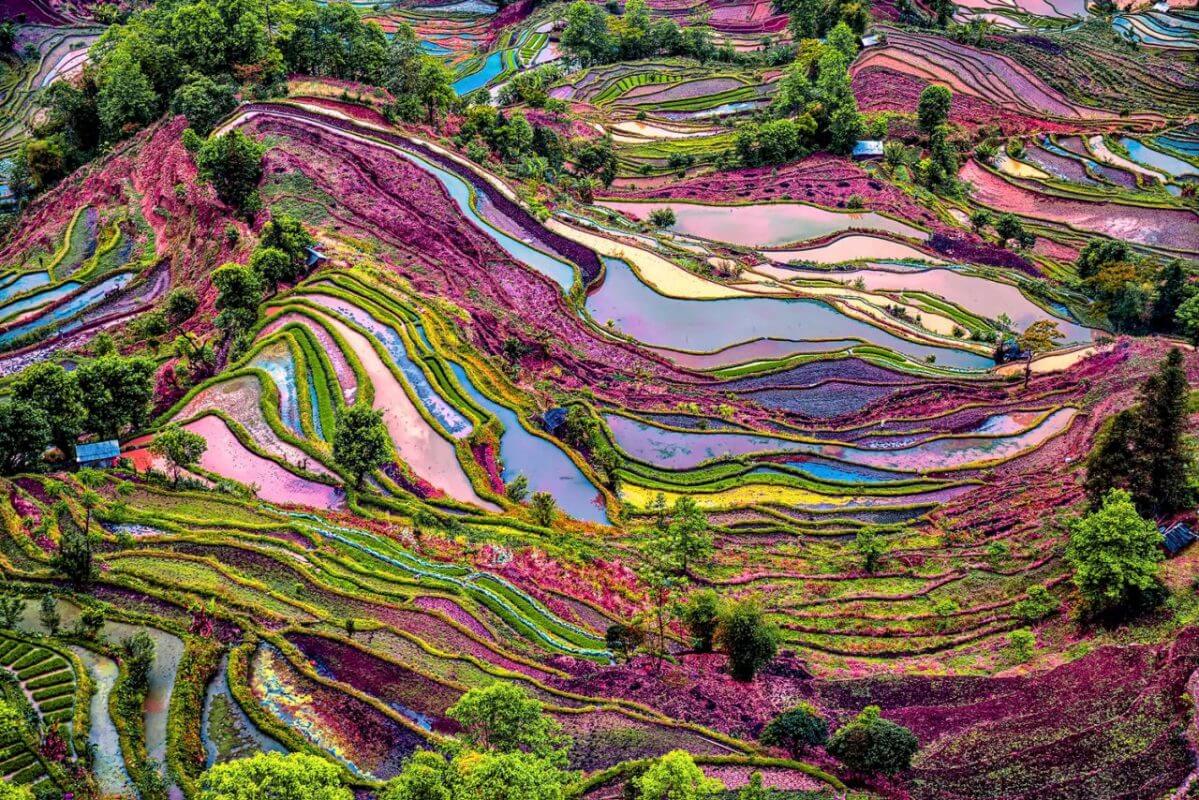 The Yuanyang Rice Terraces (元阳梯田景区) are located in Southern part of Yunnan Province, built into the Southern slopes of Ailao Mountain.
This multi-coloured, layered landscape was built by the Hani people over many generations. In a struggle to survive the Hani people started turning mountain slopes into fertile land, so that they could grow rice for a living more than 2,500 years ago.
The whole area of terraces in Yuanyang county covers more than 113km² , but is divided into three main scenic areas: Duoyishu, Bada, Laohuzi Rice Terraces.
This area is also a recent addition to China's UNESCO world heritage portfolio, joining the list in 2013.
The best time to visit is during the winter months, as the fields are full of water and at their most colourful.
Getting there:
To visit the terraces, it is best to go from Yuanyang Old Town and stay overnight at the Duoyishu terraces so you can see the sunrise.
As there isn't an airport or train station in Yuanyang Old Town, you can reach it by long distance bus from Kunming (Yunnan province's capital), which takes around 7 hours.
5. Best Places to Visit in China
Changbai Shan, Jilin Province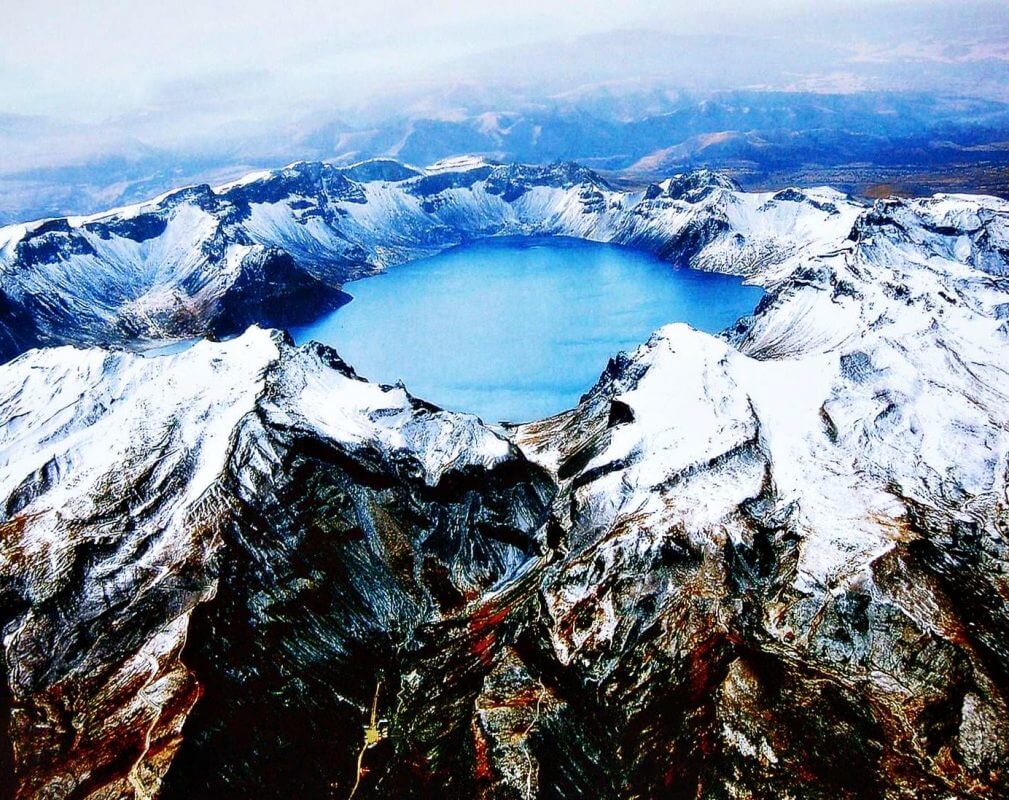 Last but not least out of our best places to visit in China for scenery is the Changbai mountain range and national nature reserve (长白山脉). Located in China's North-Eastern Province Jilin, the mountain range also crosses the border into North Korea.
The total area is a huge 2000km² and many of the peaks reach 2000 metres above sea level. The most famous part of the mountain area is Heaven Lake (天池), pictured to the right.
Located in a crater on the tallest peak (Changbai Mountain, a dormant volcano), Heaven Lake is the source of the Songhua River. There are even rumours that the lake is home to monsters.
One side of the lake is located in China and the other side is North Korea. As the border is not clearly marked out, be careful not to accidentally walk into North Korea if you venture off the main paths.
There are plenty more scenic spots to visit in the nature reserve including hot springs, waterfalls, twin lakes and a nature museum. 
To access different sightseeing spots, visitors are generally required to take the eco-bus through the park and to stay on the main paths.
Getting there:
Changbai Mountain can be accessed from the North, West and Southern slopes, though the Northern and Western slopes are much more popular destinations.
The easiest way to get to there is to take the train from Changchun (Jilin's Provincial Capital) to Baihe for the North slope or to Songjianghe for the West slope.
---
Want more from LTL?
Want to learn Chinese from the comfort of you own home? Then our 24/7 Online Chinese lessons might be the thing for you.
We offer a 7 day free trial to all new online students where you can study Mandarin 24/7.
Come and check it out free of charge and see what you think!
If you wish to hear more from LTL Mandarin School why not join our mailing list.