Tiger Leaping Gorge ⛰ Ultimate Guide to One of the Best Treks China has to Offer
Tiger Leaping Gorge ⛰ The Ultimate Pocket Guide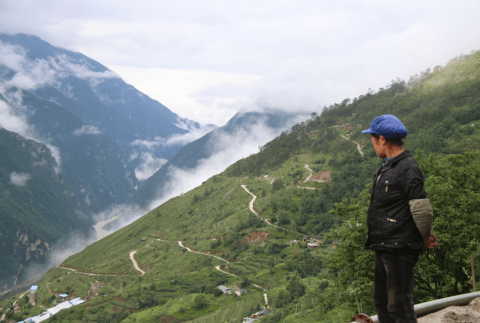 Tiger Leaping Gorge – A Must See.
This blog has been brilliantly put together by our freelance bloggers Jenny Smith and Rob Summerscales who are currently travelling through China, and learning Chinese.
This is one of the many gems you can discover when travelling China.
We are going to explain some of the key details for the big hike which include the following:
Let's delve into the great adventure. Keep on reading and wonder no more!
Oh… but before we do, we think you might like this
What Is Tiger Leaping Gorge? Where Is It?
The Tiger Leaping Gorge is created by a powerful river
Tiger Leaping Gorge (虎跳峡) is a popular tourist destination for all types of travellers located between Lijiang (丽江) and Shangri-la (香格里拉), or more specifically in the Yunling Shan (云岭山) mountain range in Yunnan (云南) province.
This mountain range might not ring any bells, until I say the highest peak within this range is the famous Jade Dragon Snow Mountain (玉龙雪山).
From the peak of the Jade Dragon Snow Mountain (5596m) to the bottom of the valley it is a steep 3900m fall.
The powerful drop in height over a short distance propels the river flowing through the Tiger Leaping Gorge.
1800m high at the start of the gorge;
1600m high at the end; and
over a distance of only 15km!
The gorge is formed by China's biggest river, the Yangtze. The Yangtze's origin lies within the Tibetan Plateau. On its way to Shanghai, it cuts through the Yunling Shan mountain range, therefore shaping the Tiger Leaping Gorge.
Why Hike? What About The Bus?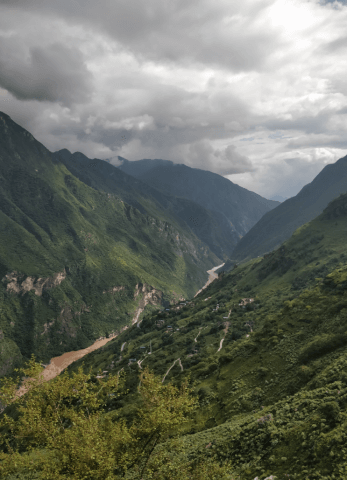 Killer Views
Because it offers (one of) the best treks in all of China!
No bus can compete with that.
There are multiple ways to enjoy the Tiger Leaping Gorge. People who visit are usually classed in either of two groups:
The comfort and selfie-loving traveller; or
The more adventurous hike-loving traveller.
I can't stress enough how much I recommend you should be a part of the second group.
It will offer you some of the most spectacular views of Tiger Leaping Gorge and the Jade Dragon Snow Mountain.
Also, during the hike you won't bump into many other travellers, making it a peaceful rarity in China.
Hiking this beast will give you a greater sense of self-achievement than any bus ride or selfie ever will!
How To Hike Tiger Leaping Gorge?
The most common way to hike Tiger Leaping Gorge is by doing a 2-day trek (aka Upper Trail hike).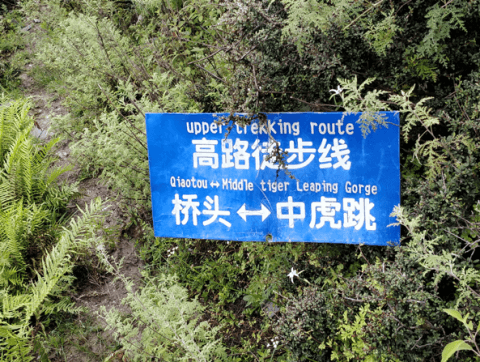 Tiger Leaping Gorge Upper Trail – Signs guide you along the way
We are both mid-late 20's and of moderate fitness. We found the trek quite challenging at parts. However, we also bumped into an older couple hiking as if it was a stroll in the park. I don't know if this says more about us or them…
However, I should let you know that there are also other options such as organising a private car/taxi up to the Half-Way House and walking back down the mountain to Tina's Guesthouse (takes about a half day to hike down), then join the 2-day hikers on the bus from Tina's to Shangri-La, usually leaving everyday at 3:30pm.
In addition, I've also heard of some people continuing their hike beyond Tina's Guesthouse for a further day – hiking 3 days, before returning to Tina's on the 3rd day to catch the bus to Shangri-La.
Anyway, to do the most common 2-day trek, you should really book it with a hostel in either Lijiang or Shangri-la.
We did it from Lijiang, where we stayed at Mama Naxi Guesthouse (highly recommended).
They took care of the transport from Lijiang to the starting point of the hike in Tiger Leaping Gorge (for a modest 140kuai).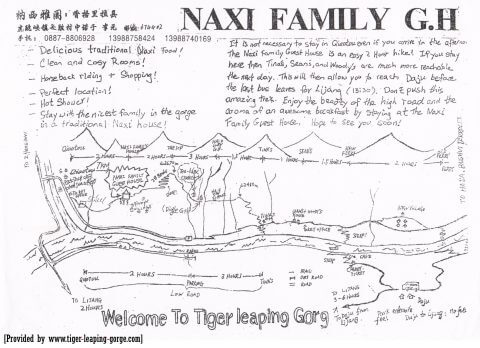 Guesthouses along the Tiger Leaping Gorge hike provide lots of useful information
As most people do the following route: Lijiang – Tiger Leaping Gorge – Shangri-la, the hostel also offers a luggage service.
You can hand your main luggage to the bus driver, who will take this to Tina's Guesthouse for safekeeping until the end of the 2-day trek.
As such, you only need to take the essentials with you on the hike.
When you are done hiking on the end of the second day, you simply take your bag from Tina's Guesthouse, and jump on the bus to Shangri-la.
For a more comfortable hike, use the Lijiang hostel's free luggage service – leave the heavy things in your big bag and give it to the hostel to transport directly to Tina's Guesthouse while you're doing the 2 day Tiger Leaping Gorge hike.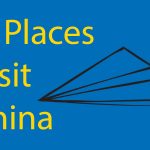 Best Places to Visit in China … for Scenery
Best Places to Visit in China … for Scenery Studying in Beijing or Shanghai and want to take a break? Or just travelling around China? There are so many things to see and do in China, we thought we'd help…
Tiger Leaping Gorge – Hike day 1
We got up really early and Papa Naxi escorted us to the buses near Lijiang Old Town.
This is also your last chance to get some very necessary supplies for your hike!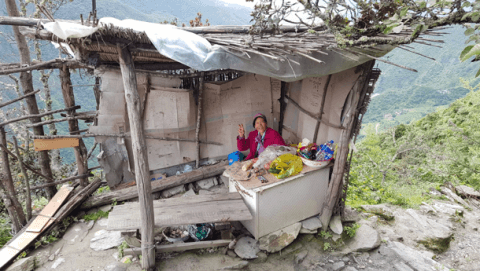 Locals along the way sell some snacks, water, and other local products
The hike passes through two villages that offer an opportunity for lunch, and there are a few locals along the way that sell a few soft drinks, power bars, and marijuana (if you're into that kind of thing…).
However, during the better part of the hike there will not be any opportunities to restock.
The bus took 2.5 hours to the entrance of Tiger Leaping Gorge. Here, we had to purchase a ticket (65CNY).
The bus then took us slightly further into the area, only to drop us off at a dodgy looking side road with big industrial trucks going up-and-down the hill.
The driver told us to go up that road, and we indeed saw some tiny signs to a lamp post that said 'Upper Trekking Route' and 'Half-Way House this way' (the Half-Way House was our accommodation for the night).
So up we went, and up it was.
The first 1-2 hours were a killer! The first part was a road, but it soon changed into a steep dirt path, crossing nature, and passing herds of goat and their kid herders.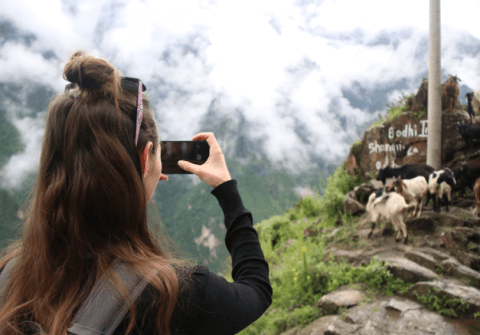 Goat herders along the Tiger Leaping Gorge 2 day trek
However, Chinese industrialisation is never far away, as at this stage of the trek, we could still see the various quarries, and the brand new High-Speed Railway being built.
After about two hours of hard work, we reached the more horizontal part of the Upper Trekking Route (there are signs all along the way showing you where to go).
From here, it was smoother-sailing. Well, that is, until we reached the infamous 28 bends.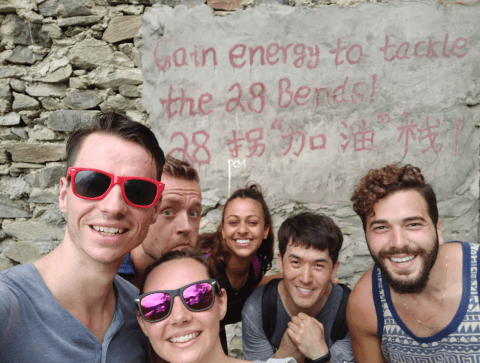 28 bends on the 2 day Tiger Leaping Gorge trek
This was a very steep – 28 bends – uphill section, that made the first 1-2 hours look like peanuts!
Luckily, once we made it to the top, the hardest part was behind us.
The only thing to worry about now were the big bugs that were almost the size of my fist! (I may be exaggerating…).
However, you don't have to worry. Apart from their size and the horrifying noise they make, they don't do anything (I think…).
From the starting point, it will take about 6-8 hours of hiking to reach the Half-Way House, a guesthouse in the third village along the way.
They offer both private rooms and dorm rooms for fair prices (dorm beds 40CNY, private room 120CNY).
Here you can sit out on the big balcony with some dinner, a well-deserved 啤酒 píjiŭ (that's beer, folks) and take in the stunning view of the gorge and Jade Dragon Snow Mountain.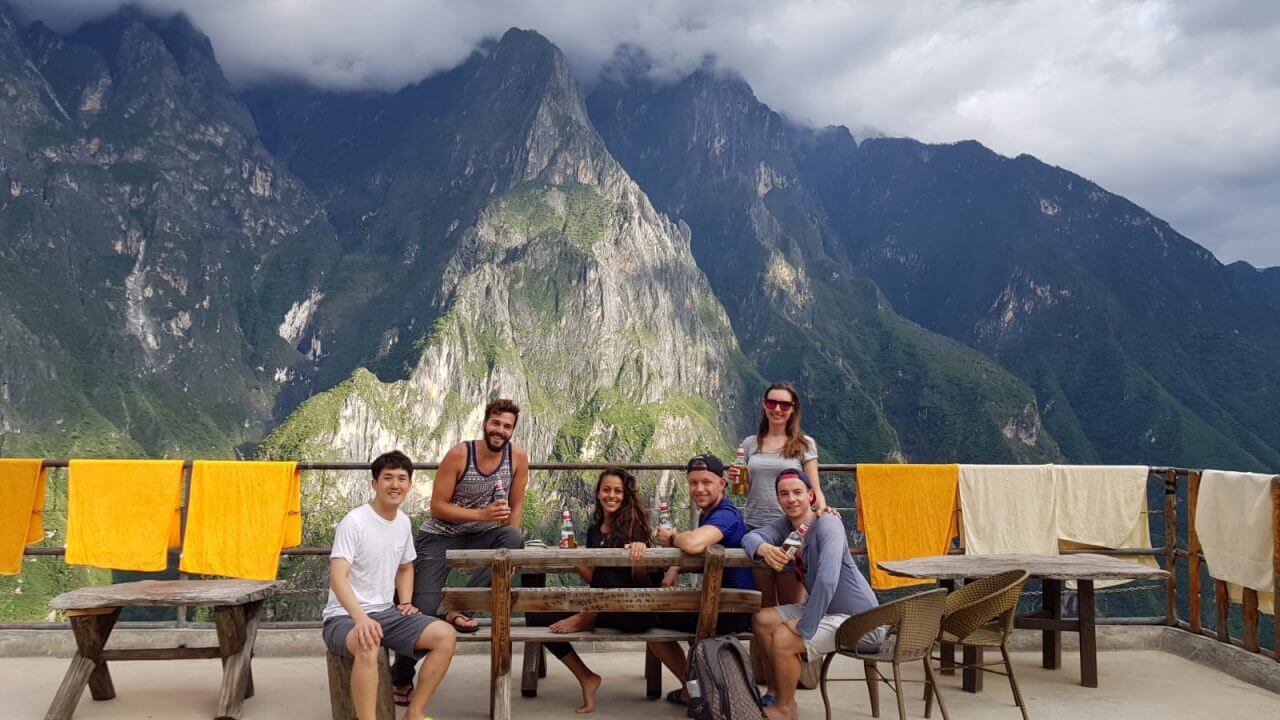 Tiger Leaping Gorge 2 Day Trek – Stopping at the Half Way House overnight
Tiger Leaping Gorge – Hike day 2
The first half of Day 2 stretches from the Half-Way House to Tina's Guesthouse. During this part, it is mostly horizontal, until the descend down the mountain again.
We got up really early for a decent breakfast, after which we started to walk again. Along the way, we passed some of the best scenery of the whole trek, including some beautiful waterfalls.
After a couple of hours, we found ourselves at Tina's Guesthouse, where we had lunch and checked if our bags had arrived (they did).
After lunch, we decided to make a 3-hour hiking loop: going down to the water, and then back up to Tina's Guesthouse.
Tina's offer a free shuttle service to the starting point of the path. Once we got there, we had to pay an additional entrance fee (15CNY) to a few locals.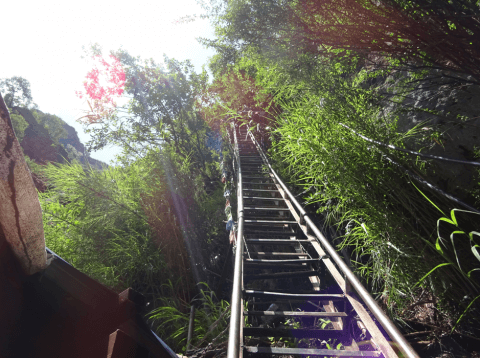 The first part was a steep 'stairway' that descends down to a few meters above the water. From there onwards, we passed a horizontal section that goes through cliff cut-outs that looked really cool!
Then, you get to a little 'check-point' near the water.
Here, you can choose to pay an additional few CNY to take a dodgy looking wooden bridge that takes you onto a big rock in the middle of the rushing waters! It's definitely worth it!
Especially when you notice that when you stand on the rock, it actually moves under your feet!
After taking the obligatory Tiger Leaping Gorge selfies (yes, being part of the more adventurous hike-loving group, you are also entitled to a selfie or five), you'll have to make your way back up the steep cliff. You can choose two routes:
Tiger Leaping Gorge – Day 2
Walk up the original dirt path, or;
Take the shortcut: a terrifyingly long and steep vertical ladder.
Of course, we decided to take the ladder. I can't tell you how scary it was being half way, unable to go back down, and gazing up at the bottom of the person in front of you, hoping it's not that far to the top. But, it's worth it!
Once we got up the ladder, and passed some more dirt paths, we eventually reached the road.
From there it was a few minutes back to Tina's Guesthouse.
There, the bus was already waiting to take us further north to Shangri-la!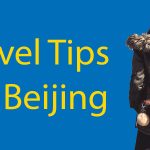 9 Travel Tips for Beijing 🧳 – A Useful List for 2020
With long history, rich culture and nice people, Beijing is a city which deserves several days of your time.
What Should I Bring To Tiger Leaping Gorge?
Overall, the Tiger Leaping Gorge is a very do-able hike, even though some parts are a bit tough.
The challenge is definitely worth it, as you will be rewarded with some of the best scenery you can find in China.
If you do decide to go, please remember to bring these things:
A hoodie as it can get quite cold in the evening and early morning.
Rain jacket or poncho just in case.
Sun cream, as the sun is particularly strong at this altitude.
2+ litres of water per person.
But…DON'T BRING TOO MUCH! You'll only stay one night, and there's no point in carrying unnecessary things up the 28 bends…
Thanks again to Jenny and Rob for this fascinating insight into one of China's great adventures! To round off this great blog, take a quick look at Rob and Jenny's three minute guide to the Tiger Leaping Gorge with this video they filmed together.
You can find their YouTube Channel right here 👉👉👉 Rob and Jenny's YouTube Channel
Tiger Leaping Gorge – FAQ's
Where is the Tiger Leaping Gorge?

The Tiger Leaping Gorge is located about 60 kms/37 miles north of Lijiang City which is in Yunnan, southwestern China.
How do you say Tiger Leaping Gorge in Chinese?

Tiger Leaping Gorge in Chinese is 虎跳峡 (Hǔ tiào xiá).
What is the depth of Tiger Leaping Gorge?

The maximum depth of the Tiger Leaping Gorge comes to roughly 3,790 meters or 12,434 feet.
How long is the Tiger Leaping Gorge?

The Tiger Leaping Gorge is about 15 kms/9.3 miles long.
Want more from LTL?
If you wish to hear more from LTL Mandarin School why not join our mailing list.
We give plenty of handy information on learning Chinese, useful apps to learn the language and everything going on at our LTL schools!
Sign up below and become part of our ever growing community!