9 Travel Tips for Beijing 🧳 – A Useful List for 2020
Travel Tips for Beijing – 9 Tips You Should Follow
With long history, rich culture and nice people, Beijing is a city which deserves several days of your time.
However, being such big city, with so many things to explore, it can be hard to find your way around.
You can be faced with a huge amount of information which can be overwhelming so we have chosen some of the key information you will need to get the most out of your stay.
Travel Tips for Beijing – Utilise the Subway

Travel Tips for Beijing – Getting to the Great Wall

Travel Tips for Beijing – Enjoy the Local Food

Travel Tips for Beijing – Enjoy the Nightlife

Travel Tips for Beijing – Shichahai and Nanluoguxiang

Travel Tips for Beijing – Bargain!

Travel Tips for Beijing – Choose the Time of Year wisely

Travel Tips for Beijing – Pollution is Improving, but it's still here

Travel Tips for Beijing – Get a VPN before coming

Travel Tips for Beijing – BONUS : James' Story
1. Travel by Subway
In recent years the growing subway lines now connect almost every corner of Beijing city making it very easy to travel by metro lines.
The Beijing Subway is a very cheap, easy to use and time-saving way to visit major tourist attractions in Beijng.
It's also extensive. Did you know there are 394 stations making up 23 lines (as of the start of 2020). That's a lot of rail!
Luckily for you we've written about every single line so you know where to go and what to expect…
2. Plan Travel to the Great Wall
The Great Wall is a must-see spot for every traveler to China and Beijing.
There are several ways to take this trip.
By public bus
You may take public bus 919 from Deshengmen to Badaling section.
If you choose this way, do come back in early afternoon as there are usually around one thousand people waiting for the bus back, which may keep you waiting in queue for about 2 hours. Badaling is the busiest spot of the wall for Chinese tourists so choose your section of the Great Wall with care.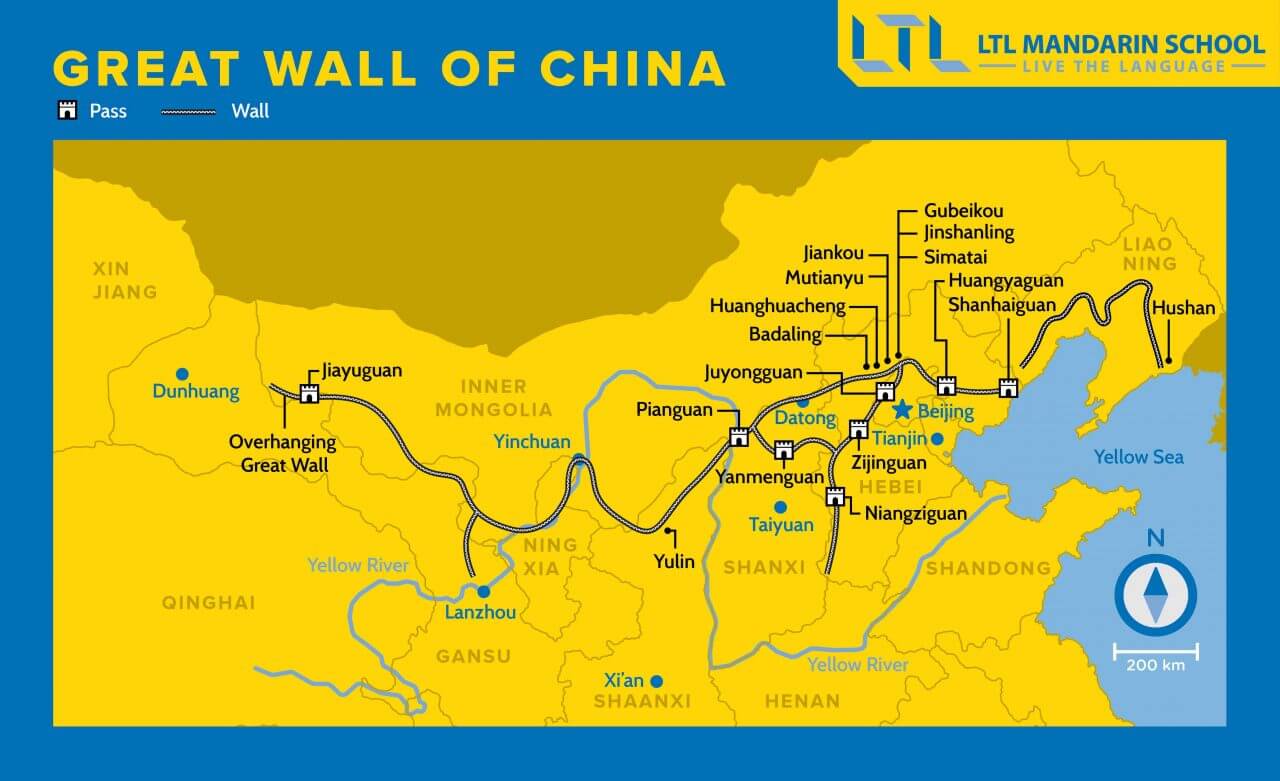 Rent a car or taxi
If you are travelling in a group, you can also rent a private car with a local agency or a taxi to the Great Wall.
The shared price is not much and you can get to your favourite wall section and have a pleasant experience.
Join a coach tour
If you are a single traveler or with just one or two friends, you may like to join a coach tour.
Various tour itineraries are available from local agencies. The average price is about USD30 per person including pick-up and drop-off, English guide, air-conditioned coach, lunch and entrance fees.
3. Enjoy the Local Food
Beijing has various local foods that you should try.
Many visitors comment on the great variety of food on offer in the city; there is something for everyone.
A great cost effective dinner is dumplings. Mr Shi's dumpling restaurant one of the nest dumpling restaurants in the city serving a great variety of boiled and fried dumplings. He has restaurants throughout Beijing.
Beijing Roast Duck is probably the most famous dish with many duck restaurants throughout the city (check the link to see our favourites).
You may also like to try these cuisines at the following restuarants:
Zhajiang Mian Noodles with Soybean Paste at Old Beijing Zhajiang Noodle King (56 Dong Xinglongjie, Dongcheng District)
Donkey Burger at Wang Pangzi Restaurant (80 Gulou Xidajie, Xicheng District)
Mongolian Hotpot at Dong Lai Shun Restarant (12 Xinyuanxili Zhongjie, Chaoyang District).
It's endless! Enjoy it, embrace it!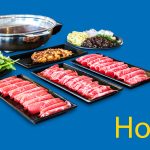 A Beginners Guide on How to Eat and Order Chinese Hot Pot
Chinese hot pot (火锅 huǒguō) literally means fire-pot. It's history goes back over 1,000 years. It is one of the most traditional and popular meals in China.
4. Enjoy the Nightlife
Beijing has various wonderful places to enjoy nightlife.
Sanlitun bar street is a thriving area of bars and clubs; they are aimed at the expat and tourist communities which is reflected in the prices.
There are many cultural shows that you can enjoy in the evenings. The acrobat show at Chaoyang Theatre is a personal favourite of mine with breathtaking feats and stunts.
The Chinese Kung Fu show at Red Theatre (No.44, Xingfu Da Jie Dongcheng District Website www.redtheatre.cn) is a must for everyone.
The show mixes stunning Kung Fu skills, exquisite dance, music and a beautiful story together, presenting a fantastic experience for everyone.
You can also enjoy your time at Lao She Teahouse (00 86 10 6304 6334) on Qianmen West Street where you can drink tea while watching shows including shadow puppets and kung fu as well as the opera.
5. Walk Around Shichahai and Nanluoguxiang area
Walking in old Beijing's Hutong area is a very unique experience.
Shichahai area is nice for an evening stroll. You will find many featured restaurants, bars and cafes, shops transformed from traditional courtyard houses.
Many bars have live music performances and outside couches by the lake.
Rickshaw rides and lake boating are also good choices. The Nanluoguxiang Hutong 南锣鼓巷 is full of authentic Beijing atmosphere.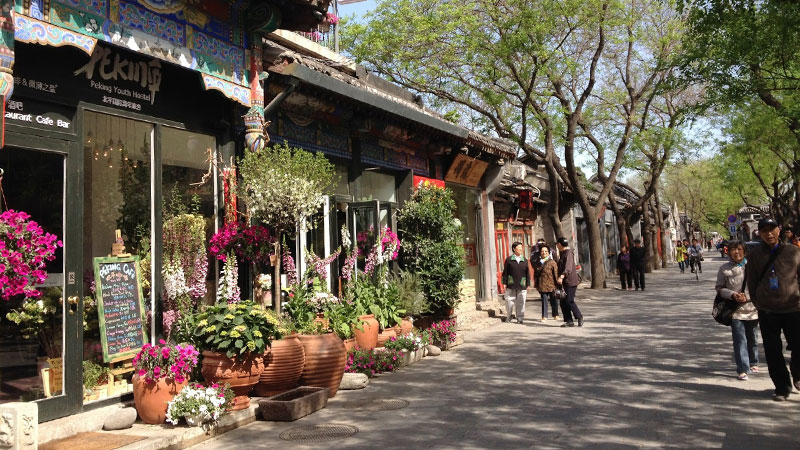 6. Don't be Afraid to Bargain
In Beijing shop owners usually give you a high offer for every item, so do not be afraid to bargain hard.
You can start your bid at around 20% of their first offer, often even more.
It is a wise tactic to speak out the amount you are willing to pay.
If they do not accept, walk out. They will most likely call you back.
The best places for you to choose items are:
Silk Street Market (North of Dong Chang An Avenue, Jianguimenwai Street, Chaoyang District 930 am-9pm Tel 010-51699003), Beijing Yashow Market (Gongti Beilu 58, Chaoyang District, Beijing 930am-9pm Tel 010-64150063)
Hongqiao Pearl Market 36 Tiantan Donglu, Chongwen District, 830am-7pm Tel 010-67118984).
The shop staff of these places can speak at least English and many can speak several languages.
7. Choose the Time of Year wisely
This is crucial for a number of factors:
Weather – if you don't like hot. Avoid July and August. It's that simple
Chinese Holidays – you'd be foolish to think, "how bad can it be". If you visit during the first week of October, you are stepping into one of the biggest human migrations on the planet.
Prices – they'll vary throughout the year, as with anywhere. Try and enjoy off peak times. It makes a huge difference not just to the price, but your experience in China.
In a nutshell, April and September/October (bar Golden Week, October 1st-7th) are the best times to visit for all the above factors.
8. Pollution is Improving, but it's still here
As we titled our article about pollution in China…
China Is Winning The War, But It's Not Over Yet
"It seems that gone are the winters where you will spend most of the time hidden behind a mask due to the Beijing air quality being too bad to be able to see much of a distance in front of you."
If you want to read more, check out our article on Pollution in China where the above quotes have been taken from.
9. Get a VPN BEFORE Coming
If Whatsapp matters to you, if Facebook matters to you, if YouTube matters to you – FOLLOW THIS TIP!
Chances are, you use at least one of the above on a daily basis. China blocks them, along with many other websites, including Google (check out the full list of websites banned by China here).
Luckily the VPN allows us to get around this and access these sites/apps in China.
Find out how to get one here…
How to Download VPN in China – Top 5 Tips
The Great Firewall of China – How to Download VPN in China? VPN's – How they work Most people are at least vaguely aware of the need to use a VPN to conquer the "great firewall of China" – the…
BONUS – James' 5 Favourite Things in Beijing
A former student of ours James from the UK has provided a bonus section and told us his 5 favourite things about Beijing – enjoy!
To summarise my overall experience in China would take up the best part of an entire evening, let alone a single A4 page.
Nevertheless, below are my 5 favourite things about Beijing:
The History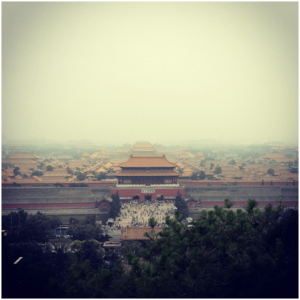 It goes without saying that China's history is one of the most rich, interesting and historically important in the entire world.
From the Great Wall, to the Summer Palace, there are some truly impressive places to visit.
If you can find your way past the throngs of people that litter each and every (seemingly identical) square and courtyard of the Forbidden City 故宫, you experience a place that, in my opinion, brings you closest to Chinese history (other than the Great Wall).
Walking through the enormous palace, you truly feel the weight and power of China as a country and the rich and unique history that comes with it.
Without a doubt, the best place to get a good view of the Forbidden City is from the top of Jingshan Park (景山公园), where you get a fantastic panoramic view of 故宫 (even on a bad day).
The Nightlife
The nightlife in Beijing is, as you'd expect from a capital, usually relatively quiet during the week, but takes off on the weekend and is a great night out.
The main bar/club area in Beijing and a place where you can still find some cheap beers, not to mention some really busy and happening clubs, is in Sanlitun 三里屯 and around the Worker's Stadium.
For Beijing nightlife, this is the place to be. I sadly don't have any photos from my times in Sanlitun, but as they say: what happens in Sanlitun, stays in Sanlitun.
For those wanting to experience proper Chinese nightlife and a more 'authentic' Chinese experience, a trip to one of Beijing's many KTV bars beckons.
From the very first KTV night I went to I was hooked on singing (terribly, I might add) everyone from Robbie Williams to Queen.
The Food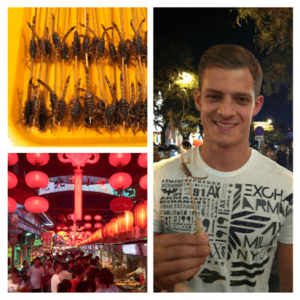 As someone who has grown up loving Chinese food, it's probably fairly obvious that one of the things I love most about Beijing is the food.
China (if you hadn't noticed) is a vast country and that lends opportunities to an incredibly varied and diverse landscape for food.
I can't think of a better place to experience this diversity than in the capital, Beijing.
From some of my personal favourites, such as: Ganguo tudou pian 干锅土豆片, Gongbao Chicken 宫保鸡丁 or Dumplings 饺子, to those that are a little more obscure, such as pig's ear, or even sheep brain hotpot.
The Chinese are infamous for eating 'everything', and you certainly feel that sometimes this is the case!
It's an experience either way and some things just have to be tried (I personally wouldn't recommend silkworm, however).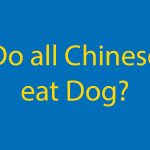 Do all Chinese eat Dog? What's the Truth?
Chinese Eating Dog in 2022 – What is the truth? It's a tender and sensitive question, but one many expats in China get asked all the time by friends and family back home. Do all Chinese people eat dog? Do…
The People
It is largely down to the people that makes Beijing such an incredible place.
This extends not only to the people you meet at LTL, but also to people you will stumble across at bars, clubs, or tourists spots with people asking to take your photo simply because you don't have black hair!
It may be an enormous city but there still is a certain charm to Beijing and this is partly thanks to its people, whom are incredibly welcoming of foreigners.
There seems to be a fantastic balance between the hustle and bustle that you would expect from a major capital and the deeply ingrained traditions that form Chinese culture.
The 'Quirks'
Lastly, but certainly not least, what made Beijing such a fascinating experience was the side of Beijing that you sometimes see on a day-to-day basis.
Ranging from some interesting fashion senses, such as the 'Beijing Bikini', to the downright strange (for example: a man walking around carrying a live turtle on a stick, to even a young girl with ACTUAL snails sitting on her hand while I was waiting for a takeaway, as if that were normal behaviour…).
Little things that make you do a double take, even when you become accustomed to being 'surprised' in Beijing.
It is with a heavy heart that I must write this, not knowing when I'll next get the chance to go to Beijing.
Having spent 5 out of the past 10 months there, I've really grown fond of the place.
China is a country like no other and an incredible place to be not only for foreigners new to Asia, but even ones who have spent most of their lives in Asia, as I have.
I am really grateful to LTL for providing the platform for me to hone my Mandarin skills and experience Beijing life as if I were a local.
Having the chance to live with a local family truly opens your mind to Chinese culture and a local way of life, not to mention the chance to meet people who will likely welcome with open arms if you ever find yourself in Beijing again.
I am also truly grateful to all the people I met along the way, whether it be the other students at the school, new local friends whom I grew close to over time, or even those I met while I had the opportunity to travel around China.
A truly fantastic experience, and one I wish I could experience all over again!
Till next time, Beijing. 我想你中国!
Culture Shock in China || 10 Things That WILL Shock You
Culture Shock in China can happen to anyone at any time, and it affects everyone differently. China, however, is in a whole different league. We explain why.
Thanks to James for his contribution above.
Have you been to Beijing? What did you think? Tell us below about if you've been or if you want to come!
Travel Tips for Beijing – FAQ's
When is the best time to visit Beijing?

In a nutshell, April and September/October (bar Golden Week, October 1st-7th) are the best times to visit.
Is Summer hot in Beijing?
Is Beijing expensive?

Compared to most cities in China, yes. Compared to most worldwide capitals, not so much.
Is Beijing foreigner friendly?

Absolutely. Beijingers have been used to foreigners being around even more so since the 2008 Beijing Olympics. Although English is still not widely spoken, they welcome you with open arms.
Want more from LTL?
If you wish to hear more from LTL Mandarin School why not join our mailing list. We give plenty of handy information on learning Chinese, useful apps to learn the language and everything going on at our LTL schools! Sign up below and become part of our ever growing community!