The New HSK Exam System 😲 (for 2021)
New HSK Exam – The (Ultimate) Complete Guide 📝
WHAT? There's a new HSK Exam?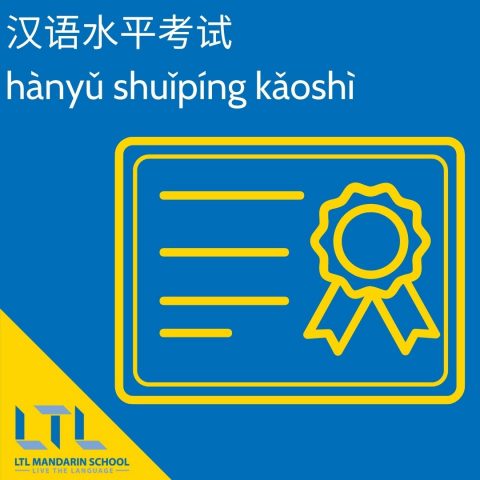 You are probably a tad confused by the title of this blog, so let us rephrase.
THE CURRENT HSK EXAM SYSTEM IS GOING TO CHANGE!
I'm sure there are a lot questions on your lips is… will I have to take the test again, is my current qualification still valid…?
In short, we are still not 100% sure as there hasn't been much information announced by the HSK Official Headquarters.
However we do know some things and it's these we'll be covering today.
Don't worry also – when we discover further details you'll be the first to know as we update all our content.
To make sure you are the first to receive the news, be sure to be signed up to our newsletter:
NEW HSK – Introduction to the HSK
HSK or Hanyu Shuiping Kaoshi (汉语水平考试) came about in 1992 as a proficiency exam for Mandarin Chinese.
The exams are organised by Hanban (汉办). Hanban are a part of the Chinese education ministry, who are also in charge of the Confucius Institutes (孔子学院).
HSK is currently split into 6 levels covering 150 to 5000 words.
All the exams contain listening, reading and writing components – with HSK 1 and 2 not requiring the writing element.
We still do not know what the actual situation will be, but we do know that the New HSK Exam will contain more words, more levels and it will be no doubt harder – as the following below will illustrate.
PS – You can find the official HSK website here.
NEW HSK – What Do We Know So Far?
Announcement 🔈
"HSK is about to be reformed. In 2020, the Chinese Proficiency Standards will usher in a new change: a hybrid paradigm of 'Three Stages and Nine Levels' characterised by integration and all-in-one"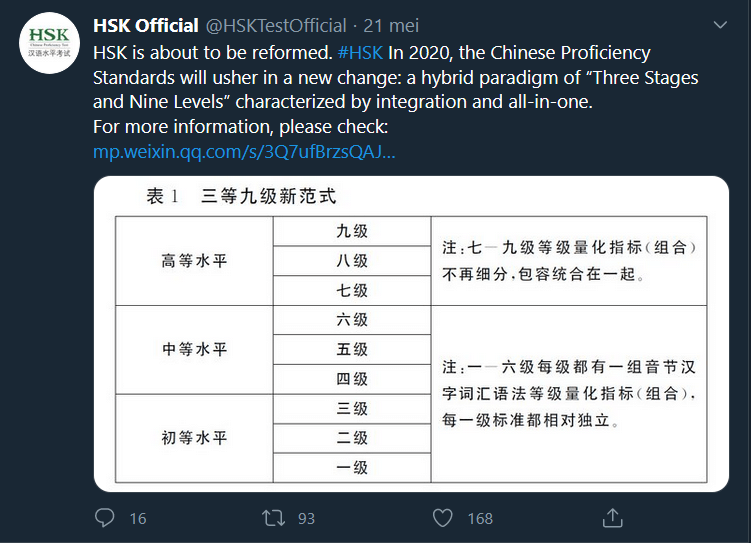 Just because we're super nice to you all, here's that table translated for those interested…
| Level | Level Number | Details |
| --- | --- | --- |
| Advanced | Levels 7, 8 & 9 | For levels 7-9 there is no evaluation quota as of yet. |
| Intermediate | Levels 4, 5 & 6 | From levels 1-6, each has a corresponding threshold for the number of syllables, characters, words and grammatical structures the test taker should be able to comprehend and use. |
| Beginner | Levels 1, 2 & 3 | From levels 1-6, each has a corresponding threshold for the number of syllables, characters, words and grammatical structures the test taker should be able to comprehend and use. |
Announced in May 2020, released via the official HSK official Twitter Account, the exam will change from six to nine levels!
In order to mark the examinees' current progress, the nine levels will be sub-divided into three stages.
For advanced learners to acquire native-level proficiency certifications, the highest classification will be be further divided into three distinct levels.
Three Stages and Nine Levels 🤔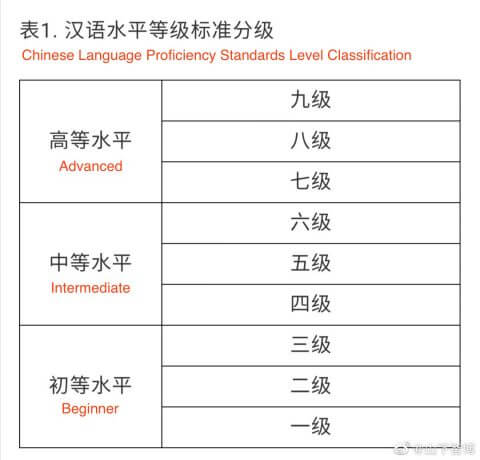 Officially referred to as HSK 3.0, the new HSK exam structure will be divided into three stages and nine levels with:
Beginner at Level 1-3
Intermediate at Level 4-6
Advanced at Level 7-9
According to the Chinese Testing International Centre in Barcelona, the advanced levels (7-9) are for foreign students who want to specialize in Chinese language and literature, and other majors such as Sinology.
The Advanced HSK exam (Level 7-9) is scheduled to be released in the first half of 2021.
Whether it be the lower level or highest grade, you must learn more words so it will certainly be a harder test!
| Level | Difficulty | Number Of Words | Difference From Old HSK |
| --- | --- | --- | --- |
| HSK 1 | Beginner | 500 | +350 |
| HSK 2 | Beginner | 1272 | +972 |
| HSK 3 | Beginner | 2245 | +1645 |
| HSK 4 | Intermediate | 3245 | +2045 |
| HSK 5 | Intermediate | 4316 | +1816 |
| HSK 6 | Intermediate | 5456 | +456 |
| HSK 7 | Advanced | 11,092 (TBC) | TBC |
| HSK 8 | Advanced | 11,092 (TBC) | TBC |
| HSK 9 | Advanced | 11,092 (TBC) | TBC |
Here's a side-by-side look at the Old HSK vs New HSK to give you a clear indication that the NEW HSK will be certainly more difficult.
| Level | New HSK | Current HSK |
| --- | --- | --- |
| HSK 1 | 500 | 150 |
| HSK 2 | 1,272 | 300 |
| HSK 3 | 2,245 | 600 |
| HSK 4 | 3,245 | 1,200 |
| HSK 5 | 4,316 | 2,500 |
| HSK 6 | 5,456 | 5,000 |
| HSK 7 | 11,092 (TBC) | – |
| HSK 8 | 11,092 (TBC) | – |
| HSK 9 | 11,092 (TBC) | – |
Words and Vocabulary List 🧠
In a PDF published by the International Chinese Education (世界汉语教学 shìjiè hànyǔ jiàoxué), they further outline the new proficiency standards for all the levels.

The difficulty has certainly increased!
Focusing on the vocabulary column (词汇: cíhuì) a.k.a. the fifth column, we can see that just for level 1 the threshold has increased.
Instead of previously needing to learn 150 words for HSK 1, this has now increased to 500.
For HSK 6, students will now be required to learn 5,456 words and for HSK 9 students will be expected to know over 11,000 words!
Therefore, by increasing the threshold students will be pushed harder to learn more words.
Although no vocabulary lists has been published, we recommend you get a head start by beginning to increase your current vocabulary lists etc.
NEW HSK – Why the Change?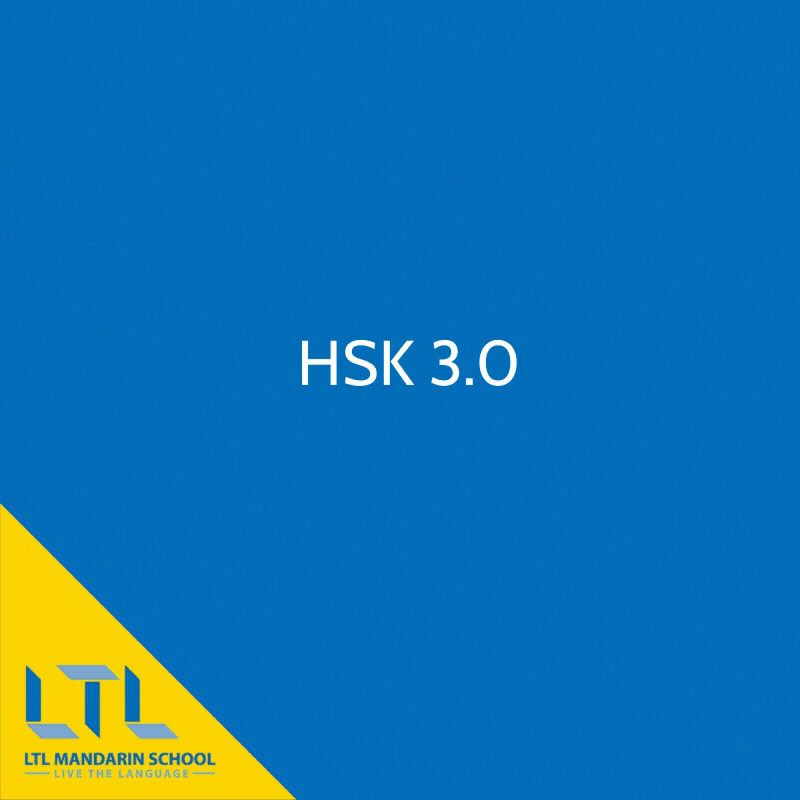 There is no definite answer to this question.
But here's some possible reasons:
To make the exam harder

As more people are studying the language, the old classification could no longer meet the requirements of the new situation.
This new classification is more precise and further categorizes students language ability.

To align with the European Framework

One major problem with the current HSK test is it does not directly correspond to the Common European Framework of Reference for Languages (CETR)

For example, HSK 6 was nowhere near the "almost-native" C2 level and so on.
Thus, by adjusting the test to better reflect the CEFR system this should help give the HSK improved weighting and caliber on the international stage.
NEW HSK – What Does This Mean For You?
There has been no word so far on what this means for graduation requirements for international students in China.
With the exam system changing, it is hard to go into details what this exactly means for you.
Previously, a level between HSK 4-6 was sufficient for students who wanted to pursue graduate or higher-level degree in Chinese.
As soon as more details are announced, we will update you!
If you have any more questions feel free to comment down below and we will try our best to answer them.
NEW HSK – FAQ'S + Tips
Our top tip to you is not to worry!
The new exam system is good for beginners and definitely a challenge for any advanced learner.
Although your current level will be most likely downgraded due to this new system, the good thing is that you can still aim for HSK 6.
Unless you intend to specialize in Sinology or otherwise, this level is probably enough to get you where you want to be!
Fancy taking some HSK Vocab Tests to see your current level?
We've made HSK1 – HSK6 vocab tests (using the old system) to give you an idea of where you are at! Enjoy…
Take your HSK Vocabulary test here.
New HSK – FAQ's
What are the main differences between the old and the new HSK?

The two main differences are as follows:

The old/current HSK has 6 levels and the new HSK has 9.

The old/current HSK tests up to 5,000 words, whereas the new HSK requires you to know over 11,000
When was the New HSK announced?

May 21st 2020 on the Official HSK Twitter account.
When will the system change?

We are still not sure of when this system will change, all we know so far is that the Advanced HSK exam (Level 7-9) is scheduled to be released in the first half of 2021.
How many words to pass the highest (new) HSK level?

The highest level of HSK you can pass with the new system is HSK 9 and this requires knowing a huge 11,092 words, more than double the current highest level (HSK6).
Will I have to buy new HSK textbooks?

Probably yes, we will keep you updated on this.
How can I improve my Chinese while waiting for further announcements?
How do you say HSK in Chinese?

汉语水平考试 (hànyǔ shuǐpíng kǎoshì)
Will I be notified if further news on this is announced?
Want more from LTL?
If you wish to hear more from LTL Mandarin School why not join our mailing list.
We give plenty of handy information on learning Chinese, useful apps to learn the language and everything going on at our LTL schools!
Sign up below and become part of our ever growing community!
PS – DID YOU KNOW you can study the HSK with us online here!