Football in China ⚽️ Ultimate Guide to Useful Vocab and Football Culture in China
How to say Football in Chinese & What is Football REALLY Like in China?
Football in China is a big deal!
Although by their own admission, China don't boast the wealth of world stars that perhaps they should given their population size.
However, that doesn't stop football being a sizeable market in China with replica jerseys from around the globe always on show in the middle kingdom
Today we teach you some useful phrases related to Chinese football and some real life accounts of what it's like attending a game in the Chinese Super League (CSL)
That said, it doesn't make football any less popular in China, with fans throughout the country donning jerseys of their own local side or teams worldwide.
Time difference, despite being a huge factor especially for midweek games in China, doesn't stop the locals getting up at crazy hours to watch their favourite European sides play.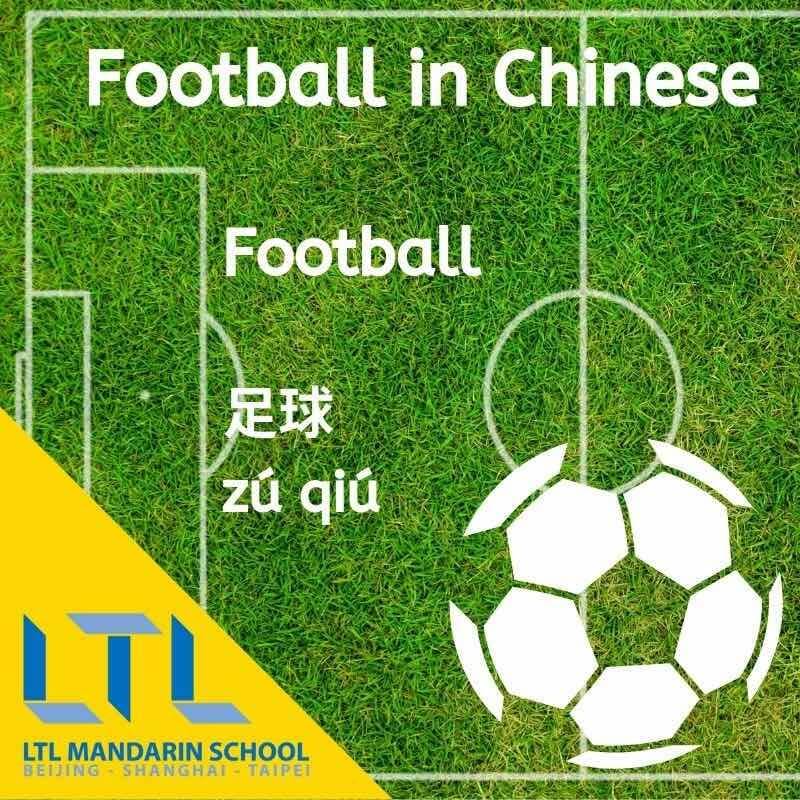 Couple that with the money currently floating around the Chinese Super League, and the Chinese have plenty to feast their eyes on, locally or internationally.
足球 (zú qiú) – Football
中国队 (zhōng guó duì) – Chinese Team
中国足球队 (zhōng guó zú qiú duì) – Chinese Football Team
Let's delve deeper into the world of football in China.
Football in China – Football Vocabulary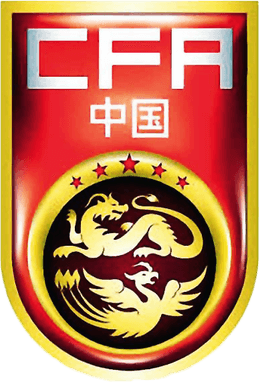 For those of you currently in China, we hope these football phrases will well equip you for some good social interactions.

You can impress the locals by screaming corner or red card at the TV in Chinese.
踢足球 tī zúqiú – play football (literally, kick football)
球队 qiúduì – team
球迷 qiú mí – fan
Time to get stuck into some of the key words you'll need when watching a match. Be sure to take in what everyone around you is saying and let's see if you can pick up any of these buzz words!
For those of you who are just wanting to reach a good level of Chinese fluency, these will be some interesting and different words to add to your Chinese vocabulary also.
Football Positions in Chinese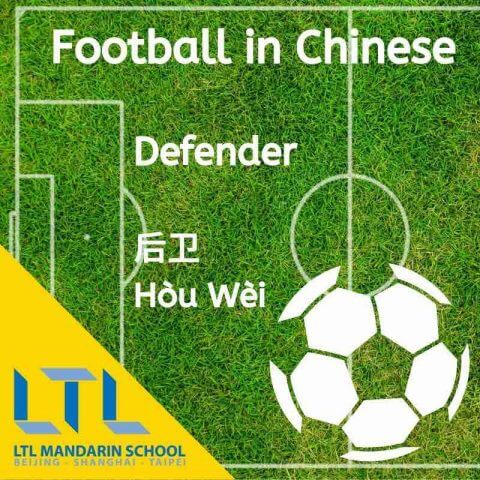 The four main positions in Chinese are:
后卫 hòuwèi – Defender
前锋 qiánfēng – Striker
中场 zhōngchăng – Midfield
守门员 shŏuményuán – Goalie/Goalkeeper
Taking it a step further:
右边后卫 yòubiān hòuwèi – Right Sided Defender
左边后卫 zuǒbiān hòuwèi – Left Sided Defender
右中场 yòu zhōng chǎng – Right Sided Midfielder
左中场 zuǒ zhōng chǎng – Left Sided Midfielder
进攻型中场 jìngōng xíng zhōng chǎng – Attacking Midfielder
REF!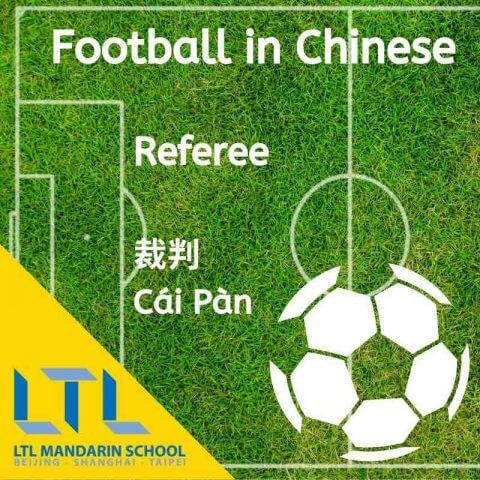 On the terraces and the ref makes a shocking call?! No surprise there, but what is everyone saying, here's some key vocab:
裁判 cáipàn – referee
点球 Diǎn qiú – PENALTY (literally, point ball)
红牌 hóngpái – red card
开球 kāi qiú – kick off (literally, open ball)
角球 jiǎo qiú – Corner kick
铲球 chănqiú – sliding tackle (literally, shovel ball)
越位 yuèwèi – offside
犯规 fànguī – foul
Listen out for these in the crowds in China, you'll be hearing plenty of these, along with some rather choice swear words if the ref makes a questionable call!
Scoring a Goal! 进球 Jìn qiú !
What a goal: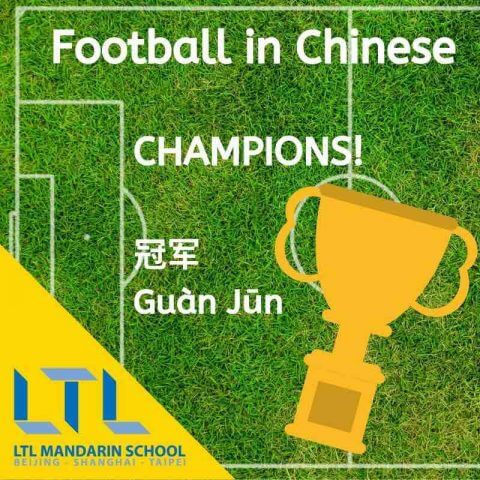 进球 Jìn qiú – SCORE A GOAL (literally, enter ball)
倒勾球 dăo gōu qiú – bicycle kick (literally, reverse hook ball)
乌龙球 wūlóng qiú – own goal (literally, oolong ball)
射门 shèmén – shoot (for the goal)
And for those ready to enjoy the excitement of the latter stages!
十六強 shíliù qiáng – last 16
八强 bā qiáng – quarter-final
半决赛 bàn juésài – semi-final
决赛 juésài – final
冠军 guànjūn – champion(s)
1st, 2nd and 3rd place can be defined by simply using Dì yī (第一名,第二名,第三名) with 名 meaning position or rank.
Football Competitions in Chinese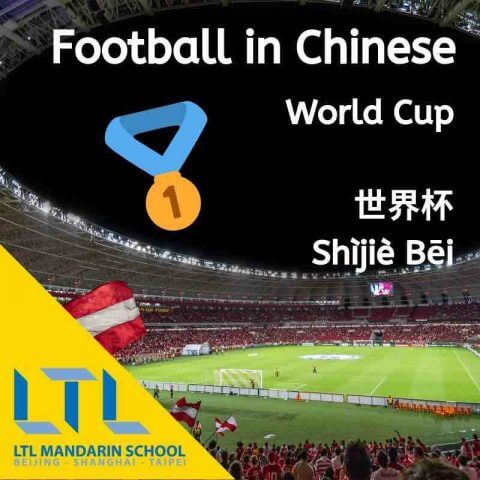 Some of the competitions you'll hear the locals talking about are:
欧洲杯 ōuzhōu bēi – The European Champions League
世界杯 shìjiè bēi – The World Cup
英超 yīng chāo – English Premier League
中超 zhōng chāo – Chinese Super League
西甲 xī jiǎ – La Liga
意甲 yì jiǎ – Serie A
足总杯 zú zǒng bēi – FA Cup
What's your favourite football competition to watch and which is your favourite team to support in that competition?

Comment below in Chinese if you can!
Other General Football Vocab in Chinese
黑马 hēi mǎ – Dark Horse
主办国 zhǔ bàn guó – Host Country
预选赛 yù xuǎn sài – Qualifying Game
加时赛 jiā shí sài – Added Time
友谊赛 yǒu yì sài – Friendly match
吉祥物 jí xiáng wù – Mascot
Football in China – Team Names
For the countries it's nice and easy, you just add 球队 qiúduì or just 队 onto the end of the country name. For a comprehensive list of the country names in Chinese, check this post out.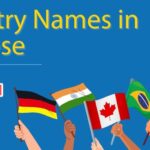 94 Countries in Chinese 🌏 What Are Their Literal Translations?
Discover how to say 94 country names in Chinese and what the literal translations are. There are some funny ones!
Club team names however aren't so easy, but generally they sound similar in Chinese. Let's pick some of the big ones!
巴塞罗那 (Bāsèluōnà) – Barcelona
利物浦 (Lìwùpǔ) – Liverpool
皇马 (Huángmǎ) – Real Madrid (short for 皇家马德里)
尤文图斯 (Yóuwén tú sī) – Juventus
曼城 (Màn chéng) – Manchester City
曼联 (Mànlián) – Manchester United
阿贾克斯 (Ā jiǎ kè sī) – Ajax
拜仁慕尼黑 (Bàirén mìníhēi) – Bayern Munich
巴黎圣日尔曼 (Bālí shèng rì ěr màn) – Paris Saint Germain
阿森纳 (Āsēn nà) – Arsenal
You'll notice a lot of the team names are phonetically similar/the same as the English so even if you don't know your team name, there's a good chance you could guess, or locals would know the English team name anyway!
Who is your team? Comment below with your favourite and if we haven't translated it above we will translate it below!
Football in China – Player Names
And now for some big name player names translated into Chinese you may hear a lot!
Lionel Messi – 梅西 Méi xī
Cristiano Ronaldo – C罗 (C Luō)
Neymar – 内马尔 Nèi mǎ'ěr
Zlatan Ibrahimovic – 伊布拉希莫 Yī bù lā xī mò
Luis Suarez – 路易斯苏亚雷斯 Lùyìsī sūyàléi sī
Manuel Neuer – 曼努埃尔诺伊尔 Màn nǔ āi ěr nuò yī ěr
And for some of the most popular players in China going back through the years!
Pele – 比利 Bǐ lì
David Beckham – 贝克汉姆 Bèikè hàn mǔ
Ronaldo – 罗纳尔多 Luōnà'ěrduō
Wayne Rooney – 鲁尼 lǔ ní
Ronaldinho – 小罗 Xiǎo luō
Zinedine Zidane – 齐达内 Qí dá nèi
OK we've got loads of new vocab there, now it's time to take a look at what football in China is actually like. It's a unique place to play and watch football, let's first see what we should expect from the top league in China – The Chinese Super League – 中超 zhōng chāo.
Football in China – What to Expect from The Chinese Super League?
The Chinese Super League has, in recent times, become a major talking point around the World of Football.
A country with so many inhabitants, yet such a poor history on the International football scene, is doing all they can to change that and Xi Jinping is at the forefront of these plans.
The National League itself, known as the CSL (Chinese Super League) has raised eyebrows with staggering wages and transfer fees thrown at players in a bid to get the world's best to China.
For some it's worked, for others not so much. In the meantime a 100% tax was hastily added onto player signings meaning a player costing £10 million would actually cost £20 million!
Steep but necessary perhaps.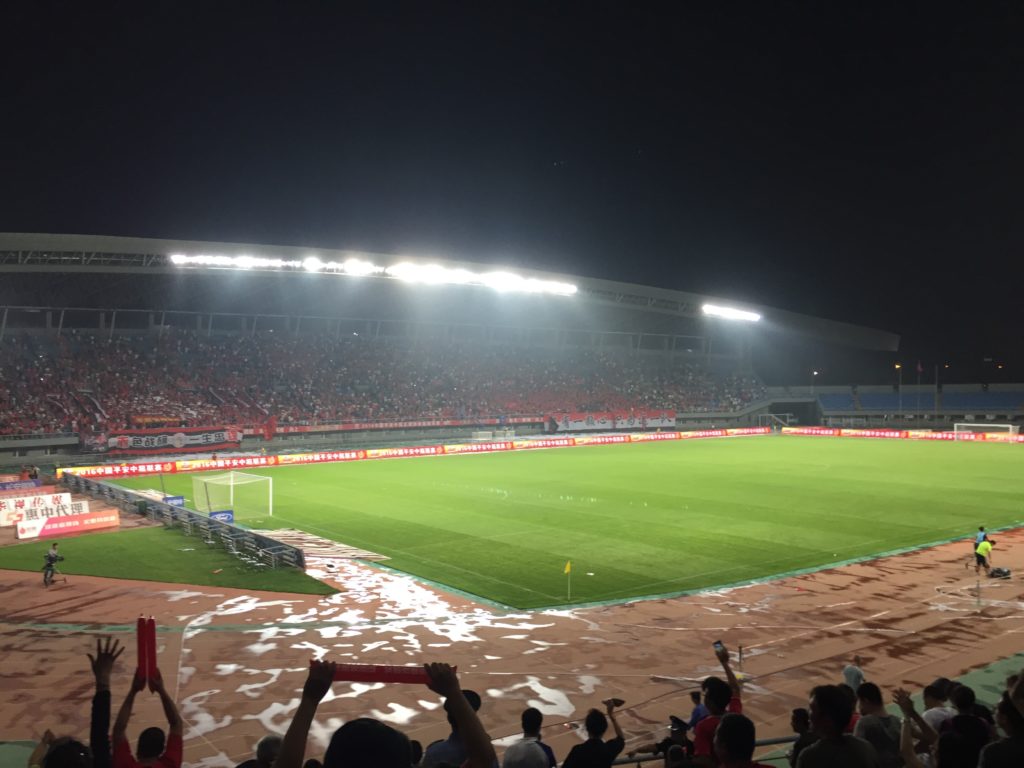 Being an avid football fan myself who attends football matches around the globe, the CSL was a fascinating opportunity for me.
Now living in China, this will become a regular occurrence. Having attended my first Chinese Super League game in 2016, an impressive 3-1 home win for the then struggling Liaoning Hongyun (辽宁宏运) against Sven Goran Eriksson's Shanghai SIPG (上海上港), I was keen to get a feel for more.
Moving to Beijing means I now have three "local teams" to choose from.
Two of those sides are currently in the top division and by virtue of distance to the ground Beijing Guo'an became my adopted Chinese side – just a 5 minute walk from my home. A proper local club for me to follow!
The Workers Stadium is known to be one of the more atmospheric in the country and so it proved on a warm September night when bottom of the table Yanbian Fude came to town for my first taste of action in Beijing.
I'd say I've attended not far off 500 matches in my lifetime but I'd never witnessed a 4-4 in the flesh!
An incredible, topsy-turvy game that saw Yanbian snatch a last minute equaliser having originally led 3-1.
What to expect of Football in China?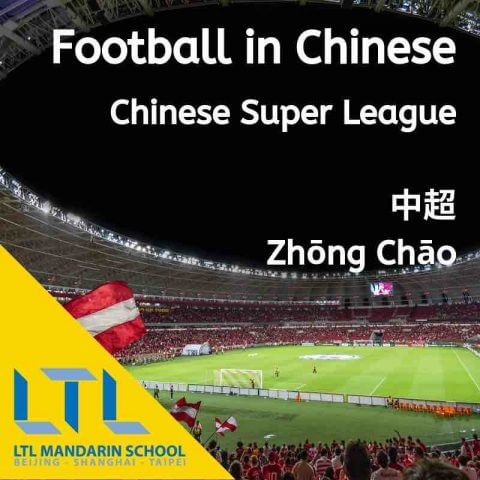 So, you are coming to China, you want to watch a CSL game? What should you expect. Let me try and help
Goals – it's easy to say after just witnessing a 4-4 draw but in general Chinese teams use their "foreign player allowance" on star strikers/midfielders leaving, generally, a fully Chinese back line. This can lead to some sizeable mismatches when the likes of Graziano Pelle, Demba Ba, Elkeson, Hulk and so on get a go at all Chinese backlines which often prove to be highly inexperienced.
Questionable Goalkeeping – As above, the foreign allowance is almost never used on a goalkeeper and the awareness and general quality of goalkeepers here isn't as good as us Europeans are used to. Be prepared for some eye opening moments from the goalkeepers!
Plenty of Noise – The fans here are fantastic in general. Loud and proud, flags flying, horns blowing, drums banging. The stadiums are generally surrounded by athletics tracks and are open to the public, which you'd think would kill an atmosphere but they don't let it. Fans are so passionate about football here and it shows on match day.
Touts/Scalpers everywhere – If it's match day and you don't have a ticket, don't worry! You will get approached left, right and centre by touts and scalpers. As a foreigner be aware of the prices. They may get bumped up due to the colour of your skin but in general you'll be OK and if you have a basic grasp of Chinese this will make your life much easier.
Entertainment – Whether I've watched on the TV or live, the games are rarely dull. The mismatches with strikers and defenders usually leads to goals. If there aren't goals there are normally plenty of cards to keep it interesting. Tactical awareness isn't so good here and it leads to some games being very easy on the eye, even if the quality isn't the best.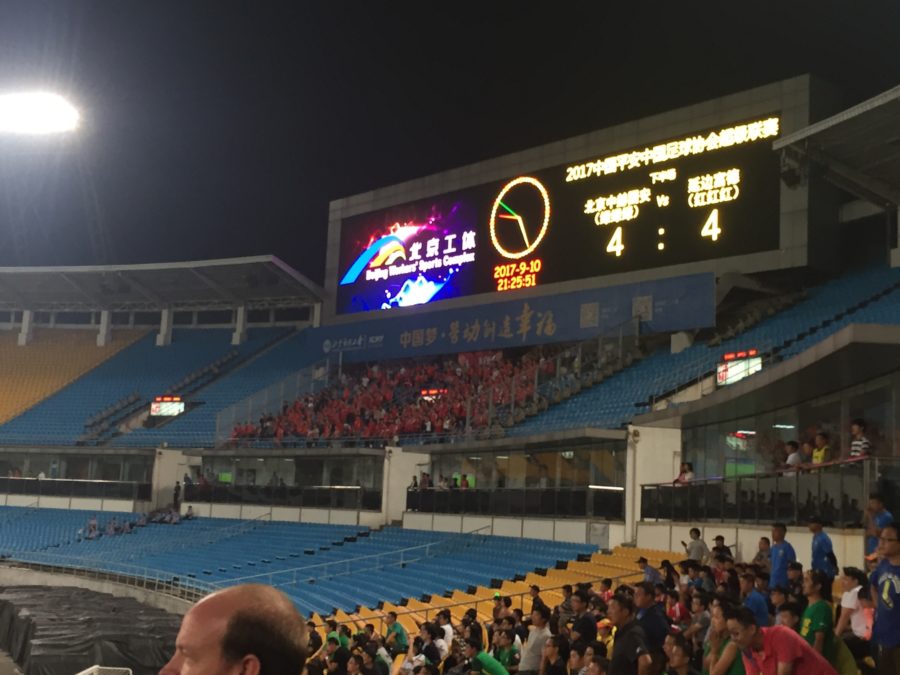 Guangzhou Evergrande have been the recent dominant force in Chinese football but times are changing.
There are challengers developing which are led by Shanghai SIPG who threw the gauntlet down with the signing of Chelsea star Oscar for big money, alongside fellow Brazilians Hulk and Elkeson.
The money relating to these moves always raises eyebrows and questions are raised over player ambitions.
This was especially true for Oscar who was seemingly in the peak of his career when he made the move.
That said, Oscar and his fellow accomplices at Shanghai SIPG went on to break the Guangzhou monopoly in 2018 taking China's top prize.
The two titans above actually met in the Asian Champions League knockout phase in September 2017 and produced one of the most memorable two legged affairs you'll ever come across.
In a nutshell:
Shanghai incredibly led 4-0 from the first leg and looked to have the job done before the 2nd leg ever began.
Not so… like true Champions, Guangzhou gave it everything and somehow won the reverse leg by the same score.
Sadly for them, after trading another goal each in extra time they lost on penalties. Perhaps a sign the tide may well turn in the near future?
Either way it was a great advert for football in China.
Football in China for Foreigners
As a general rule of thumb foreigners in China tend to go one of two ways: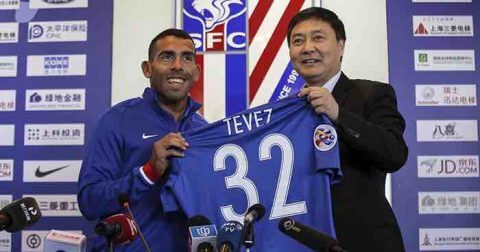 Absolute flop – A mixture of disliking the culture, the quality of football, standard of coaches and pitches means some players just don't get on with China despite the pay packet. An overwhelming example would be the (then) world's highest paid footballer – Carlos Tevez. Lauded when he signed for Shanghai Shenhua, his attitude has gone down poorly with Chinese fans having been spotted in Shanghai Disneyland one match-day when he was injured. Not liked in Shanghai, but certainly leaving China much richer!
Hero Status – A lot depends on the players attitude but many buy into China, the culture, the style of play and embrace it. Elkeson and Dejan Damjanovic are two examples of players who love the place and in return, are adored by their fans. The money is clearly the reason so many foreigners join, but if they show passion and fight for the shirt then they are welcomed with open arms.
It's a unique league. China has big plans for the National Team in years to come. Will it work, time will tell.
With the number of people in the country surely it's only a matter of time before they start making waves. Another World Cup (in 2018) has been a failure after a poor qualifying campaign but the aforementioned Xi Jinping has plans to change that.
The expansion of the World Cup will also help borderline nations like China, 2002 seems a long time ago.
Many things need to change in the meantime but it may only take one big name to inspire a whole new generation of talent. Watch this space.
Football in China – Our Experiences
Beijing Guo'an 北京国安 vs. Henan Jianye 河南建业
This story was contributed by LTL Director Andreas Laimboeck who went to watch Beijing Guo'an play.
A football game in Beijing starts with what all good things in Beijing start with: 羊肉串儿 (yáng ròu chuàn ér – lamb skewers) and 燕京 (yàn jīng) beer on Gongti Beilu next to the Beijing Guo'an Home Stadium: 工人体育场 (gōng rén tǐ yù chǎng – the Workers Stadium).
The waitress must have been the only person not wearing a green Guo'an shirt and there was certainly no one who dared to wear anything blue (that would be Henan Jianye's colour).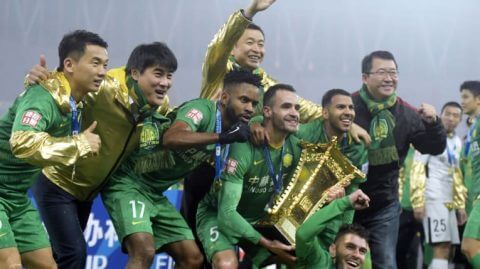 As a foreigner wearing a green shirt with the Guo'an logo, I was given a free pack of cigarettes and plenty of affection.
Having tickets for stand Number 5, where season ticket holders and hard core fans assemble did seem to give me plenty of street credit too.
Arriving in the stadium early is important, as every ticket does have a seat assigned to it, although actually trying to take this is considered very bad style.
Once inside, the atmosphere is quite heated and everyone seems to be 老北京 (lǎo běi jīng – an old Beijinger). As the stadium fills, signs with how to swear at the Henanese are held up: 骗子 (piàn zǐ – liars/cheaters) comes up a lot, but the overriding theme of the night is : 偷井盖儿的贼 (tōu jǐng gài ér de zéi – stealing manhole covers thieves).
I am told there have been some recent reports in Beijing about gangs from Henan stealing manhole covers and selling them as scrap metal – a not very popular activity with the local Beijing population that should not go unpunished.
Time for Kick Off!
Before the game the national anthem is played, probably the only two minutes of the evening where a person from Henan would have felt comfortable in the stadium.
Despite the manhole cover issue they are still Chinese after all.
The game starts on time at 19:30 and Guo'an quickly open the scoring, after which for the first and only time I actually heard a cheer I would be used to from Europe: 国安必胜 (guó ān bì shèng – Guo'an must win).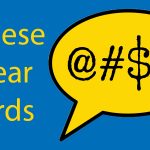 55 Chinese Swear Words 🤬 Curse Words in Mandarin You Should Know
Chinese Swear Words – when you're learning a language, you don't just need to learn how to talk about the weather and how to describe your outfit.
Then it's straight back to swearing at the Henanese:抓贼抓贼,偷井盖儿的贼 (zhuā zéi zhuā zéi ,tōu jǐng gài ér de zéi – catch the thief, catch the thief, the manhole cover stealing thief). After about 10 minutes three people wearing black shirts were identified as probably being from Henan and suddenly found 30,000 people pointing and screaming at them – they left the stadium in a rather speedy manner.
Half Time – Beijing Guo'an lead
By halftime Beijing are up 1:0 and the mood is good. In general the fans seem to be slightly less concerned with the game though and more preoccupied with having their own fun.
People coming up with imaginative ways of shouting abuse at the Henanese (there don't seem to actually be in the stadium) seem to get as much appreciation as the goalkeeper for making a good save.
Full Time – Comfortable win for the hosts
Beijing won the game 3:0. With some 40,000 people leaving the stadium, one can hear the best songs and swearwords of the evening being sung throughout the Sanlitun area.
Despite all the swearing and abuse, it was interesting to see that Beijing football fans appear much less physically aggressive than in most other countries.
There were no fights and even the most hardcore supporters seemed to actually be mainly university students or recent graduates, working as doctors and lawyers during the daytime and letting off a bit of steam on a Saturday evening.
While walking home I start to think it may not have only been about the Henanese and lost manhole covers after all, but just as much about a few other issues that one is not allowed to scream about as loudly in China.
Beijing Guo'an 北京国安 vs. Shanghai Shen Hua 上海申花
This story was contributed by LTL student Anastasia Lau from Bermuda
Friday night started with fellow classmates and friends to grab and quick bite and celebrate the start of the weekend.
But this Friday was not like any other I've experienced in Beijing because this Friday I was heading to my very first Chinese football match.
After a quick bite to eat and a couple of the usual Qing Daos we were ready to cheer on Guo'an.
However, we were soon informed that beer was not allowed in the stadium so cans were quickly bought at a near by convenience store and tucked away in places I hoped would not be searched.
That said, with a cold beer smuggled away I knew it was going to be a good night.
After living in the UK for 3 years I thought I had seen it all in terms of football fans: the cheers, the jerseys and general rowdiness. However, upon arriving early to the Workers Stadium I quickly realised that Chinese football is in a league of its own.
As we walked towards the Stadium the group was quickly approached by local street sellers displaying their best Beijing Guo'an merchandise. But if you couldn't tell from the merchandise that you were in Guo'an territory then the thousands of enthusiastic fans dressed head to toe in green quickly gave away the fan favourite.
After successfully passing the security checks and the looming glare of the riot police I soon realised that assigned seating was a myth in the Workers Stadium. Luckily we sent ahead fellow Guo'an fans to secure enough seats in our general section. As the players warmed up I could feel the anticipation of the crowd rising and as soon as the game began the crowd erupted in cheers.
Time for Kick Off in Beijing!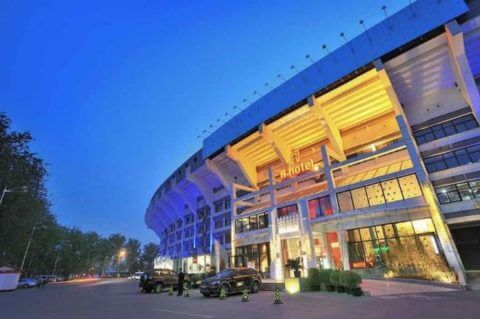 To say that Guo'an fans are supportive of their team is an understatement, the stadium looked as thought there had been an explosion of green paint and somehow everyone seemed to know all the cheers.
Whether they were cheering on their champions or using such colourful insults that even I couldn't help but blushing. Clearly these fans were serious.
Although the first half of the game was relatively uneventful in terms of the actual football, this didn't stop the fans from yelling at everyone from the Shanghai players to the referee to their own players!
After an admittedly slow first half, I was then further taken by surprise when the 'half time show' took to the pitch. A few dozen elderly Chinese then 'ran' to pitch and displayed their best dance and kite skills.
At least there was no possibility of a Janet Jackson Superbowl scandal with the performers smartly dressed in matching track suits.
Finally the second half began and the game began to pick up momentum. Soon Guo'an scored and the stadium (including myself) erupted into cheers as 50,000 fans jumped up and down and threw streamers and confetti into the air.
Then soon after Guo'an scored again which demanded a similar response from the excitable crowd. However, Shanghai responded with a goal of their own, given the colourful language earlier I was surprised by the silence of the crowd as the small pocket of Shanghai fans celebrated in their own protected section. When they then scored again I began to feel as anxious as my fellow Guo'an fans.
However, Guo'an's talent pulled through in the end and scored a third and final goal with only minutes left in the game.
The crowd of course erupted with cheers and as the final seconds of the match passed scarves were raised over heads and the streaming confetti thrown in the air as the players addressed the fans.
In the end I not only experienced a good match but also learnt several new phrases that would impress any Chinese taxi driver and saw a less serious side to usual hustle and bustle of Beijing.
Football in China // FAQ's
How do you say Football in Chinese?

Football in Chinese is 足球 (zú qiú)
What is the best Chinese football team?

In recent history Guangzhou Evergrande have dominated the Chinese Super League with only Shanghai SIPG breaking the deadlock in 2018.
When did China last qualify for the World Cup?

Despite China's love for football, China last qualified for the World Cup in 2002.

Since then, they have struggled to come close to reaching footballs ultimate tournament.
How do you say World Cup in Chinese?

World Cup in Chinese is 世界杯 shìjiè bēi.
What is Cristiano Ronaldo's Chinese name?
What is Lionel Messi's Chinese name?

Lionel Messi's Chinese name is 梅西 Méi xī.
Want more from LTL?
If you wish to hear more from LTL Mandarin School why not join our mailing list.
We give plenty of handy information on learning Chinese, useful apps to learn the language and everything going on at our LTL schools!
Sign up below and become part of our ever growing community!