How To Get A Taxi in China 🚖 Keywords and Things To Know
Taxi in China 🚕 Your Super Simple Guide
Travelling to China or going to be here for the long term to study or intern?
Whether you are here for a short visit or for the long haul, learning about how to get a taxi in China is a must.
They're cheap, convenient, and a must for the bigger cities.
Or, indeed, smaller cities or in the countryside where the public transportation system isn't so good.
Either way, you'll need a taxi at some point in your time in China. So it's important to get clued up on the best ways to get a taxi in China, as well as picking up some taxi vocab.
Taxi in China – How To Do It

Taxi in China – Best Taxi App

Taxi in China – Costs

Taxi in China – Chauffeur Service?

Taxi in China – FAQ's
VIDEO ALERT – Get a taxi in China like a Marine and Campbell!
Getting a Taxi in China: How To Do It
The best way to get a taxi in China is through China's version of Uber, the DiDi app (see below).
Otherwise, you can get a taxi just like anywhere in the world.
Going to the main road, sticking your hand out and waiting for a free one to pass by.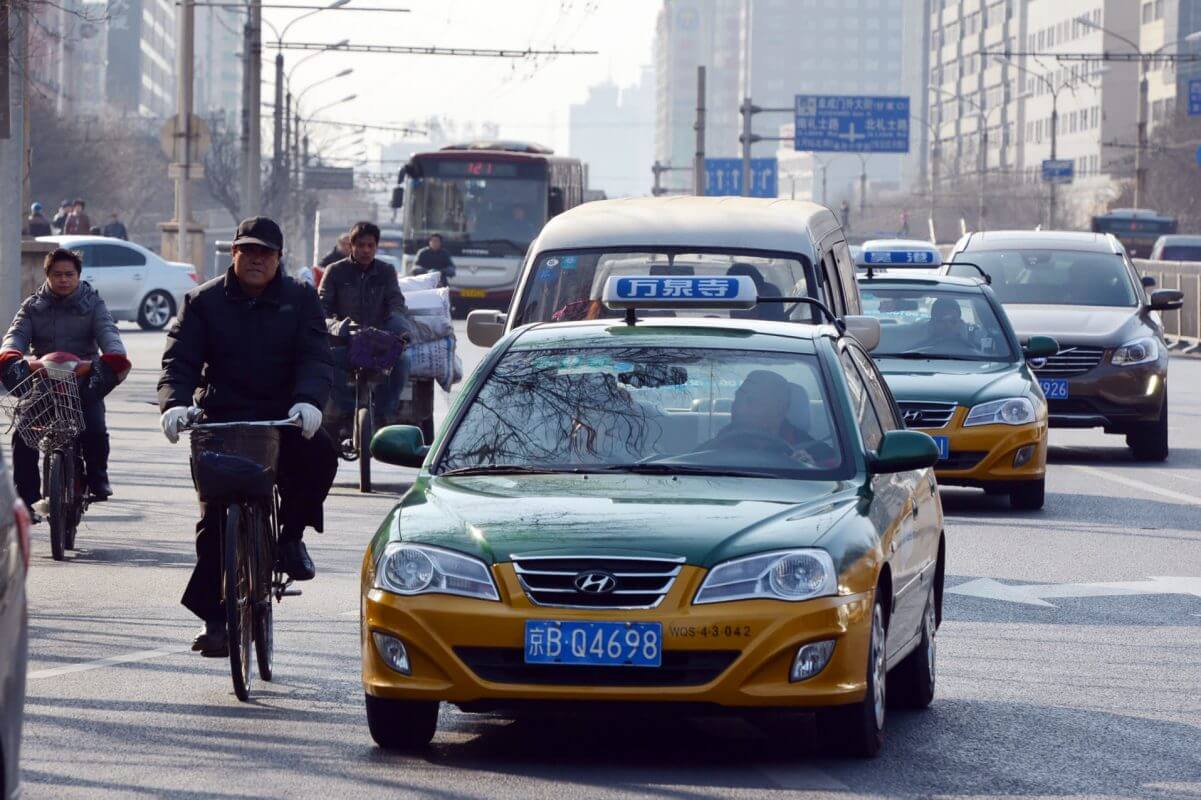 Depending on the place, time of day, and whether the taxi driver wants to pick up a foreigner or not – you may be waiting a while.
Train stations and other major areas such as airports will have designated taxi pick up spots.
Make sure to use these, and not get caught by one of the many Chinese people shouting 'taxi taxi' at you as you haul your luggage along. Chances are, you'll pay way over the odds for this!
Once you get into your cab, you're in for your next challenge.
Most taxi drivers in China won't speak English. In fact, a good proportion of them don't speak standard Mandarin Chinese, and you'll find yourself caught up in a heavy dialect version of Mandarin.
USEFUL HACK – Make sure to have a printed copy (in big letters) of the place you're trying to get to, written both in characters and pinyin.
If it's a hotel, having the name of the hotel helps too.
Wanting to give Mandarin a go? Here's a list of basic taxi vocabulary you'll need whilst getting a taxi in China.
Must Know Taxi Vocabulary
Taxi – chū zū chē 出租车
Take a taxi – dǎ chē 打车
How much longer? – Hái yào duōjiǔ? 还要多久?
How much is it? – duōshǎo qián 多少钱?
Please stop here – qǐng tíng zài zhèli 请停在这里
Take me to this hotel – qǐng sòng wǒ dào zhèi jiā fàndiàn 请送我到这家饭店
Please take me to this address – qǐng sòng wǒ dào zhèi ge dìzhǐ 请送我到这个地址
Drive slowly – màn diǎn kāi chē 慢点开车
I want to get off – wǒ yào xià chē le 我要下车了
Let me off – ràng wǒ xià chē 让我下车
Getting a Taxi in China: The Best App
China's version of Uber, DiDi Dache 滴滴打车, won the battle against Uber long ago.
DiDi is now firmly established as the go-to service for getting a taxi in China.
And, frankly, Uber could learn a thing or two from this service. It's definitely a must-have app for China.
It's fast, convenient, and damn cheap. Plus, it's also available in English!
DiDi released its revolutionary app in English (in 2018) which you can download from your own app store.
If you download it from a Chinese app store you'll only be able to access the Chinese version. Great practice for your Chinese.
However, do be warned that DiDi drivers have an annoying habit of calling you to check your location or to tell you they're on their way, or for whatever reason.
Maybe they're bored or enjoy making foreigners feel uncomfortable.
This is the pain of many an expat in China. Anyway, do expect a call from your driver.
Don't worry though, we've already got your back covered with this guide for taking phone calls in Chinese.
To avoid this though, you can send your driver a message using the messaging app letting them know you are at your location. You can send the message in English and the app will translate it for you. Practical stuff!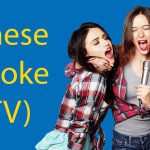 Chinese Karaoke (KTV) 🎙 The Guide to China's Famous Pastime
Chinese Karaoke, also known as KTV, are decorated to be fancy, glitzy, and over the top! Follow our beginners guide to KTV and become an expert in no time.
Using DiDi
Once you open the app, you can see how many cars are around and how long it will take you to to get your car.
From the minute a car is assigned to you, you can see how far away it is and what route it's taking.
You can also see what the traffic is like, from its green – orange-red colour code system.
You will be able to see who the driver is, what his star rating is, and what car he is driving – as well as his registration plate.
Using the DiDi app service you can see how much you will be charged as you complete your journey, so there are no unexpected surprises at the end!
The DiDi app has been under fire in China for a reoccurrence of crimes committed due to people getting in a DiDI, the most recent one occurred with a woman who was raped and killed.
Because of this, DiDi suspended its cheaper 'carpool' service.
Now, the app has installed new features including extra safety measures. There is now an option to add an emergency contact, alert people once you get into a DiDi, and a one-press emergency button that contacts the police.
The Ultimate Guide to Getting a Haircut in China 💇🏻‍♂️ Key Words & Phrases
Everything You Need to Know About Getting the Chop in China 💇🏾‍♀️ We know from experience, something that scares our students the most is the dreaded trip to the hairdressers! One mistranslation and it's game over… Haircuts in China -…
Getting a Taxi in China: Costs
A taxi in China is pretty cheap.
Depending on where you are and how far you go, a taxi cost estimate shouldn't be more than a few dollars/pounds. In bigger cities, a taxi in China can be slightly more expensive.
FOR EXAMPLE – Getting a taxi in Beijing or Shanghai is more expensive than getting a taxi in a smaller city or in the countryside.
Sometimes, getting a taxi in China in some cities has a fixed price.
For example in Dandong in the North East of China, you pay a fixed fee of 10 RMB (1.5 USD / 1 GBP) per taxi ride anywhere in the city, no matter how far you go (unless you go outside of the city).
Otherwise, taxis usually run on meters. Even in a big city centre like Beijing, you won't pay more than 200 RMB for a taxi journey that's about an hour long.
That comes to roughly 20GBP (there or thereabouts considering exchange rate of course).
If you're not using DiDi, make sure you get a meter taxi.
If you have to get into a black cab without a meter, make sure a price is agreed on beforehand.
Otherwise, you'll probably have a nasty surprise waiting for you at the end, and the taxi cost estimate is way more than you presumed.
Just like all over the world, if you look foreign, a taxi driver will probably try and get as much money from you as possible and that low taxi cost estimate goes way up.
Getting a Taxi in China: The Chauffeur Service
One of the newer features to hit DiDi is the chauffeur service.
Whilst not available in every city just yet, it's probably one of the most revolutionary features of the app – although not yet widely known about or used.
At least, not amongst the expat community – since expats don't tend to have their own cars in China.
Despite probably not hearing about it, you've probably seen the DiDi chauffeur drivers around. Especially if you live in a big city like Beijing or Shanghai and frequent bar areas.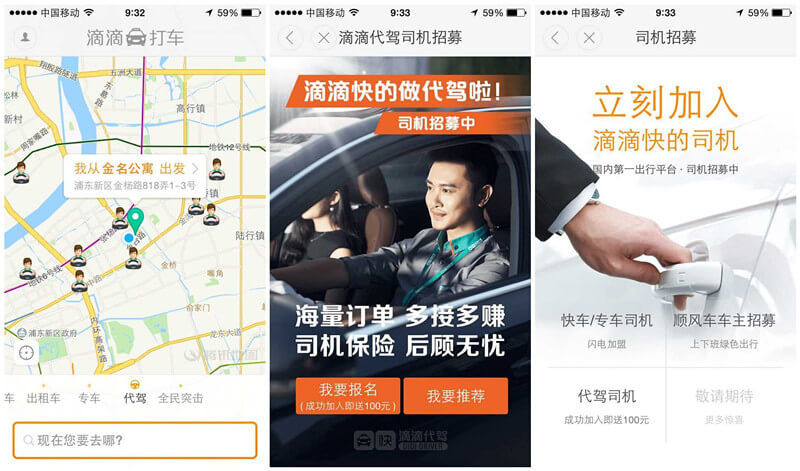 The service works like this. You go out and have a few drinks, but you've driven to the bar.
Or maybe you're tired after a day of work. Maybe you have things to do, or even just don't feel like driving home.
No problem. Go to the chauffeur option on the DiDi app, and, just like you would do a taxi, find yourself a chauffeur driver nearby.
These chauffeur drivers carry around a portable small scooter and are usually dressed in a grey uniform with the blue DiDi logo.
You call a chauffeur out to your location, and the DiDi chauffeur will drive your car home for you, whilst you chill in the back!
They are usually equipped with gloves, a blanket to put over the driving seat to make it clean, and other cleaning products to make sure to not harm your car.
No more need for the designated driver!
There we have it, the complete guide to getting a Taxi in China and the tools to do so! We hope this was useful, drop us a comment below if you have any questions or comments!
Hello in Chinese 👋🏽 20 Ways To Greet Someone in Mandarin
So you think you know how to say hello in Chinese? It's easy, isn't it? But did you know there are at least 20 ways to greet someone in Mandarin?
Taxi in China – FAQ's
How do you say Taxi in Chinese?
What is the #1 Taxi App in China?

The app is called DiDi. DiDi is now firmly established as the go-to service for getting a taxi in China.

It is also embedded into WeChat so you don't even need to download the app, but be warned, the WeChat version is all in Chinese.
Is DiDi available in English?

Yes both English and Chinese versions can be downloaded on your app stores.
How do you say "How much is it" in Chinese?

How much is it? – duōshǎo qián 多少钱?
How do you say "Please stop here" in Chinese?

Please stop here – qǐng tíng zài zhèli 请停在这里
How do you say "Pleasetake me to this address" in Chinese?

Please take me to this address – qǐng sòng wǒ dào zhèi ge dìzhǐ 请送我到这个地址
How do you say "Please drive more slowly" in Chinese?

Drive slowly – màn diǎn kāi chē 慢点开车
Want more from LTL?
If you wish to hear more from LTL Mandarin School why not join our mailing list.
We give plenty of handy information on learning Chinese, useful apps to learn the language and everything going on at our LTL schools! Sign up below and become part of our ever-growing community!