Alternative Things to do in Beijing 💎 8 Hidden Gems
Alternative Things to do in Beijing – LTL's Favourite Hidden Gems
Great Wall, Forbidden City… yea we get it! Every travel guide out there says the same thing. Yes indeed, they are sublime sights but you want something different don't you? Excellent, because this is the TRUE alternative things to do in Beijing guide!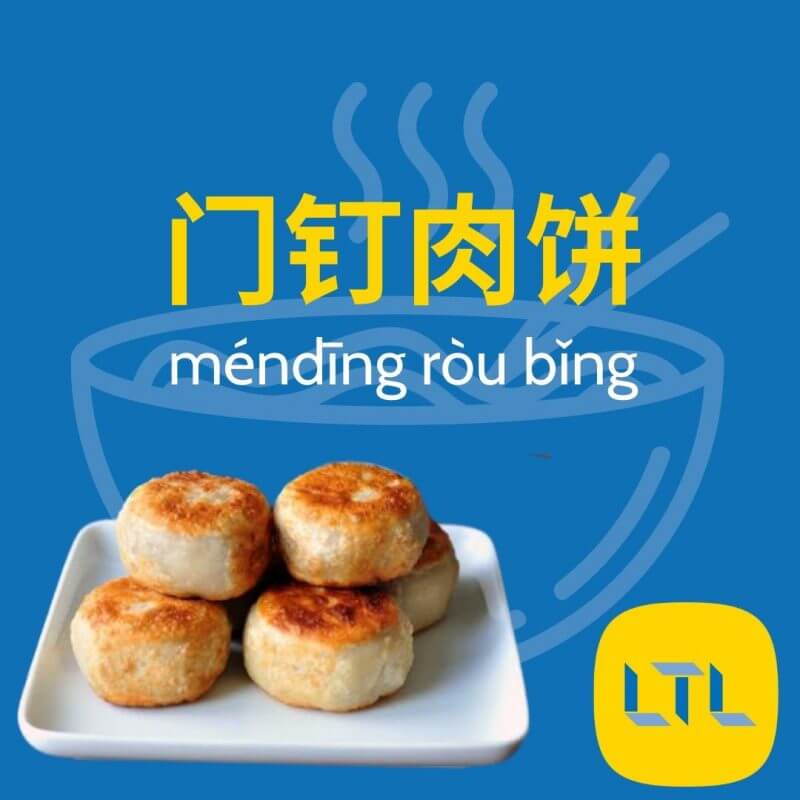 Beijing is a huge city with a plethora of things to do. Many "Beijingers" claim there are not enough hours in the day to live in Beijing and it's statement that many foreigners can relate to.
The city boasts well over 20 million people and is growing everyday.
Most people are familiar with the common things to do in Beijing.
Visiting the ever popular Sanlitun for a day of shopping, going for a trek on the Great Wall or visiting the Forbidden City.
These are all activities we wholeheartedly recommend, but what about things off the beaten track
Alternative Things to do in Beijing – Discover Baijiu

Alternative Things to do in Beijing – Like Friends?

Alternative Things to do in Beijing – Door Nail Meat Bun

Alternative Things to do in Beijing – A Museum, for Tap Water

Alternative Things to do in Beijing – Camera Stylo

Alternative Things to do in Beijing – Liulichang Ancient Culture Street

Alternative Things to do in Beijing – Ice Skate on a Frozen Lake (not recommended in Summer)

Alternative Things to do in Beijing – BONUS CHALLENGE
Capital Spirits – Aka ' The Baijiu Bar'
Nestled in their new location inside Longfusi compound, near Dongsi Subway Station, Capital Spirits is Beijing's first (and only) speciality 'Baijiu' bar.
Just in case you don't know what Baijiu is yet, it translates literally as 'White Spirit' into English and can best be described as notoriously strong traditional Chinese alcohol.
The staff can give you a detailed introduction to different Baijiu's from all corners of China, as well skilfully mixing them into cocktails to make it (well in our opinion) a little smoother to drink.
A current favourite cocktail is their 'Mala'rita, a twist on a Margarita with Sichuan peppercorns added into the mix. Visiting Capital Spirits Baijiu Bar is actually one of our favourite student events in Beijing.
Address: Block E No.7, First Floor, Longfu Building, No.95 Longfusi Street, Dongcheng District
Closest Subway: Line 5 Dongsi station, Exit E
Central Perk – Beijing's 'Friends' Cafe
Beijing's very own replica of 'Central Perk' is located in Chaowai Soho. The cosy cafe includes all the characters' regular seats, as well as their offering their favourite cakes and pastries.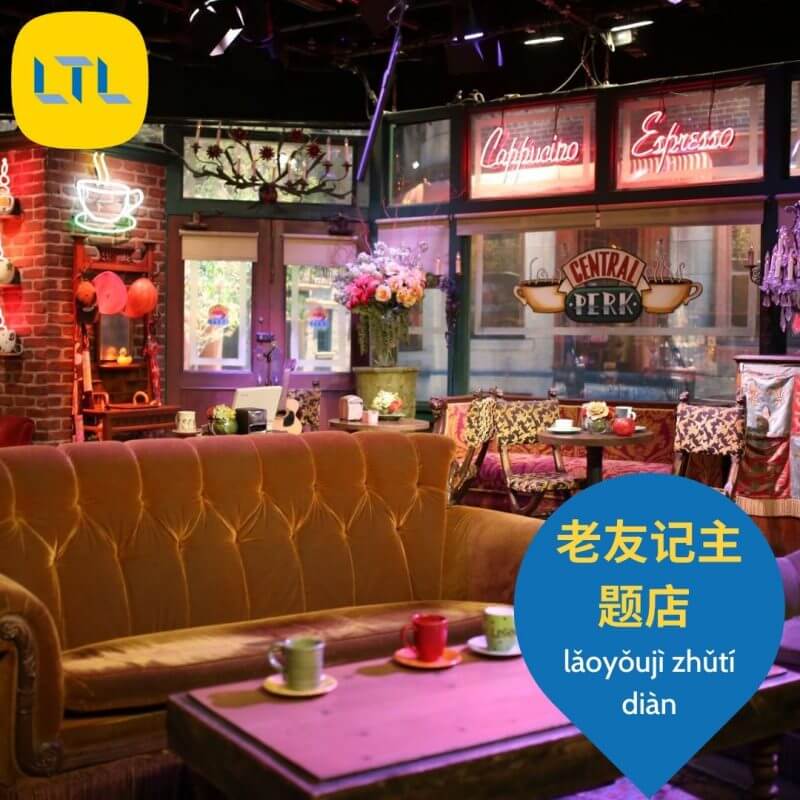 The Chinese name of the cafe is 老友记主题店 lǎoyǒujì zhǔtí diàn.
Re-runs of friends are playing on loop on a TV in front of the famous sofa, Pheobe's famous 'Smelly Cat'- playing guitar is propped up in a corner, and if you head through into the backroom you'll find yourself taking a shortcut to Joey and Chandler's living room, complete with fußball table.
Down to the details Central Perk is a fun and pretty accurate copy of the TV show cafe, a great place to grab a coffee, cake, and relax on an afternoon.
We also recently posted a popular blog topic on translating Friends from English to Chinese.
Address: 0616, Bldg A, Chaowai SOHO, Chaoyang District
Closest Subway: Dongdaqiao Exit D2 (Line 6)
Mending Rou Bing (Doornail Meat Bun)
This oily, meaty parcel of beef wrapped inside a thick pastry is one of Beijing's Muslim speciality dishes.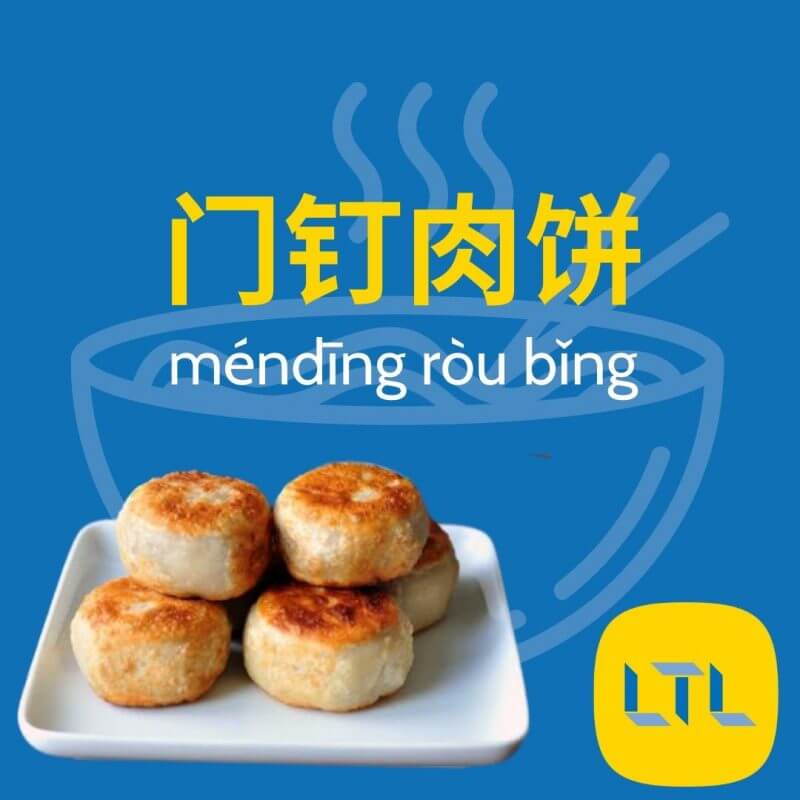 The interestingly named Doornail Meat Bun (门钉肉饼 méndīng ròu bǐng) has origins which are rumoured to go back to late Qing Dynasty Empress Dowager Cixi's kitchen.
We'd recommend that you'd go for a typical 'Liangcai' as a cold side-dish and wash it down with a Beijing-speciality soft drink, Arctic Ocean ('Beibingyang'), which tastes a bit like a cross between Fanta and Orangina.
Our favourite restaurants to grab a Doornail Meat bun around town are:
Lao Beijing Mending Meat Pie (174 Gulou W St, ShiChaHai, Xicheng District)
Baoruimending Meat Pie Shop (52-9 Chaoyangmen N. Alley, Dongcheng District)
Longsheng Peace Mending Meat Pie Shop (65 Tieshu Byway, Xicheng District)
Beijing Museum of Tap Water
Here is a genuinely proper alternative thing to do in Beijing!
A museum, dedicated towards tap water! Do not scratch your eyes!
Beijing's Museum of Tap Water (自来水博物馆 zìláishuǐ bówùguǎn) is a landmark to the feat of supplying safe, running water to the city's many millions of inhabitants.
It is located on the original site of Beijing's first water plant, built in 1908.
The exhibits inside the museum offers a history of China's water systems, as well as an explanation of Beijing's modern-day water treatment process.
After perusing the exhibitions you can wander out into the courtyard to take a look at water pumps and pipes from a bygone era.
A quiet way to spend an afternoon, we'd definitely recommend this museum as the perfect way to escape the crowds on even the busiest of China's holidays.
Address: No.6 Courtyard , Dongzhimen Beidajie, Dongcheng District
Closest Subway: Dongzhimen Exit B (Line 2)
Camera Stylo
Despite being located just off the main road Dongshisitiao, Camero Stylo's exterior is easy to overlook.
A quiet cafe/bar decorated with film posters and memorabilia downstairs, public and private screening rooms one floor up, and combination of the two on the rooftop level (weather and pollution dependent).
Screening works from inside China and overseas, Camera Stylo is Beijing's window to independent cinema.
It hosts film nights, interactive cinema events, as well as the occasional stand-up comedy night most nights of the week. Definitely worth a look in for a thought-provoking evening or just a quiet drink.
Address: 64 Dongsishiyitiao, Dongcheng District
Closest Subway: Zhangzizhonglu Exit B (Line 5)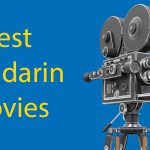 10 Best Mandarin Movies of All Time (2023 Update)
Discover the Best Mandarin Movies. In a world of endless superhero movies and repetetive reboots, it's time to try something new. Let's delve into the world of Mandarin language movies.
Liulichang Ancient Culture Street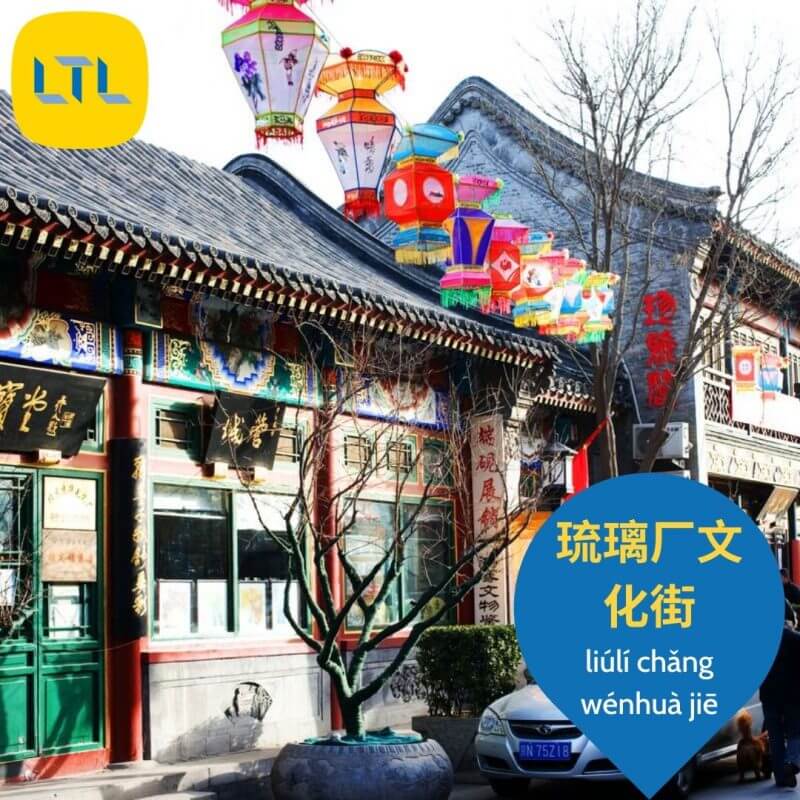 A bustling shopping street, Liulichang Street (琉璃厂文化街 liúlí chǎng wénhuà jiē) hosts an eclectic collection of small antique shops with specialities in different areas.
The street itself has been restored to mirror traditional Chinese architecture.
You can find just about anything China has on offer: calligraphy brushes, Mahjong sets, traditional Chinese paintings, jade jewellery, the list goes on.
It's a great place to get all your souvenir copies, as well as genuine Chinese antiques. 
Address: Hepingmenwai, Xicheng District
Closest Subway: A short walk or cycle from Hepingmen (Line 2)
Ice-Skating on Houhai
Beat your Beijing wintery blues by embracing the freezing temperatures and taking to one of the city's picturesque frozen lakes, such as Houhai (Shichahai Ice Rink).
Go with a group of friends and see how many different ways you can attempt to cross the lake's surface: ice-skating, ice-sled, bumper car.
If you're brave enough you could take an icey dip and jump into one of the not-quite-frozen corners.
Address: Houhai, Xicheng District
Closest Subway: Shichahai Exit A2 (Line 8)
LTL Homework: Take a Stroll through Beijing's Hutong Streets
Despite central Beijing's grid layout, navigating this capital city can sometimes be a bit of a challenge.
In between the N-S/E-W lattice of main roads is one of Beijing's most characteristic features: 'Hutongs' or alleyways.
Aside from some of the most famous re-vamped Hutong Streets, such as Nanluoguxiang and Wudaoying Hutong, taking a wander through any section of these narrow streets can provide you with a whole host of new things to do in Beijing.
Behind the closed Hutong doorways and windows, there are hidden away community spaces, art centres, bars, cafes, music venues, museums, occasional Cultural Revolution-era graffiti (so we've heard), you name it.
Locations we'd recommend taking a wander:
Dongcheng District: Around Gulou, Yonghegong & Beixinqiao, Dongsi & Dengshikou

Xicheng District: Xisi, Qianmen, Xinjiekou
There we have it. Eight, great alternative things to do in Beijing – see, it's far from just about the Summer Palace and the Great Wall!
Do you know anymore alternate things to do in Beijing? Drop us a comment below with your choices!
Alternative Things to Do in Beijing – FAQ's
What can you do in Beijing in winter?

One of the best things do in winter in Beijing is to go ice skating on Houhai.
Where is the Friends Cafe in Beijing?

The Friends Cafe is located in Chaowai Soho, Room 0616, Building A,, Chaoyang District
Where is the Tap Water Museum?

The address for the Tap Water Museum is No.6 Courtyard , Dongzhimen Beidajie, Dongcheng District.
Where can I go ice skating in Beijing?

You can go ice skating at Houhai, although it is only open during the coldest winter months, usually December to mid February.
Want more from LTL?
If you wish to hear more from LTL Mandarin School why not join our mailing list.
We give plenty of handy information on learning Chinese, useful apps to learn the language and everything going on at our LTL schools!
Sign up below and become part of our ever growing community!