Learning Chinese on your Phone; Manga Mandarin Review (also M Mandarin 漫中文)
Learn Mandarin with Chinese Comics – Manga Mandarin / M Mandarin
(2023 Update)
Quick Rating: 8.5/10
Ease of Use: Takes a little bit of getting used to using, but fairly easy after that.
Fun factor: Lots of fun, especially for those interested in Manga.
Value for Money: Fairly good
Cost: Varies with different options and plans.
Our latest review has been kindly written for us by Nicholas Dahlhoff from All Language Resources.
Manga Mandarin (M Mandarin) uses comics as a way to teach Chinese. With various comics at different difficulty levels, it's easy to find something interesting to read.
The addition of audio recordings, the ability to look up and save words, and grammar videos make it a really interesting platform.
#1 Manga Mandarin Review // Key Stats

#2 Manga Mandarin Review // Pros & Cons

#3 Manga Mandarin Review // Cost

#4 Manga Mandarin Review // Introduction

#5 Manga Mandarin Review // Getting Started

#6 Manga Mandarin Review // Inside the Comics

#7 Manga Mandarin Review // Extra Features

#8 Manga Mandarin Review // Subscription (costs)

#9 Manga Mandarin Review // Conclusion

#10 Manga Mandarin Review // Where to Download
---
Manga Mandarin Review // Key Info
| | |
| --- | --- |
| Name | Manga Mandarin (M Mandarin), 漫中文 |
| Website | https://www.funnybean.com/ |
| Description | "Learn Chinese via Comics. The first platform that uses serial manga to help with the HSK test." (M Mandarin) |
| Languages | 1 (Chinese) |
| Price | $5.99 – $64.99 |
Manga Mandarin Review // Pros & Cons
| M Mandarin Pros | M Mandarin Cons |
| --- | --- |
| 1. Extensive features. | 1. You won't be able to read full stories without paying some money. Each story has some free sections for you to read but also some blocked content. |
| 2. Learn conversational-style Mandarin. | 2. Interface could be better. |
| 3. Sorted by HSK level. | 3. Not updated regularly enough. |
Manga Mandarin Review // Cost
| M Mandarin Subscription | Cost (USD) |
| --- | --- |
| Monthly | $5.99 |
| Quarterly | $12.99 |
| Yearly | $64.99 |
Manga Mandarin Review // Introduction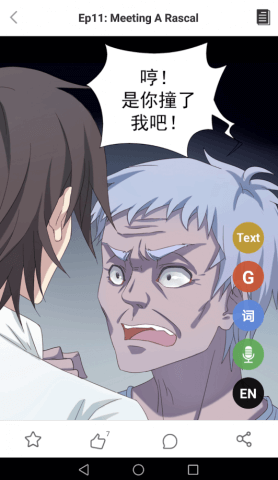 Many people suggest reading manga as a great way to study Chinese.
While I've never been particularly interested in reading comics, I can definitely see where they're coming from.
Manga has several advantages over traditional books or articles for learning Chinese, such as…
Conversational writing style
Lots of images
Interesting plots
While I've seen manga as a recommended way to study the language, I've often found it to be a bit too impractical for me. This is primarily because…
It's often inconvenient to read online
Difficulty looking up unknown characters
No audio or grammar
Manga Mandarin aims to utilize the benefits of studying Chinese through reading manga while getting rid of the impracticalities, as well as adding other benefits.
Let's see how well Manga Mandarin does.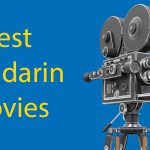 10 Best Mandarin Movies of All Time (2023 Update)
Discover the Best Mandarin Movies. In a world of endless superhero movies and repetetive reboots, it's time to try something new. Let's delve into the world of Mandarin language movies.
Manga Mandarin Review // Getting Started
Pretty easy – but slightly confusing.
You'll find that there is quite a lot going on at Manga Mandarin and you may not immediately know where to go and what to do.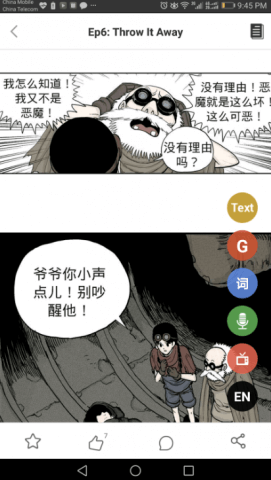 Luckily, they provide a User Guide that walks you through the main features.
These features appear to be quite extensive. We'll get into them more a bit later, but some of the main ones include:
Level label – Comics are marked with a label that marks the suitable HSK level. This obviously makes things much easier to find appropriate content and it goes from level 0 up to level 6.
Switch language – Clicking this button lets you quickly switch between English and Chinese text.
Pronunciation and explanation – By clicking the dialog box, you'll hear the audio spoken by a voice actor. Clicking the box twice will show you pinyin and translations.
Dubbing – You can record yourself voicing the lines.
Grammar video – After some of the lessons, there is a short video explaining important grammar or language points that you may have come across.
Grammar – If you click the grammar button, you'll find a brief description of the main grammar points found in the episode, as well as some example sentences.
Even after going through the user guide, you may not be sure exactly where to go.
On the main page, you'll see recently updated Chinese comics at the top and the most popular ones below that.
The problem is that the content is quite confusing to sort through. Clicking on the Category button makes things a bit easier.
At the top of the page, you'll see options to sort by difficulty level or theme. Each Mandarin comic is labelled by HSK level.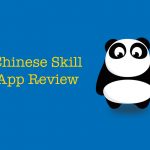 ChineseSkill App // Rated and Reviewed
ChineseSkill (Yay or Nay) // Rated and Reviewed by LTL; 2023 Update ChineseSkill Review: 9.5/10An app offering comprehensive HSK lists, vocab sheets, flashcards, games and listening exercises all hit great depths – it's one thats hard to flaw. It really…
Manga Mandarin Review // Inside the Comics
黑光世界 – The Dark Light World
This Chinese comic is listed as HSK 4. There are currently 10 episodes that you can read through (they're fairly short).
I actually read the first five episodes a few months back but at that time, there was nothing more of this story to read.
Similarly, every story that I read a bit of and began to get interested in, I'd hit a point where there was nothing more of it for me to read and new episodes were released too slowly, that I ended up getting bored and sort of forgot about the app.
Obviously, the longer Manga Mandarin is around, the less this will be a problem as the content will build up.
But, as the app is still fairly new, this is a potential annoyance that you'll face.
Reading through these Chinese comics are really enjoyable. The illustrations are fantastic.
If you click on a word bubble, you'll hear the audio of the text. Manga Mandarin did an excellent job here of finding skilled voice actors.
The quality of the recordings really makes the experience so much better.
Double-clicking on a word bubble shows the characters, pinyin, and translation.
You can also play the audio at a turtle's pace, save the sentence for later, or click on an individual word to listen to it, see the definition, or it save for later. These are really useful features to have.
While there are occasional instances where I've tapped several times and had response problems, for the most part, tapping once vs tapping twice is rather effective.
One annoying thing that hopefully gets fixed in the near future is the presence of various buttons on the right-hand side of the screen.
The vast majority of these, you won't need to click on often at all. So, more than anything, they just get in the way.
As you read, you'll also find little tips and grammar icons that, when clicked on, will give you more information about how the language is used in that part of the dialogue. Another useful feature.
Each section isn't particularly long. It won't take more than a few minutes to read through.
At the bottom of the story, you'll find keywords and sometimes a short 2-3 minute video. These can be quite useful but aren't included in every section.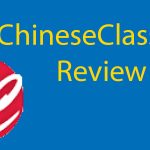 ChineseClass101 // Our Review and Verdict (for 2023)
A Guide to Using ChineseClass101; Rated and Reviewed, Will it Help You? ChinesePod101 Review: 7.5/10Love podcasts? This Chinese learning app might just be the one for you. ChineseClass101 is a great option for beginner to intermediate students who are looking…
Manga Mandarin Review // Extra Features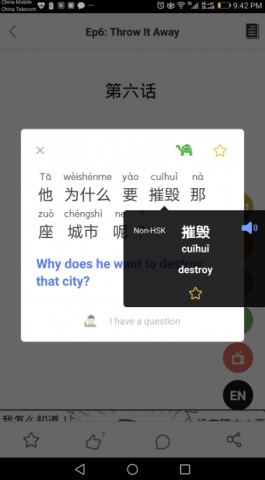 There are some extra features that some will enjoy and others will completely ignore.
Community – This section lets anyone ask a question or post whatever happens to be interesting to them. Ms. Bean, which is basically a representative of Manga Mandarin, will also ask questions.
Maan Chinese Videos – Here you'll find the videos that are also included in some of the lessons.
Not all of them are listed here but I'm sure it'll continue to grow.
Favourites – You'll find various sentences, grammar points, Chinese comics, and more that you saved while using the app in this section.
You won't be able to read full stories without paying some money. Each story has some free sections for you to read but also some blocked content.
This lets you get a bit of a sample of the material but if you find yourself really enjoying a story, it'll cost you some money to read it fully.
Manga Mandarin Review // Subscription (costs)
There are two different payment options – buying beans or becoming a VIP.
Manga Mandarin uses "Beans" as their currency. Why beans?
I have no idea. As you see the various episodes of each comic, some will be locked.
Each episode costs 20 beans to unlock. Given how quick you can work through some of these lessons, the bean totals can add up pretty quickly.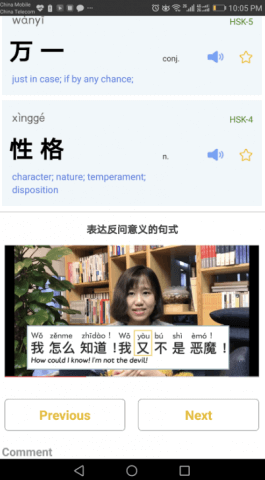 Still, a typical Mandarin comic with 10 episodes may have 7 free and 3 that need unlocking. $0.99 is a pretty reasonable price for that amount of content.
You can see the cost of beans here which ranges from 60 beans for $0.99 up to 720 beans for $9.99.
There are also opportunities to earn beans via signing in, referring users, answering Ms Bean's questions, and completing Chinese comics.
Another option is to become a VIP. There are three different VIP plans that differ slightly.
Monthly ($5.99)
Unlock any 50 episodes
Comics unlocked during VIP period will not expire
Miss Bean will answer questions preferentially
A postcard from China
Quarterly ($12.99)
Unlock 200 episodes
Everything else in the Monthly plan
Quarterly Chinese learning materials
Yearly ($64.99)
Unlock all comics
Everything in the Quarterly plan
Free printed vocabulary cards
Free textbooks in hard copy
Some kind of bag (description is hard to read because of app layout)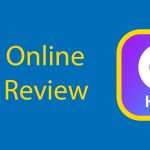 SuperTest HSK Review (Formerly HSK Online) // Our Complete Guide
The Complete Guide to SuperTest HSK To Download or Not To Download 🤔 SuperTest (HSK Study and Exam) Review: 9/10An invaluable companion for HSK studies. I wish all exams had an app tailored to them like the SuperTest app. If…
Manga Mandarin Review // Conclusion
It's not a perfect app and I think they're still figuring things out. The biggest issue is that, while there are quite a few different stories, most of them can be finished rather quickly.
It's disappointing when you're really interested in one of them, only to find you've finished everything available and are stuck waiting for an update. Still, this is something I'd expect to improve in time.
The design could be improved, particularly the placement of the buttons while reading as they often get in the way.
It'll be interesting to see how Manga Mandarin develops over the next year or so. For now, it's worth checking out, especially if you enjoy reading Manga, but even if you don't, you may find it to be rather fun to use.
Manga Mandarin Review // Where to Download
M Mandarin (Manga Mandarin) is available on both the Play Store and App Store.
Apple iOS
https://apps.apple.com/us/app/m-mandarin-%E6%BC%AB%E4%B8%AD%E6%96%87-learn-chinese/id1202173573
Android
https://play.google.com/store/apps/details?id=com.funnybean.mandarin&hl=zh_HK&gl=US
Want more from LTL?
Want to learn Chinese from the comfort of you own home? Then our 24/7 Online Chinese lessons might be the thing for you.
We offer a 7 day free trial to all new online students where you can study Mandarin 24/7.
Come and check it out free of charge and see what you think!
If you wish to hear more from LTL Mandarin School why not join our mailing list.