Studying Chinese as a Teenager 📖 Laodice's Story
Studying Chinese as a Teenager – 13 Year Old Laodice's Story
Laodice is a great example of students coming to China and Studying Chinese as a teenager. She loved her time at LTL. Follow her story and the story from her Mother's perspective below.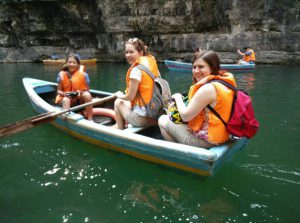 My name is Laodice, and this is my second time studying at LTL Mandarin School.
Other than Mandarin, I can speak French because I currently live in Switzerland, I learnt Spanish from my dearest grandmother, and finally I know English because of my past.
I am 13 years old which I know is quite young when it comes to travelling to another country without family on the other end.
I have settled in many Asian countries with my family in the past, so I was already interested in Asian culture before coming to China.
I had three years of Mandarin classes in Malaysia before coming to LTL Mandarin School in Beijing for the first time in 2015.
I wanted to improve my Chinese because when I grow up I want to live in Asia, and work in the CDC (Center of Disease Control) or study cryptography.
My mum found LTL Mandarin School online and thought it would be perfect for me, because she wanted me to become more independent and for my Chinese to progress too.
From 0 to HSK 5 in a Year (How On Earth Did He Do It)
How to Pass HSK 5 (in UNDER a Year) || Karim's Story I did not know a single word in Chinese when I first came to Beijing in July 2013 to study Mandarin. After finishing high school I decided to…
Looking Back – My First Trip to LTL
Last year, on my first trip to LTL, I was extremely nervous.
When I first arrived, my focus was stuck on the negatives.
I imagined the worst possible situation I could end up in. But on the first day, the staff were probably as useful and helpful as a map in Beijing.
Sarah from LTL Mandarin School picked me up in a taxi from the airport. We went straight to my home stay family.
I had heard a lot of stories about Chinese people eating strange things like dogs, but thankfully all the food was delicious – the first thing I ate was watermelon!
I met my home stay older sister, and I didn't feel shy anymore.
The classes at LTL are different to my classes at school because there are fewer students, so I get to ask questions more often.
Also the teachers at LTL don't make us write the characters again and again. Instead in most of the classes we mainly focus on speaking skills.
After classes I hang around the social working space with other students and staff.
Sometimes during lunch we go in groups and eat at one of the local dumpling or noodle places.
Going out for food is always a main source of practice for my Chinese, because no one in Beijing speaks English.
When I arrive home my host dad is always there – he does most of the cooking and I eat with the family. After dinner I go to my room and rest, or sometimes I watch TV with my host sister.
What About Weekends?
On the weekends there is always a trip to different monuments or to any interesting place around Beijing with other LTL students.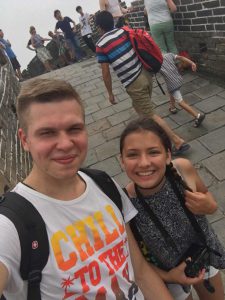 For example this year I visited the Great Wall. It has been a pleasure to meet people from all around the world.
The first time I arrived last summer, my phone didn't accept my Chinese SIM card, and this was a big problem because I knew my mum would get worried.
Luckily Sarah from LTL let me borrow a Nokia so I could call my mum any time I wanted.
Now my mum has WeChat and every night she calls me and asks how my day went.
This year I felt more confident getting around Beijing, and speaking to my host family and other locals.
I can't choose a favourite memory because they were all great and can't be compared to one another.
I'm looking forward to impressing my Chinese teacher back in Switzerland with how much I have progressed this summer.
Studying Chinese as a Teenager – Laodice's Mum Speaks
Written by Maria Kennedy (Laodice's mother). Sending our 13 year-old daughter on a first trip alone to study a foreign language
Our goal was to reinforce the language skills that Laodice had already learned, reinforce her passion and confidence in the language, and also find the right environment which would help her develop personally.
That is when we discovered LTL Mandarin School.
From our first engagement with LTL, we were impressed with the quality and relevance of information provided by the school, and importantly the professional nature of the interactions with the LTL staff.
Their understanding of our situation allayed our obvious concerns about sending our 13 year old daughter alone to a foreign country to study the language.
LTL assigned a member of staff to be our daughter's 'guardian' throughout the duration of her stay.
We asked if LTL could arrange not only the transportation from the airport, but also if the guardian could be at the airport to meet our daughter when she arrived.
Sarah was there waiting for her, and took her to the home of family she would be spending the next 3 weeks with.
We opted for the "Survival Kit" offered by LTL, and were very relieved that when our daughter's mobile phone failed to function on the local network, LTL went the extra mile and provided her with a local phone so we could be in touch with her throughout her stay.
We were very pleased with the service from LTL staff.
Throughout the duration of her stay we felt reassured by their availability and the fast communication with the different people of the school.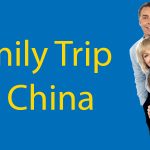 A Family Trip to China 👨‍👩‍👧‍👧 The Chabowski's Story
Family Trip to China – Learn how a family of four from the USA get on in Beijing with their two children who came to learn Chinese in China.
Living with a Chinese Family
Regarding the family home-stay, LTL found the perfect match with a family who also had a daughter.
Laodice enjoyed spending time with the girl and with the grandma who happened to live there as well.
Of course, being a little bit younger than most of the other students at that time brought its own challenges.
For example, when other students socialise in the evenings, she could not join.
However, we encouraged Laodice to take the "culture classes" that LTL proposed so she would do something more that only going to language class and completing her homework.
As she is a big fan of Chinese food, we are happy that she took the cooking class.
In the end, it was a wonderful experience for our daughter which not only significantly developed her mastery of the language, but also contributed significantly to her personal development and self-confidence.
So positive was the experience from her stay, we decided to enrol her in the LTL program for the second time this summer.
Just like in 2015, it was a positive and enjoyable experience for our daughter. As parents, we greatly appreciate the calibre and professionalism of the LTL staff in making such an experience possible.
Laodice first came to LTL when she was 13 in 2015 and then returned. Each time taking a Small Group & Culture Class program (with Chinese cooking), living with the same homestay family, and with a Guardian program & Survival Kit.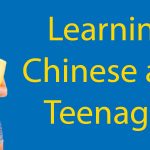 Learning Chinese as a Teenager 🙍‍♀️ Olympia's Story
This is the story of Olympia, who came to Beijing with her younger sister, Fabiola, at the start of 2018.
Studying Chinese as a Teenager – FAQ's
Is China safe?

Yes, China is a very safe place for teenagers to study Chinese.

The main risk we want your child to pay special attention to is the traffic. While not as uncontrolled as in some parts of the world, driving habits in Beijing are more chaotic than in most western countries.
Can rules be set for a teenager studying Chinese in China?

Yes parents can set rules for their child. We will ask you to fill out a parent questionnaire before the course where you can decide what is ok and what is not for your child during it's time at our language school in Beijing.
Is a homestay a positive experience for a teenager?

Homestays are the core and heart of LTL. LTL stands for Live the Language and for us this is not just a name but what everything we stand for. We want our students to truly live and experience Mandarin and there is no better way to do this than a homestay family.
How do teenagers get to school?

On the first day the homestay family will bring you/your child to school and pick them up afterwards so they can get familiar with the way. After this the journey will be taken with classmates, or by yourself. Transport is very fluid and convenient in China. 
Want more from LTL?
If you wish to hear more from LTL Mandarin School why not join our mailing list. We give plenty of handy information on learning Chinese, useful apps to learn the language and everything going on at our LTL schools! Sign up below and become part of our ever growing community!