Learning Chinese As A Beginner – Andrew's Story
Learn Chinese in China as a Beginner – What's It Really Like?
What is it like Learning Chinese as a beginner?
This is an insight into the life of a beginner student at LTL, written by Andrew Linfoot. 
When I decided I wanted to move to China to learn Chinese, I didn't know a single word.
I knew I was going to have to study for a while to learn enough Chinese to actually be useful. I decided to sign up for 3.5 months of classes.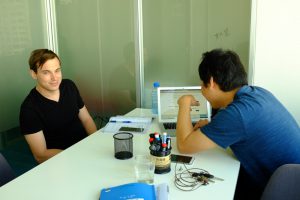 My biggest concern when making my 3.5 month commitment wasn't whether or not I could learn the language but whether or not I would actually enjoy my time in Shanghai.
I was travelling by myself and I didn't know a single person in China.
I figured the language barrier would make it difficult to meet people but I hoped that if I put in enough work, I'd be able to eventually have enough friends to have a vibrant social life during my stay.
It turns out, I didn't even have to put in any effort.
My first week I arrived in Shanghai, I immediately felt a part of the LTL community.
The school hosts a dinner every Wednesday and Friday where all of the students attend and anyone can invite friends to join.
On my first Wednesday in China, I was already having dinner with about 10 new friends.
On my first Friday in China, I not only had dinner with my new friends but about half of us went to the bars after. These weekly events continued and each week I'd meet more and more people.
Sometimes there would be a few of us, sometimes there would be 20+. We would all add each other on WeChat and we would start hanging out outside of the school hosted events doing everything from more bars, to bowling, to getting blind massages, to just wandering around and exploring the city.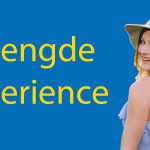 Get Immersed in the Chinese Language: My Chengde Experience
Immersion, Immersion, Immersion It's true when they say you won't see any foreigners in Chengde. The only ones I met during my three months there were fellow LTL students or tourists, and even those were just a handful. 僧冠峰风景区 In…
Social Life in Shanghai
One of my favourite school events was when we went to a North Korean restaurant for a Wednesday dinner.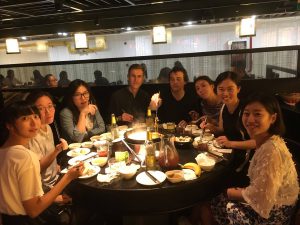 I always like trying new things so when the school director told me this week's dinner was going to be North Korean food, I was stoked.
I had no idea what North Korean food was but I was excited anyway.
It turns out the food was not only delicious but the restaurant staff also performed traditional North Korean songs and dances.
It was an interesting glimpse into a culture that I previously knew nothing about.
Since Shanghai is a very international city, the school events are not only a great way to meet new people but allow you to explore many different aspects of Asian cultures, not just Chinese culture.
For my first 4 weeks I stayed in a homestay. After that I moved into a shared apartment with 5 new roommates: two Chinese girls, a French girl, an Armenian girl and a French guy.
I couldn't have asked for better roommates. All my roommates were amazing people, super friendly and we all got along really well.
Having roommates was awesome because every day after class I'd have people to hangout with.
We'd cook traditional Chinese food, watch the latest episodes of Game of Thrones and chat in Chinese, English and a sometimes a phrase or two of French.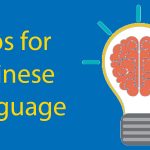 How To Learn Mandarin (By Those Who Know) // 10 Killer Tips
How to Learn Mandarin 🙇🏻‍♂️ A Beginners Guide Written by the Experts LTL's founder and owner Andreas, toiled with Chinese for years and got nowhere fast. Years later he found the way… and wanted to share it (hence the birth…
Party Time
One weekend, 11 weeks after I moved to Shanghai, my roommates and I decided to throw an apartment party.
I was a little nervous about how it would turn out because I still felt like I was somewhat new to the city and my roommates all just recently moved to Shanghai too.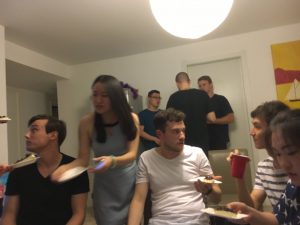 I wanted to make sure we had enough people show up to make it fun for everyone.
It turns out getting people to show up was as easy as letting everyone in the school know.
Just a couple hours after the party started, our apartment was already packed with people from all over the world chatting in different languages and sharing stories.
It ended up being an awesome party and people stayed until 4 in the morning when we eventually had to ask people to leave so we could go to sleep.
It was this night that I realized that my biggest fear of not having a social life and not enjoying my time in Shanghai never happened.
I had a vibrant social life in a city on the opposite side of the world from where I grew up, where I barely spoke the language, and where I had only lived for 11 weeks, all without having to put in much effort.
---
Thanks to Andrew for not only telling his story via our blog, but also for his YouTube video.
Are you learning Chinese as a beginner? Why not make the leap like Andrew did and come to LTL!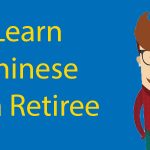 Learn Chinese as a Retiree 📚 What's the Deal?
Learn Chinese as a Retiree – Languages are for all Ages My wife and I retired a couple of years ago and since then we have been pursuing as many of our interests as possible. One of these is learning…
Learning Chinese as a Beginner – FAQ's
Chinese seems really hard, is it for me?

Chinese, although not the easiest language to learn, is not as hard as many people think. Once you understand the basics and how the language works, it's not so bad.
Are all ages welcome to study in China?

Absolutely, at LTL we welcome students from all four corners of the planet from all age groups.
Where can I stay in China?

You have many choices. A homestay or apartment (shared or private) through LTL, or you can book up a hotel/apartment through AirBnb or a hotel website like hotels.com or booking.com.
Want more from LTL?
If you wish to hear more from LTL Mandarin School why not join our mailing list.
We give plenty of handy information on learning Chinese, useful apps to learn the language and everything going on at our LTL schools! Sign up below and become part of our ever growing community!