Review HelloChinese – Learn Chinese
HelloChinese – Learn Chinese is an effective, fun and engaging way to learn Chinese. For beginners to advance learners, there is something for everyone.
App content: characters (writing), characters (reading), tones, pronunciation, grammar, vocabulary, listening, translation, lessons.
How does Hello Chinese rate?
Ease of Use: 95%
Fun Factor: 90%
Value for Money: 100%
Overall: 95%
Available on: Android, Apple
Popularity:
Google Play: 4.8 Stars, 7.864 reviews
Apple Store: 4+ Stars, 204 reviews
Cost: Free with no in app purchases.
About Hello Chinese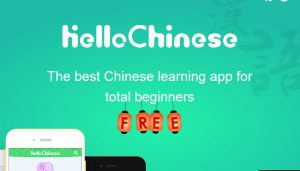 This is an app available for Android and iOS devices.
I have been using this app for a couple of months now and have found it to be very helpful.
It covers speaking, listening, reading and writing characters. I would say this is useful for any level of Chinese study although I would not expect a student to use just this app.
I think it is a very attractive looking app, it is nice and clean with not too much on the screen at any one time, and this makes it easy to understand and simple to use.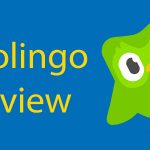 Learning Chinese on your Phone – Duolingo Review
Duolingo Review – Should I Download Duo for Chinese? In our never ending quest for the best Chinese learning apps our journey takes us to Duolingo. One of the biggest names around in language learning. With most of our other…
Does Hello Chinese cost?
This app is free, it is ad free and there are no in app purchases.
I am impressed with the content, layout, implementation, and usefulness of this free app, I think it rates better than some paid apps I have used.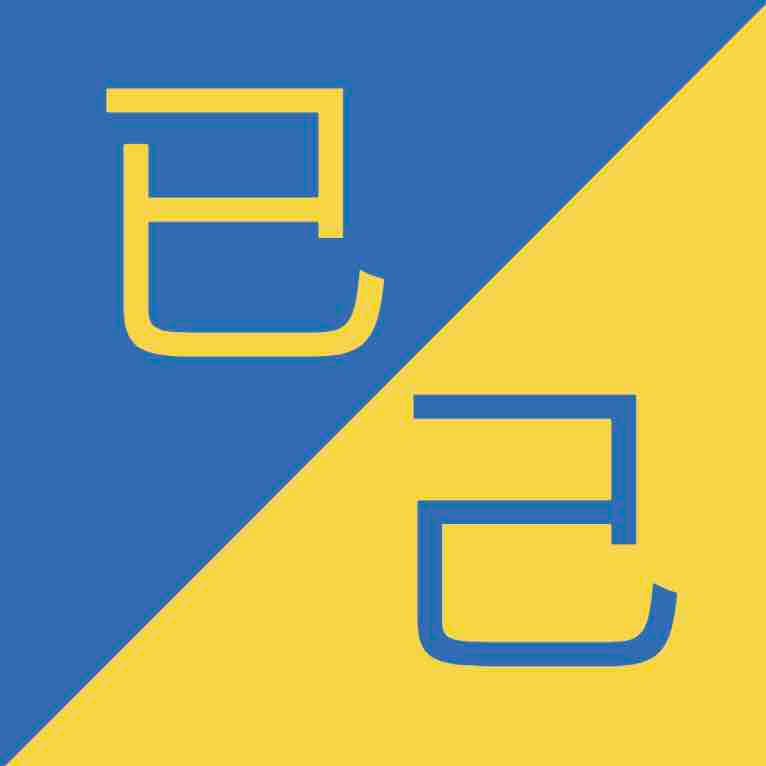 To start you should create an account, simply an email and password, this is useful as it keeps track of your progress.
It also means that you can install it on your smart phone and a tablet for example, and using the same account details you can use either your phone or the tablet and your progress is updated to both devices so you can go seamlessly between them.
So if you have 10 minutes spare you can use your phone and then when you use your tablet the work you have done will be updated to it.
Does Hello Chinese use Simplified or Traditional Characters?
It offers simplified or traditional characters and whether you display pinyin or characters or both.
You can choose to skip the character or speaking exercises but for me these are two of the best things about this app, so I choose to do them.
There is an off line mode to allow you to download all the lessons to enable you to use the app without an internet connection, I download the lessons as I need them.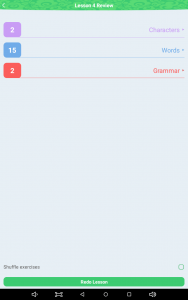 You can set reminders to alert you that it's time to study, you can choose days and times, and I use this to gently remind me, it is not overly insistent so you can ignore it if you can't study.
Once you are set up it is time to get studying. It is organised by topics, the first section concentrates on pronunciation.
Topics 1 through 8 are respectively 2 topics on the basics, family, animals, food, questions, and numbers. Topics are in groups of 8; because you progress one at time through the topics you can't do them out of turn.
I think this is a good idea because the lessons build on each other, but if you should wish to skip any topics you can use shortcuts to move on to the next group of 8 topics.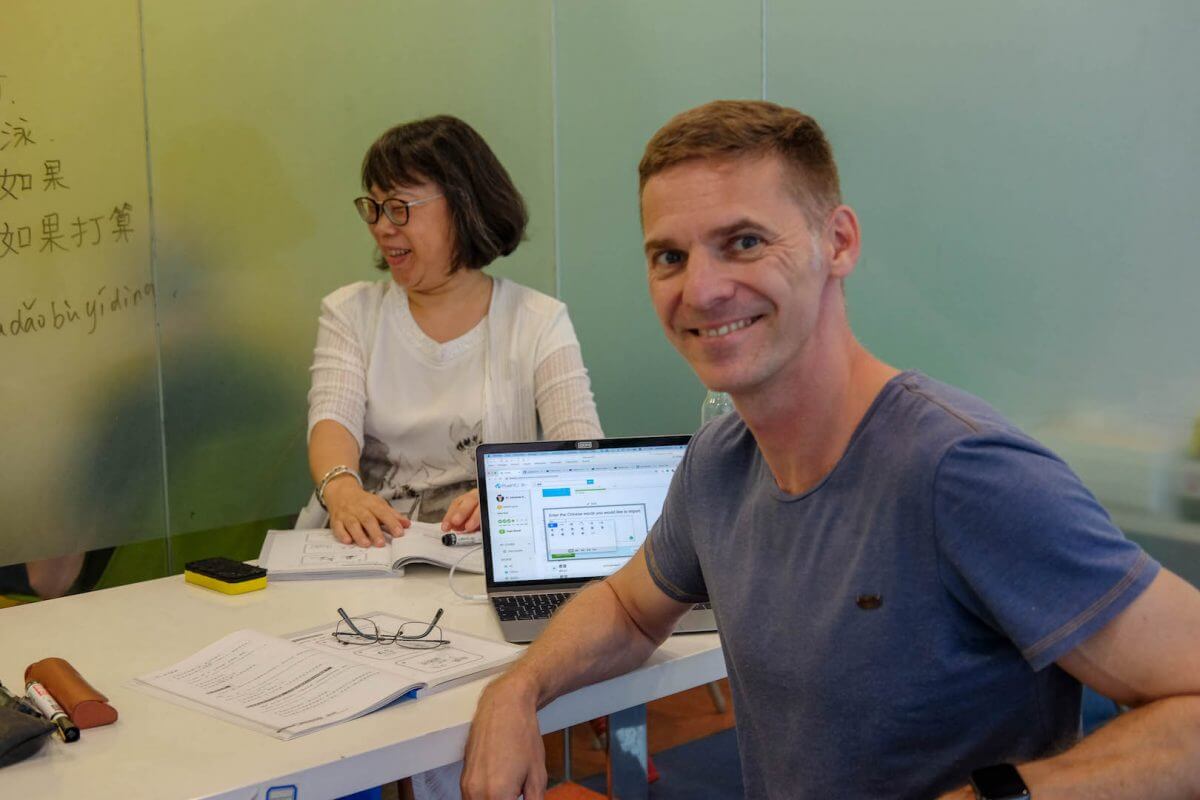 Each topic has from 3 – 5 lessons. The topic I am working on at the moment is Day and Date and has 5 lessons.
Lesson 1 is titled Days of the Week – Time words and word order.
The word for Monday is introduced and is highlighted in blue; this is because there is a grammar explanation to go with it.
By clicking on the word 星期一 (Monday) a grammar explanation box pops up and explains the grammar associated with Time words and word order.
There is this type of highlighted or underlined text throughout all the lessons that opens a new box with further explanations. Any character can be clicked and an English definition is given.
Hello Chinese Exercises
The first exercise is multiple choice and asks for English translation of a Chinese sentence. The second exercise asks for a translation of a sentence using drag and drop English words.
The third exercise is multiple choice but this time asks for the correct word you have just heard.
You can re-trigger the audio as many times as you like by clicking the little speaker icon, I find I only have to do this occasionally as the speaking voice is very clear, it is not a machine TTS voice, it is real native speakers, so that helps with clarity.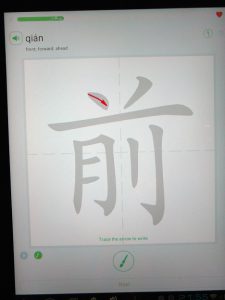 Next we see how a character is written, there is a large, clear character, and in this case 星 part of the word for week, the stroke order is shown one stroke at a time.
Underneath the character box are 3 buttons – a forward arrow, a brush and a puzzle piece, these are respectively – show stroke order again, clear the box for you to follow the red arrows to write the character, and the last one gives information about the character.
There are also the speaking sections, for these you will hear and be able to read on the screen a sentence which you then have to repeat out loud.
There is little mic (microphone) icon at the bottom of the screen, when you are ready to speak click the mic button and speak, when you have finished speaking click the mic button again.
You will then be rated on how well you have done.
If you have not done very well you will be asked to do it again till it is within a pass range. There are also other speaking exercises using the same variety of format as with the other exercises.
There is also an advanced speaking section which has a tougher pass range and really makes sure you are getting it right. This can be accessed by a long press on any of the characters in a speaking exercise. This brings up a new screen.

This requires you to pronounce the word correctly 3 times in a row before letting you move on, it is quite tough, but no pain no gain.
If for some reason you can't do the speaking parts of a lesson, it lets you click a "can't do it now" button so you can redo it at a later date.
The lessons continue this way with variations on the exercises depending on the topic, grammar and new words.
There are a lot of topics and it is well supported, with updates and additions.
I really like this app, it is well presented, works well, and its main advantage is that it makes me open my mouth and speak Chinese, as I am self studying outside of China, it is difficult to find language partners that fit in with my busy life.
This app encourages me to learn and speak Chinese.
It is available on Google Playstore and iTunes.
I must point out I am in no way affiliated with the developer of Hello Chinese – Learn Chinese and this review is only my opinion.
Updates to Hello Chinese for 2018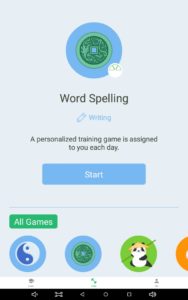 The Hello Chinese team have brought some updates and new features to the app.
Some of these are Premium content and are available for a small fee.
The games, which are part of the paid premium content, are fun but are not absolutely necessary to complete or enjoy the main app which continues to be totally free.
The new updates include videos to help with explaining grammar and general information about learning Chinese.
The Premium features are fun little game style exercises, as with the main app these have been done very well and beautifully.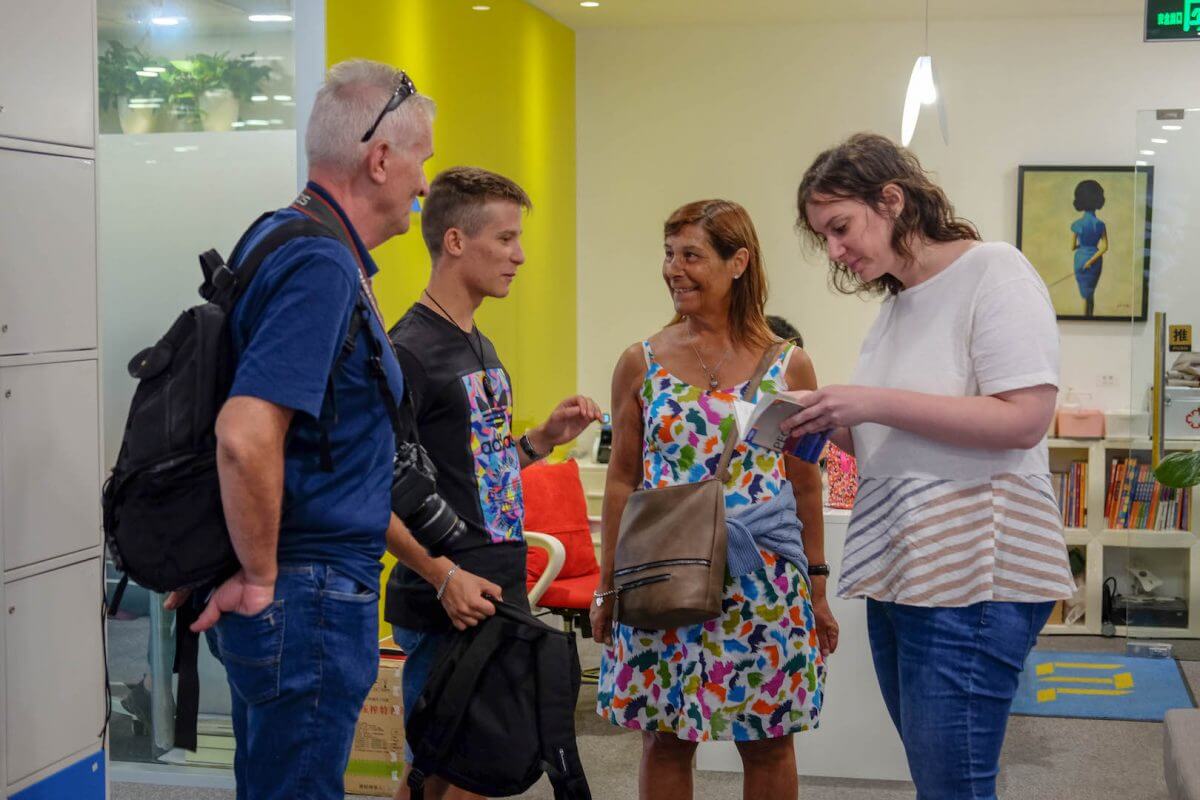 There are games for helping with your Listening, Spelling, Fluency, Grammar and Word Recognition.
One of these is chosen for you everyday but you can choose to do any of them.
The games are well designed and fun to play.
The reward is interesting, a picture of a beautiful Chinese vase or a simple but well drawn Chinese landscape and more.
I found this more satisfying than a noisy or chaotic reward that you can sometimes get with games.
And if you like learning Chinese from the comfort of your home then check our our online Chinese classes.
HelloChinese – FAQ's
What is HelloChinese?
HelloChinese is a language learning app for Mandarin. It covers speaking, listening, reading and writing characters.
Can you become fluent just using HelloChinese?
No. Like with most Chinese language learning apps, they should be used alongside other things, and actual physical interaction with native speakers.
Is HelloChinese free?
Yes the app is completely free with no premium service either. There are no adverts inside the app also adding to user experience.
Want more from LTL?
If you wish to hear more from LTL Mandarin School why not join our mailing list. We give plenty of handy information on learning Chinese, useful apps to learn the language and everything going on at our LTL schools! Sign up below and become part of our ever growing community!