CHINESE SEMESTER PROGRAM IN SHANGHAI
Enjoy our 18 week University-style Chinese Semester Program in Shanghai and improve your Chinese language skills at speed.
Our intensive Semester program abroad aims at getting you ahead fast and achieve fluency after as little as two semesters.
You will join a small group of no more than five other students.
Groups are taught by our fully certified and expert teachers in our Shanghai school.
Make friends from all over the world either in your class or meet other LTL students.
Ready to discover more?
18 week university style semester program
Aiming to get you fluent in Chinese
Make friends from around the world
Enjoy top class teaching
Four hours Chinese per day

Excellent Value
No hidden fees – Everything is included in the price
Staff Support – Student advisors, teachers and staff
55 minutes per class – No shorter, you get what you pay for
Great rates – Excellent value compared to other LTL courses

Top Teachers
Only the best – Teachers come through a tough hiring process
Qualified – Every teacher holds a degree in teaching students
Experienced – Our teacher can boast at least 5 years experience

Comprehensive Chinese Semester
Complete Semester – 18 weeks of intensive Chinese study
Study Abroad – Speaking, Reading, Writing and Listening
Small class size – Everyone gets to speak up
Progress fast – You'll be speaking Chinese in no time

Join the LTL Family
Community – Students, staff and teachers are all here
Student Advisor – Here to advise and assist you
Students – Explore Shanghai & Study Chinese together
CHINESE SEMESTER IN SHANGHAI // MORE DETAILS
Study abroad with LTL and experience a language course like no other. Spending a University-style semester in Shanghai will be a once in a lifetime experience that will help give you everything you need to be successful when learning Chinese.
Every student gets their chance to have a say as our class sizes are small and intimate.
Friends for life can be made and you will enjoy being part of the LTL Family, discovering Shanghai and using your new found Chinese skills day to day.
Each day you will enjoy four hours of Chinese lessons. Two hours before lunch and two after. This intensive nature of learning will ensure you make rapid progress.
Add to that a comfortable learning environment, a beautiful city and the support of our staff means you can rest easy when joining LTL School that you are in safe hands.
Generally, students who partake in a Shanghai Semester Program with us can expect to at least reach a high HSK 3 level while some also pass the HSK 4.
Adding on a further Semester means there is every possibility you will be fluent in Chinese. Any students who hold a HSK Level 4 level or above (B2 level) should take a look at our study Mandarin 1 to 1 classes.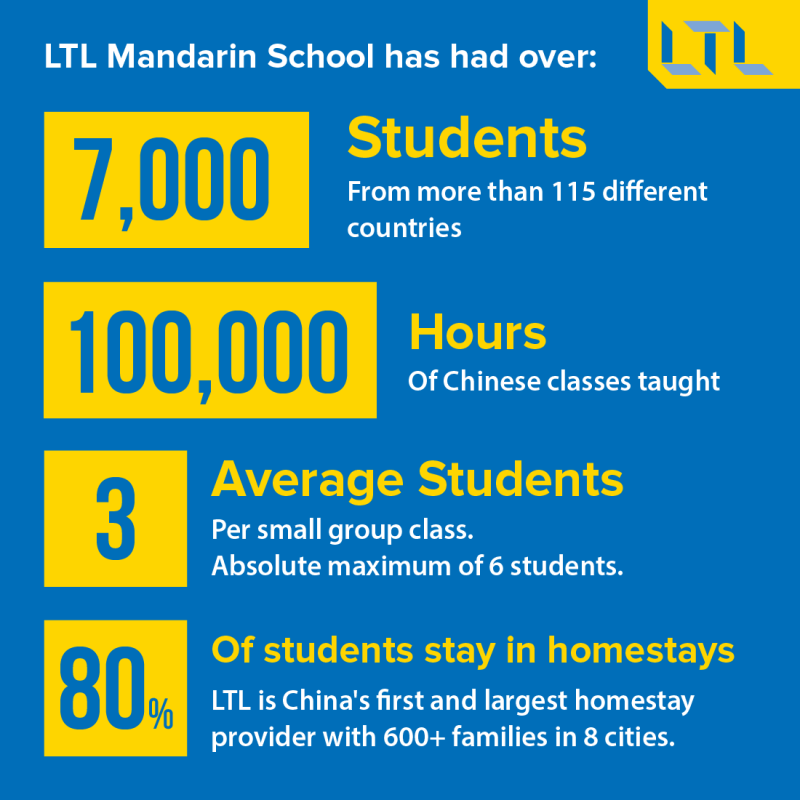 CHINESE SEMESTER || DATES AND PRICES
Our Chinese Semester Program package includes:
18 or 36 week semester program
All textbooks and learning materials
24/7 support
Access to LTL's social events
The package does not include:
FULL SEMESTER
USD 5,281 / 18 WEEKS
OUR TEAM OF TEACHERS
We make a big deal over our teachers and for good reason. Without them we aren't the success we are in a nutshell.
There are many, many teachers who apply to join us at LTL Mandarin School but few make the cut.
We want you to receive the best Chinese lessons possible and for that the best teachers are required.
They can boast bags of experience between them, all hold degrees in teaching foreigners Chinese as a second language, and they provide engaging and fun lessons which are never the same.
If you want to find out more about our teachers visit our Meet the Team page and find out a little more about not only the teachers, but the rest of our staff too. We will make LTL Mandarin School feel like a home away from home for you.
FREQUENTLY ASKED QUESTIONS
What are the differences from this and a university?

Most of our non-native team studied Mandarin in a Chinese university semester program in Shanghai or another city at some point.

Classes were huge, teachers often underpaid, lessons short, teaching methods mostly outdated and classes cancelled whenever there was a holiday.

As a result, Chinese language progress was slow.

At LTL our semester program could not be more different.

Besides the obvious differences in teaching quality and smaller group classes, the program is designed to not just spend some time studying in China, but to get your ahead in Mandarin as fast as possible. Lessons last a full 55 minutes.

All classes you paid for you will get, even if there are public holidays – of which there are quite a few in China.

We have a modern curriculum that, for example, focuses on writing characters in the age of mobile phone communication.

This is very different to spending countless hours learning to hand write characters you will probably never write on a piece of paper again.

All students get to speak during class regularly. Support is always available, in emergencies also 24/7. And finally we of course have the best teachers in Shanghai.

If a university in Shanghai had a great teacher, they either already work for us or want to do so, as we simply pay a lot better.

This also means our semester program costs a bit more than at a university. If you think it is worth paying a bit more to get a modern and efficient Mandarin semester program of course up to you. We certainly think it is.
Can I get fluent with the Semester in Shanghai?

A lot depends on the work you do outside of class.

Studying in class and then speaking English after class every day makes your job much harder.

This is why Homestay's are a popular option.

They speak zero English to you and this helps immerse you into a really Chinese experience.

Making local Chinese friends, studying hard outside of class and having a passion for the culture all help push your Mandarin skills ahead faster.
I'm interested, what next?

Great to hear you are interested in joining.

Feel free to start a live chat below or contact us and we will get back to as quickly as possible.
Where can I stay in Shanghai?

We have a wealth of accommodation choices at LTL. We offer a number of Shared and Serviced Apartments where you can stay in the same room or complex as local Chinese and International students.

The most popular choice is our Shanghai Homestay option which 80% of students take up.

This involves living with a Chinese family, having meals cooked for you every morning and evening, and becoming part a family. It's a unique and special experience.

Visit our Shanghai Homestay page for more information.
What is the social side of LTL like?

In Shanghai you couldn't be better placed to get stuck into a wealth of activities.

Every week we have a whole host of social events which many LTL students, staff and teachers join in with.

You will be sure to make friends with fellow classmates and students and explore Shanghai together.

Maybe you'll join a local club and meet people there.

Shanghai is full of endless possibilities where modern China meets traditional China. There are also some beautiful cities in towns a short train ride away.
Will I share a class with students of a similar level?

You will and this is essential when learning Chinese.

Each student, before they start the Shanghai Semester, will chat to our Director of Studies and take a quick assessment where we can gauge your Chinese language level.

You will be paired with students of a similar level based on this and assigned the perfect teacher likewise. Obviously if you are a complete beginner you will join a class of fellow beginners.
GET IN TOUCH
Our student advisor will reach you within 24 hours and get your course booked up in no time.