SEMESTER IN SINGAPORE
Study for a semester in Singapore for 18 or 36 weeks and experience first class Mandarin tutelage.
Our semester in Singapore runs from Monday to Friday and you'll enjoy 4 hours of Chinese class per day with our fully qualified and certified teachers.
You will leave with a high level of confidence as you learn Chinese from the best Mandarin school in Singapore.
Our Semester program is open to all ages and nationalities, meaning you'll be making friends from all over the world!
You will learn all elements of Chinese which includes:
Reading Chinese characters
Speaking, include understanding tones
Listening and writing our characters
Semester in Singapore
1 Semester lasts 18 weeks
2 Semesters lasts 36 weeks
Our best value program
4 hours of Chinese class a day
Small groups between 2-6 students
Everyone welcome to apply

The LTL Family
Enjoy Singapore – Discover this great city with a list of endless possibilities. Enjoy it all with our help and guidance
Diverse – We have hosted thousands of students. From Haiti and Hungary, Belize and Belarus. We are truly international

Get Fluent, Fast
Small Class Size – Maximum of 6 students, so you speak more
18 weeks – You can aim for the stars in this time frame
Quality – Our semester program is super popular
1 hour lessons – We don't cut corners, you get full value

A Teaching Team Like No Other
Experts – You won't find a better group of teachers
Qualified – Every teacher has a degree in teaching Mandarin
Interactive – All our lessons are genuinely different
Pride – Our teachers stick with us for the long haul

Great Value, No Hidden Costs
All inclusive – Text books and study materials are all included
Support – We support you from the start
Accommodation – You can even book this through us to
100% Transparent – We lay it on the line for you
SEMESTER IN SINGAPORE || THINGS TO KNOW
Everyone is welcome to our Semester in Singapore. It doesn't matter where you are from or how old you are. This isn't a program for under 25's, this is open to everyone.
In short the deal is this:
18 or 36 weeks
Fixed Chinese lessons (no re-arranging)
Starting dates listed below
4 hours of Mandarin class a day
Classes every Monday to Friday
Additional individual classes can be added
Accommodation can also be booked through us
You can expect to reach HSK 3 level after one a semester if you start out as a beginner. HSK 4 can be reached after two semesters but you need to remember this is not just through work done in the classroom, but the work you put in outside also.
Our Semester program is unique because:
Classes are small, so you progress faster
Every is welcome
Teachers are all fully-qualified and experienced
LTL boasts a very tight-knit community where everyone is your friend
Classes are an hour, longer than that of university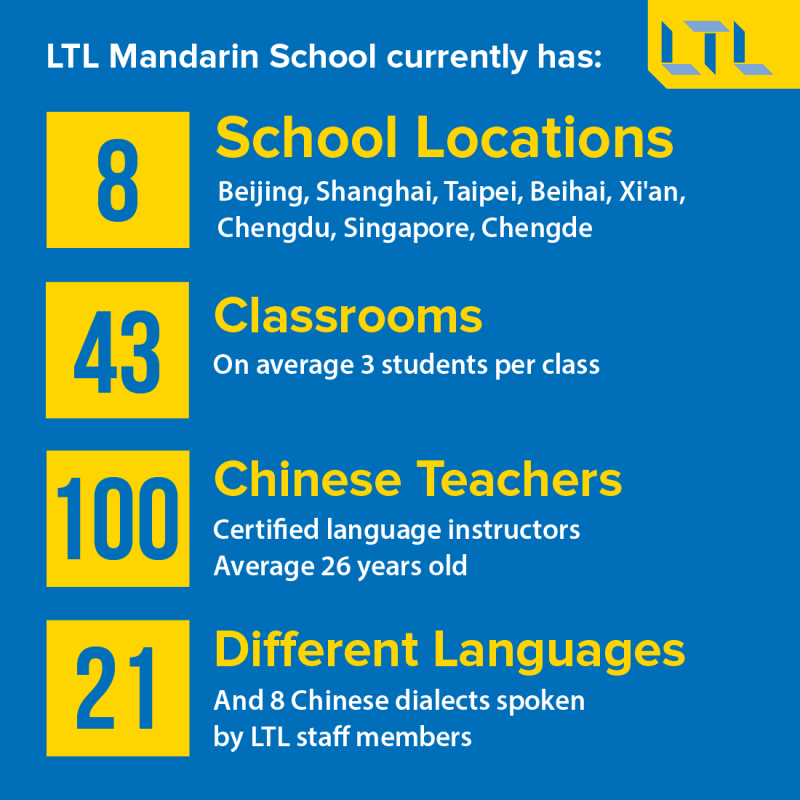 SEMESTER IN SINGAPORE || PRICES & DATES
Study at LTL Singapore for one or two semesters and learn Mandarin 4 hours a day, from Monday to Friday every week. Our classes average just three students meaning you get full focus from your teacher.
Intensive Learning
Small Classes
Excellent Value
Maximum of 6 students per class
Monday to Friday
4 Hours a Day
Close
SEMESTER
| Semester Program in Singapore | Starting Dates | Price |
| --- | --- | --- |
| Spring Semester | 19 Feb 2024 – 21 Jun 2024 | 9,914 SGD |
| Fall Semester | 2 Sep 2024 – 3 Jan 2025 | 9,914 SGD |
FREQUENTLY ASKED QUESTIONS
Can you really learn Mandarin in a place like Singapore?

You can! Mandarin is one of four official languages in Singapore, alongside English, Malay and Tamil.

Chinese is widely spoken in Singapore, with many Chinese migrating here. You will have no issues finding Mandarin speaking communities in Singapore.
How does LTL differs from a university course?

The main factors are these:

Small groups compared to big

More chance to talk

More chance to chat with your teacher

Better chances on improving your weaknesses.

Hour long classes, not 45 minutes. That's an extra hour a day.
Can I join even if I'm a complete beginner?

Sure you can. The program welcomes beginners with open arms.
Can I combine a course in Singapore with one in China?

Absolutely.

Tell us what you want and we can help you book it up.
How many students per class?

Anything between 2 and 6. The classes are kept small for your benefit, so you get to speak more.
I am an advanced speaker, can I join the Semester?

Unfortunately your level is probably a bit too high for group classes.

We do not recommend group classes due to the fact finding other students with your exact level is very difficult. 

Individual classes would suit your needs best.
GET IN TOUCH
Our student advisor will reach you within 24 hours and get your course booked up in no time.