SEMESTER IN CHENGDU
Come and study for a semester in Chengdu and enjoy 18 weeks of first class Chinese, with 20% OFF our usual semester prices.
The semester in Chengdu is a fixed 18 week program in which you receive four hours of Mandarin lessons a day in small group classes which never exceed six people.
Why are classes so small? So you progress faster.
Imagine a big lecture theatre of 50 people listening to a teacher. Now picture a small, compact classroom with 4 students and a teacher.
Who learns faster? You guessed it!
You can genuinely sky-rocket your Chinese skills with LTL. More often than not, students reach HSK3 after one semester, and HSK4 after two semesters.
Semester in Chengdu
18 weeks of intensive Chinese
4 hours of Mandarin a day
Maximum of 6 students per class
Small Classes = Faster Progress
Accredited Mandarin School in China

Tight Knit Community
Friends for Life – It's no secret our community is so close and tight knit. Make friends with students from around the world
Weekly Events – We prepare a number of student events for you every week which all are welcome to join.

Incredible Value
Don't Miss Out – Sign up to our Semester in seconds
Materials included – No need to buy added extras
20% OFF – Our courses in Chengdu are all discounted
Semester is Best – The Semester is the best value

No Time To Waste
Never More Than 6 People – Averaging around 3 per class
Maximise Your Time – Lessons are 55 minutes. Get full value
18 or 36 Weeks – You decide what's best for you
Experienced – We only hire the most qualified teachers at LTL

Dream Team
The Staff – Our student Advisors speak multiple languages. There are so many people ready to help you at LTL
The Teachers – They are the best around. Fully qualified and certified. They are ready to teach you better than the rest
SEMESTER IN CHENGDU || WHY?
Good question, let's give you some key reasons why the Semester in Chengdu, is for you.
You can book 18 or 36 weeks – pick what's best for you
You receive 4 hours of Chinese class everyday
Our class sizes are NEVER more than 6 students
They average out at 3 students
ALL our teachers are fully certified and experienced
Strong chance you reach HSK3 after a complete semester
Some students also reach HSK4 after two semesters
You can also live with a homestay family during your semester
Make friends from around the globe
Take part in our social program
24/7 support from our team
The Semester in Chengdu is genuinely one of the best value Chinese programs on the market and what makes it even better is that all Chengdu programs are 20% CHEAPER than their counterparts in Beijing and Shanghai.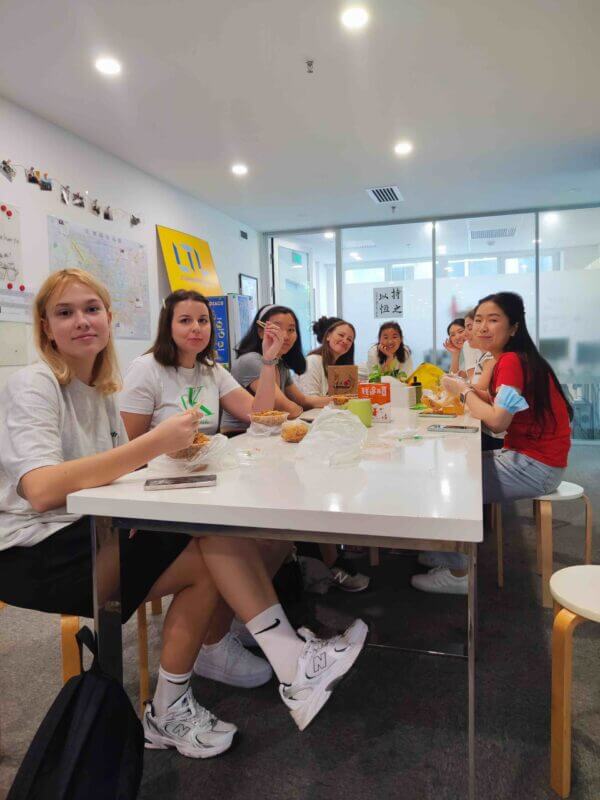 SEMESTER IN CHENGDU || PRICES AND DATES
The Semester in Chengdu program includes:
Tuition fees, textbooks & learning materials
24/7 support from our team
NOTE – Semester dates vary depending on the city you choose.
The Semester in Chengdu program package does not include:
Flights to and from China
FULL SEMESTER
USD 4,225 / 18 WEEKS
FREQUENTLY ASKED QUESTIONS
I am over 40, can I take part in the Chengdu Semester?

Absolutely all ages are welcomed.

The wonderful thing about the Semester classes normally is the variety of people we get in them. The semester is a huge mixture of great characters from around the world so no worry about your age or nationality!
Can beginner join the Semester in Chengdu?

You sure can.

A large percentage of our semester students are actually beginners so no problems there.
Is there much to do in Chengdu?

There's plenty to do in Chengdu.

It's actually voted one of the most popular cities for expats in China to live because of the weather, the slower pace of living, and cost of living.

Here are some things we like to do in Chengdu.
Is this effectively an 18 week Chinese course?

Yes it is.

The difference with the semester compared to booking group classes in Chengdu is that the dates are fixed. Individual courses also offer more flexibility as you can decide the schedule.

It is worth noting if you miss those classes, they cannot be re-arranged as you are sharing the class with others.
Why are classes never bigger than six people?

The bigger the class, the less chance you have to speak, it's that simple.

We try our best to keep classes as small as possible for that reason alone.
Can I also study Chinese online with LTL?
GET IN TOUCH
Our student advisor will reach you within 24 hours and get your course booked up in no time.