Chengde Travel Guide 🧳 Hidden Gems in Chengde to Visit
Chengde Travel Guide || Hidden Gems to Discover
ICYMI – FIRST and foremost, check out our Chengde Travel Guide which we previously published! For the students, by the students
Chengde is the jewel in the LTL crown. A city unknown to virtually every student who comes to China to study with us.
Commonly confused with the more famous Chengdu (home of the Pandas), Chengde couldn't be further from the big city lifestyle that Beijing and Shanghai boast.
Discover Chengde || Why We Offer Immersion?

Discover Chengde || Is There Anything To Do in Chengde?

Discover Chengde || Top 7 Secret Spots

Discover Chengde || Pictures of Chengde

Discover Chengde || FAQs
Why We Offer An Immersion Program in Chengde
Chengde is by no means a small city when speaking of the average sized country. China, however, is a different beast.
Chengde's population borders around the half a million mark, not so small right? Wrong!
Chengde is the 143rd most populous city in China (out of 662 cities in total), way down from the big hitters that preceed it with urban populations eclipsing 20 million.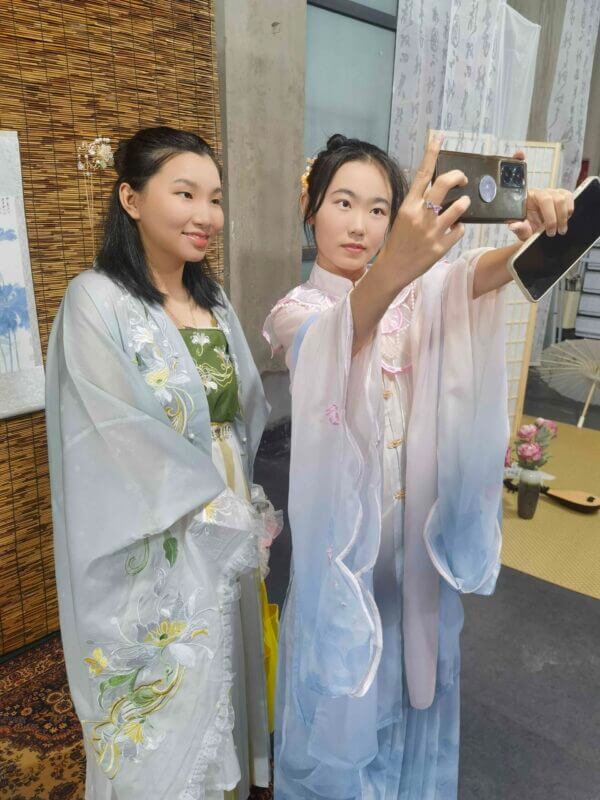 65 cities in China play host to populations over one million people… we could go on and on with incredible facts that dwarf most countries in the world. We gained our data from the World Population Review website so feel free to visit the link and check them out for yourself and have your mind blown by some huge numbers.
| City | Population (Urban Area) |
| --- | --- |
| Shanghai | 24,500,000 |
| Beijing | 22,500,000 |
| Guangzhou | 19,800,654 |
| Tianjin | 15,500,000 |
| Chongqing | 15,384,000 |
| Chengdu | 14,677,122 |
| Shenzhen | 12,357,938 |
| Harbin | 12,000,000 |
| Wuhan | 10,670,000 |
Anyway, back to the city in the spotlight – Chengde…
Being the 143rd most populous country in China, Chengde is not on the top of many people's bucket lists.
In fact it probably isn't on anyone's bucket list and that's exactly why we host our Chinese Immersion Programs here.
Chengde is a hidden gem that is easily accessible from Beijing (they are planning a 30 minute high speed train from Beijing to Chengde in the near future).
Chengde is home to the famous Mountain Resort, one of China's 50+ UNESCO sites, and is also known as the birthplace of standard Mandarin.
This means the accent is perfect for Mandarin learners.
No foreigners (except LTL students of course) are found in Chengde so you are forced to speak Mandarin 24/7. Therein lies the secret.
Go to one of the bigger cities and it's easy to speak your native language, or easier at least.
You don't get that problem in Chengde.
This is why our students learn so fast in Chengde, but what is there to do outside of the classroom?
Is There Much to do in Chengde?
There really is a huge number of activities to take part in when coming to Chengde.
The aim of this blog post is to give you an idea of some hidden spots in a city absolutely teaming with gorgeous pockets of beauty, left, right and centre.
We don't want to point out the obvious spots you may get told by locals (and the locals are generally incredibly warm and friendly with foreigners).
We put this together to give you some other ideas, from students who really live and breathe Chinese Culture and who have uncovered some great spots to relax, study, read books, listen to music or just about whatever you want!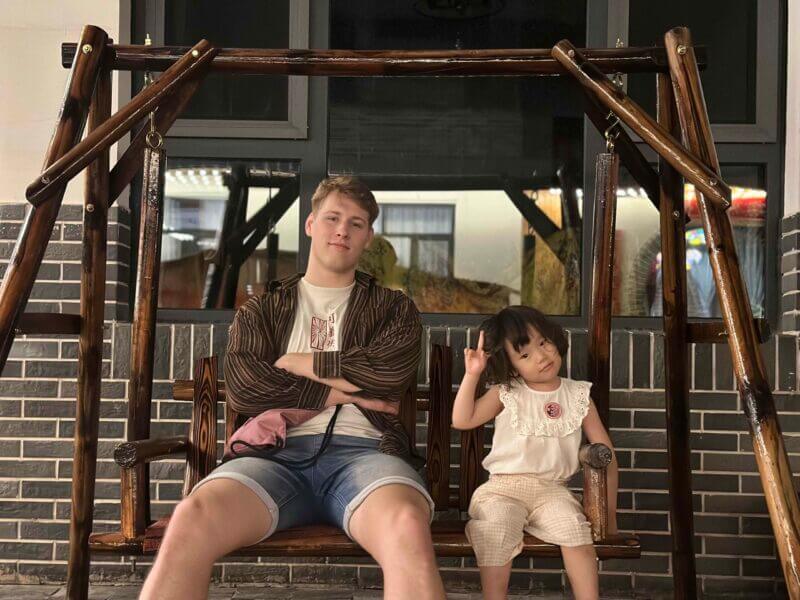 LTL Students Top 7 Secret Spots in Chengde
1 – 僧冠峰风景区 (Sēng guān fēng fēngjǐng qū)
This is a great scenic walking route which almost feels like a "step back in time", as stated by some of our Chengde Alumni. If you fancy an off-the-beaten-track place to study this is a wonderful place to do it.
A great place to read, a great place to hike
Some of the paths in this area can be a bit hair-raising with sudden drops and no rails in certain areas so it might get the adrenaline pumping!
We don't know a huge amount about the background of the area but we do know for sure it's the sweetest spot to grab some peace and quiet. Here's some pictures and maps to paint the picture a little more so.
LTL Student David – "Describing the route isn't so easy. I was told directions by a previous student but gamely struggled. In the end I found my own way and I think I'd pass that advice over again. There really are a number of different routes to take so don't feel tied to this one. There is probably a more direct route also"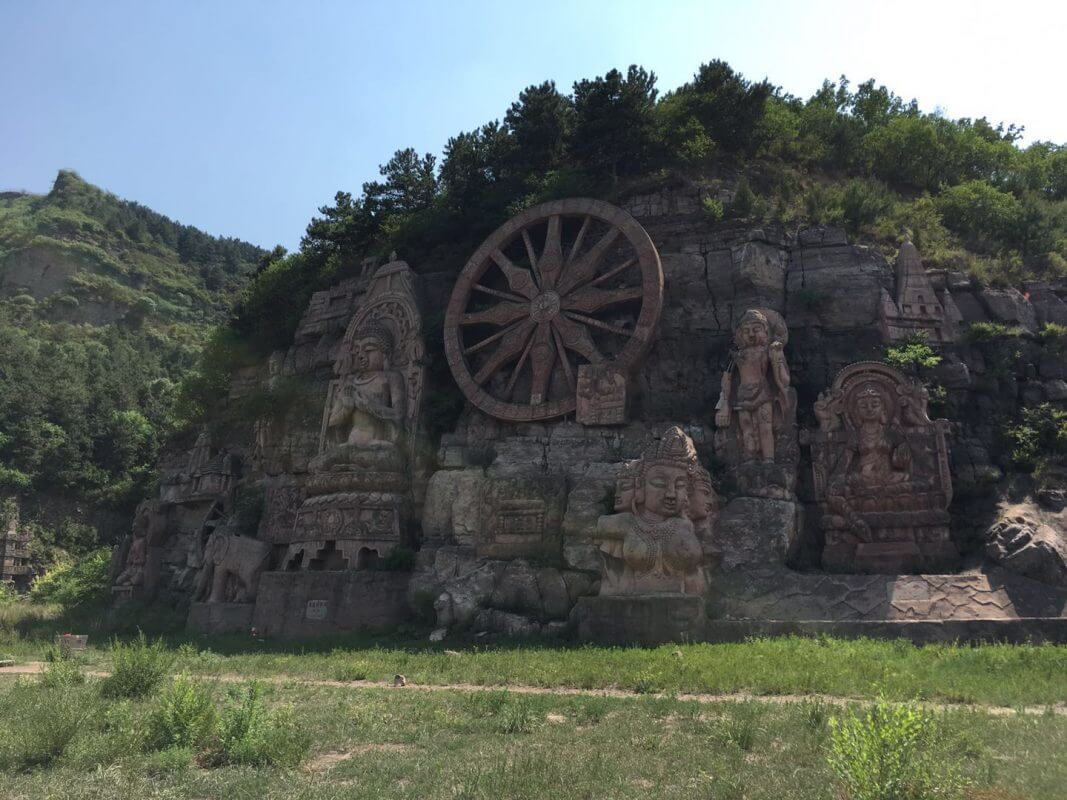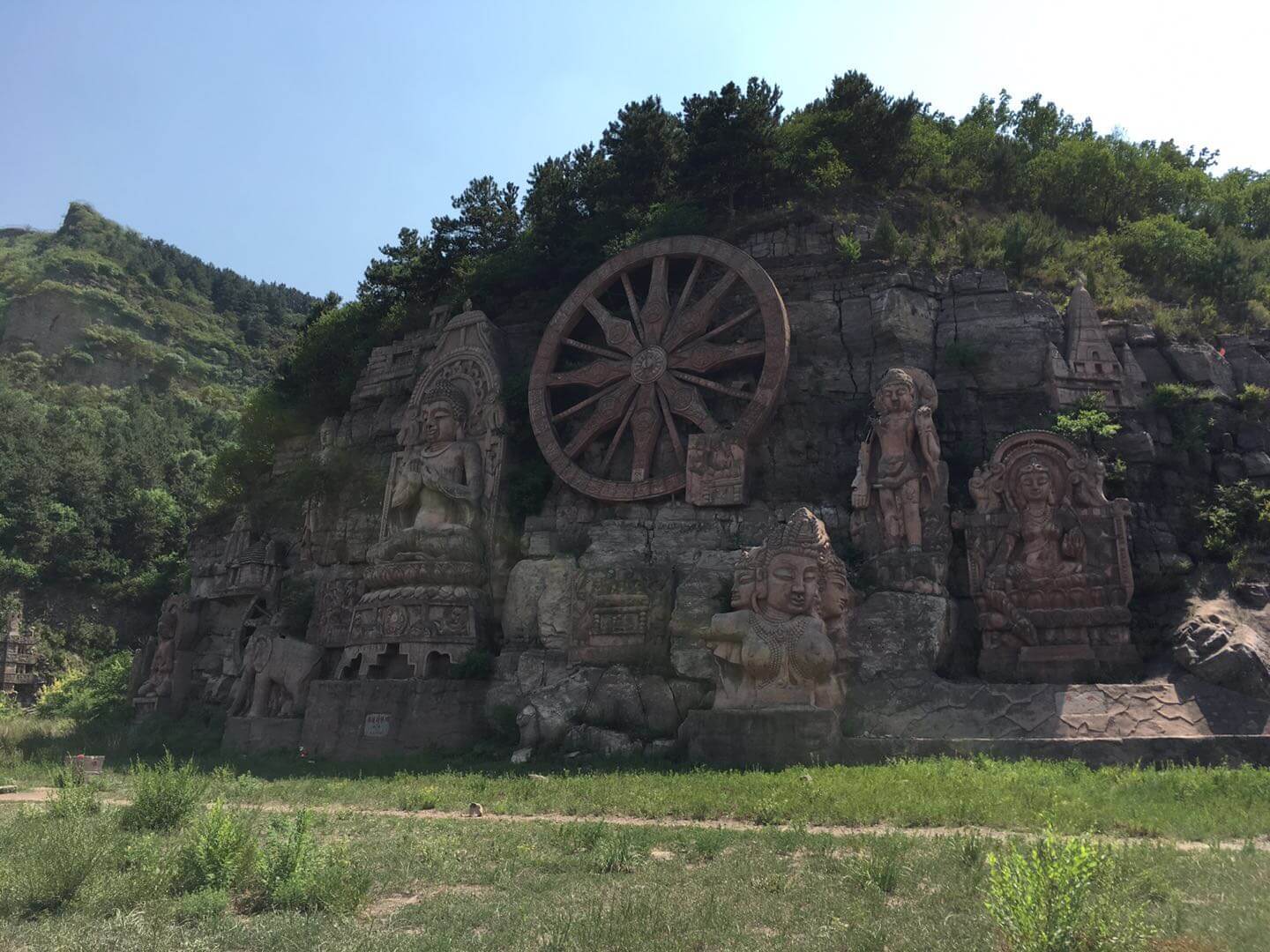 2 – Quiet Surrounding Hikes
Hiking is one thing Chengde is great for, the city really has endless areas to walk and discover.
This suggestion is a little broad, but we'll put forward some specific locations below, which are alternatives to the main parks including the Summer Mountain Resort.
You get some great views of the city which we'll also put below for you.
The main Summer Resort is a great place, and we'll come to that next, but there's so much hiking to be done in other areas and these cannot be ignored. Remember, the main Mountain Resort is a UNESCO site, it's well known, these places aren't and that adds to the beauty of them.
NOTE – There are plenty more entry and exit points. These are ones recommended by students but ultimately Chengde is at your feet. Go and explore and see what you can find.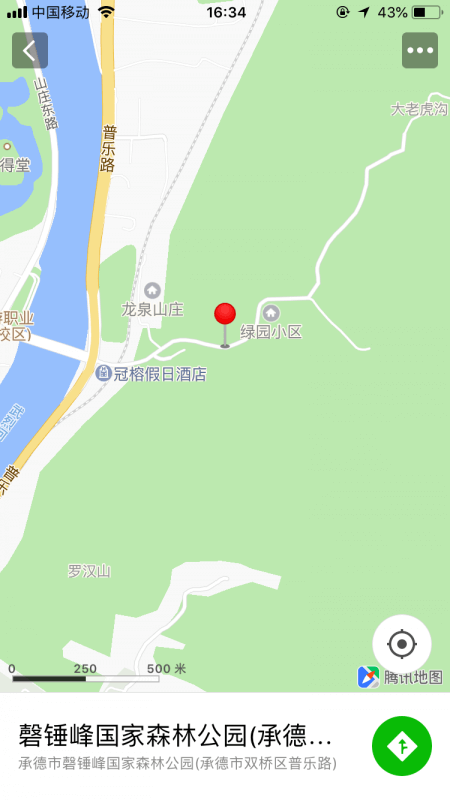 3 – Secluded Spots in 避暑山庄
Everyone coming to Chengde will probably be familiar with 避暑山庄 (Chengde Mountain Resort).
Rightly so, it's wonderful!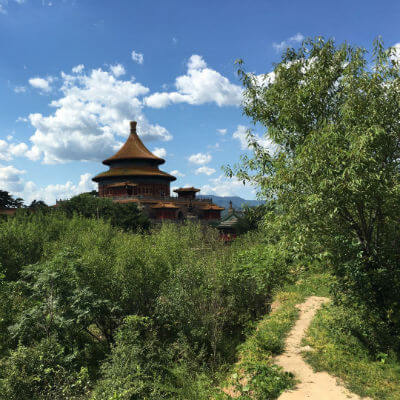 That said, it's great to go off the beaten track inside of park area.
There are many quiet spots to discover as the crowds of people tend to congregate around the park entrance and well-known scenic spots. 
We highly recommend taking these on: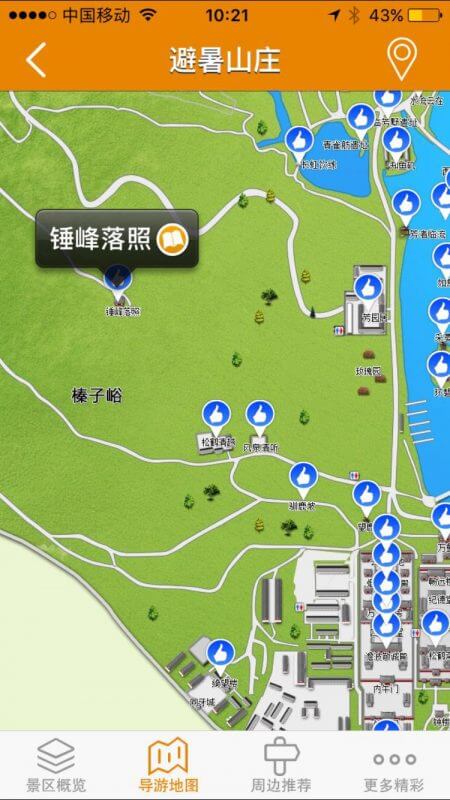 Generally you'll see crowds head towards a certain directions together, don't be a sheep!
Don't follow the crowd.
There are far greater rewards to be had and much more space by exploring the more relaxed areas of 避暑山庄.
Below are screenshots of the areas we recommend you explore, including an island within the park and a hike between two pagodas towards the top of the hill.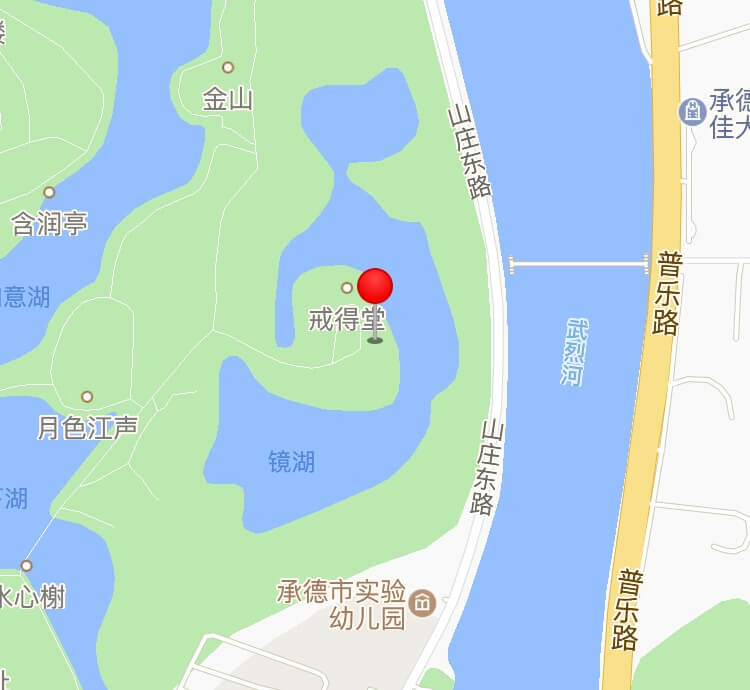 TOP TIP – Something useful to pick up on is that 避暑山庄 is generally a lot less busy in the afternoon than the morning. It's unlikely you'll find as many quiet spots in the morning. If this is what you are after, aim to go in the afternoon.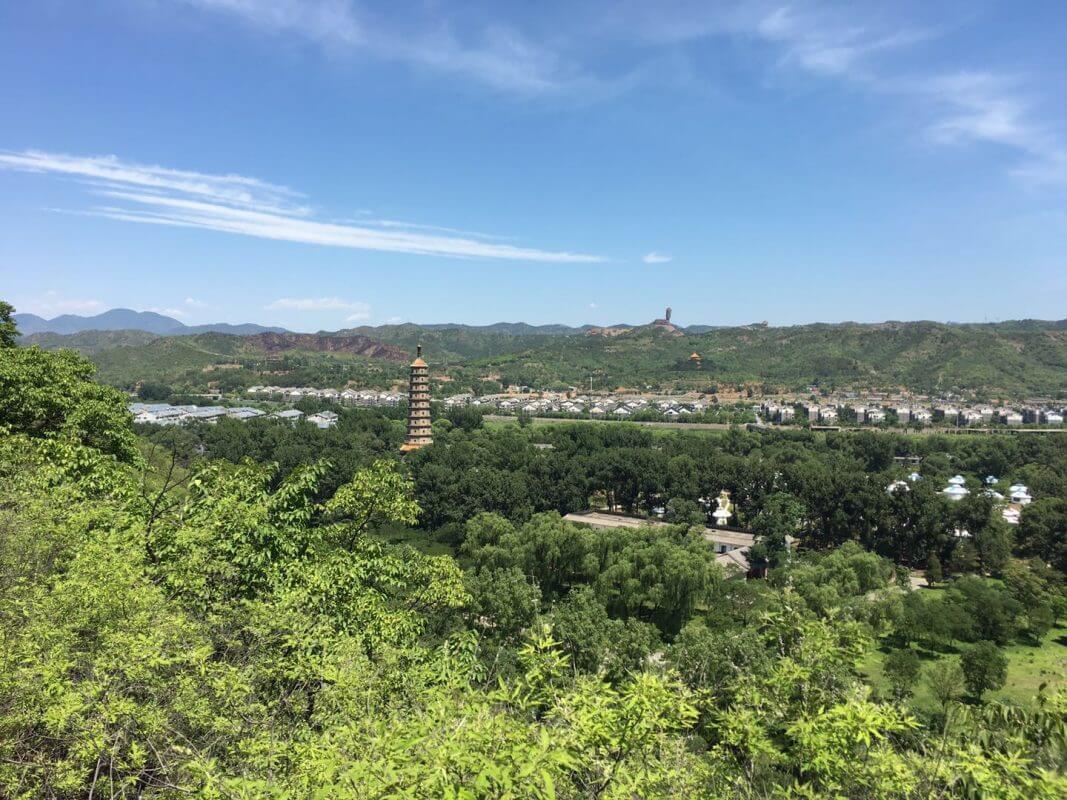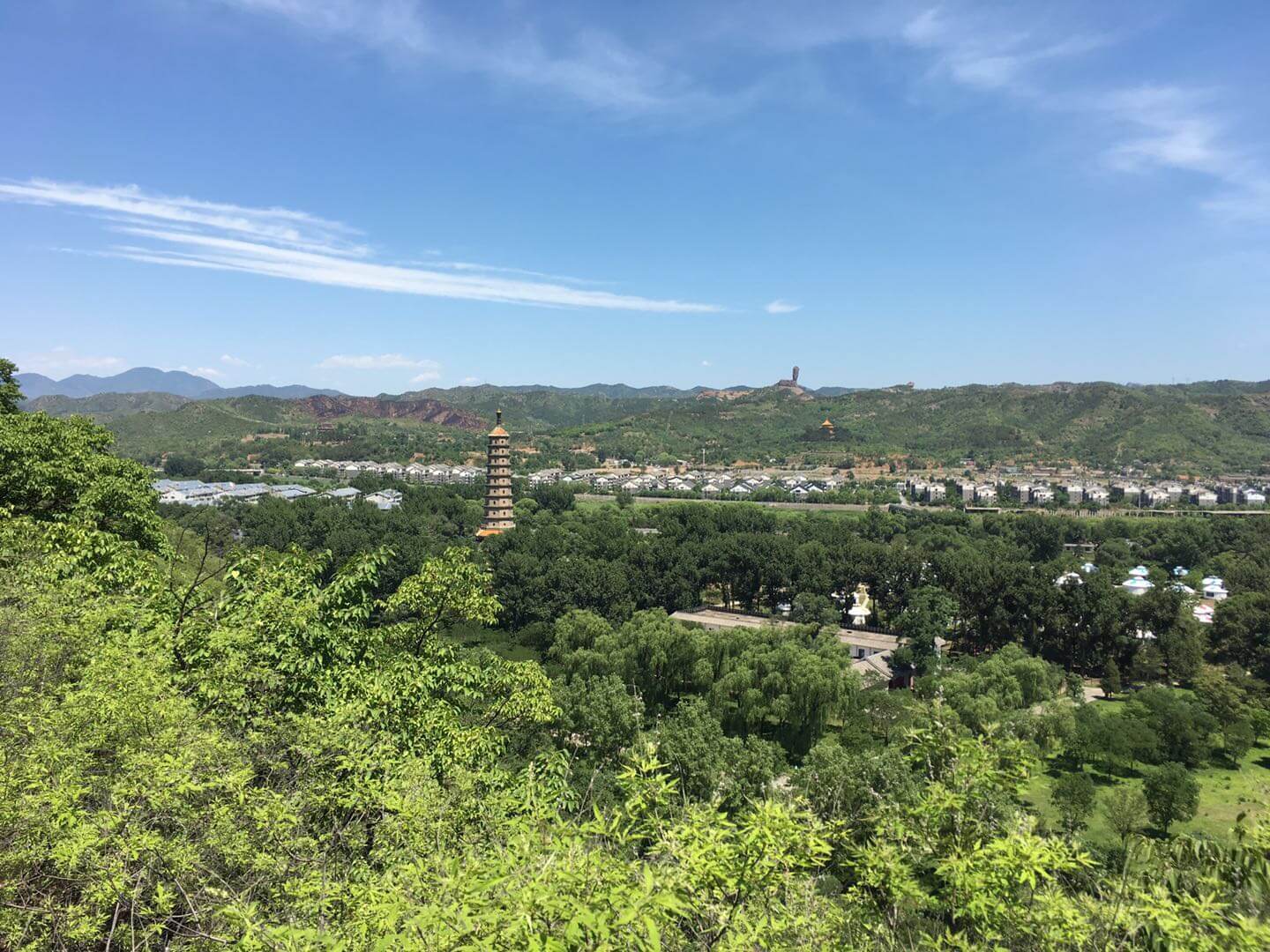 4 – Not all roads lead to Milu Coffee
Milu is a popular spot for students to study and enjoy a coffee which is a great place for a class or self-study, but you don't have to limit yourself to one place that you're comfortable with.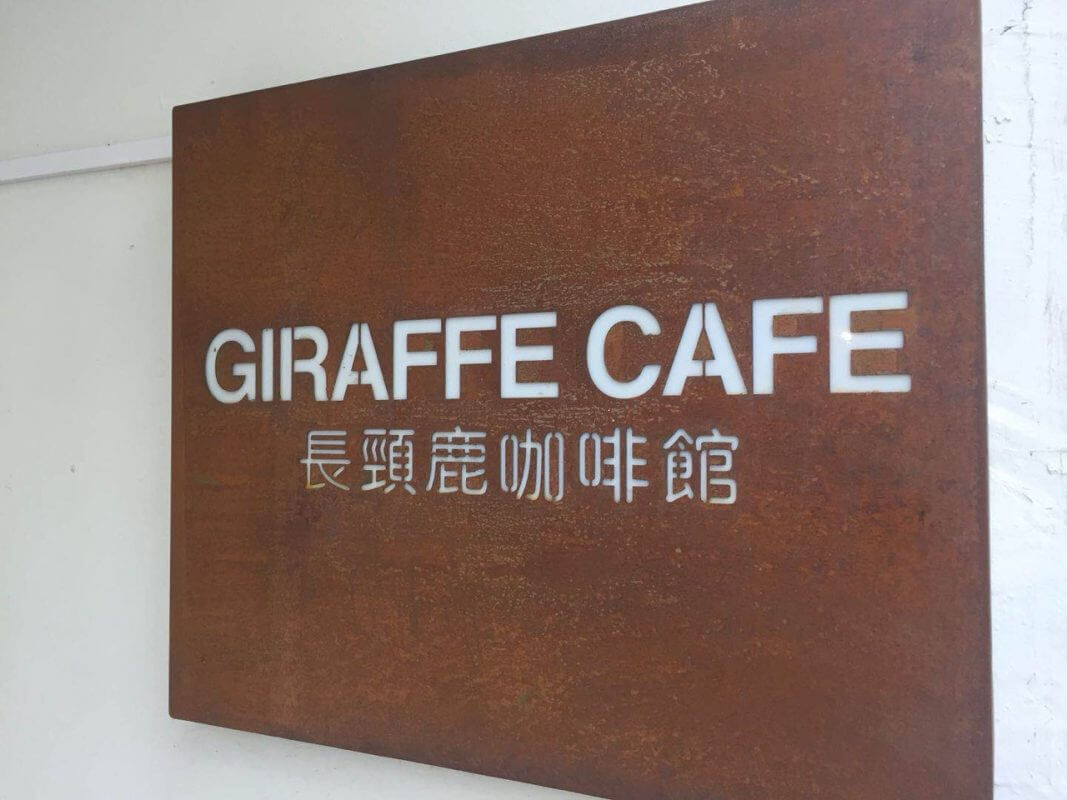 There are two nice alternatives which are just around the corner.
Giraffe is a neat and small place, very bright and has no more than 4 booths, so it feels in very quiet and chilled out.
Another alternative is a few doors down the road from Giraffe and it's called Seven.
Seven is another fairly small, but cozy establishment and also well worth the visit. Mix it up.
Keep the scenery fresh and maybe juggle these about a bit.
There are a number of others to discover also, Nihao is a coffee place to add to your portfolio.
The decor there is very bizarre so it's worth checking out at least once for that fact alone!
As stated before. There is nothing wrong with Milu Coffee, but with it being bigger, smokier and a tad noisier at peak times, it's certainly worth exploring a few other places every so often.
TOP TIP || Be careful with opening times for these alternate venues. Seven in particular seems to open when the owners feel like it. You could arrive at 11am and it's open, or head over at 2pm and it's closed. Giraffe is a tad more reliable. Don't put all your eggs in one basket would be the mindset to take as you set off from your homestay!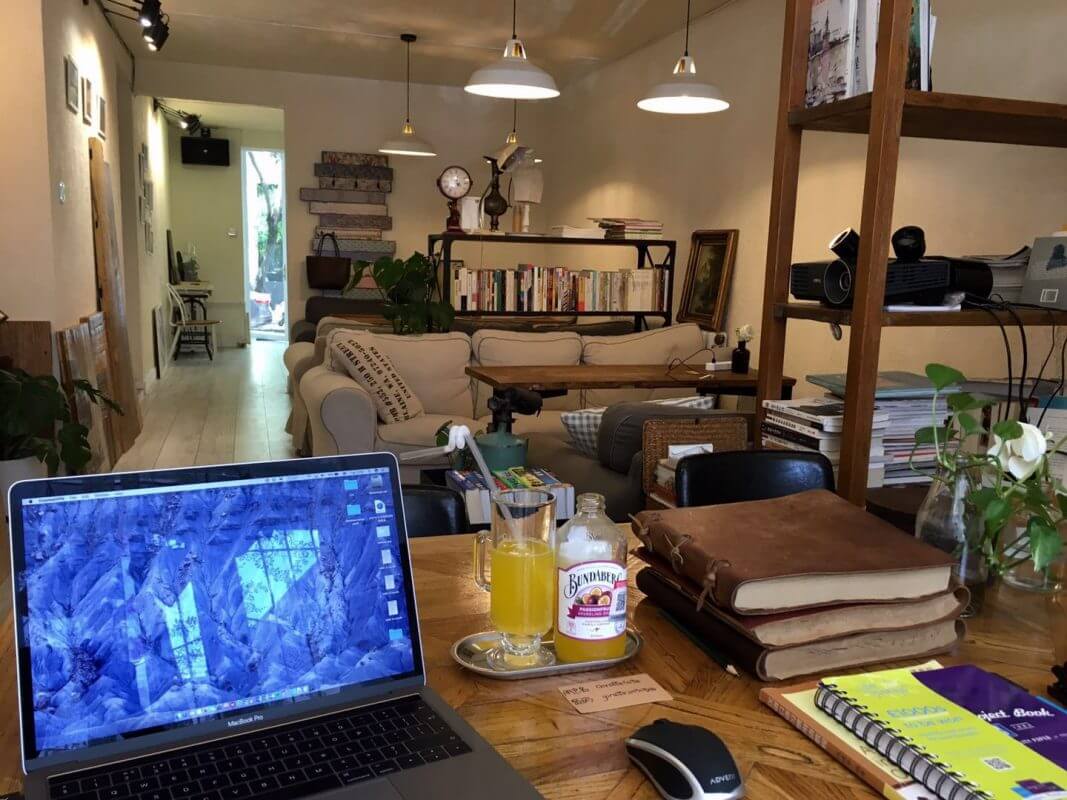 5 – Sauna 紫色阳光
This is a great place to go to unwind after a long day studying! It's clean, it's modern and hugely enjoyable.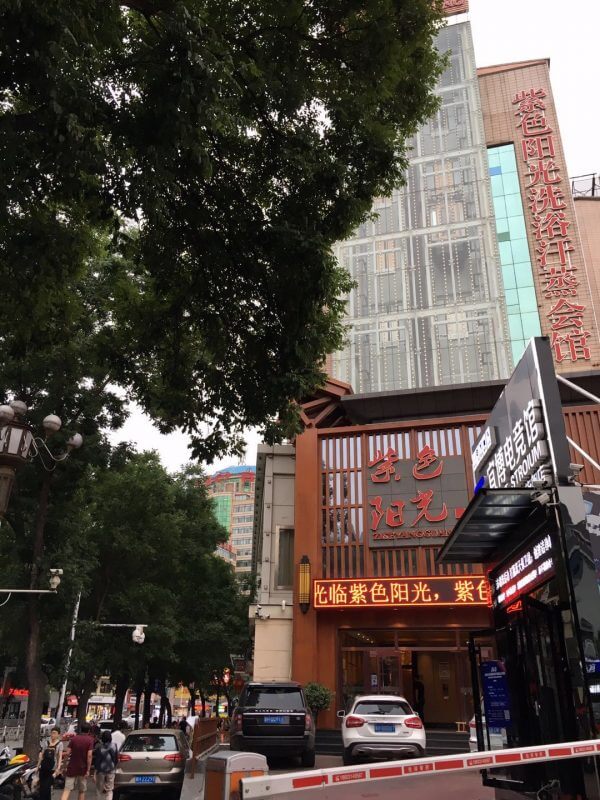 This specific sauna (pictured) is located on the 6th floor. You can spend as long as you want in the Sauna.
There is a buffet which is completely free AFTER 10pm!
The different saunas vary in temperature, steam rooms, pools – they've got the lot and are incredibly cheap also.
Kick back, watch some TV, unwind, do what you want. Go for a massage, order a beer, play some chess.
There's a load of facilities to enjoy and the great thing is that it is so much cheaper than the Beijing or Shanghai equivalents!
To put this into perspective the bigger cities would charge you around 200-300CNY for the day, whereas in Chengde you'd get change from just a 50CNY note and get the same service!
There isn't one specific Sauna to visit here – there are loads around town. Practice your Chinese, ask your host family or our staff and you are bound to find one either near your homestay or where you study!
TOP TIP || The buffet is actually all day long but after 10pm it's free. The price is minimal anyway, but if you are on a tight budget, see if your stomach can hold out, then it's all yours!
6 – Jazz Cafe + Others
Although this was mentioned in the Chengde Travel Guide, we have to throw it in again because it's not somewhere you'd stumble across just by walking around.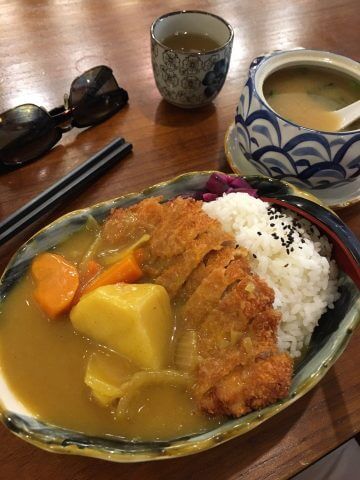 If you are based more centrally this is likely a fair trek (not walkable though) for you but it's worth it for the milkshakes and the food no doubt.
The menu is pretty expansive and includes a number of western favourites. The one shown on the right here is a nice, flavoursome curry with breaded chicken,
As stated, the milkshakes are worth the journey alone and there are also pizza's and salads to tuck into also.
Despite being a little bit out of the way (that is if you are staying nearer the central/mountain resort area), it's still very easy to access the Jazz Cafe, just don't expect to walk there.
There are also a few other foreign alternative places to get stuck into. Thai and Japanese also feature in Chengde and the quality is good, as LTL student David informs us here:
LTL Student David – "I wanted to note how surprised I personally was that Chengde is actually a place where you won't just be restricted to rice and noodles like many would expect.

I enjoyed dining at what's fast becoming one of my favourite Japanese restaurants in the whole of China. There are a number of foreign food options which you'll no doubt discover. Get walking and you'll find them."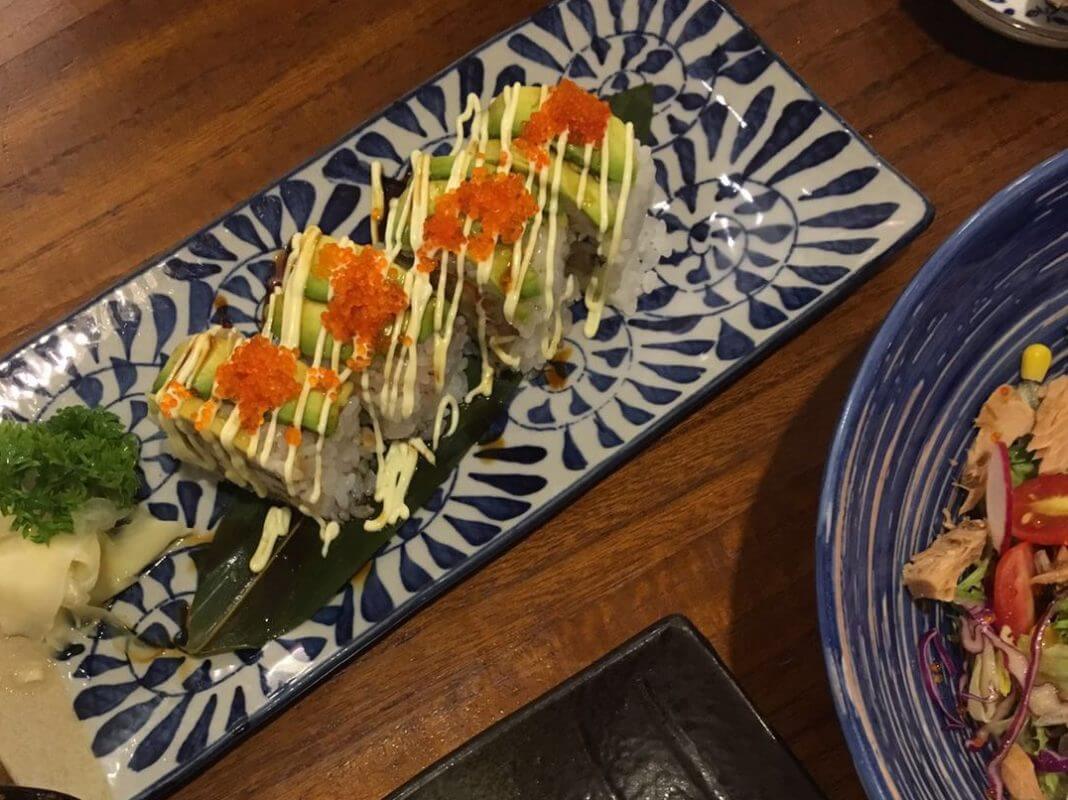 7 – Pi Bar + Others (and the demise of the "Plastic Chairs Bar")
Unfortunately we had a great recommendation which we expertly named "The Plastic Chairs Bar".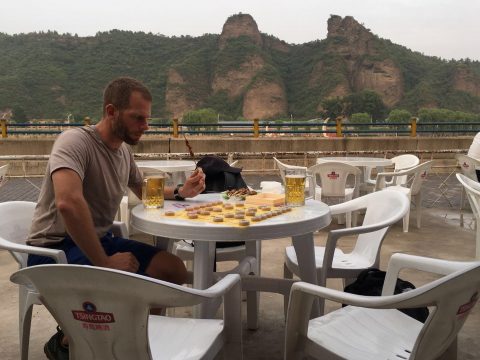 As you'd imagine, the bar was littered with Plastic Chairs and had no official name.
It was situated outside along the river and was a great place to relax, study, drink and tuck into some tasty, local food.
The beer was filthy cheap!
Sadly the bar shut down just before publishing this post! This is something that happens when you least expect in China – a sad day but all is not lost.
There are plenty of watering holes to discover in Chengde. There is one called Pi (named after the mathematical number 3.14…). The bars are quirky and have their own unique little features that we like.
The best thing to do, as usual in Chengde, is to walk and see what you come across but Pi is a great place to start when it comes to the bar scene in Chengde.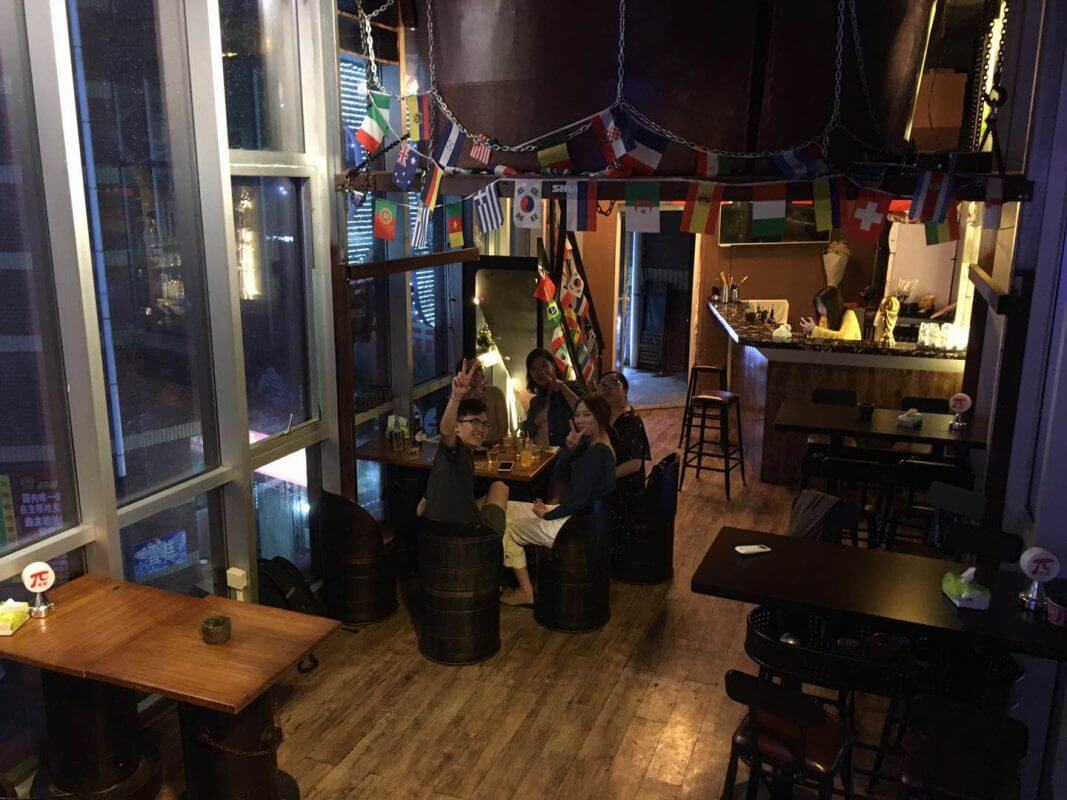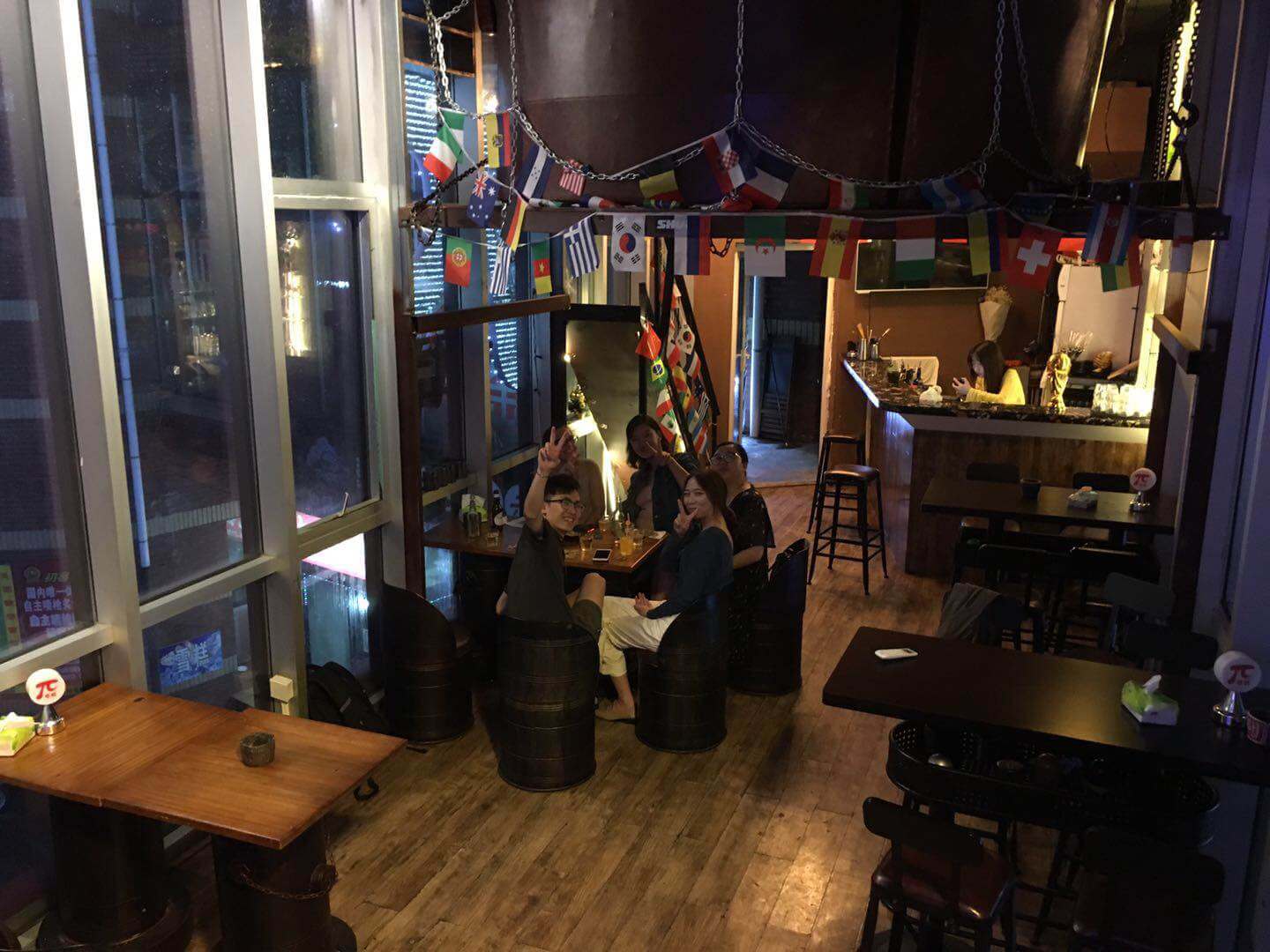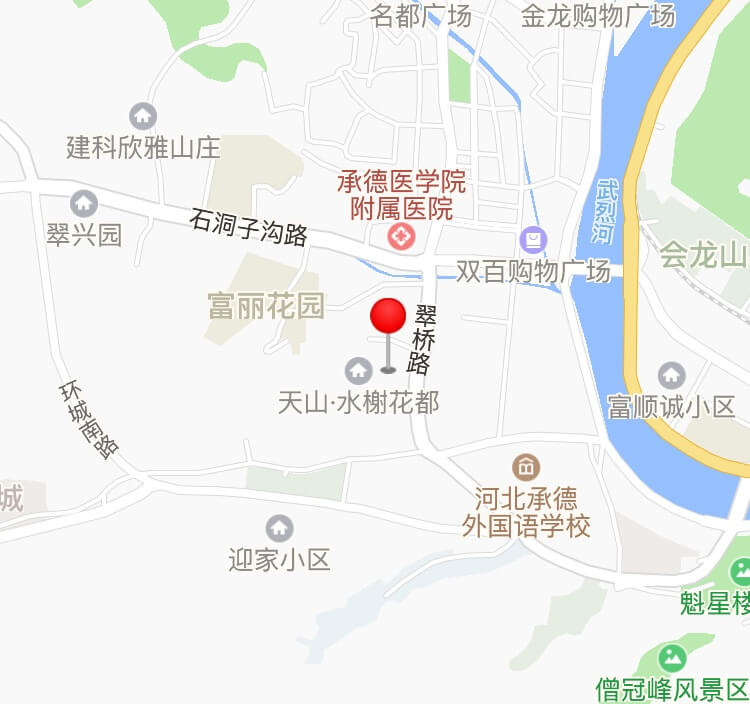 Another cool bar to note here and this one actually brews their own beer.
As you probably start to understand if you've read this far, the prices are dirt cheap and the beer is actually really good.
Absolutely worth a visit so we've popped the pin down below with a couple of pictures for you.
The bar is called 涮之有道 (Shuàn zhī yǒu dào)
Other Pictures from Chengde
Sometimes when students speak to us about going to Chengde they worry that it has got nothing on Beijing or Shanghai.
Whilst the city cannot compare in terms of size or stature, it's a far cry from being a place with nothing to do.
Let's provide some more pictures from our previous students to show what can be done in Chengde.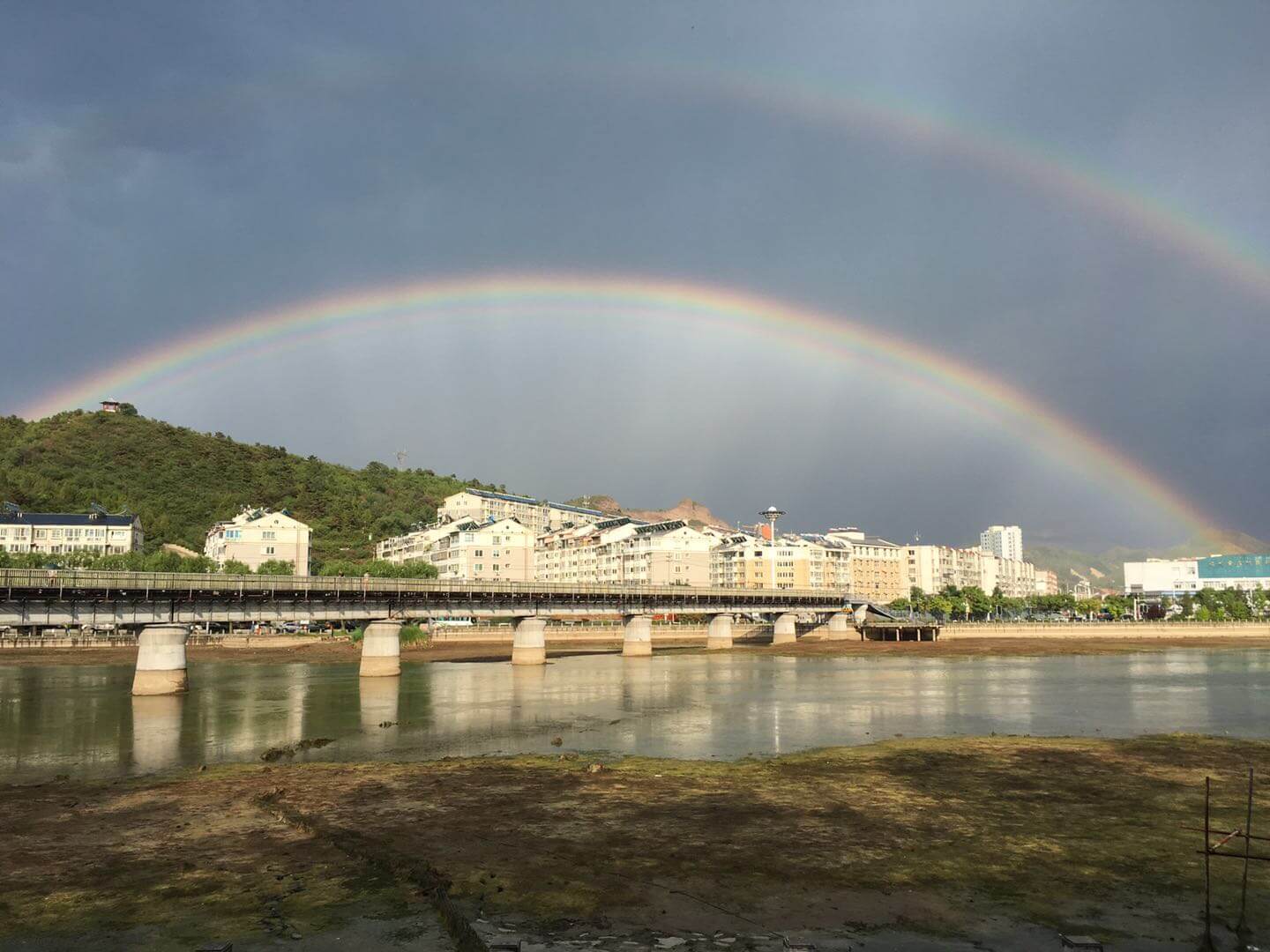 Thanks goes to…
Thanks for this blog post must, in the main, go to David Caudwell who studied Chinese in Chengde for 3 months.
David's overall program totalled nine months at LTL. Three months in each of Beijing, Chengde and Shanghai.
We wish him the very best with his Chinese studies and thank him for his time in helping us prepare this hugely useful post for you, our readers.
Hidden Gems in Chengde || FAQs
Why is Chengde a good place to study Chinese?

Chengde is the birthplace of Mandarin, there is no clearer form of Mandarin than in Chengde.

No foreigners are found in Chengde so you are forced to speak Mandarin 24/7. Therein lies the secret.
Where is Chengde?

Chengde is based in Hebei province, roughly 3 hours drive north of Beijing.
How big is Chengde?

In terms of Chinese cities, not big, but Chengde still boasts well over half a million residents.

Being the 143rd most populous country in China, Chengde regarded as a smaller city in China.
Is there much hiking in Chengde?

Yes, Chengde is home to a large number of spots which are great for hiking, the most famous being 避暑山庄 (Chengde Mountain Resort).
Is Chengde cheap to visit?

Prices in Chengde, and the general cost of living is low as it is one of China's smaller cities. You would be able to get by very cheaply day to day.
Want more from LTL?
Want to learn Chinese from the comfort of you own home? Then our 24/7 Online Chinese lessons might be the thing for you.
We offer a 7 day free trial to all new online students where you can study Mandarin 24/7.
Come and check it out free of charge and see what you think!
If you wish to hear more from LTL Mandarin School why not join our mailing list.