GAP YEAR IN CHINA || BUILD YOUR DREAM PROGRAM
Experience China like never before with our Gap Year in China program.
Learn Chinese in China and explore one of the world's most fascinating nations simultaneously.
We have a number of Gap Year China programs, each with their own niche allowing us to cater for different preferences.
Our students become close friends and experience some once in a lifetime memories together with our China Gap Year program.
Whatever option you decide to go with, you are sure to experience something like never before.
China has a 5,000-year-old civilisation with a wealth of history and culture to delve into.
Gap Year in China
China's PREMIER Mandarin School
Choose from 8 different cities
Study Abroad and Discover China
Become fluent in Mandarin
Meet friends from around the globe

This Is YOUR Gap Year
Experience China – Explore and delve into life in Asia
Four Programs – Something for everyone
Learn Chinese – Become fluent as you journey through China
Friends for life – Build strong relationships with students

Learn Chinese in 8 Cities
Beijing & Shanghai – The Big Two
Chengdu & Xi'an – Culturally astounding, incredible food
Taipei & Singapore – Life outside of the Mainland
Chengde & Beihai – Two hidden gems only we know about

No Team Quite Like Us
Teachers – Fully certified and ready to help you become fluent
Staff – Always here to help and advise
Students – Our students are driven to succeed
United – Together we have a great time learning Chinese

24/7 Support
Staff – Between us we know China inside out, we can help
LTL Family – Staff, teachers and students join forces
Inclusive – WiFi, drinks and even beer (after 5pm) included
Location – All schools are ideally located and easy to access
GAP YEAR IN CHINA – DISCOVER THE CITIES
Andreas tells us why you should study in Beijing with 5 reasons why it's such a great place to learn Chinese.
On the flip-side he gives three reasons why perhaps Beijing isn't for you.
Come on a tour of Shanghai with our Marketing Wizard Cam who shows you around Shanghai.
Discover what our students and teachers think of the city.
GAP YEAR IN CHINA || LIVE THE DREAM
We have a number of different Gap Year programs you can experience!
Our Full Immersion Gap Year in China gives you the chance to mix the big city life in Beijing or Shanghai with Chengde, a city where you will not see a foreigner all trip.
The Chinese Language Year offers intensive study abroad for 36 weeks, over two semesters allowing you to achieve fluency in Mandarin.
Or if you wish for more flexibility then you can even build your own gap year in China. We'll help you create the perfect itinerary from start to finish allowing for maximum flexbility.
Whatever Gap Year in China you book, we guarantee you will have the experience of a lifetime in one of the world's most fascinating and fastest growing countries.
GAP YEAR IN CHINA PROGRAM #1 || Full Immersion Gap Year
Learn Mandarin whilst experiencing full Immersion in China on your path to becoming fluent in Chinese. Experience the hustle, bustle and bright lights of Beijing or Shanghai before moving onto the much smaller Chengde (not to be confused with Chengdu), a city with no foreign influence, no Starbucks or McDonalds, and no English.
STEP 1
Beijing & Shanghai
Two of the most popular cities to study Chinese in!
You will acclimatise to the Chinese culture as your start your trip in either Beijing or Shanghai, you decide.
That, in itself is an adventure you will never forget.
Shanghai's incredible modern influence is littered with remarkable skyscrapers wherever you look.
Beijing, equally large, has a whole host of Chinese history and culture to explore.
Whichever you choose, you are in for quite an experience.
STEP 2
Chengde
After this you will be whisked away to Chengde. A city with just 500,000 people (this is small in China terms) and no foreigners.
You will live and breathe Mandarin and speak no English. This can be a testing experience.
You must be warned if you aren't sure about experiencing full Chinese Immersion, Chengde might not be for you.
Chengde is very much "real China", the pace is much slower, the people are friendly and the Mandarin spoken in Chengde is the most standard Mandarin you will experience in the whole of China.
WHEN CAN I START?
Starting dates for courses depend on the city you will arrive in.
Contact us and we will give you further details on when you can start your experience with LTL.
Our pricing below covers 3 month and 6 month Immersion Programs.
Included in the price id:
A return train ticket from either Shanghai or Beijing to Chengde
A Survival kit which you can find out more about on our Services page.
What are you waiting for?
Let's get this show on the road!
| Total Duration | Beijing | Chengde | Price in CNY |
| --- | --- | --- | --- |
| 3 months Immersion | 6 weeks small group class | 6 weeks 1-on-1 class | 41,430 |
| 6 months Immersion | 12 weeks small group class | 12 weeks 1-on-1 class | 67,830 |
Accommodation Prices
We have a number of accommodation options on top of the Immersion program which include shared apartments and homestays.
Our apartments are a great option if you are travelling on a budget. For information regarding our Chinese Homestays visit our homestay page. Homestay's will include breakfast and dinner.
There are various options for vegetarians, vegans and any other dietary needs you may wish to inform us of.
| Duration | Beijing/Shanghai | Chengde | Price (CNY) |
| --- | --- | --- | --- |
| 3 months | 6 wk shared apartment | 6 wk homestay | 25,967 |
| 3 months | 6 wk homestay | 6 wk homestay | 31,054 |
| 6 months | 12 wk shared apartment | 12 wk homestay | 47,160 |
| 6 months | 12 wk homestay | 12 wk homestay | 52,560 |
NOTE – The Beijing apartment included in the table above is the small room option in our standard apartment. An upgrade to the large room or downgrade to the economy apartments are all possible. Contact us for more information.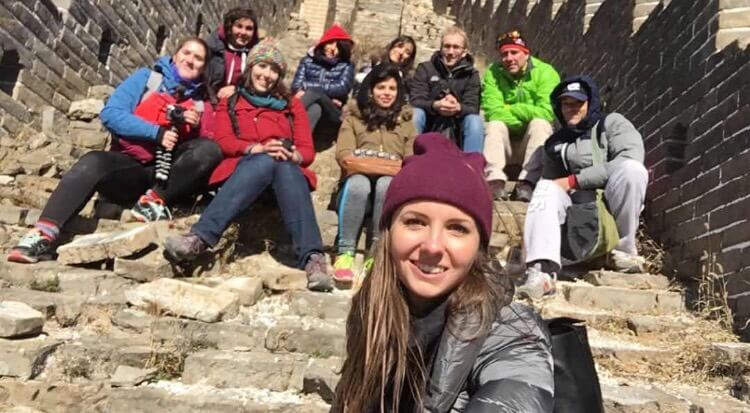 GAP YEAR IN CHINA PROGRAM #2 || Chinese Language Gap Year
Study abroad in China for two university style semesters to help you achieve Chinese fluency. Enjoy our popular small group classes which have a maximum of six students and an average of less than three students per class.
Every student has their say, every student speaks Chinese and close bonds are formed between students and teachers.
Each weekday you will study for four hours making your weekly study at school total 20 hours. Each semester lasts 18 weeks meaning you enjoy 36 weeks of Chinese study in total but if you wish to extend you you can.
You can speed up your Chinese progress even further by opting to stay in one of our carefully selected homestays in China.
After 36 weeks of intensive study and with the potential of living at a homestay many students would expect, and do, reach HSK4/5 meaning fluency in Chinese.
When Can I Start?
Starting dates for courses depend on the city you will arrive in. Contact us and we will give you further details on when you can start your experience with LTL.
What Are The Costs?
Both Beijing and Shanghai Chinese Language years are the same cost. Please note if you wish to upgrade your accommodation to a Chinese Homestay then contact us and we can arrange this at an extra charge.
Your Mandarin will naturally progress quicker at a homestay and overall, 80% of our students opt for a homestay.
If you'd like to try out a single semester lasting 18 weeks, then please do take a look at our Beijing Semester and Shanghai Semester Programs.
Included in the price of the Chinese Language Year is: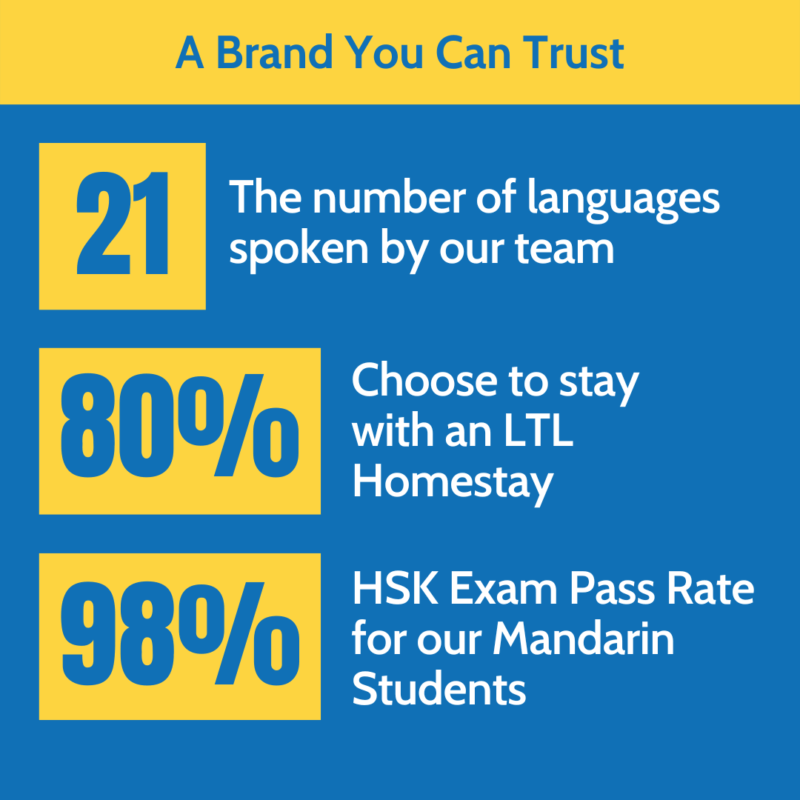 Study materials
20 hours of small group class
36 weeks of Chinese study
Support from LTL staff 24/7
NOTE – *accommodation is the standard shared apartment – small room
GAP YEAR IN CHINA PROGRAM #3 || Build Your Own
We also give you the chance to build your own gap year in Asia. Build the program you want, when you want and where you want.
Fancy 5 weeks in Shanghai learning Chinese in one of the worlds biggest and most exciting cities?
Why not then head to Beijing for a further 15 weeks and kick on your Chinese further with individual Mandarin classes in China's capital.
You could finish off with 16 weeks in Chengde where you will be sure to achieve fluency in Mandarin. No foreigners, no English, no Starbucks. Welcome to real China.
This is just an example of what you could build. Come and chat to us to find out more. The China Gap Year can last as long as you wish so you can build it however you suits you best.
Have a play around with our calculator to get an idea of the programs you can build and the costs involved.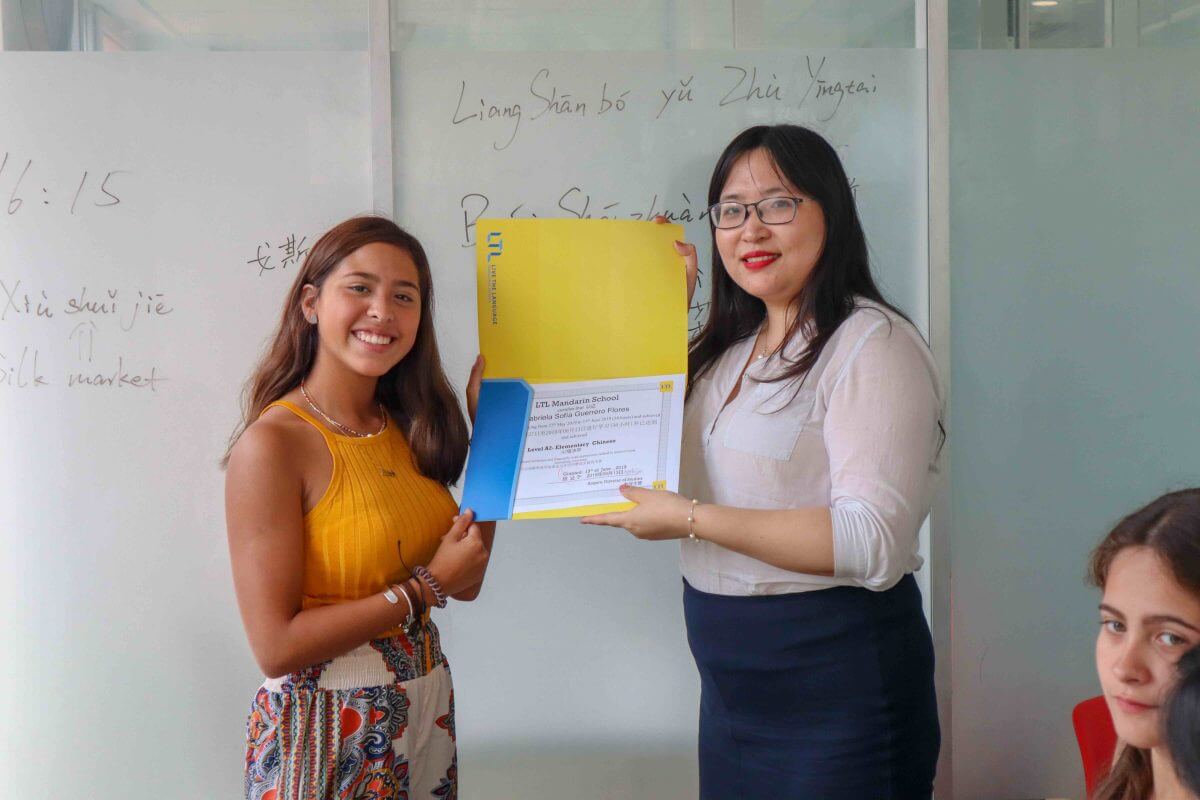 FREQUENTLY ASKED QUESTIONS
Can I travel China outside of class?

Absolutely, you cannot come to China and not take advantage of this incredible country.

China is incredibly diverse and Beijing, Shanghai and Chengde offer a wealth of incredible memories. You can also venture as further afield as you wish. The more you explore, the greater the experience.

You can for example join one of our weekend trips to see the Terracotta army in Xian, the gardens in Suzhou or the beer festival in Qingdao. You can also spend breaks like Chinese New Year or long weekends exploring other parts of the country from visiting the Ming Tombs in Nanjing to climbing the Himalayas in Tibet. China is huge and there is a lot of fun to be had.
Do living costs vary across China?

Yes they do. Here are three examples.

Chengde is, not surprisingly, the cheapest (alongside Beihai) and you can get by on very little each month and still live a decent lifestyle.

Beijing, being a capital City and Shanghai being the metropolis means both cities are much more expensive than Chengde but you can get by for little if you are shrewd.

For every smart, expensive restaurant there are hundreds of local restaurants and street vendors which provide wonderful, local food for example.
Can you help me build a gap year in China?

Sure, if you need advice on what is the best program for you just start a live chat with us or drop us an email.

We offer many different opportunities and flexible study abroad programs so rest assured we will find something for you.
Can I become fluent in Chinese with a Gap Year?

Fluency doesn't just come to you, it has to be earned but after 36 weeks this is certainly possible. Staying at a Chinese Homestay will increase your chances dramatically.

Studying outside of class and completing your homework is also essential. So far all of our students have, at the very least, reached HSK4 from a China gap year.

A lot depends on what you put in outside of school but if you want it and work for it, you will get it. Enjoy the experience and don't ever give up.
Do you have lessons over Christmas?

As Christmas isn't a holiday in China most schools and offices remain open for business.

However, you are welcome to return home for Christmas, we'll need to adjust your program though so please discuss this with us before you come to China.
Is it easy to make new friends?

This is the easy part. 

Making friends at LTL is a given. Many will actually become friends for life such is the nature of the community at LTL.

Students come and go every week so there will always be new people and many students spend many evenings together studying, socialising and exploring. Our staff are also very sociable and enjoy getting involved with students too. We are one big family and it means making friends is so easy.
Can I go from Singapore to Taipei and then Beijing?

Of course, you can build whatever program you wish.

It's worth nothing though, that you will need to cover the costs of getting between the cities.